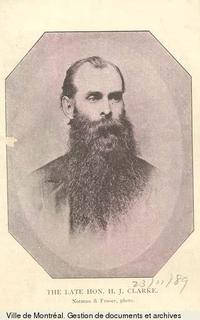 Source: Link
CLARKE, HENRY JOSEPH (he also at times added the middle names Hynes or O'Connell), lawyer and politician; b. 7 July 1833 in Donegal (Republic of Ireland), eldest son of Francis Clarke; d. 13 Sept. 1889 near Medicine Hat (Alta).
Henry Joseph Clarke came to Lower Canada with his parents at the age of three. His father was employed by the customs department in Montreal, where he later became a councillor and alderman. Henry was educated at Montreal Academical Institution and Collège Sainte-Marie and was called to the bar in 1855. A Roman Catholic, he had command of both English and French. He practised law in Montreal until 1858 when he was attracted to California by the gold rush. He became a journalist with the Alta California (San Francisco), and went to San Miguel (El Salvador) in the early 1860s, where he learned to speak Spanish and collected Central American curios. On his return to Montreal, he established a reputation as a criminal lawyer, and in the general election of 1863 unsuccessfully contested the Châteauguay riding as a Liberal-Conservative against the minister of finance, Luther Hamilton Holton*. Clarke served as a captain of the 1st Battalion (Prince of Wales's Regiment) of Volunteer Rifles, during the Fenian raids of 1866; in 1867 he was made a qc. In these years he became a close friend of Thomas D'Arcy McGee*, acting as secretary of his successful election committee in Montreal West in 1867 and writing a "short sketch" of his life, published in 1868.
Clarke came to Manitoba in November 1870 to assist Lieutenant Governor Adams George Archibald* in establishing the provincial government, having been encouraged to do so by Sir George-Étienne Cartier* and Bishop Alexandre-Antonin Taché*. Archibald had arrived on 2 September, shortly after the military expedition led by Colonel Garnet Joseph Wolseley*. Louis Riel, whose provisional government had won provincial status for the region, had fled prior to the arrival of the troops. In the weeks that followed, particularly after the departure of Wolseley and the British regulars early in September, some of the militia volunteers from Ontario sought to avenge the shooting of Thomas Scott* by bullying and persecuting Riel's followers. Several Métis were killed without criminal proceedings being taken against their assailants, even when, as in the death of Elzéar Goulet*, these were known. It was to this lawless situation that Archibald endeavoured to bring law and order.
Elections for the first Legislative Assembly of Manitoba were held and Clarke was chosen by acclamation for St Charles on 30 Dec. 1870. On 3 Jan. 1871 he was appointed attorney general. His debating skill enabled him to take the lead in piloting government legislation through the house, and this activity may be responsible for mistaken references to him as the first premier of Manitoba. The minutes of the Executive Council make no mention of a first minister during these early years, and a letter from Archibald to Sir John A. Macdonald* on 16 Jan. 1871 makes clear that it was the lieutenant governor who provided leadership: "I gave the Council a memo. of 32 Bills which would be absolutely necessary to form the sketch of a Provincial Constitution, and have set them to work to get their hands in." When Archibald's successor, Alexander Morris, was forming a new ministry in July 1874, he wrote to the secretary of state, Richard William Scott*: "I would call your attention to the fact that in forming the government I did so through the intervention of a premier [Marc-Amable Girard*] thus introducing responsible government in its modern form into the Province – the previous ministry was selected personally by my predecessor and none of its members were recognized as first minister."
Clarke's relations with Lieutenant Governor Archibald steadily deteriorated. They clashed over two issues in particular: legislation which would govern admission to the bar of Manitoba and the establishment of courts in the province. Archibald complained to Cartier in May 1871 that Clarke wanted "to constitute himself the Bar of Manitoba, and to shut the door to every person else he did not think fit to admit." Clarke also proposed a provincial supreme court comprising a chief justice and two puisne judges. Aspiring to be one of these judges himself, he persuaded his colleagues on the Executive Council in 1872 to support him, but Archibald had warned Macdonald in May 1871: "Bad as he is where he is, he would be greatly worse on the Bench. Whoever else you think of, don't think of him." Archibald conceded in August 1871 that there was something in Clarke's "devil may care style" which impressed ignorant people, but he had "seldom seen a man so void of anything like discretion – or common sense."
Alexander Morris took office as lieutenant governor on 2 Dec. 1872. His reaction to the attorney general was more mixed. Early in 1873 he refused Clarke's request to be made premier and told him that "he must be content with being the acknowledged leader of the Govt. in the House." "With all his faults," Morris wrote to Macdonald in February 1873, "he is the best man I have, & has a strange streak of good & chivalrous loyalty running through his strange composition. In other words he is an Irishman . . . ." Yet barely two weeks later Morris is writing to Macdonald that Clarke was "unprincipled." It is apparent that quite apart from the difficulties which he created by his unruly temperament, Clarke was an embarrassment to the government because his marital affairs had become something of a public scandal. Shortly after his wife, Ann Hynes, joined him in Winnipeg in the summer of 1871 he had left her for a married woman, Mrs Maria Merrick Sinclair, whom he later married in California.
Clarke was attorney general during turbulent times. In October 1871 tension was generated by the abortive Fenian raid at Pembina (N. Dak.) led by John O'Neill* and the arrest of three Métis for complicity. While the "ultra loyal" element among the newcomers from Ontario assailed Clarke for being pro-Métis and threatened to hang him if he did not commit the prisoners to trial, Joseph Royal*'s Le Métis bitterly attacked him for alleged unfairness and discrimination against them. The Métis were tried and one of them, Oiseau Letendre, was convicted in December 1871. Royal became a member of the Executive Council in March 1872, and a rival there of Clarke, their quarrels erupting especially in Le Métis of St Boniface, and in the Weekly Manitoban of Winnipeg which supported Clarke. A bilingual Roman Catholic, Clarke became the spokesman in the house for those Métis (including Pascal Breland*, Joseph Hamelin, and John Bruce) who regarded the leadership of Riel as detrimental to their cause. Royal spoke for the much larger group which continued to look to Riel for leadership.
The presence of Riel in the settlement (he had returned to St Vital in May 1871) was a constant temptation to vengeful Orangemen, especially after February 1872 when Premier Edward Blake*'s government in Ontario offered a reward of $5,000 for the arrest of any of the "murderers" of Thomas Scott. Nevertheless, Riel decided to seek a federal seat in the general elections of 1872. Clarke tried to dissuade him on the grounds that his candidature would not only be an embarrassment to the government at Ottawa but also personally dangerous. Failing to convince Riel, Clarke accepted nomination in Provencher in opposition to him. Their confrontations threatened to become violent, Clarke even challenging Riel to a duel on one occasion. Both men, however, withdrew from the contest in September so that Cartier, who had been defeated in Montreal East, could be elected for Provencher by acclamation. Macdonald commended Clarke's action as "very wise and patriotic." He added, obviously in response to a request from Clarke, that "you are too young and active a politician to be laid on the shelf as a Judge just now."
During the federal elections of 1872 mobs destroyed the printing establishments of both Le Métis and the Manitoban, and in the ensuing months the same unruly element, which Lieutenant Governor Morris described as "fanatical Orangemen" instigated by "scoundrels," agitated for the arrest of the murderers of Scott. Then, following the death of Cartier in May 1873, and in spite of Clarke's efforts to dissuade him, Riel persisted in being a federal candidate and was elected by acclamation on 13 Oct. 1873. Meanwhile, in September, a warrant issued by Dr John Harrison O'Donnell (a member of Manitoba's Legislative Council) on an information laid by William A. Farmer, had been served on Ambroise-Dydime Lépine*, Riel's adjutant-general at the time of Scott's execution in March 1870. It was generally believed that Clarke had connived with Francis Evans Cornish*, who instigated the Lépine arrest, but Clarke denied this rumour, assuring Morris under oath that he had had nothing to do with the warrant. At the assizes in November 1873 a true bill for murder was found against Lépine by a grand jury; Clarke acted for the crown and Royal for the defence. Released on bail, Lépine went to trial on 13 Oct. 1874; he was convicted and sentenced to death, but the sentence was commuted to a short prison term in January 1875 by the governor general, Lord Dufferin [Blackwood*].
Clarke had represented the provincial government at a conference on immigration held in Ottawa in September 1871 and published a lengthy report. In March 1873 Clarke, Royal, and Thomas Howard were sent to negotiate with the federal government for better terms for the province. They particularly wanted an increase in the subsidy, financial assistance for the erection of public buildings, a federal police force, an enlargement of provincial boundaries, and a continuation of Manitoba's special four per cent customs tariff beyond 1 July 1874. These negotiations were renewed in December 1873 but brought little result beyond an additional $25,000 to meet the province's most pressing needs. When the Law Society of Manitoba was formally constituted in 1872 Clarke served as its first president.
The demise of the ministry in which Clarke served came in July 1874. There are indications that he himself planned to retire from the government even before its defeat. A redistribution bill of 1873 had reduced the number of provincial electoral districts in which French-speaking constituents were in the majority, but this bill failed to satisfy the demands of the growing English population. When the 1874 session opened on 2 July, Clarke announced that since the bill had been based on incomplete surveys the government would introduce a new one. The next day a motion of non-confidence in the ministry was carried, 15 to 7, and Clarke, Royal, Howard, John Norquay, and James McKay* tendered their resignations to Lieutenant Governor Morris on 4 July.
Following his resignation Clarke went to California; when passing through St Paul (Minn.) he suffered a beating from an American he had prosecuted in 1873 for the attempted kidnapping of Lord Gordon Gordon*. He remained in California until 1877 when he returned to Winnipeg and resumed his law practice. He unsuccessfully contested the riding of Rockwood in the provincial elections of December 1878 and December 1879. Whereas formerly he had courted the French-speaking and Roman Catholic vote, Clarke now favoured the abolition of French as an official language and the adoption of a school system similar to that in Ontario. This switch may be explained by the fact that Clarke was running in Rockwood, an English-speaking constituency, and that the English were by then a majority of the population of Manitoba. It is also possible that clerical displeasure with his marital conduct may have been a further factor in this change. Following the North-West rebellion of 1885, Clarke acted as counsel for 25 of Riel's followers; they pleaded guilty to treason-felony, Clarke spoke eloquently for clemency, and in the event seven received no sentence and the rest one to seven years.
Clarke died in September 1889 on the train while en route west for his health. He was buried at Pembina in accordance with his wishes but his widow later had his remains moved to Volunteer Park, Seattle, Wash. Twice married, he had no children of his own.
A controversial figure, Clarke was reckless, intemperate, and opportunistic, and made many enemies. His detractors said that he used his office to enrich himself and that any concern for the Métis was pure opportunism. Yet he deserves credit for helping to lay the foundations of law and government in Manitoba, and for supporting the Métis at a time when it took some courage for an English-speaking politician to do so.
H. J. Clarke was the author of A short sketch of the life of the Hon. Thomas D'Arcy McGee, M.P., for Montreal (West) . . . (Montreal, 1868), and Report of the honourable the attorney-general to His Excellency the Hon. A. G. Archibald, lieutenant-governor of the province of Manitoba and the North-West Territories, on the immigration conference held at Ottawa, 18th Sept., 1871 (n. p., 1871).
AASB, T 7815–16, 7865–66, 8051–53. PAC, MG 26, A (mfm. at PAM). PAM, MG 3, D1; MG 12, A; B; MG 14, C54. Manitoba Daily Free Press, 16 Nov., 2 Dec. 1878. CPC, 1870–74. Alexander Begg, History of the North-West (3v., Toronto, 1894–95). [R.] D. and Lee Gibson, Substantial justice: law and lawyers in Manitoba, 1670–1970 (Winnipeg, 1972). Stanley, Louis Riel. Frances Ebbs-Canavan, "Manitoba's first premier and attorney-general: Henry Joseph Clarke, Q.C., 1871–1874," Manitoba Hist. (Winnipeg), 1 (1946–49), no.3: 1–11.
© 1982–2023 University of Toronto/Université Laval
Cite This Article
Lovell C. Clark, "CLARKE, HENRY JOSEPH," in Dictionary of Canadian Biography, vol. 11, University of Toronto/Université Laval, 2003–, accessed June 10, 2023, http://www.biographi.ca/en/bio/clarke_henry_joseph_11E.html.
The citation above shows the format for footnotes and endnotes according to the Chicago manual of style (16th edition). Information to be used in other citation formats:
| | |
| --- | --- |
| Permalink: | http://www.biographi.ca/en/bio/clarke_henry_joseph_11E.html |
| Author of Article: | Lovell C. Clark |
| Title of Article: | CLARKE, HENRY JOSEPH |
| Publication Name: | Dictionary of Canadian Biography, vol. 11 |
| Publisher: | University of Toronto/Université Laval |
| Year of publication: | 1982 |
| Year of revision: | 1982 |
| Access Date: | June 10, 2023 |