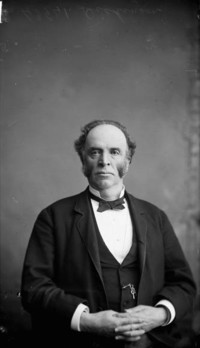 DICKINSON, MOSS KENT, businessman and politician; b. 1 June 1822 in Denmark Township, Lewis County, N.Y., son of Barnabas Dickinson and Lydia Davenport; m. 25 Nov. 1846 Elizabeth Mary Trigge in Toronto, and they had three sons and three daughters; d. 19 July 1897 in Manotick, Ont.
Moss Kent Dickinson's father, an enterprising native of New England, was a mail contractor, forwarder, and public conveyer by stage-coach and steamer between Montreal and Prescott after 1812, and he was a founder of Dickinson's Landing on the St Lawrence River. He conducted similar activities later on the Erie Canal in New York, and in 1832 was a victim of the cholera epidemic. He left to his son an interest in transportation.
Moss attended elementary schools in Cornwall and Prescott and received further education in Denmark Township and nearby Lowville, N.Y. He served briefly in a juvenile corps in Prescott during the rebellion of 1837–38 before joining his late father's associate Hiram Norton in the fall of 1838 as a mercantile clerk in Lockport, Ill. Returning to Upper Canada in 1840, he acquired additional practical experience at the post-office and customs-house operated in Prescott by his brother-in-law Alpheus Jones.
Moving to Kingston in 1844, Dickinson purchased his own steamboat and barge to forward agricultural produce on the Rideau, Ottawa, and St Lawrence waterways and to ship Ottawa valley lumber via the Rideau Canal to Oswego, N.Y., and a branch of the Erie Canal. He relocated in Montreal in 1848 to manage better a forwarding network that had been extended east to Quebec and south to the Lake Champlain region via the Richelieu River canals. His Ottawa and Rideau Transportation Line had offices at Kingston, Ottawa, Montreal, and Quebec and, in the United States, at Burlington, Vt, and Whitehall, N.Y. By 1865 it could boast a fleet of at least 11 steamboats, 55 barges, and several tug-boats. The line became particularly adept at supplying American eastern markets with lumber by canal or by rail after 1850.
About 1850 Dickinson had entered into partnership in Bytown (Ottawa) with prominent lumberman and businessman Joseph Merrill Currier* to manufacture lumber. Currier and Dickinson appears also to have managed the lumber business of Thomas McKay* and John MacKinnon in New Edinburgh (Ottawa). In 1858 the partners purchased land adjacent to Long Island in the Rideau River and leased the water-power generated by the construction of a new waste weir in the west channel of the river. By early 1861 Dickinson, then a widower, had moved to Ottawa. Currier had brought into the Long Island operation two Ottawa machinists, Horace Merrill* and Nathaniel Sherrald Blasdell. Around the "Long Island Milling Enterprises" the village of Manotick developed, and in 1863 Dickinson became sole owner of this saw- and grist-mill complex, to which a wool-carding and cloth-dressing mill was added that year.
In 1864 Dickinson was elected mayor of Ottawa. He had stood for the Municipal Reform Association of Ottawa, an organization made up of business interests, such as the Board of Trade, the Ottawa Association of Lumber Manufacturers, and the Chaudière lumberers, who were angered by large municipal debts and rising taxation. During his three terms as mayor (1864–66), he was responsible for negotiating the deal that sent the debt-plagued Ottawa and Prescott Railway (on which the city held a mortgage) over to the control of the Grand Trunk, which renamed it the St Lawrence and Ottawa. During the Fenian crisis of 1866 [see Michael Murphy*] he served as a volunteer in the Ottawa City Rifle Corps. He had the satisfaction of seeing confederation accomplished and his city confirmed as the capital of the new dominion.
Dickinson's forwarding business was reorganized into a joint-stock company in 1867 and he shared its directorship with George Heuback of Montreal, Lawrence Barnes of Burlington, Ezra Butler Eddy* of Hull, and J. M. Currier of Ottawa. However, two years later, citing increased competition from railways and marketing difficulties since the abrogation of reciprocity, Dickinson sold his interest in the Ottawa and Rideau Forwarding Line and in 1869 or 1870 moved to Manotick, where he could give full attention to M. K. Dickinson's General Trading and Manufacturing Depot and Farmer's Exchange. The operation then comprised a stone grist- and flour-mill, a planing- and shingle-mill, a general store, a cooperage, and a carpenter's shop for the manufacture of furniture as well as woodwork for wagons, carriages, and sleighs. A bung, plug, and spile factory was built by 1875. Around his handsome two-storey house Manotick grew to 400 persons by 1879.
Dickinson was a long-time critic of the administration and maintenance of the Rideau Canal. He negotiated bridge access across Long Island for Manotick in 1864. Six years later he lobbied Hector-Louis Langevin*, minister of public works, to make the canal more serviceable to lumber interests for large-scale exports to the market at Albany, N.Y. In 1882, after a six-week interruption in water-flow to millers below the Poonamalie dam, Dickinson submitted a petition involving 45 industries to the Department of Railways and Canals for the improvement of the Tay River as a major feeder to the Rideau lakes reservoir. Although no longer a forwarder, he remained committed to canals as an important transportation link in the country.
Dickinson's promotion of milling, canal, and municipal interests led him to be persuaded to run in Russell in the 1882 federal election. He stood for the Conservatives, led by his old friend Sir John A. Macdonald, whom he had known in Kingston in the 1840s. Elected in 1882, Dickinson did not contest his seat in 1887 and was defeated by William Cameron Edwards in a re-election bid in 1891. Dickinson died in Manotick six years later; he had been Presbyterian in religion. The boats of the Dickinson Line had traversed most of the inland waterways of eastern Ontario, Quebec, New York, and Vermont, but he had earned the title "King of the Rideau" for his early participation in forwarding on the canal and for his later dedication to the development of Manotick.
AO, North Gower Township, abstract index to deeds, broken front concession, lots 1–2; deeds, nos.12954½, 13064, 17121–23, 20809 (mfm.). Baker Library, R. G. Dun & Co. credit ledger, Canada, 13: 220 (mfm. at NA). Can., Parks Canada, Ontario Region (Cornwall), National Hist. Parks and Sites Branch, "Long Island" (Rideau Canal preliminary site study ser., no.11, 1976). NA, MG 26, A; RG 5, B47, 8, Johnstown, entry 8; RG 11, B1(a), 185, docket nos.11483, 13210; RG 31, CI, 1861, Gower (North), enumeration district 1: 5; RG 43, CI, 1a, 2007, pt.ii: 101–3; 2023, pt. ii: 328–30. Ottawa Citizen, 14 Feb. 1860. Canadian directory of parl. (Johnson). Cyclopædia of Canadian biog. (Rose and Charlesworth), vol.1. E. F. Bush, Commercial navigation on the Rideau Canal, 1832–1961 (Ottawa, 1981). C. L. Carroll, King of the Rideau: a novel based on the life of Moss Kent Dickinson (Manotick, Ont., 1974). J. H. Taylor, Ottawa: an illustrated history (Toronto, 1986).
© 1990–2023 University of Toronto/Université Laval
Cite This Article
Larry Turner, "DICKINSON, MOSS KENT," in Dictionary of Canadian Biography, vol. 12, University of Toronto/Université Laval, 2003–, accessed September 24, 2023, http://www.biographi.ca/en/bio/dickinson_moss_kent_12E.html.
The citation above shows the format for footnotes and endnotes according to the Chicago manual of style (16th edition). Information to be used in other citation formats:
| | |
| --- | --- |
| Permalink: | http://www.biographi.ca/en/bio/dickinson_moss_kent_12E.html |
| Author of Article: | Larry Turner |
| Title of Article: | DICKINSON, MOSS KENT |
| Publication Name: | Dictionary of Canadian Biography, vol. 12 |
| Publisher: | University of Toronto/Université Laval |
| Year of publication: | 1990 |
| Year of revision: | 1990 |
| Access Date: | September 24, 2023 |