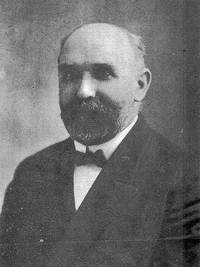 Source: Link
Ewert, Heinrich H., educator, Mennonite minister, school inspector, editor, and author; b. 12 April 1855 in Obernessau (Mała Nieszawka, Poland), son of Wilhelm Ewert, a farmer and Mennonite minister, and Anna Janz; m. first 20 Aug. 1882 Elisabeth (Lizzie) K. Baer (d. 1925) in Hillsboro, Kans., and they had four sons and one daughter; m. secondly July 1926 Katie Kruse, née Krehbiel; d. 29 Dec. 1934 in Gretna, Man.
Heinrich H. Ewert received his elementary schooling in his native village, at that time in Prussia, and his secondary education in nearby Thorn (Toruń). In 1874, after the German government imposed military service on the pacifist Mennonites, his parents emigrated to Hillsboro with their six children. (Another six had died in infancy.) Heinrich, the eldest, studied arts, theology, and education at the Kansas State Normal School in Emporia, the Des Moines Institute in Des Moines, Iowa, and the Marthasville Seminary of the German Evangelical Synod of North America in Marthasville, Mo.
In 1882 Ewert married Elisabeth K. Baer of Summerfield, Ill., and started teaching in a Mennonite parochial school, called Emmental, in Alexanderwohl (Goessel), Kans. The following year the institution moved to Halstead, where the curriculum was expanded, and the school was renamed the Mennonitische Fortbildungsschule (the Mennonite Seminary). It was popularly known as the Halstead Academy. In 1887 Ewert, the principal, spearheaded a drive to obtain a charter from the state of Kansas to transform the school into a liberal-arts college to be named Bethel College. This initiative led to the school moving from Halstead to North Newton in 1893, two years after Ewert had left. Bethel College was the first Mennonite college in the United States with a state charter. During his nine years of teaching in Kansas, Ewert established a number of community organizations, including, in 1886, the Mennonite Teachers' Conference of Kansas, which promoted interest in the profession.
In 1891 George Bryce, a member of the Manitoba government's Advisory Board for public schools, invited Ewert to head the Gretna Normal School, the first Mennonite secondary school in Canada. The institution, founded by the Mennonite School Society and financed by individual subscriptions, had opened in 1889, but closed the following year after the teacher left. Bryce offered Ewert a position as inspector of government-supported Mennonite district schools for the Department of Education, and promised that the Mennonite school society would hire him as principal of the normal school.
After careful deliberation Ewert accepted the dual appointments, and began his duties in the summer of 1891. He found only eight public-school districts. Most of the Manitoba Mennonite villages and communities had private elementary schools. He soon discovered that although Mennonites valued education, many were suspicious of the more advanced training being offered in Gretna. They also feared that, as an inspector and promoter of district public schools, Ewert would serve the government's interests rather than theirs. The Bergthaler (also known as Bergthal) Mennonite Church, whose bishop, Johann Funk*, chaired the school society, split over the school issue. In 1893 the great majority of its members left to form the Sommerfelder (Sommerfeld) Mennonite Church. Only the society, the greatly diminished Bergthaler Mennonite Church, and a few other small churches supported Ewert and Funk.
Despite opposition, Ewert threw himself wholeheartedly into his tasks. Never wavering in his belief that higher education was necessary for the health of the Mennonite community, he recruited students for the normal school, collected funds, promoted the formation of district schools, and organized regional teachers' conferences to improve the quality of instruction.
Ewert served as inspector until 1903, when he was dismissed by the newly elected Conservative government under Rodmond Palen Roblin; the administration had hoped to gain votes among Mennonites by promising to remove Ewert. By the time he was let go, Ewert had succeeded in raising the number of district schools to 42. He was reappointed inspector of Mennonite district schools in May 1908, only to be dismissed three months later for similar political reasons. Nonetheless, he continued as principal of the school in Gretna until his death in 1934.
Ordained a minister in Kansas in 1884, Ewert had been confirmed in this role in the Bergthaler Mennonite Church on his arrival in Manitoba. He served as minister in the church until his death, even though he was not on the regular rotation of preachers because of his teaching responsibilities. In October 1906 he founded a monthly periodical, Der Mitarbeiter [The Co-worker], the official journal of the Conference of Mennonites in Middle Canada, which he edited until it ceased publication in December 1934, the month of his death. According to historian Frank Henry Epp, it was "probably one of the best-edited and most intellectually stimulating Mennonite periodicals of the day." Ewert had been a co-founder of the conference, established in 1903 [see Peter Regier*], and he served as its chair four times (1906, 1907, 1912, and 1913).
Ewert's contributions to society extended to the arts and sports. A good musician, he introduced choral singing in schools and organized community choirs in Gretna, drawing people from Mennonite backgrounds as well as from the German-speaking Lutheran and the English-speaking populations. He established annual song festivals for choirs from Mennonite settlements throughout the province. An avid sportsman, he promoted tennis, hockey, and swimming.
Ewert had supported the Laurier–Greenway compromise between Prime Minister Wilfrid Laurier* and Premier Thomas Greenway* that was reached late in 1896. The agreement primarily addressed Roman Catholics' educational rights in Manitoba, but among other provisions, it required schools to offer bilingual instruction if there were at least ten children in a district whose mother tongue was other than English; this stipulation touched many ethnic groups. Ewert believed that the arrangement served both church and society well.
When, in September 1906, the Roblin administration ordered all government-sponsored district schools to fly the Union Jack or lose their funding, Ewert initially opposed the regulation, arguing that the Mennonites' pacifism would be undermined by the prominent display of this symbol of British imperialism. Later he modified his position, and was more accepting of the legislation.
In 1916, in the midst of the pressures caused by World War I, the Liberal government of Tobias Crawford Norris revoked the bilingual clause of the Laurier–Greenway agreement, thus making English the only language of instruction. That same year school attendance became compulsory. Mennonites objected to the legislation, and by 1918 most district schools had reverted to private schools. In response the Manitoba government appointed the assistant deputy minister of education, John Franklin Greenway, the official trustee of Mennonite schools, giving him the power to take over the private schools and impose English-only district schools. Over the next three years Greenway closed all Mennonite private schools and replaced them with district schools.
Ewert wrote a brief to the government on behalf of the Mennonite community, objecting vigorously to these actions. He saw them as a betrayal of promises made to Mennonites on their arrival in 1873. The government rejected the claims, stating that its new policy was intended to provide quality education to all Manitoba children, and to acculturate Mennonites and other ethnic groups to an English national identity. The government and most of the general public shared the view expressed by Premier Rodmond Roblin during the 1906 flag controversy when he stated that "[The immigrant] who objects to perpetuating the glories of our flag and declines to have his children infused with British patriotism, is a man that is undesirable."
The school in Gretna lost its status as a normal school, but remained a secondary school. Ewert adapted, but many Mennonites chose to leave rather than accommodate the new policies. Between 1922 and 1927 almost 8,000 Mennonites departed for Latin America.
During the 1920s Ewert assisted in the initial preparation for the immigration to Canada of more than 20,000 Mennonites from the Soviet Union. He was a member of the first two delegations who met with federal government officials to request that the country open its doors to these refugees. On 17 May 1922, at a meeting that he chaired in his home, he nominated David Toews, a former student and the principal of Rosthern Junior College in Saskatchewan, who was chosen to head the Canadian Mennonite Board of Colonization that would negotiate with governments, the Canadian Pacific Railway, and Mennonite churches. While the immigration was proceeding, Ewert withdrew from participation on the board, largely because of disagreements over the financing of the project. Once the immigrants had settled, however, he provided English-language education for many of them through his school.
Ewert wrote articles on issues related to church and education for various Mennonite papers and his own Der Mitarbeiter as well as for the Winnipeg Free Press. In 1932 he made a presentation to the Historical and Scientific Society of Manitoba entitled "The Mennonites." It was also published in pamphlet form in separate German and English editions.
Ewert died suddenly on 29 Dec. 1934. A giant within the Mennonite community, he was a major contributor to the development of western Canada.
Some of the reports written by Heinrich H. Ewert during his years as inspector of Mennonite schools can be found in the Sessional papers of the Legislative Assembly of Man. In Der Mitarbeiter [The Co-worker] (Gretna, Man.), which he edited from 1906 to 1934, many of his presentations can be found as well as information about his various activities. This publication is also useful for the study of his role in important issues concerning the Mennonites during this period. P. J. Schaefer, Heinrich H. Ewert, lehrer, erzieher und prediger der Mennoniten (n.p., 1945), one of the most important sources about Ewert, was translated into English by Ida Toews and published under the title Heinrich H. Ewert, teacher, educator and minister of the Mennonites (Winnipeg, 1990).
Man., Dept. of Tourism, Culture, Heritage, Sport and Consumer Protection, Vital statistics (Winnipeg), no.1925-008248, no.1934-051161. Mennonite Heritage Centre Arch. (Winnipeg), Benjamin Ewert fonds; Bergthaler Mennonite Church of Manitoba, vol.727; Canadian Mennonite Board of Colonization, vol.1167, file 26; David D. Klassen fonds, vol.3220, 4; Heinrich H. Ewert fonds; Mennonite Collegiate Instit. fonds, ser.I, 814: 1–2; ser.V, 830: 1, 5. F. G. Enns, Gretna, window on the northwest (Gretna, 1987). Anna Ens, In search of unity: the story of the Conference of Mennonites in Manitoba (Winnipeg, 1996). G. J. Ens, "Die Schule muss sein": a history of the Mennonite Collegiate Institute, 1889–1989 (Gretna, 1990). F. H. Epp, Mennonite exodus: the rescue and resettlement of the Russian Mennonites since the communist revolution (Altona, Man., 1962). H. J. Gerbrandt, Adventure in faith: the background in Europe and the development in Canada of the Bergthaler Mennonite Church of Manitoba (Altona, 1970). "Global Anabaptist Mennonite encyclopedia online": www.gameo.org (consulted 8 Nov. 2011). Mennonites in Canada (3v., Toronto, 1974–96), 2 (F. H. Epp, 1920–1940: a people's struggle for survival, 1982). Religions and beliefs, ed. Robert Choquette (14v. to date, Ottawa, 1993– ), 2 (Adolf Ens, Subjects or citizens?: the Mennonite experience in Canada, 1870–1925, 1994).
© 2018–2023 University of Toronto/Université Laval
Image Gallery

Cite This Article
John J. Friesen, "EWERT, HEINRICH H.," in Dictionary of Canadian Biography, vol. 16, University of Toronto/Université Laval, 2003–, accessed October 4, 2023, http://www.biographi.ca/en/bio/ewert_heinrich_h_16E.html.
The citation above shows the format for footnotes and endnotes according to the Chicago manual of style (16th edition). Information to be used in other citation formats:
| | |
| --- | --- |
| Permalink: | http://www.biographi.ca/en/bio/ewert_heinrich_h_16E.html |
| Author of Article: | John J. Friesen |
| Title of Article: | EWERT, HEINRICH H. |
| Publication Name: | Dictionary of Canadian Biography, vol. 16 |
| Publisher: | University of Toronto/Université Laval |
| Year of publication: | 2018 |
| Year of revision: | 2018 |
| Access Date: | October 4, 2023 |