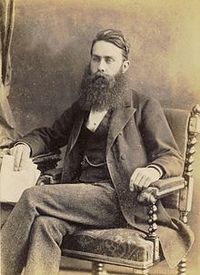 Source: Courtesy of Wikimedia Commons
GOAD, CHARLES EDWARD, civil engineer and publisher; b. 15 March 1848 in Camberwell (London), England, son of Charles Goad, a plumber, and Caroline Ann Vogel; m. first Margaret Brown of Owen Sound, Ont., and they had four children; m. secondly Agnes Harriss of Montreal, and they had four children; d. 10 June 1910 in Toronto.
Though Charles E. Goad was reputed to have studied mathematics and been an "associate in arts" at the University of Oxford, there is no evidence that he ever matriculated there. Most likely he was self-taught or served an apprenticeship in drafting; he evidently was employed in the building of public works in England. After immigrating to Canada in 1869 at the age of 21, he worked as an engineer on the Toronto, Grey and Bruce Railway. From 1873 to 1875 he held various positions, including drafting-office manager and eventually chief engineer, with the company contracted to build the Montreal Northern Colonization Railway. While engaged on that project he began privately in 1875 to produce fire-insurance plans. From May 1877 to sometime in 1878 he worked as chief engineer for the Halifax and Cape Breton Railway and Coal Company.
Fire-insurance plans, which would become Goad's principal field of endeavour, were diagrammatic maps of urban areas produced for the use of fire-insurance companies. The measured drawings of streets and structures helped insurers determine risk for policies and assess the extent of liability in the event of fire. The plans recorded street names, widths, and numbers; fire-protection facilities; the materials, shape, height, placement, and use of buildings; and the locations of openings, types of stored materials, and areas of high-risk activities on industrial sites. They were originally made as required by insurance companies, but the expense of surveying, other fieldwork, lithography, and stencilling with water-colours, combined with relatively limited demand and the need for frequent revisions because of rapidly changing urban morphology, meant that few copies were produced.
The D. A. Sanborn Company of New York had begun to make fire-insurance plans of the largest cities in Canada in 1874. Evidently with its concurrence, Goad entered the field the following year with a plan for Lévis, Que., which Sanborn had not surveyed. In December 1875, to increase demand, Goad started to approach insurance companies, suggesting that, as subscribers, they should divide the costs of making the plans. Business seems to have been light, as suggested by Goad's return to railway work in 1877–78. From 1878 onward, however, he devoted himself fully to developing his fire-insurance-plan business. He apparently bought out Sanborn's Canadian interests and in 1881 he started the periodical Insurance Society (Montreal) in order to advertise his plans.
Goad's surveys of Canadian cities grew in number from 15 in 1875 to 340 in 1885, and necessitated offices across the country. An office was listed in Montreal directories from 1876; a Toronto office existed from 1883 to 1885, was evidently closed, and then reopened in 1888. In 1885 Goad went to London, England, to open a bureau; within two years it had produced volumes of plans for 12 English, 2 Scottish, and 1 Irish city. He also prepared plans between 1895 and 1908 for places in Chile, Denmark, Egypt, France, Mexico, Mozambique, South Africa, Turkey, Venezuela, and the Caribbean. By the time of his death in 1910, Goad and his assistants had made plans for 1,300 Canadian places. The business was complemented by the production of atlases and a wide range of maps and by general engineering activity. After Goad's death, his sons James Lawrence, Victor Albert Edward, and Charles Ernest continued the production of fire-insurance plans and atlases until 1917. The London branch, which became the firm's head office, still carries on business as Charles E. Goad Limited.
Charles Goad was a significant personality in late-19th-century Canada. He was a participant in its widening range of professions, many of which were becoming organized in associations. He became a member of the Canadian Society of Civil Engineers in the 1880s, when he also joined the American Society of Civil Engineers. His entrepreneurial drive led to the formation of a specialized commercial operation to service the needs of business, much as R. G. Dun and Company did in the field of credit reporting and Thomas Winning Dyas* and Anson McKim* did in advertising. Goad's drive also enabled him to join others, such as bankers, insurance-company executives, railway builders, and manufacturers, in expanding Canadian business abroad.
Goad's mobility was staggering. He seems to have visited many of the places where his survey teams were at work. On one such trip, to Chile in 1908, he suffered a stroke; his daughter Ada Hazel, who had accompanied him, brought him home to Toronto via England. Because of his movement it is difficult to trace his whereabouts. His Canadian residence seems to have been in Montreal during much of the 1870s and 80s. In the 1890s and 1900s he evidently had a cottage on Centre Island in Toronto Harbour. In 1904–5 he lived at 108 Pembroke Street in Toronto and around 1905 he bought a house on St George Street, where he lived until his death in 1910. Other Toronto links included membership in the Royal Canadian Yacht Club, the Toronto Club, and St Thomas's Church (Anglican).
Charles E. Goad's greatest gift to Canada is an unintended by-product of his surveying business. Consulted regularly in libraries and archives across the country, his insurance plans and city atlases provide a wide range of researchers with a vast storehouse of information about the built fabric of late-19th- and early-20th-century Canadian towns and cities.
Elizabeth Buchanan and Gunter Gad
[Charles Edward Goad's cartographic output is difficult to document, since the atlases and maps produced by his company are scattered among numerous institutions and no single depository possesses a complete set. The most comprehensive collection of Canadian insurance plans and atlases published between 1895 and 1923 is probably that in the British Library (London), Humanities and Social Sciences, Map Coll. A listing of these holdings has been published as vol.2 of A checklist of Canadian copyright deposits in the British Museum, 1895–1923, ed. J. R. T. Ettlinger and P. B. O'Neill (5v. in 7 parts to date, Halifax, 1985– ), 2. An inventory of the somewhat smaller collection in the Cartographic and Audio-Visual Arch. Div. of the NA, compiled by Robert J. Hayward, is available as Fire insurance plans in the National Map Collection (Ottawa, 1977). A comparative edition of Goad's 1884 and 1890 Toronto atlases, demonstrating the growth of the city during the period, has been issued as The mapping of Victorian Toronto . . . (Sutton West, Ont., and Santa Barbara, Calif., 1984).
Details concerning the Goad family, including a copy of a family tree, were supplied to Gunter Gad in an interview in 1990 with J. Lawrence Goad, a grandson of the subject, and his wife Diana at their home in North York (Toronto).
Various published accounts of Goad's life, including those by Robert Hayward, repeat the claim that he was a graduate of Oxford, but the university's deputy head clerk commented in a letter of 19 March 1991 that there is no record of his ever having matriculated there. Goad's reputed association with Oxford possibly began with the brief biography of him in Canadian men and women of the time (Morgan; 1898), for which he may himself have been the informant. e.b. and g.g.]
AO, RG 22, ser.305, no.23308. GRO-L, Camberwell (London), birth and marriage certificates. Mount Pleasant Cemetery (Toronto), Tombstone inscriptions. Evening Telegram (Toronto), 11 June 1910. Globe, 11 June 1910. Toronto Daily Star, 11 June 1910. Directories, Montreal, 1876/77–1917/18; Toronto, 1883–85, 1888–1917. R. J. Hayward, "Chas. E. Goad and fire insurance cartography," Assoc. of Canadian Map Libraries, Proceedings of the eighth annual conference (Toronto, 1974), 51–72. The roll of pupils of Upper Canada College, Toronto, January, 1830, to June, 1916, ed. A. H. Young (Kingston, Ont., 1917).
© 1994–2023 University of Toronto/Université Laval
Cite This Article
Elizabeth Buchanan and Gunter Gad, "GOAD, CHARLES EDWARD," in Dictionary of Canadian Biography, vol. 13, University of Toronto/Université Laval, 2003–, accessed October 2, 2023, http://www.biographi.ca/en/bio/goad_charles_edward_13E.html.
The citation above shows the format for footnotes and endnotes according to the Chicago manual of style (16th edition). Information to be used in other citation formats:
| | |
| --- | --- |
| Permalink: | http://www.biographi.ca/en/bio/goad_charles_edward_13E.html |
| Author of Article: | Elizabeth Buchanan and Gunter Gad |
| Title of Article: | GOAD, CHARLES EDWARD |
| Publication Name: | Dictionary of Canadian Biography, vol. 13 |
| Publisher: | University of Toronto/Université Laval |
| Year of publication: | 1994 |
| Year of revision: | 1994 |
| Access Date: | October 2, 2023 |