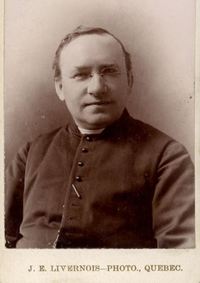 Source: Link
HUARD, VICTOR-ALPHONSE (baptized Joseph-Alphonse) (until the beginning of the 1890s, he sometimes spelled his family name Huart), Roman Catholic priest, professor, school administrator, naturalist, author, editor, museum curator, and the first provincial entomologist of Quebec; b. 28 Feb. 1853 in Saint-Roch ward, Quebec, son of Laurent Huard, a joiner, and Ursule Thérien; d. 15 Oct. 1929 at Quebec.
Victor-Alphonse Huard attended the Petit Séminaire de Québec as a day student from 1863 to 1872, completing his classical studies with high standing. He began taking a particular interest in the natural sciences as a result of an event in June 1869. As he would later note in his book La vie et l'œuvre de l'abbé Provancher, which was published at Quebec in 1926, he was this naturalist's hiking companion on an outing in Montreal by students of the Séminaire de Québec. Léon Provancher* had just founded a journal at Quebec, Le Naturaliste canadien, to disseminate information about natural history in French Canada. A firm friendship developed between the young college student and the man who would become his mentor. Their correspondence, which commenced in 1872, was maintained without a break until Provancher's death in March 1892. In 1872 Huard began studying at the Grand Séminaire de Québec. He was granted the degree of bd in 1875 and would be ordained to the priesthood in the basilica of Notre-Dame at Quebec on 13 Aug. 1876.
Huard arrived in Chicoutimi on 6 Oct. 1875. Archbishop Elzéar-Alexandre Taschereau* of Quebec had invited him to go there and participate in the initial work of the seminary. Teachers were in short supply in the Saguenay region, which had only recently been opened to settlement [see Nicolas-Tolentin Hébert*]. Until 1893, when he would begin concentrating solely on the administration of the seminary, he would teach religion, languages, rhetoric, zoology, and geography. He took on other important offices as well, serving as the first director of the Grand Séminaire (1878–80) and as secretary (1880–89), prefect of studies (1881–87), vice-superior (1892–96, 1899–1900), and superior (1896–99) of the Séminaire. Many additional tasks made heavy demands on his time: the founding of the Académie Saint-François-de-Sales (1877) and the organization of the library (1876–78, 1880–81) as well as of the bookstore (1880–94). He was also the promoter of the house orchestra, curator of the museum, annalist, and co-founder and co-editor of L'Oiseau-mouche, the student newspaper at the Petit Séminaire.
Huard made his passion for natural history an integral part of his duties. On 14 May 1876 he wrote in the seminary's annals: "Little children take part enthusiastically in the hunt for insects, which they capture by lifting up stones in the fields. Not a stone is to be found in all the surrounding grounds that has not been lifted. They have collected at least 500 beetles since the beginning of the month in this way." But his contribution to the field of natural science really took off in 1894, when Provancher's "disciple" – as he chose to call himself – resumed publication of Le Naturaliste canadien, which had ceased to appear in June 1891. At first, Huard managed to keep the magazine alive without a grant. The governments of Sir Lomer Gouin and Louis-Alexandre Taschereau* would give him financial assistance from 1919. Huard's magazine was more modest and less technical than Provancher's had been, and it would remain so until about 1910. After that, as a result of contributors in the fields of geology, zoology, ornithology, microbiology, and entomology, Le Naturaliste canadien would become a popular magazine with varied and original content that Huard would publish without interruption until his death in 1929.
In 1901 Huard returned to live at Quebec, where he continued to popularize science by writing a number of textbooks. The first, published in 1905, was entitled Traité élémentaire de zoologie et d'hygiène. From 1907 to 1925, a series of short works for the use of educational institutions would be published and reissued at Quebec. These included the Abrégé de zoologie, the Manuel des sciences usuelles (written in part by Abbé Henri Simard), the Abrégé de minéralogie, the Abrégé de botanique, and the Abrégé de géologie. Their popularity, which held up, proved that Huard's textbooks met a need in the province's schools.
Over the years Huard acquired a name in the field of the natural sciences. In 1904 he became curator of the Musée de l'Instruction Publique. This office, which he would retain until 1927, let him keep an eye on the scientific collections that his mentor had sold in 1877 to the provincial Department of Public Works and Agriculture for the creation of the museum. From 1913 to 1916 Huard was the province's first titular entomologist.
Huard cherished great hopes as well. He wanted to complete the entomological work that Provancher had put aside after investigating five orders of insects, leaving the study of the lepidoptera, the diptera, and the aptera still undone. If Huard's project had materialized, it would have resulted in a ten-volume work. All his life, he wanted to undertake this task, but writing his textbooks kept him from it until the spring of 1927. In the end he had time to update only one of Provancher's manuscripts, which had been written in 1880 on "Les lépidoptères lepidoptera." Huard published an expanded version of it at Quebec in 1929, under the general title Faune entomologique de la province de Québec. This volume on the diurnal lepidoptera was his only entomological publication on taxonomy, since his death occurred shortly afterwards. The study on moths that he was preparing at the time would never be published.
Huard had also been actively involved in the religious life of his day. Although a speech impediment of a slight stammer and shyness kept him from undertaking regular parish duties, they did not deprive him of talent as a communicator. In 1895, while living in Chicoutimi, he helped found Le Messager de Saint-Antoine. The following year he also began assisting with its English-language version. With Elzéar De Lamarre, he was co-editor of this monthly (in French and English) until he left Chicoutimi in 1901. On his return to Quebec, he became the editor of La Semaine religieuse de Québec, a weekly founded by Provancher in 1888, and he carried out this responsibility until August 1913.
In the field of religion, as in that of the natural sciences, Huard was awarded a number of prestigious honours. The Royal Society of Canada admitted him as a member of the section on biological and geological sciences on 27 May 1913, and in 1916 he was granted the degree of doctor of science honoris causa by the Université Laval. Given the Pro Ecclesia et Pontifice cross in 1903 and made an honorary canon of the metropolitan chapter of Quebec in 1915, he received a special apostolic blessing from Pius XI in 1924. The news of his final honour, an appointment as domestic prelate of the pope, arrived the day after his death.
An educator valued by his students, an able popular scientific writer, and a conscientious organizer, Victor-Alphonse Huard succeeded in reconciling his duties as professor, editor, curator, and man of religion. Because he had linked the work of the 19th-century naturalists and the scientific revival in French Canada at the dawn of the 20th century, experts consider him the successor to Provancher. A model both for the naturalists of his day and for scientists in the future, Huard stands out as a "diligent intellectual worker, a perfect gentleman, [and] accomplished priest." Such was the tribute Mgr Eugène Lapointe*, of the Séminaire de Chicoutimi, paid him shortly after his death.
[In addition to the works cited above, Victor-Alphonse Huard published several books and pamphlets, among them: Impressions d'un passant: Amérique, Europe, Afrique (Québec, 1906) and Manuel théorique et pratique d'entomologie (Québec, 1927). For the most part, his other works can be consulted on microfiche and are listed in the CIHM Reg. As curator of the Musée de l'Instruction Publique, Huard published in Que., Parl., Sessional papers, 1908–9, a report that covers the years 1893–1909 and, as entomologist in the Department of Agriculture, he published another report in Que., Parl., Sessional papers, 1912–13.
Huard is also the author of hundreds of articles which appear in the following periodicals between 1877 and 1929: L'Abeille (Québec), L'Alma mater (Chicoutimi, Qué.), L'Almanach de l'Action sociale catholique (Québec), the BRH, Le Canada français (Québec), La Kermesse (Québec), Le Messager de Saint-Antoine (Chicoutimi), Le Naturaliste canadien (Chicoutimi; Québec), La Nouvelle-France (Québec), L'Oiseau-mouche(Chicoutimi), La Semaine religieuse de Québec, and RSC, Trans.
Numerous documents concerning Huard are conserved at the Arch. du Séminaire de Chicoutimi, in the Abbé V.-A. Huard papers (C-11 and C-12) and in the general records of the Séminaire de Chicoutimi (C-20 and C-21). The first collection contains about 24,000 letters that he received, as well as various manuscripts of his works. It has not yet been processed, but researchers can consult a nominal index and a card catalogue that provides a guide to the 344 files. The second collection includes some portraits of Huard (C-20, fiche 587). Huard's scientific and religious library is held in the Salle Huard in the Arch. du Séminaire de Chicoutimi, where there are also volumes of newspaper clippings (of 500 pages each), which he classified under different categories: "Varia Saguenayensia" (15v.), "Varia Scientifica" (9v.), and "Varia de Variis" (70v.).
Huard's entomology collection, held at the Pavillon Louis-Jacques-Casault, is prominent among the Coll. de l'Univ. Laval.
At ANQ-SLSJ, in the Coll. de la Soc. Hist. du Saguenay (P2), there are copies of Huard's correspondence between 1875 and 1912 (S1, D1050), articles and handwritten notes (S1, D1206), a letter, dated 1896, from Charles Arnaud* to Huard (S2, D6), reports, along with other letters and articles (S2, D174), and his correspondence on the subject of Le Naturaliste canadien between 1866 and 1922 (S2, D316). The archives also has the correspondence that Huard conducted with François-Xavier Gosselin between 1888 and 1929 (P165).
There is no detailed biography of Huard. The following items are among the most useful for studying his life: L'Action catholique (Québec), 8 nov. 1929; Le Devoir, 15, 19 oct. 1929; Yvon Paré, "À la découverte de notre littérature," Le Quotidien du Saguenay–Lac-Saint-Jean (Chicoutimi), 1er sept. 1979; La Semaine religieuse de Québec, 12 août 1926; 17, 24 oct. 1929; 6 mars 1930; Yves Thériault, "Un exquis prosateur du siècle dernier," La Patrie du dimanche (Montréal), 20 déc. 1959; BCF, 1926; Luc Chartrand et al., Histoire des sciences au Québec (Montréal, 1987); Raymond Desgagné, "Mgr Victor-Alph. Huard," Saguenayensia (Chicoutimi), 1 (1959): 102–4; Mélanie Desmeules, "Les années chicoutimiennes du Naturaliste canadien," Saguenayensia, 43 (2002), no.3: 19–21; Conrad Laforte, "Essai de bio-bibliographie de monseigneur Joseph-Victor-Alphonse Huard, p.d." (école de bibliothécaires, univ. de Montréal, 1949); Georges Maheux, "Feu le chanoine V.-A. Huard, 1853–1929," Le Naturaliste canadien, 57 (1930): 6–10; J.-M. Perron, "La course à relais du Naturaliste canadien," Le Naturaliste canadien, 125 (2001), no.2: 6–10; Adrien Robert, "Le chanoine V.-A. Huard, 1853–1929," Entomological Soc. of Que., Annals (Sainte-Foy, Que.), 6 (1960): 148–49; André Simard, Les évêques et les prêtres séculiers au diocèse de Chicoutimi, 1878–1968; notices biographiques (Chicoutimi, 1969), 569–71; RSC, Trans., 3rd ser., 24 (1930), proc.: vi–vii. m.d.]
© 2005–2023 University of Toronto/Université Laval
Cite This Article
Mélanie Desmeules, "HUARD, VICTOR-ALPHONSE," in Dictionary of Canadian Biography, vol. 15, University of Toronto/Université Laval, 2003–, accessed October 4, 2023, http://www.biographi.ca/en/bio/huard_victor_alphonse_15E.html.
The citation above shows the format for footnotes and endnotes according to the Chicago manual of style (16th edition). Information to be used in other citation formats:
| | |
| --- | --- |
| Permalink: | http://www.biographi.ca/en/bio/huard_victor_alphonse_15E.html |
| Author of Article: | Mélanie Desmeules |
| Title of Article: | HUARD, VICTOR-ALPHONSE |
| Publication Name: | Dictionary of Canadian Biography, vol. 15 |
| Publisher: | University of Toronto/Université Laval |
| Year of publication: | 2005 |
| Year of revision: | 2005 |
| Access Date: | October 4, 2023 |