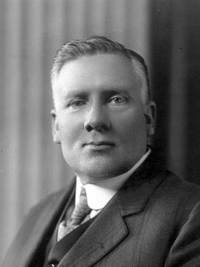 Source: Link
JOHNSON, THOMAS HERMAN (Hermann), lawyer and politician; b. 12 Feb. 1870 in Héðinshöfði, Iceland, son of John Johnson (Jón Björnsson) and Margrét Sigriður Bjarnadóttir; m. 21 June 1898, in Winnipeg, Aurora Frederickson of Glenboro, Man., and they had one daughter and two sons; d. 20 May 1927 in Winnipeg.
Thomas Herman Johnson moved with his parents to Gimli (Man.) in 1879. Gimli was the main village in New Iceland, an ethnic reserve created in 1875 by the federal government on the west side of Lake Winnipeg [see Jón Bjarnason*]. The family moved to Winnipeg in 1881 and then in 1886 to the Argyle settlement, an Icelandic district (not a reserve) near Glenboro, about 150 kilometres southwest of Winnipeg. In 1898 Johnson would marry Aurora Frederickson, the daughter of a prominent Icelandic merchant who had moved to Glenboro in 1886.
In 1888 Johnson obtained a teacher's certificate and started work in a school in the Argyle district. For him, as for many young men of his time, teaching was only a temporary pursuit. In 1890 he enrolled at Gustavus Adolphus College, a Lutheran institution in St Peter, Minn. He financed his studies by teaching school in the summers and received a ba in 1895. That year he began to study law with the Winnipeg firm of Richards and Bradshaw. In 1900 he was called to the bar, the first lawyer in Canada of Icelandic descent. He soon became a partner in Rothwell, Johnson and Bergman (after 1924 Johnson and Bergman) and was successful in the profession. Eventually, he became the chief legal counsel in Winnipeg for the Hudson's Bay Company and he would be appointed kc in 1919.
From a young age Johnson was both interested in politics and sympathetic to the Liberal party. He gained a seat on the Winnipeg School Board in 1904 and in March 1907 he successfully ran as a Liberal in the provincial election. For the next 15 years he represented Winnipeg in the Legislative Assembly. When Johnson was first elected, the Liberals formed the opposition to the Conservative government of Rodmond Palen Roblin*. After 1907 they gained increasing support from advocates of reform as well as from voters who believed that the Roblin machine not only took partisan politics to ridiculous lengths but probably was also corrupt. Finally, in 1915, led by Tobias Crawford Norris*, who relied heavily on Johnson (he could be nastier and more sarcastic than Norris), they were able to expose a major scandal over the construction of the new legislative building. Roblin resigned on 12 May. The Liberals took office, quickly called an election, and were rewarded with 42 of the 49 seats in the assembly.
The first person of Icelandic descent to become a cabinet minister in Canada, Johnson served from May 1915 to November 1917 as minister of public works, from November 1917 to June 1922 as attorney general and minister of telephones and telegraphs, and during part of 1916 as acting premier. The government of 1915–20 was one of the most important administrations in the history of Manitoba. Among its major initiatives were two Prohibition measures. The Manitoba Temperance Act, passed in 1916, banned the manufacture and sale of alcohol in the province except by druggists on prescription. The second act, passed in 1920, prohibited the importation of alcoholic beverages. Initiatives of immense consequence were taken in education: school attendance became compulsory, English was made the sole language of instruction in public schools, and the government took greater control over, and provided more money for, the University of Manitoba. Significant political reforms included the Initiative and Referendum Act (which was declared ultra vires), the creation of a civil service commission, the introduction of measures to publicize and limit amounts spent on elections, and the establishment of Winnipeg as one large constituency with 10 members, elected by proportional representation. Many reforms benefited women: the Dower Act, the creation of a board to fix minimum wages for female employees, and legislation to give women the right to vote in provincial elections and to hold political office. There were also measures to give farmers easier access to credit, improve the public health system [see James William Armstrong], upgrade the emerging provincial road system, and provide hydroelectric power to rural communities.
Johnson was philosophically and emotionally committed to his government's program, which he and the other members thought was supported by the vast majority of Manitobans. Yet in the provincial election of 1920 the Liberals took only 21 of the 55 seats and their popular vote dropped to 36 per cent from the 54 per cent of 1915. Opposition to the Liberals had developed because of the government's increased expenditures and disappointment over its indecisive approach to the Winnipeg General Strike of 1919 [see Mike Sokolowiski*]. In addition, most ethnic and religious minorities protested against its educational reforms and Prohibition. The two most important reasons for the decline of the Liberals were, however, the divisions within the party itself caused in 1917, when Johnson and other government members supported conscription and the Union government of Sir Robert Laird Borden*, and the demand on the part of farmers for independent candidates.
From 1920 to 1922 Johnson was attorney general in a minority Liberal administration. This government could introduce little new legislation because of the resistance or anticipated resistance of opposition parties and various groups in the legislature. In 1922 Johnson successfully completed the civil suit the province had initiated in 1916 against Thomas Kelly and Sons, the contractors of the legislative buildings, but after the government was defeated in the house he decided not to run in the election of that year. He devoted his energies to his law practice.
During his years in politics Johnson had been an important and highly visible member of Manitoba's Icelandic community. He and his wife were strong supporters of, and sang in the choir of, Winnipeg's First Lutheran Church, which had an essentially Icelandic congregation. In 1925 Christian X, King of Denmark and Iceland, awarded him the prestigious Grand Cross of the Knights of the Order of the Falcon, given to natives of Iceland who serve their country with distinction. That year, at the Norse-American Centennial Celebration held in St Paul, Minn., Johnson was made a knight of the Order of St Olaf by Haakon VII, King of Norway. When he died in 1927 a local newspaper referred to him as "the most distinguished member of his race in Western Canada."
At the end of World War I Johnson had contracted the Spanish influenza that had spread rapidly through Canada. He was never really strong thereafter. He had a serious operation, probably for cancer, in 1926. He seemed to recover well, but died rather unexpectedly in May 1927. By then Manitobans had become aware that 1930 would mark the 1,000th anniversary of the founding of the Icelandic parliament. To recognize the important part played by Icelanders in the development of Manitoba, the government of John Bracken* donated a bronze portrait of Johnson. It was unveiled in Reykjavík, Iceland, in June 1930.
AM, MG 14, B44, box 5, file 9. Man., Legislative Library (Winnipeg), Biog. scrapbooks, Manitoba hist. scrapbooks, political scrapbooks. Univ. of Man. Libraries, Dept. of Arch. and Special Coll. (Winnipeg), J. W. Dafoe fonds. Lögberg [Mount of Laws] (Winnipeg), 26 May 1927. Marilyn Baker, Symbol in stone: the art and politics of a public building: Manitoba's third legislative building (Winnipeg, 1986). Flora Benson, "Aurora Frederickson Johnson," Lutheran Women's League of Manitoba, Árdís (Winnipeg), 22 (1954): 72. Canadian annual rev., 1907-22. CPG, 1914-23. L. J. Fisk, "Controversy on the prairies: issues in the general provincial elections of Manitoba, 1870-1969" (phd thesis, Univ. of Alta, Edmonton, 1975). A. I. Inglis, "Some political factors in the demise of the Roblin government: 1915" (ma thesis, Univ. of Man., 1968). W[ilhelm] Kristjanson, The Icelandic people in Manitoba: a Manitoba saga (Winnipeg, 1965). D. H. Laycock, Populism and democratic thought in the Canadian prairies, 1910 to 1945 (Toronto, 1990). W. L. Morton, Manitoba: a history (Toronto, 1957); The Progressive party in Canada (Toronto, 1950). Lionel Orlikow, "The reform movement in Manitoba, 1910-1915," in Historical essays on the prairie provinces, ed. Donald Swainson (Toronto and Montreal, 1970), 215-29. P. F. Sharp, The agrarian revolt in western Canada: a survey showing American parallels (Minneapolis, Minn., 1948). Vestur-Íslenzkar æviskrár [Icelandic-American genealogies], ed. Benjamin Kristjánsson (4v., Akureyri, Iceland, 1961-72).
© 2005–2023 University of Toronto/Université Laval
Image Gallery

Cite This Article
Morris Mott, "JOHNSON, THOMAS HERMAN," in Dictionary of Canadian Biography, vol. 15, University of Toronto/Université Laval, 2003–, accessed September 25, 2023, http://www.biographi.ca/en/bio/johnson_thomas_herman_15E.html.
The citation above shows the format for footnotes and endnotes according to the Chicago manual of style (16th edition). Information to be used in other citation formats:
| | |
| --- | --- |
| Permalink: | http://www.biographi.ca/en/bio/johnson_thomas_herman_15E.html |
| Author of Article: | Morris Mott |
| Title of Article: | JOHNSON, THOMAS HERMAN |
| Publication Name: | Dictionary of Canadian Biography, vol. 15 |
| Publisher: | University of Toronto/Université Laval |
| Year of publication: | 2005 |
| Year of revision: | 2005 |
| Access Date: | September 25, 2023 |