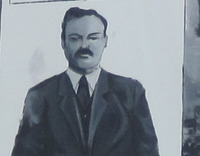 Source: Link
SOKOLOWISKI (Sokolowski), MIKE, victim of strike violence; m. and had three children; d. 21 June 1919 in Winnipeg.
Almost nothing is known of Mike Sokolowiski beyond the few (and sometimes contradictory) details recounted by Winnipeg newspapers reporting on his death. The Winnipeg Tribune printed a photograph that showed a neatly dressed, stocky man in his late twenties or early thirties. He sported a tidy black moustache and a high peak of black hair. Even assuming that Sokolowiski was, as described, of "Austrian birth," the Austro-Hungarian empire of the late 19th century had many ethnic groups. His address was given as 552 Henry Avenue (Street) in the city's north end, but the only listing at that address in the city directory of 1919 is of a Mrs Sodosky. The Tribune also reported he was carrying a badge of the Department of Health, but there was no record of employment by that department. Other press reports called him a tinsmith. If indeed Sokolowiski had been in the act of throwing a rock at the police, as was claimed, he had clearly come prepared for trouble, since there were few missile-sized stones to be found on Main Street in June 1919. But whether he was actually a striker, a sympathizer, or merely an innocent bystander caught up in the violence of the moment is quite uncertain.
The confrontation during which Sokolowiski died was the culmination of many weeks of open labour unrest in Winnipeg, usually called the Winnipeg General Strike. It had begun in early May among the city's metal and construction workers and it spread on 13 May when the Trades and Labor Council announced that a strike referendum showed 11,000 votes in favour of a general strike and only 500 against. By 15 May thousands of workers across the city were on strike, most of them part of the "general sympathetic strike" called in support of the original workers who had walked off their jobs. The notion of a general strike, a novel one in 1919, was regarded with great suspicion by Winnipeg's ruling and middle classes, who saw it as the first stage of revolution. They organized a formal response in the shape of the Citizens' Committee of One Thousand, devoted initially to keeping the city's services running. Canadian federal authorities, equally fearful of the threat to social order, were quick to criticize the strike and to move against it.
At the outset, the strike was led by Winnipeg's traditional labour leaders, most of them schooled in British labour organizations and tactics. Winnipeg was a particularly volatile place in 1919, however, partly because of the presence in the city's north end of thousands of immigrants born in territory belonging to Canada's enemies during World War I. A few of these immigrants were members of radical organizations and most were familiar with government repression of various sorts during the war. Sokolowiski was apparently one of these "aliens." Also helping to inflame matters was a large contingent of Canadian war veterans, who had for some time been protesting against the aliens and who began demonstrating in support of the strikers at the end of May. Fearful of the pro-strike sympathies of the city's police force, the authorities replaced them on 9 June with special police who created a riot the next day with their heavy-handed tactics. These specials would soon be replaced on the front lines by the Royal North-West Mounted Police, who had been stationed in the city from the onset of labour troubles.
Paradoxically, by 21 June the official strike had already lost most of its momentum. The federal government had ordered the arrest of its alleged leaders on charges of sedition four days earlier. The public demonstration of 21 June was organized by the veterans, who decided to protest the arrests. The mounted police charged into the crowd on Main Street, swinging baseball bats and firing three volleys. Sokolowiski was the only immediate fatality, reportedly killed instantly by a shot through the head; Steve Schezerbanowes would later die of gangrene poisoning as a result of gunshot wounds. In the end, 27 casualties and 94 arrests were produced. Countless small injuries were never reported. The Winnipeg General Strike was officially called off on 26 June at 11:00 a.m., leaving behind it a legacy of local ill will, a series of trials of its leaders, and further activity by the immigration department against aliens.
Manitoba Free Press, 23 June 1919. Winnipeg Tribune, 23 June 1919. D. H. Avery, "Ethnic and class tensions in Canada, 1918–20: Anglo-Canadians and the alien worker," in Loyalties in conflict: Ukrainians in Canada during the Great War, ed. Frances Swyripa and J. H. Thompson (Edmonton, 1983), 79–98; "The radical alien and the Winnipeg General Strike of 1919," in The west and the nation; essays in honour of W L. Morton, ed. Carl Berger and Ramsay Cook (Toronto, 1976), 209–31. D. J. Bercuson, Confrontation at Winnipeg: labour, industrial relations, and the general strike (Montreal and London, 1974). J. M. Bumsted, The Winnipeg General Strike of 1919: an illustrated history (Winnipeg, 1994). Directory, Winnipeg, 1919. D. C. Masters, The Winnipeg General Strike (Toronto, 1950). M. K. Mott, "The 'foreign peril': nativism in Winnipeg, 1916–1923" (ma thesis, Univ. of Manitoba, Winnipeg, 1970). Winnipeg 1919: the strikers' own history of the Winnipeg General Strike, ed. Norman Penner (Toronto, 1973).
© 1998–2023 University of Toronto/Université Laval
Cite This Article
J. M. Bumsted, "SOKOLOWISKI, MIKE," in Dictionary of Canadian Biography, vol. 14, University of Toronto/Université Laval, 2003–, accessed December 9, 2023, http://www.biographi.ca/en/bio/sokolowiski_mike_14E.html.
The citation above shows the format for footnotes and endnotes according to the Chicago manual of style (16th edition). Information to be used in other citation formats:
| | |
| --- | --- |
| Permalink: | http://www.biographi.ca/en/bio/sokolowiski_mike_14E.html |
| Author of Article: | J. M. Bumsted |
| Title of Article: | SOKOLOWISKI, MIKE |
| Publication Name: | Dictionary of Canadian Biography, vol. 14 |
| Publisher: | University of Toronto/Université Laval |
| Year of publication: | 1998 |
| Year of revision: | 1998 |
| Access Date: | December 9, 2023 |