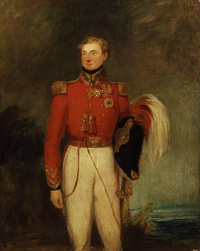 Source: Courtesy of Wikimedia Commons
MACDONELL, Sir JAMES, army officer and politician; b. in Inverness-shire, Scotland, 3rd son of Duncan Macdonell, 14th chief of the Macdonell clan of Glengarry, and Marjory Grant, daughter of Sir Ludovic Grant; d. 15 May 1857 in London.
Born into an ancient Highland clan, James Macdonell was probably educated at Douai, France, where most of the Roman Catholic Highland gentry sent their sons. He began his military career as ensign in an independent company in 1793. A year later he was promoted to lieutenant in the 78th Foot and on 1 Dec. 1795 was appointed captain in the 17th Light Dragoons in which he commanded a troop for nine years.
When the second battalion of the 78th was formed in 1804, Macdonell was appointed one of its majors, serving in the Kingdom of Naples and in Sicily. He continued with this regiment until 1809, distinguishing himself at the battle of Maida (Italy) and in the Egyptian campaign. After serving in Portugal on the staff of Arthur Wellesley (later the Duke of Wellington) for two years, he exchanged into the Coldstream Foot Guards as captain (with the rank of lieutenant-colonel in the army) and saw active duty with the regiment throughout the Peninsular War and in North Holland, Netherlands, in 1814.
The night before the battle of Waterloo, Wellington sent Macdonell with the guards to occupy the Château de Hougoumont. Macdonell held this key position against overwhelming French attacks during the early part of the battle. When French troops were forcing their way into the courtyard, Macdonell, aided by a sergeant, closed and held the gates by sheer physical strength. Chosen by Wellington for the award of £1,000 as the "bravest man in the British Army," Macdonell insisted upon sharing the sum with his sergeant.
Macdonell served with the Coldstream Guards until 1830 when, upon promotion to major-general, he was sent to Ireland. Created a knight bachelor in 1837, Macdonell remained in command of the troubled military district of Armagh (Northern Ireland) until 1838. After having been made a kcb in April, he was posted to Lower Canada in charge of the brigade of Guards sent over with Lord Durham [Lambton*] in May 1838.
Macdonell's posting to Canada at a time of civil unrest may partly have been the result of his clan connections, his religion, and his experience in Ireland during the 1830s. He had close personal and family ties with many of the Highlanders of Glengarry County, Upper Canada, some of whom had been recruited in 1794 by his brother, Alexander Ranaldson, chief of the clan, into the Glengarry Light Infantry Fencibles, the first Roman Catholic corps raised in the United Kingdom since the Reformation.
Within a month of his arrival at Quebec, as officer commanding the Quebec district, Macdonell was named by Durham on 28 June to the Special Council along with other military and naval officers to deal with the ordinance banishing Wolfred Nelson* and seven other Patriote leaders of the first rebellion to Bermuda. He remained a member of the council until after Durham's departure on 2 Nov. 1838. After his arrival Macdonell had lost no time in contacting his relative Bishop Alexander McDonell* of Kingston, who journeyed to Montreal at the end of June to visit him. Sir James entertained the bishop at Île Sainte-Hélène and introduced him to the military élite. In turn, with the bishop, Macdonell and other British officers visited various Roman Catholic institutions and dined with Joseph-Vincent Quiblier and other priests of the Séminaire de Saint-Sulpice in Montreal. In July, Bishop McDonell accompanied Sir James to Glengarry County where the general reviewed the four regiments of Glengarry Highlanders, addressing them in their native Gaelic.
When the second rebellion in Lower Canada broke out early in November 1838, Macdonell was ordered by Sir John Colborne * to Montreal with the Grenadier Guards to form part of the army marching south of the St Lawrence River on the insurgent headquarters at Napierville under the command of Robert Nelson*. Macdonell commanded the right wing composed of the guards, the 7th Hussars, and the 71st Foot, while Major-General John Clitherow commanded the left wing. After Napierville was invested, Macdonell's division marched through the neighbouring area capturing insurgents and burning the homes of known rebel leaders such as the Boyer brothers of Douglasburg (Coin-Douglas). Troopers of the Royal Montreal Cavalry were usually detailed by Macdonell to apply the torch to those houses slated for burning. Macdonell has been criticized by contemporaries and historians for not keeping a tighter rein on his troops. The burning of homes of the rebel leaders was deliberate military policy, designed to intimidate those who contemplated further insurrection. Pillaging by troops under his command got out of control because of the initial orders by Colborne to have the troops live at free quarters, an invitation to plunder. Only after Lieutenant-Colonel George Cathcart told Macdonell that he could not "sacrifice the discipline of my men" by allowing them to live off the land, did Macdonell, who agreed with his view, forbid the practice. It was some time, however, before the pillaging ceased.
Macdonell remained in command of the troops south of the St Lawrence until February 1839 when he returned to his post in the Quebec district. He was offered the command in Upper Canada relinquished by Sir George Arthur in 1841, but declined it, preferring to remain in Quebec with the guards. He served in Canada until 1842 when, upon promotion to lieutenant-general, he returned to England where he subsequently became colonel of the 79th Foot and the 71st Foot.
Sir James Macdonell was more than a distinguished officer, renowned for his bravery and firmness. He was an exception, a Roman Catholic who had become a general officer, and his appointments to Ireland and Canada owed much to his religion and family connections as well as to his outstanding ability.
PAC, MG 24, A40: 5554, 5581; B25, II: 136; J13; MG 27, I, E30, 5: 57. PRO, WO17/1547: 102. Arthur papers (Sanderson), vols.2–3. Gentleman's Magazine, January–June 1857: 733. [Charles] Grey, Crisis in the Canadas: 1838–1839, the Grey journals and letters, ed. W. G. Ormsby (Toronto, 1964). Montreal Gazette, 13 Nov. 1838, 28 Sept. 1841. Montreal Transcript, 17 March, 7 Aug. 1838. Boase, Modern English biog., 2: 587–88. Desjardins, Guide parl. DNB. G.B., WO, Army list, 1838, 1850. Filteau, Hist. des Patriotes (1938–42). Elinor Kyte Senior, British regulars in Montreal: an imperial garrison, 1832–1854 (Montreal, 1981).
© 1985–2023 University of Toronto/Université Laval
Image Gallery

Cite This Article
Elinor Kyte Senior, "MACDONELL, Sir JAMES," in Dictionary of Canadian Biography, vol. 8, University of Toronto/Université Laval, 2003–, accessed September 23, 2023, http://www.biographi.ca/en/bio/macdonell_james_8E.html.
The citation above shows the format for footnotes and endnotes according to the Chicago manual of style (16th edition). Information to be used in other citation formats:
| | |
| --- | --- |
| Permalink: | http://www.biographi.ca/en/bio/macdonell_james_8E.html |
| Author of Article: | Elinor Kyte Senior |
| Title of Article: | MACDONELL, Sir JAMES |
| Publication Name: | Dictionary of Canadian Biography, vol. 8 |
| Publisher: | University of Toronto/Université Laval |
| Year of publication: | 1985 |
| Year of revision: | 1985 |
| Access Date: | September 23, 2023 |