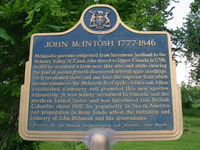 Source: Link
McINTOSH, JOHN, farmer; b. 15 Aug. 1777 in New York, son of Alexander McIntosh and Juliet —; m. Hannah Doran (Dorin), and they had six sons and five daughters; d. between 19 Sept. 1845 and 10 Jan. 1846 near McIntosh's Corners (Dundela), Upper Canada.
John McIntosh has been linked in Canadian legend with an apple, one of Ontario's, if not Canada's, agricultural successes in the 20th century. He is said to be the originator of the apple which bears his name. But the success story really belongs to the apple, with which McIntosh had not much more than a chance encounter. Neither the myth associated with him nor the reality comes even remotely close to the remarkable story of the American figure John Chapman, popularly known as Johnny Appleseed.
John's father was a Scottish immigrant who settled near Harpersfield, N.Y., in 1773 and was a loyalist during the American revolution. According to one account John came to Upper Canada in 1796, another places the date of his arrival at 1801, and yet a third claims he immigrated at age 18. Perhaps the first two versions come together in a chronology suggested by one writer, that he immigrated in 1796 and married in 1801. He apparently bought land in the St Lawrence valley, in Matilda Township, where on 8 March 1813 he purchased the west half of lot 9, concession 5.
McIntosh farmed this property until his death. It was there that either he or his son Allan (as some accounts have it) discovered in the bush and transplanted the seedling apple trees now known as the McIntosh. There is no documentary evidence that conclusively establishes either the father or the son as the discoverer of the seedlings, which probably derived from the Fameuse (Snow) apple. A strong oral and recorded tradition credits Allan with the appreciation of the apple, its eventual propagation, and the establishment of a nursery later in the century. This assumption seems reasonable.
The apple's qualities only began to be recognized in the late 19th and early 20th centuries. It had not been popular with farmers and as late as 1876 it was not included on the long list of varieties displayed at the international exhibition in Philadelphia by Ontario's fruit growers. In a paper read before the annual meeting of the Ontario Fruit Growers' Association in 1891, a New Yorker lauded the apple, which was "becoming a great favorite and sells in our city markets as a fancy fruit stand apple." But as late as 1905 one farmer urged upon the association the need for farmers to seek "something better" than the Mac and two other popular apples. The Mac's popularizer was William Terrill Macoun, dominion horticulturist, whose work at the Central Experimental Farm in Ottawa affirmed the apple's outstanding suitability for the Canadian climate and the increasingly important urban markets. He had long considered it as requiring "no words of praise, it is one of the finest appearing and best dessert apples grown." The fruit-experiment stations established by the federal government published short lists of desirable apples and long lists of undesirable ones. The Mac was consistently on the former. It was large, sweet, attractive, and a "regular bearer," and its only flaws, susceptibility to spot and easy bruising, could be overcome by chemical spraying and proper packaging. In 1907 Macoun reported that "it is only during the past ten or fifteen years that the fruit has become widely known. So great is the popularity . . . at present that the nurserymen cannot meet the demand for trees."
In 1909 the president of the fruit growers' association, Ernest D'Israeli Smith*, noted that of late years "orchardists have gone into the growing of apples on an extensive scale, directly for commercial purposes." A huge number of species were then grown by Ontario's farmers, and Macoun had long urged specialization and reduction in response to markets and for economy of production. The Mac was one of his choices and by the first decade of the 20th century resistance to it was eroding. The association's historical committee passed a resolution in 1909 setting aside $50 to erect a memorial on the spot where the first seedling had been planted "over a century ago." The date was unlikely but that did not matter. "This variety has taken its place as the highest type of dessert fruit" and has "shown its adaptability to a wide range of territory." In 1912 a monument was erected on the McIntosh farm "by popular subscription."
As Harold Jones, a nurseryman in Maitland, Ont., put it in 1905, the best types of apple had "originated largely from chance seedlings. McIntosh Red was of this description but it was one of a million." It is perhaps unfortunate that Macoun used the word originator to describe John McIntosh's connection to the apple. He was sensible enough to credit propagation of the apple to Allan McIntosh. The apple's fame would probably have come as an enormous surprise to John, an illiterate and pious Methodist farmer who had the good fortune to own the land on which the "one of a million" tree was found. He died at his home in Matilda Township, possibly in late September 1845.
AO, RG 22, ser.194, reg.D (1842–60): 29–31. Dundas Land Registry Office (Morrisburg, Ont.), Abstract index to deeds, Matilda Township, 1: 145, 184 (mfm. at AO). Reid, Loyalists in Ont., 93. J. S. Carter, The story of Dundas . . . (Iroquois, Ont., 1905; repr. Belleville, Ont., 1973), 243, 394, 433. J. G. Harkness, Stormont, Dundas and Glengarry: a history, 1784–1945 (Oshawa, Ont., 1946). M. E. [Hillman] Waterston, Pioneers in agriculture: Massey, McIntosh, Saunders (Toronto, 1957). Ont., Dept. of Agriculture, Fruit growing opportunities in Ontario, Canada ([Toronto, 1908]); The fruits of Ontario, 1906 (Toronto, 1907); Dept. of Commissioner of Agriculture and Public Works, Report of the commissioner of Agriculture on the products, manufactures, etc., of Ontario, exhibited at the International Exhibition, Philadelphia, 1876 (Toronto, 1877). Canadian Horticulturist (Grimsby, Ont.), 22 (1899): 396–97, 506; 23 (1900): 24, 45–46. Fruit Growers' Assoc. of Ont., Annual report (Toronto), 1873, 1876, 1881, 1883, 1885, 1889, 1891–92, 1894–95, 1900, 1903, 1905–6, 1909. L. A. Morse, "The biggest Mac of all: the MacIntosh – solid, reliable, luscious and our own," Leisure Ways (Toronto), 4 (September 1985): 12–17. Ont., Dept. of Agriculture, Annual report of the fruit experiment stations of Ontario, under the joint control of the Ontario Agricultural College, Guelph, and the Fruit Growers' Association of Ontario (Toronto), 1903; 1907: 12–13; Fruit Branch, Report (Toronto), 1910.
© 1988–2023 University of Toronto/Université Laval
Image Gallery

Cite This Article
Robert L. Fraser, "McINTOSH, JOHN (b. 1777, d. 1845 or 1846)," in Dictionary of Canadian Biography, vol. 7, University of Toronto/Université Laval, 2003–, accessed September 29, 2023, http://www.biographi.ca/en/bio/mcintosh_john_7E.html.
The citation above shows the format for footnotes and endnotes according to the Chicago manual of style (16th edition). Information to be used in other citation formats:
| | |
| --- | --- |
| Permalink: | http://www.biographi.ca/en/bio/mcintosh_john_7E.html |
| Author of Article: | Robert L. Fraser |
| Title of Article: | McINTOSH, JOHN (b. 1777, d. 1845 or 1846) |
| Publication Name: | Dictionary of Canadian Biography, vol. 7 |
| Publisher: | University of Toronto/Université Laval |
| Year of publication: | 1988 |
| Year of revision: | 1988 |
| Access Date: | September 29, 2023 |