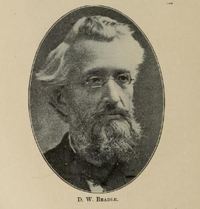 Source: Link
BEADLE, DELOS WHITE, nurseryman, horticulturist, editor, author, and office holder; b. 17 Oct. 1823 in St Catharines, Upper Canada, son of Chauncey Beadle and Orinda Converse; m. 7 Oct. 1852 Harriet Converse Steele of Windsor, Vt, and they had two sons and three daughters; d. 30 Aug. 1905 in Toronto.
The St Catharines into which Delos White Beadle was born, in 1823, just before the building of the first Welland Canal, was a small but strategically located settlement. His father, a physician in New York State, had moved there two years earlier and established a practice, which soon extended throughout the Niagara District. Sometime during the 1830s Chauncey Beadle became proprietor of the St Catharines Nursery, where by 1839 he was "cultivating not less than 250,000 fruit trees."
D. W. Beadle did not immediately involve himself in horticulture. He attended Grantham Academy in St Catharines and received a ba in 1844 from Yale College; he then studied law in a St Catharines office, at King's College in Toronto, which granted him a ba ad eundem in 1845, and at Harvard University Law School, from which he received an llb two years later. He was admitted to the bar in New York City in 1848 and practised law there for about six years, turning to real-estate law after becoming "disgusted with the dishonorable methods of some of his opponents in the trial of cases." His American lawyer, and business-man's form-book . . . was published in New York in 1851, with editions in both English and German. In 1854 this "young man of superior education and abilities" returned to St Catharines with his wife and entered the nursery business of his father, who had retired from medical practice in 1845.
By the 1850s there were fewer than two dozen nurseries in all of Upper Canada, with no more than half a dozen of them in the Niagara peninsula. As the British American Cultivator (Toronto) noted in 1846, Chauncey Beadle had already earned a reputation for his "meritorious Niagara establishment," which rendered the province "much valuable service." He made a conscientious effort to obtain superior stock, to identify it correctly, and to make it available not only to nearby customers but also, via the Welland Canal, Lake Ontario, and Lake Erie, to "those who live at a distance." To reach this potential market, he placed detailed advertisements in the St. Catharines Journal and sent out free catalogues upon request. The good reputation of the nursery continued under D. W. Beadle, who took full control of the business after his father's death in 1863. He eventually entered into new partnerships: with Thomas Buchanan in 1870 and with James Dunlop in 1878. Although he sold the St Catharines Nurseries when he retired in 1887, the new owners carried on the business as the D. W. Beadle Nursery Company into the 1890s.
Beadle's experience and reputation as a horticulturist had grown rapidly. He attended meetings of the Western New York Fruit Growers Society and shared with prominent colleagues there information about fruit varieties and methods of growing and marketing. In 1859, with a small group of other horticulturists, among them Dr William Craigie*, he took an active role in founding the Fruit Growers' Association of Upper Canada, which became the Fruit Growers' Association of Ontario in 1868, and he served as its secretary from 1861 to 1886. Its main aims initially were to introduce uniformity in fruit culture in Canada, for instance in names, to focus on fruits that could survive in the Canadian climate, and to increase awareness of the province's potential as a fruit-growing region. At provincial exhibitions Beadle sponsored prizes for fruit in his father's name and won numerous prizes in his own name. He was elected a corresponding member of the Royal Horticultural Society in 1865 and, through this and other offices and appointments, maintained a wide correspondence. According to a writer in the Canada Farmer in 1867, he was a "thoroughly intelligent and skilful horticulturist, not wedded to old theories nor overanxious to espouse new ones." Typically, he spoke out in favour of standard over dwarf fruit-trees, which he viewed more as "horticultural playthings" than as trees possessing "practical utility [for] cropping and business purposes," but he did so only after conscientiously seeking other opinions.
As a horticultural journalist, Beadle was active from the 1860s through the turn of the century. He took charge in 1864 of the horticultural department of George Brown*'s new Canada Farmer, edited by William Fletcher Clarke, and held the position for about ten years. From its inception in 1878 to late 1886, he served as editor of the Canadian Horticulturist, the long-lived monthly of the Fruit Growers' Association. His extensive writing for these publications ranged from discussions of apple cultivation and grape hybridization, through analyses of scores of fruit cultivars, to advice on growing flowers in urban conservatories and farmhouse dooryards. In 1885, for example, he favourably assessed the now famous "McIntosh red apples" sent him by Allan McIntosh of Dundela, Ont., son of John McIntosh*. Beadle's most important work, designed "to furnish the Canadian cultivator with a reliable guide," was Canadian fruit, flower, and kitchen gardener . . . , whose nearly 400 pages of advice were thoroughly grounded in the experience of its author and his correspondents. Published in Toronto in 1872 and embellished with chromolithographic plates, this text was the first truly Canadian book on both the utilitarian and the ornamental branches of horticulture and, for this reason, it continues to be a valuable resource in the study of Canadian garden history.
Like many of his contemporaries in Victorian Canada, Beadle was a student of natural history. He not only applied it to the nursery business, fruit-growing, and other horticultural pursuits, but with a keen eye he also made notes on his natural surroundings. He contributed important articles on fish and insects to the Canadian Naturalist and Geologist in 1856 and 1861 respectively, and kept a notebook during 1856–57 that contains hand-coloured drawings of butterflies and moths, as well as observations on their habitats. In 1862 he was elected a corresponding member of the Entomological Society of Philadelphia. Beginning in 1892 he wrote a series of articles on Canadian wildflowers for the Canadian Horticulturist, his final contribution, on the carnivorous plants of Canada, appearing in 1903.
As a resident of St Catharines, Beadle was involved both in First Presbyterian Church and in local government, serving as a water-works commissioner, on the public-school board, and as a city councillor during the 1886–87 term. In retirement he lived mostly in Toronto, where city directories of the 1890s show him to have been active as a landscape gardener, gardener, florist, and seedsman. Beadle's major contribution, however, had been to the Fruit Growers' Association, whose report for 1906, lamenting his death the previous year, carried this tribute: "To this gentleman in no small degree, is due the early progress and development of the fruit growing interests of this Province."
An extensive, though incomplete, listing of Delos White Beadle's horticultural writing is available in the Science and technology biblio. (Richardson and MacDonald), which indexes more than 180 entries, most of them editorials and articles in the Canadian Horticulturist (St Catharines, Ont.; Toronto). Ten articles published by Beadle in the Canada Farmer (Toronto) between 1865 and 1875 appear in the author listings of Ontario rural society, 1867–1930: a thematic index of selected Ontario agricultural periodicals, comp. Edwinna von Baeyer (pamphlet enclosing microfiche, Ottawa, 1985; copy at AO). His horticultural writings also include "Dwarf apple trees," Canadian Agriculturist (Toronto), 13 (1861): 174–76, and "Prize essay: the apple, and its cultivation, as applicable to the province of Ontario," Ont., Commissioner of Agriculture and Arts, Report (Toronto), 1868: 171–76.
Beadle's two articles on fish, "On the natural history of the salmon, (Salmo salar,) with remarks upon its economical importance and preservation" and "On the classification of fishes, with particular reference to the fishes of Canada," appeared under the pseudonym Frank Forelle in the Canadian Naturalist and Geologist (Montreal), 1 (1856–57): 161–68 and 275–83. His "List of coleopterous insects collected in the county of Lincoln, C.W." was published under his real name in the same journal, 6 (1861): 383–87.
A copy of Chauncey Beadle's Catalogue of fruit trees cultivated and for sale at the St. Catharines Nursery (St Catharines, 1841) is preserved in the Lawrence Lande Coll. of Canadiana, McGill Univ. Libraries, Dept. of Rare Books and Special Coll.; it has also been made available on microfiche by the CIHM (ser. no.51022). An example of the elder Beadle's advertisements for the nursery appears in the St. Catharines Journal, 9 Oct. 1845.
AO, F 51, Beadle to Alexander Morris, 24 March 1886, enclosing a copy of the Canadian Horticulturist, 8 (1885), and requesting a sample of Manitoba currant. MTRL, D. W. Beadle, notebook recording unusual butterflies seen, with descriptions, November 1856–December 1857. St. Catharines Journal, 17 July 1856. Pleasance Crawford, "Some early Niagara peninsula nurserymen," Agriculture and farm life in the Niagara peninsula: proceedings, fifth annual Niagara peninsula history conference, Brock University, 16–17 April 1983, ed. John Burtniak and W. B. Turner (St Catharines, 1985), 63–90. Morgan, Bibliotheca canadensis. Ont., Fruit Growers' Assoc., Annual report (Toronto), 1906: 81–83 (obit. tribute by Linus Woolverton*, including a photograph). "The St. Catharines nurseries," Canada Farmer, 4 (1867): 366. Samuel Beadle family; history and genealogy of descendants of Samuel Beadle, planter, who lived in Charlestown, Massachusetts, in 1656, and died in Salem, Massachusetts, in 1664, comp. W. J. Beadle ([Wilmington, Del.], 1970; copy in Brock Univ. Library, Special Coll., St Catharines). Standard cyclopædia of horticulture . . . , ed. L. H. Bailey (6v., New York, 1914–17), 3: 1565 (entry for Beadle by Linus Woolverton).
© 1994–2023 University of Toronto/Université Laval
Cite This Article
Pleasance Crawford, "BEADLE, DELOS WHITE," in Dictionary of Canadian Biography, vol. 13, University of Toronto/Université Laval, 2003–, accessed December 9, 2023, http://www.biographi.ca/en/bio/beadle_delos_white_13E.html.
The citation above shows the format for footnotes and endnotes according to the Chicago manual of style (16th edition). Information to be used in other citation formats:
| | |
| --- | --- |
| Permalink: | http://www.biographi.ca/en/bio/beadle_delos_white_13E.html |
| Author of Article: | Pleasance Crawford |
| Title of Article: | BEADLE, DELOS WHITE |
| Publication Name: | Dictionary of Canadian Biography, vol. 13 |
| Publisher: | University of Toronto/Université Laval |
| Year of publication: | 1994 |
| Year of revision: | 1994 |
| Access Date: | December 9, 2023 |