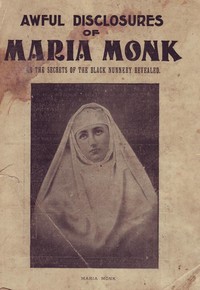 Source: Link
MONK, MARIA, author; b. 27 June 1816 in Dorchester (Saint-Jean-sur-Richelieu), Lower Canada, daughter of William Monk and Isabella Mills; d. in the summer of 1849 at New York.
Maria Monk was a difficult child. According to her mother, when she was about seven she stuck a slate-pencil into her ear, an accident that caused permanent brain damage. At an early age she began to show signs of dissolute conduct and to engage in prostitution. In November 1834 her mother had her confined in the Charitable Institution for Female Penitents, a home established and run by Agathe-Henriette Huguet, dit Latour. But far from improving, Maria's behaviour led to her expulsion in March 1835; she was pregnant by then.
Maria ran off to the United States. There she found herself at the centre of an anti-Catholic nativistic controversy that had reached a peak when a mob set fire to the Ursuline convent in Charlestown (Boston) on 11 Aug. 1834. In October 1835 a New York newspaper published a statement by Maria describing her life as a nun at the Hôtel-Dieu of Montreal. She claimed that on the order of the superior and of the auxiliary bishop, Jean-Jacques Lartigue, she had had to kill a companion who refused to submit to the revolting demands of the priests. The article announced the forthcoming publication of a "complete and detailed account" of the scenes at the Hôtel-Dieu.
In January 1836 the Awful disclosures of Maria Monk, a work that she was supposed to have written, came out in New York. In it were described the infamous things she claimed to have suffered as a Catholic nun. On 13 Feb. 1836 Alfred-Xavier Rambau*, editor of the Montreal paper L'Ami du peuple, de l'ordre et des lois, noted the recent publication of the volume, which he termed "as dull as [it is] untruthful." It related that Maria Monk had been given a Protestant upbringing, but that upon her conversion to Catholicism she had entered the convent of the Hôtel-Dieu of Montreal. After she had taken her vows, the superior told her to "obey the priests in all things," and this, she discovered "to her utter astonishment and horror," meant "to live in the practice of criminal intercourse with them." The priests could reach the nuns' quarters by an underground passage connecting the convent with the Séminaire de Saint-Sulpice, and the children born from these unholy unions were immediately baptized and strangled. She was supposed to have been present at the murder of a nun who was resisting the priests' advances and at the strangling of two babies after their baptism and to have found the place in the basement of the Hôtel-Dieu where the bodies were buried, as well as the tunnel communicating with the seminary.
According to her account Maria was soon pregnant by Abbé Patrick Phelan*. Unable to contemplate the cruel fate that would be inflicted upon her child, however, she had fled the convent. The first edition of the work ended with this episode. A new one published within the year contained other details. It disclosed that the fleeing nun realized it would be difficult for her to leave Montreal without being intercepted. In a fit of despair she resolved to drown herself, but two workmen persuaded her that she must go on living in order to expose the turpitudes of "popery." She then reached New York, where, alone and friendless, she was again tempted to put an end to her days by fasting. Fortunately some kind souls took her to a refuge, where she recounted her adventures to a Protestant minister. He was so impressed that he exhorted Maria to relate the facts, so they might be publicized. The book ended with a report of her trip to Montreal with the Reverend William K. Hoyt to confirm her revelations.
The immediate success of the publication brought out the truth about the real authors of this fabrication, for there was soon a dispute over the division of the profits. Evidence in court revealed that Hoyt, a determined foe of Catholicism, had helped Maria in her flight to the United States, and that the Awful disclosures had been written from Maria's oral account by the Reverend John Jay Slocum, a Presbyterian minister, with the assistance of Hoyt, the Reverend George Bourne, and others, who had pocketed most of the profits from this best-seller.
In the autumn of 1836 another fugitive, Sister St Frances Patrick, who said that she too came from the Hôtel-Dieu, turned up in New York at just the right moment to substantiate these sensational revelations. She had been a nun at the same time as Maria and claimed to be able to corroborate each of her assertions. The two appeared at a public meeting and, after embracing effusively, conversed for some time about their stay together at the Hôtel-Dieu.
The controversy split people into supporters and opponents of Maria Monk. To get at the truth, it was essential that an inquiry be held on the spot. On 15 Oct. 1836 L'Ami du peuple noted that the American journalist William Leete Stone had gone to Montreal and had obtained permission to inspect the Hôtel-Dieu thoroughly with Maria Monk's book in hand. At the end of his inspection, according to the paper, he acknowledged: "After 10 minutes the imposture had become as plain as day. I now declare more openly and boldly than ever that neither Maria Monk nor Francis Partridge have ever set foot in the convent of the Hôtel Dieu." Stone published the results of his investigation in his newspaper and later in a pamphlet.
Stone's refutation was the most telling blow dealt Maria Monk's tales in the United States. In Lower Canada attention had also been given to proving the falsity of her vile claims. John Jones and Pierre-Édouard Leclère*, proprietors and editors of L'Ami du peuple, took the initiative. It fell to them, as allies of the Sulpicians, to defend the seminary against her atrocious calumnies. Consequently, on 21 Aug. 1836 Bishop Lartigue could write to a resident of Mascouche to dissuade him from preparing a pamphlet against her abominable book because a refutation was being printed in New York, to be published, as well, in Glasgow and Dublin. In Lartigue's opinion an additional work "would accord too much importance to such a wretched and absurd story that induces Presbyterians and Methodists in the United States to swallow all these absurdities as honey." The refutation to which he was referring was the slim volume in which Jones and Leclère had collected a number of declarations and depositions made under oath that demolished Maria's inventions.
Slocum, whose involvement was made explicit by their rebuttal, reacted quickly by publishing a pamphlet in his protégée's name early in 1837. On 22 January Lartigue informed Archbishop Joseph Signay of Quebec that "Maria Monk has given the public a new pamphlet in which she spews forth more horrible stuff than ever against the clergy of this country, in which she is stupid enough to say that, on orders, she herself poisoned one of the nuns of the Hôtel-Dieu of Montreal when she was her companion." The bishop wondered whether it might be possible to get the governor of New York to extradite her so that she could be tried for her calumnies and libels, because many people in the United States apparently still believed the infamous tales she was telling.
But on the other side of the border Maria's popularity was beginning to wane, and many Protestant publications were of the opinion that the matter was all a fraud. In August 1837 she disappeared from New York. Turning up in Philadelphia, she claimed that she had been kidnapped by some Catholic priests who wanted to put an end to her revelations about the convents. Her wild nonsense did not prevent some people from believing the tales in a final publication attributed to her in 1837: Further disclosures by Maria Monk, concerning the Hotel Dieu nunnery of Montreal. It claimed that nuns from the United States and Canada were going to Île des Sœurs, near Montreal, to give birth to illegitimate children. On 18 March and 24 April 1837 Lartigue confided to the vicar general of New York that through Stone he had given a Protestant organization in New York permission to visit the Hôtel-Dieu again, and even Île des Sœurs, a step being called for by a New York newspaper.
The result of this investigation was probably conclusive, for the Monk affair then went into a decided decline. In 1838 Maria had a child by an unknown father, this time without attributing the paternity to a priest. Shortly afterwards she married, but through her habitual drunkenness and debauchery she squandered her husband's savings, and he soon left her. In 1849 she was arrested in a house of ill repute for having stolen money from the man she was entertaining, and she was incarcerated in a New York prison. Half mad, she died there in the summer of 1849.
Maria Monk remains the sad heroine of a volume that American historian Ray Allen Billington says was "important as sensational propaganda against Catholicism." According to his estimate, 300,000 copies of Awful disclosures were sold before the Civil War.
Maria Monk is assumed to be the author of Awful disclosures of Maria Monk, as exhibited in a narrative of her sufferings during a residence of five years as a novice, and two years as a black nun, in the Hotel Dieu nunnery at Montreal . . . (New York, 1836), which went through numerous editions and translations, as well as of Further disclosures by Maria Monk, concerning the Hotel Dieu nunnery of Montreal; also, her visit to Nuns' Island, and disclosures concerning the secret retreat (Boston, 1837).
ANQ-M, CE4-17, 23 juill. 1816. Affidavit of Madame D. C. McDonnell (matron of the Montreal Magdalen Asylum) (n.p., 1836). [John Jones and P.-É. Leclère], Awful exposure of the atrocious plot formed by certain individuals against the clergy and nuns of Lower Canada through the intervention of Maria Monk . . . (New York, 1836). J. J. Slocum, Furthur disclosures by Maria Monk, concerning the Hotel Dieu nunnery of Montreal . . . (New York, 1837). W. L. Stone, Maria Monk and the nunnery of the Hotel Dieu; being an account of a visit to the convents of Montreal, and refutation of the "Awful disclosures" . . . (New York, 1836). Desrosiers, "Inv. de la corr. de Mgr Lartigue," ANQ Rapport, 1944–45: 195, 198, 230, 236, 239. R. A. Billington, The Protestant crusade, 1800–1860; a study of the origins of American nativism (New York, 1938), 99–109. Gustavus Myers, History of bigotry in the United States (New York, 1943), 154–60. R. A. Billington, "Maria Monk and her influence," Catholic Hist. Rev. (Washington), 22 (1936–37): 283–96. Bernard Dufebvre [Émile Castonguay], "Le 'roman' de Maria Monk," Rev. de l'univ. Laval (Québec), 8 (1953–54): 569–80. Philippe Sylvain, "L'affaire Maria Monk," Cahiers des Dix, 43 (1983): 167–84.
© 1988–2023 University of Toronto/Université Laval
Cite This Article
Philippe Sylvain, "MONK, MARIA," in Dictionary of Canadian Biography, vol. 7, University of Toronto/Université Laval, 2003–, accessed September 25, 2023, http://www.biographi.ca/en/bio/monk_maria_7E.html.
The citation above shows the format for footnotes and endnotes according to the Chicago manual of style (16th edition). Information to be used in other citation formats:
| | |
| --- | --- |
| Permalink: | http://www.biographi.ca/en/bio/monk_maria_7E.html |
| Author of Article: | Philippe Sylvain |
| Title of Article: | MONK, MARIA |
| Publication Name: | Dictionary of Canadian Biography, vol. 7 |
| Publisher: | University of Toronto/Université Laval |
| Year of publication: | 1988 |
| Year of revision: | 1988 |
| Access Date: | September 25, 2023 |