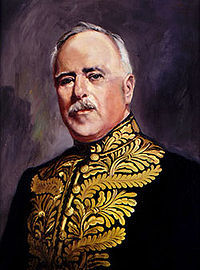 Source: Courtesy of Wikimedia Commons
NICHOL, WALTER CAMERON, journalist, newspaper editor and publisher, and lieutenant governor; b. 15 Oct. 1866 in Goderich, Upper Canada, sixth and youngest son of Robert Ker Addison Nichol, a barrister, and Cynthia Jane Ballard; m. 21 Sept. 1897 Quita Josephine March Moore (d. 1968) in London, Ont., and they had a son and a daughter; d. 19 Dec. 1928 in Victoria.
Although Walter Nichol's paternal grandfather, Lieutenant-Colonel Robert Nichol*, had served with distinction during the War of 1812 and had become a prominent politician, Walter's father did not enjoy much success as a lawyer. Walter received most of his education from his mother while the family lived in Hamilton. At age 12 he worked as a messenger in the law office of Britton Bath Osler*.
In 1881 Nichol became a reporter for the Hamilton Spectator under John Robson Cameron. There, he drew simple cartoons and demonstrated his literary skills by writing short poems and skits. He was just 15 when the first issue of Bicycle (Hamilton) appeared in September 1882. A small monthly journal devoted to cycling, it was the official organ of the Canadian Wheelmen's Association; Nichol was its editor and contributed humorous fiction. The journal seems to have ceased publication early in 1883. In 1886 Nichol left the Hamilton Spectator for Edmund Ernest Sheppard's Evening News (Toronto). The following year Nichol and Sheppard established a publication devoted to independent political criticism and social, musical, and theatrical commentary that promised to deal with the subjects "in a lighter vein than was habitual in the daily press." With Sheppard as editor and manager, Nichol as assistant editor, and William E. Caiger as advertising manager they launched the weekly Saturday Night on 3 December. It was issued on Saturday evening because a municipal by-law prohibited publishing on Sunday. Differences soon arose between Sheppard and his partners, so Nichol and Caiger left to establish a rival, Life (Toronto), in February 1888. Under Nichol's editorship it was "a very witty and breezy sheet," as Saturday Night would later acknowledge, but it ran for less than a year; the market could not bear two weeklies.
Returning to Hamilton in 1889, Nichol became a reporter for the newly established Hamilton Herald. Over the next seven years he rose from reporter to editor-in-chief. In 1896 he moved to London, Ont., where he was a founder of the News. The following year, excited by reports of mining booms in western Canada, he left the News and travelled to British Columbia. After spending about three months visiting the Kootenay mining district, he became editor of the Kootenaian (Kaslo) early in July. In mid August he accepted a post as editor of Hewitt Bostock's weekly Province (Victoria), which was modelled upon Henry Du Pré Labouchere's muckraking Truth (London, Eng.).
Nichol adopted an aggressive editorial approach. In October 1897 he described the opposing Daily Colonist (Victoria) as the "chief mouthpiece" of the administration of Premier John Herbert Turner, stating that its sole purpose was to "protect the Dunsmuirs [James Dunsmuir*; Robert Dunsmuir*] in the enjoyment of the money-making monopolies which they have secured from hypnotized and venal legislatures." In December, Turner and Attorney General Charles Edward Pooley sued Nichol for libel after he wrote that they were guilty of "improper conduct" in allowing their names to be used to promote public companies in which they were directors. The case would drag on until October 1901, when Nichol would be found not guilty.
In late March 1898 a daily edition of the Province started in Vancouver with Nichol as its editor. A year later he claimed that its circulation of over 5,000 was "practically as great as that of all the other daily papers in the province put together." With a loan from Thomas George Shaughnessy, president of the Canadian Pacific Railway, he was able to secure control of the paper in 1901. Although he was a Liberal, his support of the party was not unconditional. Accused of having "turned Tory" in May 1900 when he vehemently opposed the renegade Liberal Joseph Martin and supported his Conservative opponents, Nichol explained that he declined to "lend countenance to a person who, masquerading as a Liberal, has left no stone unturned to injure and embarrass the Liberal government both in public and in private."
By 1910 the Vancouver Daily Province was the leading newspaper in British Columbia and only the Manitoba Free Press (Winnipeg) matched its influence in western Canada. Nichol displayed keen judgement in hiring staff and in later years he delegated most of the writing and editorial tasks to his subordinates while he pursued other business interests, investing in many small and medium-sized companies in western Canada. He served as president of the Pacific Marine Insurance Company and was a director of the Royal Trust Company.
On 24 Dec. 1920 Nichol was appointed lieutenant governor of British Columbia, after Edward Gawler Prior died suddenly. On assuming office, he gave up all active connection with the Daily Province and in 1923 he sold controlling interest to William Southam*'s firm for $1,000,000. In office he showed great interest in postgraduate education at the University of British Columbia and in 1925 established a travelling scholarship in French at the Université de Paris. For this gesture he received later that year one of the first honorary degrees conferred by the university and two years later he would be awarded the cross of the Legion of Honour from the French government. Although his term expired in December 1925, he remained in office until late February 1926 when his successor was sworn in. He retired to Miraloma, his country house in Sidney designed by Samuel Maclure. He died in Victoria less than three years later and left an estate worth over $2,700,000, much of it invested in government bonds.
AO, RG 80-5-0-247, no.9656. BCA, GR-2951, no.1928-09-397085; MS-1320; MS-2700. LAC, RG 31, C1, 1871, Bothwell, Ont., div.1: 46; 1901, Burrard, B.C., subdist.D: 30. Daily Colonist (Victoria), 20 Dec. 1928. Hamilton Herald (Hamilton, Ont.), 27 Dec. 1920. Vancouver Daily Province, 26-27 March 1899; 21 May 1900; 25 Oct. 1901; 28 Nov. 1903; 30 Sept. 1909; 20, 22 Dec. 1928; 7 March 1939. Vancouver Daily Times, 20 Dec. 1928, 4 Nov. 1968. Vancouver Daily World, 23 Sept., 20-21 Dec. 1897; 25 Oct. 1901; 18 Dec. 1920. Directories, Hamilton, 1878-80, 1882-87, 1890-97; London City and Middlesex County, Ont., 1896-98; Toronto, 1888-89; Vancouver, 1908. Canadian annual rev., 1925. Canadian men and women of the time (Morgan; 1912). S. W. Jackman, The men at Cary Castle; a series of portrait sketches of the lieutenant-governors of British Columbia from 1871 to 1971 (Victoria, 1972). Martin Segger, The buildings of Samuel Maclure: in search of appropriate form (Victoria, 1986). Standard dict. of Canadian biog. (Roberts and Tunnell). Who's who and why, 1915/16. Who's who in western Canada​ . . . (Vancouver), 1912-13.
© 2005–2023 University of Toronto/Université Laval
Image Gallery

Cite This Article
Brad R. Morrison and Christopher J.P. Hanna, "NICHOL, WALTER CAMERON," in Dictionary of Canadian Biography, vol. 15, University of Toronto/Université Laval, 2003–, accessed October 4, 2023, http://www.biographi.ca/en/bio/nichol_walter_cameron_15E.html.
The citation above shows the format for footnotes and endnotes according to the Chicago manual of style (16th edition). Information to be used in other citation formats:
| | |
| --- | --- |
| Permalink: | http://www.biographi.ca/en/bio/nichol_walter_cameron_15E.html |
| Author of Article: | Brad R. Morrison and Christopher J.P. Hanna |
| Title of Article: | NICHOL, WALTER CAMERON |
| Publication Name: | Dictionary of Canadian Biography, vol. 15 |
| Publisher: | University of Toronto/Université Laval |
| Year of publication: | 2005 |
| Year of revision: | 2005 |
| Access Date: | October 4, 2023 |