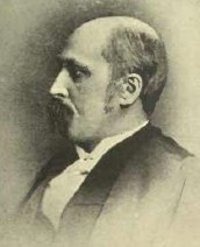 Source: Courtesy of Wikimedia Commons
OSLER, BRITTON BATH, lawyer; b. 19 June 1839 near Bond Head, Upper Canada, son of the Reverend Featherstone Lake Osler* and Ellen Free Pickton; m. first 1863 Caroline Smith (d. 1895); m. secondly 18 July 1897 Elizabeth Mary Ramsay in Hamilton, Ont.; he had no children; d. 5 Feb. 1901 in Atlantic City, N.J., and was buried in Toronto.
Born into an accomplished family, Britton Bath Osler made his mark as the most respected lawyer of his day. After attending the Barrie and Bond Head grammar schools and the private school of the Reverend Arthur Hill in Bradford, he moved with his family in 1857 to Dundas, where he worked briefly as a bookkeeper. He entered the University of Toronto in 1858 and received an llb in 1862. That year he was called to the bar and set up practice in Dundas. Having achieved success, he became clerk of the peace and crown attorney of Wentworth on 9 May 1874. This was a coveted position for a 34-year-old practitioner to receive, but Osler proved himself worthy of it by his single-minded dedication to crown prosecutions.
So determined was he that, it was said, a prisoner had little chance of acquittal with Osler prosecuting. Formidable in appearance, he frequently persuaded juries by leaning over their box "like a thirteenth juryman" and addressing them in a firm, logical manner. Although he had been badly scarred by a gas explosion in February 1874 (from which he rescued his wife), he maintained a heavy workload. He moved to Hamilton in 1876 and was soon acknowledged to be "one of Canada's rising young men." In recognition of his services, he was made a provincial qc in 1876 and a federal qc four years later.
In 1880 he left his crown position and in 1882 he joined D'Alton McCarthy*'s law firm in Toronto, subsequently known as McCarthy, Osler, Hoskin, and Creelman. He became a bencher of the Law Society of Upper Canada in Easter term 1880, and a founding member and first president of the York County Law Association in 1885. Throughout the 1880s he appeared in court on behalf of railways, particularly the Grand Trunk. His arguments were filled with technical and medical detail, which frequently overwhelmed his opponents. He became so familiar with engineering that he was made an associate of the Canadian Society of Civil Engineers. As a result of the large number of cases he handled, he billed huge sums – $26,110 in 1885 – and was one of the country's wealthiest men. Osler was president of the Hamilton and Dundas Street Railway and a director of the Trusts Corporation of Ontario. Although he enjoyed travel, his wife's chronic arthritis made travelling and family life difficult.
Osler's first national exposure came in 1885 when he was asked by the federal government to assist in the prosecution of Louis Riel* in Regina. He sized up Riel as the leading villain of the North-West rebellion and was instrumental in securing his conviction. When the government of Sir John A. Macdonald* entered into arbitration with the Canadian Pacific Railway in February 1888 over the railway's allegation that it was owed five to six million dollars for the repair of the section built by Andrew Onderdonk, Osler and Christopher Robinson, a colleague at the Riel trial, were hired to represent the government. Osler toured the line in March, making sketches and notes. After a skilful cross-examination of company president William Cornelius Van Horne* and others at the hearing, he asked the arbitrators to conclude that the aid the railway had already received from the government refuted "any charge of illiberality." They largely agreed and in 1891 awarded the CPR only $579,255.
Macdonald's ministry relied increasingly on Osler's legal skills. In 1891, when the Department of Public Works and its minister, Sir Hector-Louis Langevin, were implicated in manipulating contracts, Osler was retained. According to the Toronto Globe, the "Government and the Party" needed "the best legal talent" they could command. Osler managed to discredit the chief accuser, Owen Eugene Murphy, by showing the contradictions in his evidence and at one point causing him to faint in the witness-stand.
Although Osler was a frequent troubleshooter for the government in the courts, his notoriety in the 1890s came from his prosecutions in a number of spectacular murder trials. In 1890, for instance, with the help of provincial chief detective John Wilson Murray, Oser untangled the plot of Reginald Birchall*, an Englishman, to swindle and murder his victim. Osler gave a powerful summation, which was printed throughout Canada and England, and Birchall was convicted and hanged. Osler was also involved in the highly publicized trials of Harry and Dallas Hyams in 1895–96, a case that involved insurance fraud and a gruesome murder. In this instance he was "coached . . . on the scientific phases" by his brother William* and Arthur Jukes Johnson, both noted doctors.
Despite his work for the government and his public prominence, Osler did not actively take part in politics, unlike his partner McCarthy. He ran as a Liberal in Welland in the federal election of 1882, but his campaign was neither spirited nor successful. In later years, he claimed to be an independent. Sir Charles Tupper* reportedly offered him the position of justice minister just before the election of 1896, but he did not enter the government. The reason, he explained to John Stephen Willison*, was that he was still publicly regarded as a Liberal. Indeed, during the election, he gave a speech in Haldimand in which he criticized the Conservatives' National Policy and proposed interference with the school legislation of Manitoba [see Thomas Greenway]. He subsequently restricted his public life to the courtroom.
Osler's health failed in 1900, and he died the following year. His great ability as a lawyer was founded on his thorough knowledge of the law, his familiarity with engineering and medicine, and his stamina, but especially on his presence and force of character in the courtroom.
AO, F 1032, MU 2301; RG 80-5, no.1897-015916. Globe, 28 Jan., 21 Aug., 23, 30 Sept. 1890; 25 June, 8 July 1891; 10 June 1896; 6 Feb. 1901. Donald Jones, "B. B. Osler earned fame as top criminal lawyer," Toronto Star, 6 Aug. 1983: H10. Toronto Daily Mail, 9 June 1882. Toronto Daily Star, 5–6 Feb. 1901. True Banner (Dundas, Ont.), 19 Feb. 1874. A. [C. Boyd] Wilkinson, Lions in the way: a discursive history of the Oslers (Toronto, 1956). Canadian men and women of the time (Morgan; 1898). H. [W.] Charlesworth, Candid chronicles; More candid chronicles: further leaves from the note book of a Canadian journalist (Toronto, 1928). Curtis Cole, "McCarthy, Osler, Hoskin, and Creelman, 1882 to 1902: establishing a reputation, building a practice," Essays in Canadian law (Flaherty et al.), 4: 149–66. Directory, Toronto, 1882–83. Heather Gilbert, Awakening continent: the life of Lord Mount Stephen (2v., Aberdeen, Scot., [1965–77]), 1: 188–90, 244–50. J. [D] Honsberger, "B. B. Osler, q.c., the first president," Law Soc. of Upper Canada, Gazette (Toronto), 20 (1986): 146–56. J. E. Middleton, The municipality of Toronto: a history (3v., Toronto and New York, 1923), 2: 822. O. D. Skelton, Life and letters of Sir Wilfrid Laurier (2v., Toronto, 1921), 1: 481. Wallace, Macmillan dict. Willison, Reminiscences.
© 1994–2023 University of Toronto/Université Laval
Image Gallery

Cite This Article
Patrick Brode, "OSLER, BRITTON BATH," in Dictionary of Canadian Biography, vol. 13, University of Toronto/Université Laval, 2003–, accessed September 30, 2023, http://www.biographi.ca/en/bio/osler_britton_bath_13E.html.
The citation above shows the format for footnotes and endnotes according to the Chicago manual of style (16th edition). Information to be used in other citation formats:
| | |
| --- | --- |
| Permalink: | http://www.biographi.ca/en/bio/osler_britton_bath_13E.html |
| Author of Article: | Patrick Brode |
| Title of Article: | OSLER, BRITTON BATH |
| Publication Name: | Dictionary of Canadian Biography, vol. 13 |
| Publisher: | University of Toronto/Université Laval |
| Year of publication: | 1994 |
| Year of revision: | 1994 |
| Access Date: | September 30, 2023 |