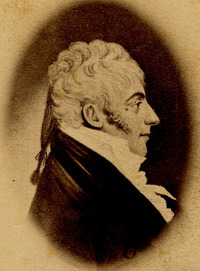 Source: Link
POTHIER, TOUSSAINT (baptized Jean-Baptiste), businessman, militia officer, seigneur, politician, and office holder; b. 16 May 1771 in Montreal, son of Louis-Toussaint Pothier and Louise Courraud Lacoste; d. there 22 Oct. 1845.
Toussaint Pothier was a descendant of Étienne Potier, dit Laverdure, who came from Charenton, on the outskirts of Paris. The son of a prosperous merchant who had helped found the North West Company, he went into the fur trade early. As an agent of the Michilimackinac Company, which was created in 1806, he, along with Josiah Bleakley*, George Gillespie, and others, signed an agreement with the NWC that year which divided trading territories between the two enterprises. Because of ruthless competition, however, in 1810 the Michilimackinac Company sold its interests to Forsyth, Richardson and Company and McTavish, McGillivrays and Company, both Montreal firms associated with the NWC. The following year these two companies joined John Jacob Astor in forming the South West Fur Company, and Pothier was involved in the new organization. Over the years he became a wealthy man. A plan of Montreal published by the surveyor general, Joseph Bouchette, in 1815 shows that several properties in the centre of town belonged to him, including an immense piece of land along what is now Rue Craig, where a huge military riding-school was built. Pothier also owned the seigneuries of Lanaudière (sometimes called Lac-Maskinongé) and Carufel, which he had bought on 17 March 1814. He carried out various large-scale improvements that made them extremely valuable, and he even considered building a manor-house on the Rivière Maskinongé.
Pothier often travelled to the Great Lakes on business. In July 1812, during the war against the United States, he participated in the taking of Michilimackinac (Mackinac Island, Mich.), with a force of British troops, Indians, and some Canadian voyageurs whom he had recruited himself from the ranks of the NWC [see Charles Roberts*]. The fall of this important American trading-post was the prelude to the capture of Detroit by Major-General Isaac Brock* on 16 Aug. 1812.
On 10 Jan. 1820, when he was already 49, Pothier married Anne-Françoise Bruyeres, the under-age daughter of the late Ralph Henry Bruyeres*. They had a daughter, Jessé-Louise (Jessy Louise), who was born on 19 May 1824 and was married to the queen's printer George-Paschal Desbarats* on 1 Oct. 1849. On the recommendation of Governor Lord Dalhousie [Ramsay] Pothier was appointed to the Legislative Council of Lower Canada on 22 July 1824, and he remained a member until 1838. In April of the latter year, at the request of the administrator, Sir John Colborne*, he accepted a place on the Special Council. That body was dissolved by Governor Lord Durham [Lambton] on 1 June. In November, after Durham's departure, Pothier was appointed by Colborne to the Executive Council, as well as to the Special Council that approved the proposals of Governor Lord Sydenham [Thomson] for union of the two Canadas. Indeed he served as president of the Special Council from November 1838 to November 1839. He relinquished all political responsibilities for good in February 1841.
Pothier held several other important offices. He served as commissioner for the improvement of the port of Montreal, member of a commission created in 1821 to oversee construction of the Lachine Canal [see François Desrivières*], commissioner for exploring the country between the Saint-Maurice and Ottawa rivers, and arbitrator in the division of customs revenues between Upper and Lower Canada. In 1827 he helped found the Natural History Society of Montreal, to which he made generous gifts for several years. On 21 Sept. 1839 he became sheriff of the judicial district of Montreal, but for reasons unknown he was replaced by an English-speaking sheriff five days later.
Pothier was Peter McGill*'s partner in the Company of Proprietors of the Champlain and St Lawrence Railroad, a firm that built the first railway in Upper and Lower Canada. Running from La Prairie to Saint-Jean (Saint-Jean-sur-Richelieu), it went into service on 21 July 1836. In addition, since 1815 he had been administering the extensive estate of his friend Pierre Foretier*. In 1816 he had had to sue the heirs, among whom was Marie-Amable Foretier*, the wife of Denis-Benjamin Viger*, to force them to return to the corpus of the estate assets they had misappropriated. This lawsuit, a landmark in judicial annals, lasted more than 25 years, wending its way through the various levels of the court system. It was complicated in 1841 by Pothier's bankruptcy, apparently the result of unfortunate dealings in stocks and shares of companies engaged in the fur business. Pothier died four years later.
Over time Toussaint Pothier became a controversial figure. During years of ethnic and social disturbances, his presence on government bodies, and in particular on the Special Council where there were but a handful of Canadians among an overwhelming majority of British members, had made him suspect; for some it even clearly identified him as a turncoat. Historian Gérard Filteau calls him a traitor to his compatriots. On the other hand, for Francis-Joseph Audet*, Pothier "showed himself an experienced statesman, an honest and true patriot" in the report on the political situation that he wrote in 1829 at the request of the colony's administrator, Sir James Kempt*; in Audet's opinion, Pothier "upheld the cause of his compatriots, who were, he said, His Majesty's best subjects."
ANQ-M, CE1-51, 28 avril 1767, 16 mai 1771, 10 janv. 1820, 21 mai 1824, 25 oct. 1845, 1er oct. 1849. ASSH, A, Fg-5, "Brochures judiciaires." PAC, MG 24, C7; RG 68, General index, 1651–1841. John Askin papers (Quaife), 2: 37. L.-J. Papineau, "Correspondance" (Ouellet), ANQ Rapport, 1953–55: 278, 283, 307. Toussaint Pothier, "Mémoire de l'honorable Toussaint Pothier," PAC Rapport, 1913: 92–103. Select British docs. of War of 1812 (Wood), 1: 397, 429–30, 448–52. Wis., State Hist. Soc., Coll., 11 (1888); 19 (1910). Montreal Gazette, 21 April 1808. Quebec Gazette, 23 Dec. 1813, 16 Sept. 1816. F.-J. Audet, "Les législateurs du Bas-Canada"; "Shérifs de Montréal," BRH, 8 (1902): 200. Caron, "Papiers Duvernay," ANQ Rapport, 1926–27: 240, 243. Desjardins, Guide parl. The encyclopedia of Canada, ed. W. S. Wallace (6v., Toronto, [1948]), 5: 146. The fur trade in Minnesota; an introductory guide to manuscript sources, comp. B. M. White (St Paul, Minn., 1977), 16, 27. É.-Z. Massicotte, "Répertoire des engagements pour l'Ouest conservés dans les Archives judiciaires de Montréal . . . [1620–1821]," ANQ Rapport, 1944–45: 424; 1945–46: 227, 238–39, 319. Officers of British forces in Canada (Irving), 166–69. Ouellet, "Inv. de la saberdache," ANQ Rapport, 1955–57: 123, 125, 161. P.-G. Roy, Inv. concessions, 3: 269. Tanguay, Dictionnaire, 6: 421–22. Turcotte, Le Conseil législatif. K. W. Porter, John Jacob Astor, business man (2v., Cambridge, Mass., 1931; repr. New York, 1966). Rumilly, Hist. de Montréal, 2: 242. Joseph Tassé, Les Canadiens de l'Ouest (2v., Montréal, 1878), 1: 148. F.-J. Audet, "À propos d'un centenaire: un des pionniers pour l'amélioration du port," La Presse, 24 juin 1933: 49; "John Bruyères," BRH, 31 (1925): 343. J.-J. Lefebvre, "La vie sociale du grand Papineau," RHAF, 11 (1957–58): 479 Richard Lessard, "La seigneurie de Lanaudière ou du Lac Maskinongé" and "Notes sur la seigneurie de Carufel," BRH, 33 (1927): 219–20 and 359–60. Frère Marcel-Joseph, "Les Canadiens veulent conserver le régime seigneurial," RHAF, 7 (1953–54): 378, 383. É.-Z. Massicotte, "Le bourgeois Pierre Fortier," BRH, 47 (1941): 179; "L'honorable Toussaint Pothier," 26 (1920): 223–24; "Les mutations d'un coin de rue," 45 (1939): 271–74; "Les shérifs de Montréal (1763–1923)," 29 (1923): 110. "Les morts de 1839," BRH, 32 (1926): 21. Fernand Ouellet, "Toussaint Pothier et le problème des classes sociales (1829)," BRH, 61 (1955): 147–59.
© 1988–2023 University of Toronto/Université Laval
Image Gallery

Cite This Article
Philippe Pothier, "POTHIER, TOUSSAINT," in Dictionary of Canadian Biography, vol. 7, University of Toronto/Université Laval, 2003–, accessed October 1, 2023, http://www.biographi.ca/en/bio/pothier_toussaint_7E.html.
The citation above shows the format for footnotes and endnotes according to the Chicago manual of style (16th edition). Information to be used in other citation formats:
| | |
| --- | --- |
| Permalink: | http://www.biographi.ca/en/bio/pothier_toussaint_7E.html |
| Author of Article: | Philippe Pothier |
| Title of Article: | POTHIER, TOUSSAINT |
| Publication Name: | Dictionary of Canadian Biography, vol. 7 |
| Publisher: | University of Toronto/Université Laval |
| Year of publication: | 1988 |
| Year of revision: | 1988 |
| Access Date: | October 1, 2023 |