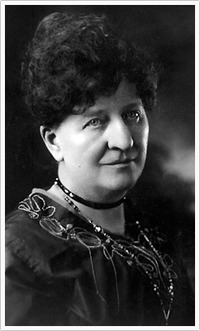 Source: Link
SPENCER, EMILY (Kerby), teacher, author, feminist, and social activist; b. 26 March 1860 in Toronto, fourth daughter of Sarah Lafferty and James Spencer*, a Methodist minister; m. 11 Oct. 1888 George William Kerby (d. 1944) in Paris, Ont., and they had a daughter and a son; d. 3 Oct. 1938 in Calgary.
The Lafferty and Spencer families were both of loyalist stock. After several controversial terms as editor of the Christian Guardian in Toronto, James Spencer ministered in Brampton and Paris before his death in 1863. Raised in Paris by her mother, Emily Spencer graduated from the Toronto Normal School in the early 1880s and then taught public school in Paris. She likely met George Kerby when he went there in 1886 as a student supply preacher; they married two years later, following his ordination and assignment to Dundas Street Methodist Church in Woodstock. Emily served with him in subsequent pastorates, in Hamilton, St Catharines, Brantford, and Montreal. They were separated for a time in 1901–2 when he evangelized throughout Canada and the United States and she remained behind to care for their children, Helen Jalvera and Harold Spencer. For her, the home would remain "the foundation of the Kingdom of God."
After George returned to live with them in Toronto, he received invitations from well-established churches in eastern Canada, in addition to an appeal from Central Methodist Church in Calgary. He credited Emily with being instrumental in his decision to accept the western charge, despite the advice of fellow ministers and friends who believed he would fade into obscurity on the frontier. After the Kerbys' arrival in July 1903, it was soon recognized that Emily was not the stereotypical minister's wife. Articulate and gifted, she was a class leader – an exceptional responsibility for a woman at this time – and later she took to openly castigating the church establishment. From 1914 to 1928 she published articles and letters criticizing the slow acceptance of women for ministry; she was particularly hopeful of female ordination in her new denomination, the United Church of Canada, formed by the union of Methodists, Congregationalists, and Presbyterians in 1925 [see Samuel Dwight Chown]. Writing into the 1930s under a number of pseudonyms – Constance Lynd, Elizabeth Barclay, Elizabeth Jones, Nell Adaire, Nell Netherby, Western Correspondent, Western Woman, and Zeta – she produced 45 known articles, letters, social commentaries, and manuscripts. Her forums included Woman's Century (Toronto), the New Outlook (Toronto), the Christian Guardian, and the Calgary Herald.
In a wider social context, on 29 Oct. 1907 she had convened the organizational meeting of Calgary's first Young Women's Christian Association, which opened in November in a rented property. Appointed honorary president that year, she worked on several of its successful fund-raising campaigns for a new building; she was the Herald's managing editor for a day, on 31 July 1909, when the proceeds from sales went to the YWCA. By 1914 the association was offering travellers' aid, accommodation, and employment assistance in addition to other social-service programs.
In 1911 George Kerby had resigned from Central Methodist to become the first principal of the co-educational Mount Royal College in Calgary, a private school financed by the Methodists' Alberta Conference and General Council. In a later tribute to Emily, who continued to run a men's Bible class at Central, she and George were described as joint principals during the college's early years. Emily apparently also acted as its matron, and for some years taught the junior grades. In 1912 she established the Mount Royal Educational Club, designed to draw women together and foster their expertise and confidence.
On 26 Oct. 1912 she participated in a meeting to reconstitute the Calgary Local Council of Women, which had been disbanded in the 1890s. It now became the primary platform for her social activism. She was appointed first vice-president in January 1913, and for 10 years, until 1923, she convened its immigration committee, where she reflected contemporary desires for assimilation and Anglo-Protestant fears about foreigners. Through the Calgary council she led, or joined, campaigns for a higher age of consent to marriage, women's education, labour reforms, mothers' pensions, protection of children, birth control, sex education, and provincial legislation for the sterilization of "mental defectives." As convener of the council's franchise committee, she was intensely involved in the struggle for women's suffrage. On 10 Oct. 1914 she was one of the three delegates who presented a provincewide petition for the franchise to the government of Arthur Lewis Watkins Sifton*. Suffrage was finally gained in April 1916. Elected president of the Calgary council that year, Emily supported Helen Letitia McClung [Mooney*] in the drive for national suffrage, which was granted to most women in 1918.
During World War I, Emily's energies had also been devoted to the war effort. She worked in the central offices of the Red Cross in Calgary. She saw the conflict partially in relation to foreigners in Canada, and became interested too, as a result of the enlistment and loss of many servants, in the role of female domestics and the teaching of household science. The Housekeepers' Association of Calgary was formed and, in 1918, its members met weekly at the YWCA. Equally engaged in the war effort, George served as chief recruiting officer for Military District No.13 and district representative under the Military Service Act. Their son had entered the Royal Naval Air Service in 1915 and would go on to a distinguished career in the Royal Air Force.
Emily was again drawn to the legal status of women in 1921 when she was vice-president of the National Council of Women of Canada. In June the Calgary local hosted its 28th congress, where a key issue was the ineligibility of women for appointment to the Senate, a problem that was resolved in 1929 in the persons case [see Emily Gowan Ferguson]. Emily Kerby, who remained active in the Calgary council until her final years, was also a member of other service clubs, including the Women's Canadian Club, the Woman's Christian Temperance Union, the Woman's Missionary Society, the Red Cross, the Women's Civic Organization, and the Women's Research Club. In addition to her articles on church matters, she continued to publish feminist and social commentaries, many in the form of short stories. She collaborated with her husband and others in founding the Calgary branch of the Canadian Authors Association in 1921. Age diminished neither her conviction nor her pointedness. In 1935 she explained what would happen if men continued to push women back into the kitchen: "Some fine morning you will … wonder what has occurred. It will only be our educated, efficient, twentieth century women showing their ability to shove. You may call it the woman's revolution if you like. It will be bloodless, but it will hit your silver and gold hard."
On 3 Oct. 1938, at 78, Emily Spencer Kerby suffered a heart attack and died, with her husband at her bedside. Over a thousand people gathered to pay tribute at her funeral, among them prominent members of the United Church and the Anglican bishop of Calgary. In its obituary the Herald acknowledged her profound and lasting influence, not just on her church, but also on the social fabric of the nation.
A new day for women: life & writings of Emily Spencer Kerby, ed. Anne White (Calgary, 2004). Michael Owen, "'Do women really count?': Emily Spencer Kerby – early twentieth century Alberta feminist," Canadian Methodist Hist. Soc., Papers ([Toronto]), 10 ([1993–94]): 170–87. Anne White, "Emily Spencer Kerby: pioneer clubwoman, educator, and activist," Alberta Hist. (Calgary), 46 (1998), no.3: 2–9.
© 2014–2023 University of Toronto/Université Laval
Image Gallery

Cite This Article
Anne White, "SPENCER, EMILY (Kerby)," in Dictionary of Canadian Biography, vol. 16, University of Toronto/Université Laval, 2003–, accessed October 2, 2023, http://www.biographi.ca/en/bio/spencer_emily_16E.html.
The citation above shows the format for footnotes and endnotes according to the Chicago manual of style (16th edition). Information to be used in other citation formats:
| | |
| --- | --- |
| Permalink: | http://www.biographi.ca/en/bio/spencer_emily_16E.html |
| Author of Article: | Anne White |
| Title of Article: | SPENCER, EMILY (Kerby) |
| Publication Name: | Dictionary of Canadian Biography, vol. 16 |
| Publisher: | University of Toronto/Université Laval |
| Year of publication: | 2014 |
| Year of revision: | 2014 |
| Access Date: | October 2, 2023 |