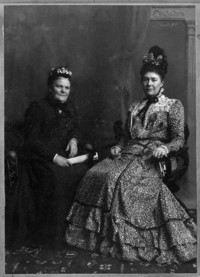 Source: Link
VALLANCE, MARGARET (Taylor, Lady Taylor), teacher and social reformer; b. 1 April 1840 in Hamilton, Upper Canada, fourth child of Hugh Vallance, a customs officer, and Ann Little; m. there 20 Oct. 1864 Thomas Wardlaw Taylor*, and they had four sons and three daughters; d. 26 Dec. 1922 in Winnipeg and was buried in Hamilton.
Margaret Vallance's mother was a Scottish immigrant who had lost her first husband to cholera soon after landing in Burlington Bay (Hamilton Harbour) in 1832. A year later she married Hugh Vallance, the only local resident who had dared to help the quarantined immigrants. Margaret received a good basic education in a school which emphasized deportment and social graces. At age 16 she lost her father and she had to wait several years before she could enter the Toronto Normal School. After attending in 1863–64, she graduated with a first-class teaching certificate and obtained a position in Bartonville (Hamilton).
During her teacher training, Vallance had met Thomas Wardlaw Taylor, a widowed Toronto lawyer. A few months later Taylor courted her in Bartonville. After their marriage the couple made their home in Toronto and Margaret Taylor was busy rearing their seven children. In addition, she raised the two surviving children of her husband's first marriage. The wife of a prominent Presbyterian layman, she joined the Woman's Foreign Missionary Society of the Presbyterian Church in Canada [see Marjory Laing*] soon after its formation in Toronto in 1876, despite the demands of a large family.
In 1883 the family moved to Winnipeg, where Taylor's husband became a judge of the Manitoba Court of Queen's Bench. With a few women from various Presbyterian congregations in the city, she founded in 1884 the first auxiliary of the Woman's Foreign Missionary Society in western Canada. Under her guidance, initially as treasurer and then as president, the work grew rapidly. Four years later the Winnipeg auxiliary disbanded in order to form auxiliaries attached to individual congregations. The Winnipeg presbyterial, a regional organization of the society, was formed in 1889 to coordinate the work of the auxiliaries. Taylor "emphatically declined" its presidency, preferring to become one of its four vice-presidents and to continue as president of the Augustine Church auxiliary, a post she had assumed the previous year.
Taylor was also a member of the Christian Women's Union of Winnipeg, a Protestant organization formed in 1883 to undertake work of special significance to women. In January 1885 the union established the Children's Home of Winnipeg and in July Taylor was elected to its board of management. She strongly advocated that this charity be incorporated as a separate entity, a goal achieved in 1887. That year she became one of the union's vice-presidents and president of the home's new board; she continued as president until 1899. She worked closely with the home's secretary, Mrs William H. Culver, and their lengthy association is said to have contributed much to the success of the institution, which would house over 1,200 children in its first 20 years.
The Aberdeen Association was another organization founded and guided by Taylor. The brainchild of Lady Aberdeen [Marjoribanks*], who suggested it at a women's meeting in Winnipeg on 19 Oct. 1890, it was formed within the month to supply instructive and entertaining literature to settlers in the northwest. Taylor would serve as president from its inception in 1890 until she left Winnipeg in 1899. She drafted its regulations and procedures to ensure the regular flow of literature, including religious, agricultural, and scientific periodicals, fashionable magazines, children's books, history, biography, and fiction. By 1896 a national association had been formed; at the height of its activity it would have 16 branches throughout Canada. The post office and shipping and railway companies provided free transport. After her return to Ontario, Taylor would deal with the financial problems of the national and local associations caused by the reduction of postal privileges.
From its inception in 1894 Taylor had been an officer of the Winnipeg Local Council of Women, first as its vice-president and from 1896 to 1899 as its second president. The council successfully campaigned for the appointment of police matrons and the improvement of conditions for women prisoners. In 1897 it opened the Girls' Home of Welcome to provide safe accommodation for female immigrants. That same year Taylor's husband was knighted and she became Lady Taylor. Two years later, on his retirement, the couple moved back to Toronto. The minutes of the Winnipeg council indicate that Margaret had inspired affection as well as respect for a job well done.
In 1899 Taylor succeeded Lady Aberdeen as president of the National Council of Women of Canada, an office she would hold until 1902. After the Taylors moved to Hamilton in 1906 she would serve a second term, from 1910 to 1911, following the sudden death of Lady Edgar [Ridout*]. She guided Canada's largest and most powerful women's organization with firmness and tact through a wide range of often controversial and potentially divisive issues, such as temperance and women's suffrage. She successfully opposed suggestions that the council should meet biennially or triennially instead of annually, even though yearly meetings were costly. To address its recurring financial difficulties, she asked for increased funding from affiliates and for prompt and regular payment of annual dues. Responding to a request for assistance in 1900, Taylor and the council shouldered much of the arduous work of developing a fledgling Canadian Red Cross Society of six branches into a strong, 50-branch organization able to cope with the demands of the South African War. During her terms, the council sought answers to the social problems caused by immigration and addressed various social needs: kindergarten classes in the public education system, vacation schools, supervised playgrounds, a women's labour exchange, custodial care of feeble-minded women, water filtration plants, and adequate food inspection laws. Her well-considered contributions to debates on legal matters, including laws to protect women and children, suggest that she benefited from her husband's expertise. During her second term the council undertook a national survey of the legal status of Canadian women to acquire accurate information and to identify areas where women were particularly vulnerable.
Continuing her work for Presbyterian missions, Taylor served on the board of management of the Women's Home Missionary Society, created in 1903, and after its union in 1914 with the Woman's Foreign Missionary Society, on the new joint board of management. At the outbreak of World War I she again immersed herself in Red Cross work, but for reasons of health she was unable to sustain a prolonged effort. By the end of 1914 she was forced to curtail her public activities severely. In 1922 she died peacefully at her daughter's home in Winnipeg. Friends from the National Council remembered her strength, clear thinking, good judgement, and affectionate nature.
Margaret Taylor was an exceptional member of a strong team, whose vision and hard work in the National Council enriched the quality of life in their country by giving women a voice in Canadian society and an enhanced perception of their place within it.
Law Soc. of Upper Canada Arch. (Toronto), T. W. Taylor, "A sketch of the life of Sir Thomas Wardlaw Taylor by his son" (typescript; copy at PAM). PAM, P 2131; P 3586–607. UCC, Manitoba and Northwestern Ontario Conference Arch. (Winnipeg), Woman's Foreign Missionary Society, Winnipeg Presbyterial, executive minutes, 1889; newpaper clippings. Manitoba Free Press, 28 Dec. 1922. Mrs George Bryce [Marion Samuel], "Historical sketch of the charitable institutions of Winnipeg," Man., Hist. and Scientific Soc., Trans. (Winnipeg), no.54 (February 1899): 1–31. N. E. S. Griffiths, The splendid vision: centennial history of the National Council of Women of Canada, 1893–1993 (Ottawa, 1993). Wendy Heads, "The Local Council of Women of Winnipeg, 1894–1920: tradition and transformation" (ma thesis, Univ. of Man., Winnipeg, 1997). National Council of Women of Canada, Report (Ottawa; Toronto), 1899–1902, 1910–11; Retiring president's memorandum . . . (Hamilton, Ont., 1899). PCC, Woman's Foreign Missionary Soc. (Western Div.), Our jubilee story, 1864–1924 ([Toronto, 1924]). Pioneer Winnipeg women's work: 1883–1907 ([Winnipeg, 1929?]). R. L. Shaw, Proud heritage: a history of the National Council of Women of Canada (Toronto, 1957). V. J. Strong-Boag, The parliament of women: the National Council of Women of Canada, 1893–1929 (Ottawa, 1976).
© 2005–2023 University of Toronto/Université Laval
Image Gallery

Cite This Article
Wendy Heads, "VALLANCE, MARGARET (Taylor, Lady Taylor)," in Dictionary of Canadian Biography, vol. 15, University of Toronto/Université Laval, 2003–, accessed September 22, 2023, http://www.biographi.ca/en/bio/vallance_margaret_15E.html.
The citation above shows the format for footnotes and endnotes according to the Chicago manual of style (16th edition). Information to be used in other citation formats:
| | |
| --- | --- |
| Permalink: | http://www.biographi.ca/en/bio/vallance_margaret_15E.html |
| Author of Article: | Wendy Heads |
| Title of Article: | VALLANCE, MARGARET (Taylor, Lady Taylor) |
| Publication Name: | Dictionary of Canadian Biography, vol. 15 |
| Publisher: | University of Toronto/Université Laval |
| Year of publication: | 2005 |
| Year of revision: | 2005 |
| Access Date: | September 22, 2023 |