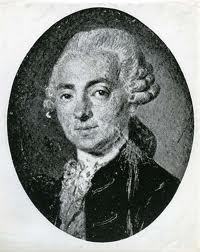 Source: Link
During the Seven Years' War François shared to some extent in his brothers' military glories. He may have been at the battle of the Monongahela (near Pittsburgh, Pa) in 1755 under Daniel-Hyacinthe Marie Liénard* de Beaujeu, and he undoubtedly served under François de Lévis* at the siege of Quebec in the spring of 1760. He thus merited with Jacques, Louis, and Antoine the applause of Governor Vaudreuil [Pierre de Rigaud*], who certified in July "that the sieurs Baby brothers, merchants of Montreal, have on all occasions given the greatest proofs of their zeal and disinterest in the service of the king [and] that they have distinguished themselves by their bravery and their talents, in almost all the actions that they have undertaken against the English. . . ."
Like most merchants in the highly unstable commercial context of the 1760s, Baby sought security through diversification. He added to his items of commerce such products as planks, peas, oats, apples, silverware, cottons, helmet plumes, and maidenhair ferns, valued for their medicinal properties. He also speculated in wheat and furs. In 1769 he was the third largest investor in the fur trade, but by the early 1770s Robert Hankey was complaining that the poor quality of Baby's furs, obtained largely from Jacques in the Detroit area, resulted in serious marketing problems in London. In addition to these activities Baby operated at least one schooner and possibly other vessels on the St Lawrence and its tributaries, ensuring delivery of purchases to his warehouses and sales to his customers, and carrying on a cargo trade for other merchants when possible.
Baby took up the threads of his business once again and began looking to new ventures. In June 1775 he commissioned construction of a new schooner at Bécancour, paying in advance the entire cost price of about £280. He engaged in sealing and fur trading at the past of Saint-Augustin (Que.) in partnership with François-Joseph Cugnet*, Gabriel-Elzéar Taschereau, and Nicolas-Joseph de Lafontaine de Belcour. They invested £1,400 in the first year's operations, choosing to market their products in London through Thomas, Thomas and Son. With this new enterprise, Baby transferred his interest from the old northwest to the Labrador coast.
Baby was above all an office holder, and like many office holders he conducted some property transactions, although on a relatively small scale. Being wealthy and a devout Roman Catholic, he preferred to lend money through the purchase of life annuities, a form of lending acceptable to the church. He paid the borrower a certain sum in return for an annuity yielding six per cent per annum of that sum (the legal rate of interest at the time) for as long as the borrower kept the capital; the latter could buy the annuity back at any time. Between 1789 and 1806 Baby purchased at least 22 annuities for a total of 147,134 livres, or approximately £6,130. He had an excellent and wide-spread reputation for fairness among the élite of the colony; the largest annuities were purchased from seigneurs, merchants, and priests from Saint-Jean-Port-Joli to Montreal.
Baby reaped a number of rewards for his public expressions of loyalty and his years of service to the British colonial administration. In 1792 he applied for land on the south shore of the St Lawrence, and it was recommended that he be granted 1,200 acres; however, an application for Templeton Township in October 1793 was dismissed. In 1802, on the recommendation of Lieutenant Governor Sir Robert Shore Milnes*, he was granted a life pension of £150 per annum. Six years later his salary as adjutant general was raised from £91 to £320 sterling. Moreover, as an executive councillor he was entitled to 12,000 acres of land: in 1809 he received 7,340 acres in Sherrington Township, and the remainder was granted in Tingwick Township in 1818. The following year he also received 1,800 acres in Chester Township for his militia service during the American invasion and occupation of 1775–76.
Baby had also ceased to play an active role in the affairs of state. Although he supported Prevost in his conflict with the English party, his support was probably passive, both because of his age and of his political ties with members of that party. He remained relatively active in business, however. By 1811 he had apparently acquired a number of life annuities sold by habitants of the faubourg Saint-Roch to the estate of the merchant William Grant. Between 1814 and 1820 Baby purchased life annuities costing a total of £4,643. In addition, he came to the rescue of his son François by paying a debt owed by François of £700.
To many Canadians of his time, Baby had been anglicized. He seems to have counted among his closest friends three of the most prominent members of the English party, Jonathan Sewell*, Herman Witsius Ryland*, and William Smith*, all of whom signed his burial record. Politically, he was much more comfortable with the authoritarianism of his British colleagues of the Executive and Legislative councils than with the democratically inclined politics of the Canadian party in the House of Assembly. But if some thought he had sold his birthright to preserve his economic well-being, others felt that he had genuinely sought to serve Canadian interests as a leading member of the governing clique for almost half a century.
© 1983–2018 University of Toronto/Université Laval
Image Gallery

Cite This Article
John Clarke, "BABY, FRANÇOIS (1733-1820)," in Dictionary of Canadian Biography, vol. 5, University of Toronto/Université Laval, 2003–, accessed January 22, 2018, http://www.biographi.ca/en/bio/baby_francois_1733_1820_5E.html.
The citation above shows the format for footnotes and endnotes according to the Chicago manual of style (16th edition). Information to be used in other citation formats:
Permalink: http://www.biographi.ca/en/bio/baby_francois_1733_1820_5E.html
| | |
| --- | --- |
| Author of Article: | John Clarke |
| Title of Article: | BABY, FRANÇOIS (1733-1820) |
| Publication Name: | Dictionary of Canadian Biography, vol. 5 |
| Publisher: | University of Toronto/Université Laval |
| Year of publication: | 1983 |
| Year of revision: | 1983 |
| Access Date: | January 22, 2018 |