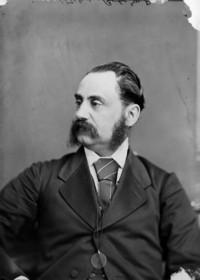 Source: Courtesy of Wikimedia Commons
BABY, LOUIS-FRANÇOIS-GEORGES, office holder, lawyer, politician, judge, and collector; b. 26 Aug. 1832 in Montreal, son of Joseph Baby, a notary, and Caroline Guy; m. 22 July 1873 his cousin Marie-Hélène-Adélaïde Berthelet in Joliette, Que.; they had no children; d. 13 May 1906 in Montreal and was buried 17 May in Joliette.
Louis-François-Georges Baby had many family connections in the Quebec élite. Jacques Babie*, an ancestor on his father's side, had come from France with the Régiment de Carignan-Salières; his numerous descendants had made careers for themselves in the armed forces, the civil service, business, and law, and had married well. Baby's grandfather François* had taken part in the sieges of Quebec in 1760 and 1775, been a member of the Legislative and Executive councils, and served in the militia as adjutant-general. His maternal grandfather, Louis Guy*, had been a royal notary, a militia colonel, and a member of the Legislative Council; one of Guy's ancestors had been grand chamberlain under Louis XIV. The polished courtesy and affable urbanity of Baby's "grand manners," his tact and his sense of the art of living carried on the traditions and spirit of a bygone era.
The eldest of 14 children, Baby spent his early years in the parish of Saint-Vincent-de-Paul (Laval). Having begun his secondary schooling at the Petit Séminaire de Montréal, from 1847 he attended the Collège Joliette in Industrie (Joliette). Baby's father, who had a cousin married to Barthélemy Joliette*, the founder of the village, owned a summer residence there. It is not surprising, then, that at the end of his sixth year (Rhetoric) of the classical program Baby published in the Mélanges religieux of Montreal a tribute to Joliette, whose hospitality he had often enjoyed. During his years as a student he chose the motto that would inspire him throughout his life, "My God, my homeland, and my duty."
After finishing his studies in 1851, Baby articled in the law office of Lewis Thomas Drummond* and Thomas-Jean-Jacques Loranger*. He also began working in the office of the attorney general – Drummond himself – and made friends with Robert Alexander Harrison*, who would later be the chief justice of the Court of Queen's Bench in Ontario. Baby was called to the bar on 5 Jan. 1857 and subsequently remained in Drummond's firm. But around 1860, for reasons of health, he moved to Industrie, where the air was pure and life less hectic. He would practise law in partnership with Senator Louis-Auguste Olivier until 1873, and then with Lewis Arthur McConville. Industrie was expanding rapidly and its élite, who met periodically at the Institut d'Artisans et Association du Bibliothèque de Village d'Industrie, wanted to have the village incorporated as a town. On 15 Oct. 1863 an act of parliament created the town of Joliette and provided for a council consisting of seven elected aldermen to be chaired by a mayor whom they appointed. In January the council, which met in the market hall, named Gaspard de Lanaudière, Barthélemy Joliette's nephew, as mayor, and Baby, Lanaudière's second cousin, as deputy mayor. In this capacity Baby was actively involved until 1872 in revising existing municipal regulations and developing the town.
Since graduating from school, Baby had moved in political circles close to George-Étienne Cartier*, whose political views he espoused. It is thought that Cartier was the one who persuaded him in 1867 to run in Joliette for the House of Commons. He was defeated on that occasion but was elected by acclamation in 1872. This political début came during an eventful period for him: his father died in 1871; he was mayor of Joliette in 1872 and 1873; and he married in 1873. For six years (having won three more consecutive elections) he travelled back and forth between Joliette and Ottawa. Attached to the 1867 constitution, he admired its balance of powers. His moderate speeches, free of racial and religious prejudice, were calls for the principles of justice and fair play in times of crisis. He demanded for the Catholics of New Brunswick the same right to their own schools enjoyed by Protestants in Quebec and, he said, Ontario. He objected to the proposed supreme court whose jurisdiction would encroach on provincial rights and whose judges, more through ignorance than malice, might misinterpret both the French civil code and the prevailing customs of each province. Sir John A. Macdonald* liked the tone and content of Baby's speeches, and on 26 Oct. 1878, as prime minister once again, he made him minister of inland revenue and a member of the Privy Council. Baby showed little enthusiasm for the problems of his department, which were technical and administrative in nature rather than political. He simply completed projects already under way, such as a reduction in the number of inspectors of weights and measures, and he proceeded with amendments to the petroleum inspection law.
Even though he was respected by the Conservative rank and file and was an effective administrator, Baby did not seem to take pleasure in political games. On 28 Oct. 1880, not long after his friend Louis-Rodrigue Masson had given up his cabinet post, Baby did the same, thereby enabling Macdonald to bring both Joseph-Alfred Mousseau* and Adolphe-Philippe Caron into the government. The following day Baby was appointed puisne judge of the Superior Court for the District of Trois-Rivières. He was not destined to sit in this court, since he also became deputy judge of the Court of Queen's Bench, to which he would be officially appointed on 29 April 1881. Because of his new duties, he settled with his wife in Montreal where he lived the life of an aristocrat. Gourmets enjoyed his fine dinners, during which he would delight his guests with his anecdotes and his historical knowledge. Because of Baby's office and vast erudition, Quebec premier Honoré Mercier* called on him to settle the question of the Jesuit estates. He went to Rome in 1888 to undertake negotiations and to hold discussions about the Montreal branch of the Université Laval. The following year Pope Leo XIII decorated him with the grand cross of the Order of St Gregory the Great. In 1891 he served on the royal commission inquiring into the Baie des Chaleurs Railway scandal [see Ernest Pacaud].
Baby retired because of ill health on 16 May 1896. He could not endure being a burden to his colleagues. Thereafter his life centred on his loved ones. It was brightened by the presence of nephews and nieces and by holidays in Joliette, but darkened by the trials attendant upon old age. Baby was deeply affected by solitude. "What strangers we are becoming to one another," he confided in July 1900 to his cousin and friend Siméon Le Sage, referring to his close friends of bygone days. His wife died in 1904. He survived her by only two years.
Throughout his life, Baby had indulged his fondness for history and his passion for collecting. A founder of the Société Historique de Montréal in 1857, he was a member of the Numismatic and Antiquarian Society of Montreal and served as its president from 1884 until his death. From the age of 25, he had been in contact with Jacques Viger*, Raphaël Bellemare, Hospice-Anthelme-Jean-Baptiste Verreau, Joseph-Ubalde Beaudry*, and all the scholars who were delving into old papers for "the details that make up the ornamentation of history." He had assembled one of the finest collections in Canada of medals and coins, which he bequeathed to the Collège Joliette. He had also collected hundreds of works on Canadian history and more than 20,000 archival documents, which were inherited by the Montreal branch of the Université Laval (now the Université de Montréal). This varied material is particularly rich for the 18th and 19th centuries and consists mainly of letters written by members of the Guy, Baby, Lanaudière, La Corne, Salaberry, Le Sage, and Saint-Georges Dupré families. In accumulating it, Baby had to maintain a voluminous correspondence with antiquarians and famous people, including Prince Roland-Napoléon Bonaparte, with friends and family who were always on the lookout for rarities and recent publications, and with the people of Joliette who would show up on a fine Sunday with "all sorts of old things."
Michèle Brassard and Jean Hamelin
Among the articles published by Louis-François-Georges Baby, two which appeared in the Canadian Antiquarian and Numismatic Journal (Montreal), 3rd ser., 2 (1899): 70–88 and 97–141, were also issued as offprints: Châteauguay: qui est "témoin oculaire," et sa description de la bataille est-elle correcte? (Montréal, 1900) and L'exode des classes dirigeantes à la cession du Canada (Montréal, 1899).
AC, Joliette, Qué., État civil, Catholiques, Saint-Charles-Borromée (Joliette), 17 mai 1906. ANQ-M, CE1-33, 22 juill. 1873; CE1-51, 28 août 1832; P1000-1-15. ANQ-Q, P-149/1. Antiquarian and Numismatic Soc. of Montreal, Baby papers. Arch. de l'Univ. de Montréal, P 58 (coll. Baby), A4/98; H2/53. L'Étoile du Nord, 25 mai 1906. La Gazette de Joliette, 17 mars 1873, 12 mars 1874. La Presse, 14 mai 1906. Les anciens du séminaire; écrivains et artistes, [J.-A. Charlebois, compil.] (Joliette, 1927), 23–29. Camille Bertrand, Catalogue de la collection François-Louis-Georges Baby, intro. Lucien Campeau (2v., Montréal, 1971); La collection d'archives Baby (Montréal, 1975). Michel Brunet, "Les Canadiens après la Conquête; les débuts de la résistance passive," RHAF, 12 (1958–59): 201–3. Can., House of Commons, Debates, 1875–80. P.-B. Casgrain, Mémorial des familles Casgrain, Baby et Perrault du Canada (Quebec, 1898). Cyclopædia of Canadian biog. (Rose and Charlesworth), 2: 192–93. M.-C. Daveluy, "Un Canadien éminent: Raphaël Bellemare (1821–1906)," RHAF, 12: 545–73. A.-C. Dugas, Gerbes de souvenirs ou mémoires, épisodes, anecdotes et réminiscences du collège Joliette (2v., Montréal, 1914). Joliette, 1864–1964 (Joliette, 1964). Joliette illustré, numéro souvenir de ses noces d'or, 1843–1893 (Joliette, 1893). P.-G. Roy, La famille Tarieu de Lanaudière (Lévis, Qué., 1922); Les juges de la prov. de Québec. Rumilly, Hist. de la prov. de Québec, vols.1–2, 5; Hist. de Montréal, vol.3. Joseph Tassé, Le 38me fauteuil ou souvenirs parlementaires (Montréal, 1891), 26–27, 59–61.
© 1994–2023 University of Toronto/Université Laval
Cite This Article
Michèle Brassard and Jean Hamelin, "BABY, LOUIS-FRANÇOIS-GEORGES," in Dictionary of Canadian Biography, vol. 13, University of Toronto/Université Laval, 2003–, accessed May 27, 2023, http://www.biographi.ca/en/bio/baby_louis_francois_georges_13E.html.
The citation above shows the format for footnotes and endnotes according to the Chicago manual of style (16th edition). Information to be used in other citation formats:
| | |
| --- | --- |
| Permalink: | http://www.biographi.ca/en/bio/baby_louis_francois_georges_13E.html |
| Author of Article: | Michèle Brassard and Jean Hamelin |
| Title of Article: | BABY, LOUIS-FRANÇOIS-GEORGES |
| Publication Name: | Dictionary of Canadian Biography, vol. 13 |
| Publisher: | University of Toronto/Université Laval |
| Year of publication: | 1994 |
| Year of revision: | 1994 |
| Access Date: | May 27, 2023 |