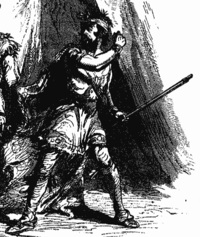 Source: Courtesy of Wikimedia Commons
GIRTY, SIMON (the name may originally have been Geraghty), Indian Department interpreter; b. 1741 at Chambers' Mill (near Harrisburg, Pa), son of Simon Girty and Mary Newton; m. August 1784 Catharine Malott, a captive of the Delawares, and they had at least two sons and a daughter; d. 18 Feb. 1818 in Amherstburg, Upper Canada.
Simon Girty was born at the beginning of the last great period of Indian-white warfare east of the Mississippi, and his entire life was spent in the vortex of the struggle. His father was evidently killed by an Indian during a drunken fight some time in the 1740s and his mother remarried. The entire family was captured by a war party about 1756 and Girty's stepfather was burnt at the stake. With his mother and brothers George and James, Simon spent the next three years amongst the Indians. Simon lived with Senecas – apparently Mingos, as the Iroquois residents of the upper Ohio were known to the British. This experience later provided his enemies with the basis for many distortions of fact, including the labelling of Girty as "the white savage."
Girty probably spent most of the time between his release and the American revolution as a trader in the Ohio valley. His command of the Seneca language must have been a valuable asset, and he no doubt picked up some Delaware and Shawnee, the two other major languages of the region. He served as an interpreter at Fort Pitt (Pittsburgh, Pa) on a number of occasions and was a second lieutenant in the Pennsylvania militia. Perhaps because of his association with Alexander McKee*, an Indian agent and known loyalist, Girty was confined to Pittsburgh after the American revolution reached the "back country." Together with McKee and Matthew Elliott, he fled the town in the spring of 1778, and this escape set the stage for the central episodes of his career.
Having made their way to Detroit (Mich.), the three were given posts in the British Indian Department, Girty as interpreter to the Six Nations. He must have been an impressive figure. Someone later recalled: "He was a splendid-looking man, was fully six feet high, and had a large head and large black eyes." Familiar with Indian ways, Girty, Elliott, and McKee were able to harness native resentment of American expansion to overall British military strategy. In the summer of 1779 a mixed party of Indians accompanied by Girty and Elliott ambushed Captain David Rodgers's American detachment which was attempting to bring munitions up the Ohio River to Fort Pitt. Girty then wintered in Shawnee country, returning to Detroit in March 1780. From 25 May to 4 August he was away again, this time with both Elliott and McKee on Captain Henry Bird's expedition, which was headed for the falls of the Ohio. On the insistence of Indian leaders, the party changed its course and followed the Licking River into Kentucky. Evidently the Indians, facing their old enemies the Kentucky settlers, were restrained from killing prisoners only with difficulty, but the raid was a success: two posts were captured and more than 300 captives taken.
The Americans responded to these and other skirmishes by sending punitive missions against Indian villages. In March 1782 Lieutenant-Colonel David Williamson's forces wantonly murdered some 90 Christian Delawares at the Moravian settlement of Gnadenhutten (Ohio) [see Glikhikan*]. When an expedition under Colonel William Crawford was defeated in June near what is now Upper Sandusky, Ohio, some Delawares under their chief Konieschguanokee (Captain Pipe) took revenge by torturing the unfortunate commander to death. Elliott and Girty were both present; Girty apparently indulged in some mirthless jesting with Crawford as he was dying. American propaganda fed on such scenes, and the growth of Girty's "savage" reputation dated from this occasion.
In his official capacity as interpreter Girty was present at most Indian conferences in the Detroit region during and after the revolution. With McKee and Elliott he observed the defeat of the Indian confederacy at the battle of Fallen Timbers (near Waterville, Ohio) on 20 Aug. 1794 [see Weyapiersenwah]. Following the British withdrawal from the posts south of the Great Lakes in 1796 Girty remained on the Indian Department payroll, earning 4s. 8d. a day, but the heyday of his activity had ended.
After the revolution Girty and some other Indian Department officers had obtained a tract of land at what is now Amherstburg. Large numbers of Indians settled near by and worked as hired help on the farms. During the War of 1812 the Indian Department requisitioned some of Girty's corn to feed its clients, and his claim to the government was one of the last official contacts he had with his former employer. When Major-General Henry Procter* retreated from the Detroit frontier in the fall of 1813, Girty undoubtedly went along; there had been a price on his head since Crawford's death. After the invaders withdrew he returned, and his final years were spent quietly: he was old, nearly blind, and liked nothing better than recounting tales of his past career in his favourite public house.
Girty was a man of great ability in working with native leaders, but his manners were rough, his disposition temperamental, and his capacity for drink legendary. His superiors did not always appreciate such a combination of talents. "James Girty is sulky," wrote Henry Bird in 1780, "and Simon Girty is useless." Girty plied his Indian farm-workers with rum and even succeeded in getting Moravian Indians drunk, much to the disgust of David Zeisberger and other missionaries. Behind such incidents lurked a type of grim humour, born of the harsh conditions in which he had spent his life. His behaviour gave just enough substance to the old propaganda for some to take seriously the stories of his viciousness. These tales were spread by people who could not see that hostilities between the western tribes and the new republic were caused, not by the behaviour of men like Girty, but by the white settlers' insatiable hunger for land and their government's failure to honour its agreements with Indians.
PAC, MG 19, F1, 2; MG 23, HI, 4; RG 8, I (C ser.), 88: 1; 258; RG 10, A1, 2; A2, 13. Mich. Pioneer Coll. Wallace, Macmillan dict. (1963). Thomas Boyd, Simon Girty, the white savage (New York, 1928). C. W. Butterfield, History of the Girtys . . . (Cincinnati, Ohio, 1890). F. X. Chauvin, Simon Girty (1741–1818); an address before the descendants of Simon Girty at Lakeside Park, Kingsville, Ont., September 5th, 1932 (n.p., n.d.; copy at UWO). D. R. Farrell, "Detroit, 1783–1796: the last stages of the British fur trade in the old northwest" (phd thesis, Univ. of Western Ont., 1968). Horsman, Matthew Elliott. U. J. Jones, Simon Girty, the outlaw, ed. A. M. Aurand (Harrisburg, Pa., 1931). R. S. Allen, "The British Indian Department and the frontier in North America, 1755–1830," Canadian Hist. Sites, no.14 (1975): 5–125. N. V. Russell, "The Indian policy of Henry Hamilton: a re-valuation," CHR, 11 (1930): 20–37.
© 1983–2023 University of Toronto/Université Laval
Image Gallery

Cite This Article
Douglas Leighton, "GIRTY, SIMON," in Dictionary of Canadian Biography, vol. 5, University of Toronto/Université Laval, 2003–, accessed December 5, 2023, http://www.biographi.ca/en/bio/girty_simon_5E.html.
The citation above shows the format for footnotes and endnotes according to the Chicago manual of style (16th edition). Information to be used in other citation formats:
| | |
| --- | --- |
| Permalink: | http://www.biographi.ca/en/bio/girty_simon_5E.html |
| Author of Article: | Douglas Leighton |
| Title of Article: | GIRTY, SIMON |
| Publication Name: | Dictionary of Canadian Biography, vol. 5 |
| Publisher: | University of Toronto/Université Laval |
| Year of publication: | 1983 |
| Year of revision: | 1983 |
| Access Date: | December 5, 2023 |