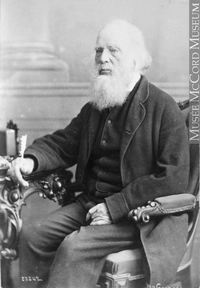 Source: Link
MOODIE, JOHN WEDDERBURN DUNBAR, army officer, farmer, public servant, and writer; b. 7 Oct. 1797 at Melsetter in the Orkney Islands, fourth son of Major James Moodie and Elizabeth Dunbar; d. 22 Oct. 1869 at Belleville, Ont.
J. W. Dunbar Moodie was born into a family with a tradition of military service. Two of his brothers served with the navy during the Napoleonic wars, and Dunbar himself joined the army as a second lieutenant in the 21st Royal North British Fusiliers in 1813. He took part in the disastrous night attack on Bergen op Zoom in the Netherlands on 8 March 1814 and was shot in the left wrist while attempting to rescue comrades from a canal. He received a military pension for two years in compensation and was placed on half pay in March 1816.
In 1819 Moodie joined his elder brothers, Benjamin and Donald, in South Africa, where he tried his hand at raising cattle in the Cape Colony and was able to indulge his love of field sports. He returned to England in 1829 and began a writing career with an article about the attack on Bergen op Zoom in the United Service Journal (London) in 1831. In 1835 his Ten years in South Africa was published on terms of half-profits; the book was sufficiently popular to yield the author £64 13s. by April 1841.
Moodie had met Susanna Strickland* in 1830 at the home of a mutual friend, Thomas Pringle, then secretary to the Anti-Slavery Society. They were married on 4 April 1831, moved to Southwold, Suffolk, and then decided to immigrate to Canada in 1832 with the expectation of establishing a comfortable and secure future for themselves and their children (they were to have two girls and five boys, two of whom died as children).
Almost from the beginning that expectation was frustrated. Because their ship was becalmed off Newfoundland for three weeks, the voyage to Canada took two months. They first purchased a farm near Cobourg, Upper Canada, in October 1832, and moved to uncleared land in Douro Township in the spring of 1834, but their lives as settlers were marked by difficulties of adjustment and errors in judgement which led to their abandonment of the pioneer role for residence in Belleville in 1839. The story of their settling and the tribulations they experienced are vividly and dramatically recounted in Mrs Moodie's Roughing it in the bush (1852).
Following the outbreak of rebellion in Upper Canada, Moodie served in the provincial militia, and in November 1839, as a result of a petition written by his wife to Lieutenant Governor Sir George Arthur*, he was appointed sheriff of Victoria District. Moodie remained sheriff of the district, then of Hastings County, until January 1863 when he resigned on the advice of the solicitor general, Adam Wilson*, while awaiting judgement on a charge that he had contracted an illegal arrangement in the appointment of a deputy. Although the judgement, issued in March 1863 by a grand jury presided over by John Hawkins Hagarty*, went against him, he was found to have transgressed unintentionally. During his later years Moodie experienced both ill health and financial distress. He suffered a partial paralysis of his left side in 1861, and he was unable to secure any remunerative position following his resignation as sheriff.
Most of Moodie's work as a writer was subsidiary to his wife's career and fame. Three of the sketches in the first edition of Roughing it were written by him, and together with Susanna he edited and contributed to the Victoria Magazine, published at Belleville from 1847 to 1848. His contributions include light verse, short stories, essays, and lectures. Although the essays are marred by a lack of logic in the development of his arguments, he is, through all of his prose, persistent in his advocacy of tolerance, liberty, and education. Indeed, an educational function was supposed to be the principal feature of the Victoria Magazine. Moodie's most interesting and graphic work is on South Africa, perhaps because his emigration there was an adventure which contrasted with his disappointed hopes in Canada. Even near the end of his life he considered immigration to Canada to have been a mistake.
J. W. D. Moodie was author of Scenes and adventures, as a soldier and settler, during half a century (Montreal, 1866); Ten years in South Africa, including a particular description of the wild sports of that country (2v., London, 1835); and of the second volume of Memoirs of the late war: comprising the personal narrative of Captain Cooke . . . the history of the campaign of 1809 in Portugal, by the Earl of Munster; and a narrative of the campaign of 1814 in Holland, by Lieut. W. D. Moodie (2v., London, 1831). He also contributed to Susanna [Strickland] Moodie, Roughing it in the bush, or life in Canada (2v., London, 1852), and was a contributor to and an editor of the Victoria Magazine (Belleville, [Ont.]), 1847–48.
British Museum (London), Add. mss 46640, 46654, 46676A, 46676B. DNB. Morgan, Bibliotheca Canadensis. A. J. G. Armytage, Maids of honour: twelve descriptive sketches of single women who have distinguished themselves in philanthropy, nursing, poetry, travel, science, prose (Edinburgh and London, 1906). C. P. A. Ballstadt, "The literary history of the Strickland family . . ." (unpublished phd thesis, University of London, 1965). A. Y. Morris, Gentle pioneers: five nineteenth-century Canadians (Toronto and London, 1968). U. C. Pope-Hennessy, Agnes Strickland, biographer of the queens of England, 1796–1874 (London, 1940).
Bibliography for the revised version:
[M. H. Massue, 9th] Marquis of Ruvigny and [15th] Raineval, The Moodie book: being an account of the families of Melsetter, Muir, Cocklaw, Blairhill, Bryanton, Gilchorn, Pitmuies, Arbekie, Masterton, etc., etc. (n.p., 1906).
© 1976–2023 University of Toronto/Université Laval
Cite This Article
Carl P. Ballstadt, "MOODIE, JOHN WEDDERBURN DUNBAR," in Dictionary of Canadian Biography, vol. 9, University of Toronto/Université Laval, 2003–, accessed June 6, 2023, http://www.biographi.ca/en/bio/moodie_john_wedderburn_dunbar_9E.html.
The citation above shows the format for footnotes and endnotes according to the Chicago manual of style (16th edition). Information to be used in other citation formats:
| | |
| --- | --- |
| Permalink: | http://www.biographi.ca/en/bio/moodie_john_wedderburn_dunbar_9E.html |
| Author of Article: | Carl P. Ballstadt |
| Title of Article: | MOODIE, JOHN WEDDERBURN DUNBAR |
| Publication Name: | Dictionary of Canadian Biography, vol. 9 |
| Publisher: | University of Toronto/Université Laval |
| Year of publication: | 1976 |
| Year of revision: | 2022 |
| Access Date: | June 6, 2023 |