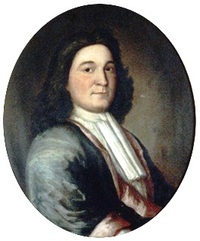 Source: Courtesy of Wikimedia Commons
PHIPS, Sir WILLIAM, sailor, adventurer, and colonial governor; b. (according to Cotton Mather) 2 Feb. 1650/51, near the mouth of the Kennebec River in what is now the state of Maine, the son of humble parents, James and Mary Phips; d. 18 Feb. 1694/95 in London, England.
After working as a shepherd for his widowed mother, he was apprenticed to a ship carpenter and subsequently practised this trade in Boston, where he married a wealthy widow, Mary (Spencer) Hull. He is also said to have been a ship captain. Becoming interested in the recovery of sunken Spanish treasure, he apparently made a first voyage to the Bahamas without much success; later, however, he went to England and succeeded in obtaining the loan of a naval vessel for another attempt (1683–84). This also yielded a very small return. In 1686, nevertheless, Phips gained the support of the second Duke of Albemarle, who organized a joint-stock company to finance a search for a sunken treasure-ship believed to lie off Haiti. This venture proved triumphantly successful; in June 1687 Phips returned to England with treasure valued officially at over £207,600. His own share was over £11,000 (R. H. George, "The treasure trove of William Phips," N. Eng. Q., VI (1933), 294–318). The incident brought him his knighthood, and James II appointed him provost marshal general of the short-lived Dominion of New England. Returning to England to complain of his reception by the authorities of the Dominion, he came in contact with Increase Mather, and thereafter the two were close associates.
In 1690 Phips underwent what seems to have been a politic religious conversion, being received into the Second Church of Boston by Cotton Mather. Almost simultaneously he was sworn in as major-general to command an expedition organized by Massachusetts against French Acadia. He sailed with seven vessels carrying a militia "Foot Regiment" about 450 strong, and after preliminary operations against settlements at Penobscot and Passamaquoddy entered the harbour of Port-Royal (Annapolis Royal, N.S.) on 19 May (n.s.). Next day a flag of truce was sent to the fort, and on 21 May the governor, Louis-Alexandre Des Friches* de Meneval surrendered. He had only about 70 men, and no guns mounted, and resistance would have been useless. On 22 May the "journal" of Phips's proceedings says, "We cut down the cross, rifled the Church, pulled down the High-Altar, breaking their images"; and on 23 May, "kept gathering Plunder both by land and water, and also under ground in their Gardens" (PAC Report, 1912, 54 ff.). After forcing the inhabitants to swear allegiance to King William and Queen Mary, Phips sailed back to Boston with his booty, leaving La Tourasse as interim president of the local council, and taking Meneval, the soldiers, and Fathers Trouvé* and Petit* with him as prisoners. Meneval subsequently claimed that Phips had taken some of his personal property, which he seems to have had difficulty in recovering even after the Massachusetts council ordered Phips to restore it.
Phips's bloodless success against Port-Royal was presumably considered to justify his appointment to command a more important expedition which was being organized at the time of his return. The New England colonies and New York dispatched a force overland against Montreal, which accomplished virtually nothing; while Phips, with about 32 ships (only 4 of which were of any size) and somewhat more than 2,000 Massachusetts militiamen, moved against Quebec by way of the St. Lawrence. Phips's expedition was inadequately supplied with ammunition; and it was delayed until unduly late in the summer by awaiting supplies hoped for from England which never came. It sailed from Hull, near Boston, only on 19 or 20 Aug. 1690. Bad weather, contrary winds, and lack of a St. Lawrence pilot hampered progress, and Phips did not anchor in the Quebec basin until 16 October.
Quebec's defences had hitherto been very slight; but during the past few months the governor, Buade de Frontenac, had strengthened them considerably, constructing an improvised enceinte covering the side of the town facing the open country (but not enclosing the high ground where the modern Citadel stands). Before Phips's arrival the batteries facing the river were improved. Frontenac himself reached Quebec from Montreal on 14 October, and when all the militia whom he had summoned arrived he had nearly 3,000 men to defend the place. Frontenac had reason for confidence, the more so as he possessed a force of colonial regulars organized in three battalions and certainly superior in efficiency to Phips's amateur soldiery. (As it turned out, however, virtually all the fighting on the French side was done by the Canadian militia.) When on 16 October Phips sent Frontenac, by Major Thomas Savage*, a summons to surrender, the governor made the famous reply that he had no answer to give "save from the mouths of my cannon and from my musketry."
The New Englanders' plan, prepared by a council of war, was to land their main force on the Beauport shore east of the St. Charles River, and move it across that river with the aid of the fleet's boats, which would also land the field guns on the Quebec side of the St. Charles. When the landing force was on the heights west of Quebec, the fleet would attack the front of the town and land another force there. Frontenac on his side pursued a cautious policy. He proposed to fight only a skirmishing action east of the St. Charles, holding his regulars in reserve for a European-style battle on the open ground west of Quebec. This battle never took place, for the English landing force, commanded by Major John Walley*, Phips's second-in-command, never got across the St. Charles. It landed on 18 October, and immediately began to be harassed by Canadian militia under Jacques Le Moyne de Sainte-Hélène. The ships' boats failed to give the expected co-operation, but did land the guns – on the wrong side of the St. Charles. The same evening, Phips's four large ships, quite contrary to the plan, anchored before Quebec and began to bombard the town. (The statement, made by Charlevoix* and others, that this took place on the 16th, immediately after Frontenac rejected Phips's ultimatum, is certainly inaccurate.) The bombardment continued on the 19th, and was broken off when the English had shot away most of their ammunition, and their ships, particularly Phips's flagship the Six Friends, had suffered considerable damage by the fire of the town batteries.
Walley's force remained inactive during the bombardment. His men were suffering from cold and complaining of shortage of rum, and there was smallpox among them. There was a skirmish on 20 October, during which Sainte-Hélène was mortally wounded. The same day Phips agreed, apparently reluctantly, to the recommendation of a council of war held by the officers ashore that the landing force should re-embark. This evacuation, at first proposed for the morning of the 21st, was postponed until the following night. It was carried out successfully, the French apparently not realizing what was happening; but the New Englanders left five of their six cannon behind them. A more enterprising commander than Frontenac showed himself to be might well have destroyed Walley's discouraged force before it could get away; but the governor was content to stand on the defensive to the end. Although the English had talked of landing at another point, nothing more was attempted. On 23 and 24 October an exchange of prisoners was negotiated and effected, and Phips's ships then made sail for Boston. Although his own account of the expedition claims that his casualties did not exceed 30 men, the loss by sickness or marine accident ran into hundreds; James Lloyd of Boston wrote in the following January, "7 vessels yet wanting 3 more cast away & burnt." Cotton Mather tells how one brigantine was wrecked on Anticosti; her crew maintained themselves on the island through the winter and were apparently rescued the following summer by a ship from Boston. Phips's defeat was complete and disastrous, but the French would have been in serious difficulties if the siege had been prolonged, for food was lacking for the large force assembled to defend Quebec. Phips himself had displayed no natural military talents to offset his lack of experience. It can be argued however that the absence of trained soldiers and adequate supplies had doomed the enterprise from the start.
This reverse was far from ending Phips's career. When William III granted a new charter to Massachusetts in 1691, the appointment of the governor was reserved to the Crown. On Increase Mather's recommendation, Phips was made the first royal governor, taking up his duties in May 1692. The witchcraft mania was then active in Massachusetts. After a period of uncertainty, Phips put an end to the executions, reprieving all condemned persons pending instructions from London. In 1693 a letter from Queen Mary supported his attitude and, Phips said, averted the ruin of the province (PRO, CSP, Col., 1693–96, items 112, 545). Phips did effective work in defending the eastern frontier against the French and Indians, but he became violently embroiled with the authorities of the neighbouring colonies and with the local officers of the Royal Navy. He is also accused of using his position for his own profit in various ways. In 1693 he was instructed to co-operate with Sir Francis Wheler in a seaborne expedition against Quebec which had been planned in England; but the orders reached him belatedly, and when Wheler consulted him in July, Phips – whose experience before Quebec in 1690 had obviously left a deep impression – said that he would need at least four months to collect forces from the other colonies, that at least 4,000 men would be needed (Wheler's effective force was only 650) and that the expedition should have sailed not later than 1 July. Wheler accordingly limited himself to an enterprise against Placentia, which was foiled by the weather, and a raid on Saint-Pierre. In 1694 Phips was summoned to England to answer charges against him, including those relating to his assault upon and persecution of Capt. Richard Short, R. N. Phips died of fever before the investigation was completed. He was buried in the church of St. Mary Woolnoth, London.
Phips was amply endowed with energy and courage, and seems to have had considerable native ability; but he also possessed less admirable qualities. Sir John Fortescue, the editor of the colonial State Papers of his period, came to the conclusion that he was "ignorant, brutal, covetous and violent," and there is much warrant for this opinion. He had few qualifications for the military commands he held against Port Royal and Quebec. The part he took in ending the witchcraft persecution is the most creditable incident of his public life.
[The earliest biography of Phips was Cotton Mather's Pietas in Patriam: the life of His Excellency Sir William Phips, Knt. (London, 1697; reprinted in Mather's Magnalia Christi Americana, London, 1702 and 2v., Hartford, Conn., 1820); written to justify the Mathers' sponsorship of Phips, it is correspondingly unreliable. The most extended modern study, Alice Lounsberry's Sir William Phips, treasure fisherman and governor of the Massachusetts Bay Colony (New York, 1941), is a curious mixture of research and imagination, largely uncritical. Viola F. Barnes's article in DAB has an excellent critical bibliography; see also two articles by the same author in N. Eng. Q., I (1928): "The Rise of William Phips" (271–94) and "Phippius Maximus" (532–53). Rev. Henry O. Thayer's Sir William Phips, adventurer and statesman . . . (Portland, Me., 1927) is generally reliable.
None of the recent American studies is of much value on Phips's Canadian ventures. The best general account covering them is still that in Francis Parkman, Count Frontenac and New France (1st ed., Boston, 1877). A detailed account of the Quebec enterprise is "Sir William Phips' Attack on Quebec, 1690," in Introduction to the study of military history for Canadian students, ed. C. P. Stacey (5th ed., 2d rev., Ottawa, 1960). The official French accounts of this episode are in AN, Col., C11A, 11. These and other French documents, and some English accounts, are printed in 1690, Sir William Phips devant Québec: histoire d'un siege, éd. Ernest Myrand (Québec, 1893); the documents are more useful than the commentary. The chief New England accounts, including Phips's own, are in W. K. Watkins, Soldiers in the expedition to Canada in 1690 . . . (Boston, 1898). Many important documents relating to Phips are abstracted in PRO, CSP, Col., 1689–92 and 1693–96. Several contemporary documents on the Port-Royal and Quebec enterprises, including James Lloyd's letter, are in PAC Report, 1912. c.p.s.]
© 1966–2023 University of Toronto/Université Laval
Image Gallery

Cite This Article
C. P. Stacey, "PHIPS, SIR WILLIAM," in Dictionary of Canadian Biography, vol. 1, University of Toronto/Université Laval, 2003–, accessed October 3, 2023, http://www.biographi.ca/en/bio/phips_william_1E.html.
The citation above shows the format for footnotes and endnotes according to the Chicago manual of style (16th edition). Information to be used in other citation formats:
| | |
| --- | --- |
| Permalink: | http://www.biographi.ca/en/bio/phips_william_1E.html |
| Author of Article: | C. P. Stacey |
| Title of Article: | PHIPS, SIR WILLIAM |
| Publication Name: | Dictionary of Canadian Biography, vol. 1 |
| Publisher: | University of Toronto/Université Laval |
| Year of publication: | 1966 |
| Year of revision: | 1979 |
| Access Date: | October 3, 2023 |