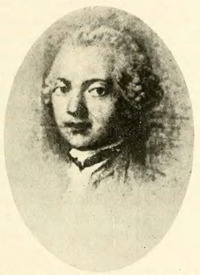 Source: Courtesy of Wikimedia Commons
DANEAU DE MUY, NICOLAS, officer in the colonial regular troops, knight of the order of Saint-Louis; b. 1651, in Beauvais, France, son of Jacques Daneau and Catherine Driot; d. 25 Jan. 17081 at sea.
Nicolas embarked on a military career, was commissioned lieutenant in 1674 and appointed captain in the Régiment de Normandie in 1678. He entered the service of the colonial regular troops as a captain in 1685 and the same year came to Canada with the reinforcements brought by the Marquis de Denonville [Brisay].

Between 1685 and 1687 Nicolas was stationed at Montreal, where the garrison troops were employed by Callière strengthening the fortifications of Montreal with a palisade. The young captain found time nevertheless to pay court to Geneviève Bissot, widow of the surgeon Louis Maheut*. Changing his mind, he jilted the widow and, in the spring of 1687, married Marguerite Boucher (1663–1698), the third daughter of Pierre Boucher, former governor of Trois-Rivières and seigneur of Boucherville. The widow was mollified by the payment of 350 livres. Following his wife's death in 1698, Nicolas married Catherine d'Ailleboust Des Muceaux (1669–1755), sister of Pierre d'Ailleboust d'Argenteuil, in 1702. A son by the first marriage, Jacques-Pierre* (1695–1755), followed in his father's footsteps as a soldier and received the cross of the order of Saint-Louis in 1754.

In 1687 Nicolas took part in Denonville's expedition against the Iroquois, an affair which brought no credit to the commander and little to the troops. He was present at Quebec during the siege of that city by Phips* and in the following year, 1691, he was one of the men assembled by Callière at La Prairie de la Magdelaine to guard the country against hostile incursions from New York. One hundred and sixty mien were placed under the command of Philippe Clément Du Vuault, sieur de Valrennes, and sent to Chambly to watch the line of the Richelieu. On 11 August they were attacked by Mohawks and Albany militia led by Major Peter Schuyler. Although Valrennes' men were for the most part inexperienced, they successfully routed the enemy. Among those specially mentioned for their coolness and bravery on this occasion was "the Sieur de Muyet." His good work then and subsequently led the Comte de Frontenac [Buade*] to write that Nicolas Daneau de Muy was one of his "bravest officers," and that he had "distinguished himself during the ten years he has been in the country." Charlevoix* said of him that he was "an officer of merit and one of the ablest then in the colony."

There was scarcely an action during the years which followed in which Nicolas was not a participant. He was captain of a company of regulars which formed part of Rigaud de Vaudreuil's command during Frontenac's expedition against the Onondagas in the summer of 1696. And no sooner was this expedition brought to a conclusion than he was placed in charge of a contingent of Canadians and sent to Placentia (Plaisance) to take part in the operations against the English settlements in Newfoundland. Not only did Nicolas acquit himself creditably in the military operations which followed, but he also displayed his political talents by helping to reconcile the rival commanders, Pierre Le Moyne d'Iberville and Jacques-François de Monbeton de Brouillan, governor of Placentia. When the conquest of the island was completed Nicolas did not follow Iberville to Hudson Bay but returned with his contingent to Quebec in the summer of 1697.

Sometime after his return from Newfoundland, Nicolas was made commandant of Fort Chambly, an appointment which he held for several years. In 1703 it was proposed to elevate Chambly from a simple fort to an administrative sub-division of the government of Montreal and to place M. Daneau de Muy in charge. He was, however, appointed garrison adjutant at Quebec on 14 June 1704. Believing that he was entitled to a more senior appointment, de Muy returned to France in 1705. As a result of his solicitations he was offered the post of king's lieutenant of the island of Cayenne. He hesitated to accept an appointment which would take his wife and family from Canada to a small island off the shores of South America. About this time – the date is uncertain, probably 1706 or 1707 – he was awarded the cross of the order of Saint-Louis. In 1707 he was nominated governor of Louisiana. He never took up this appointment; he died at sea near Havana, Cuba, in January 1708, while en route to Mobile.
AN, Col., C11A, 14, f.282; C11D, 3, ff.27–40. Charlevoix, History (Shea), IV, V. "Correspondance de Frontenac (1689–99)," APQ Rapport, 1928–29, 297. "Correspondance de Vaudreuil," APQ Rapport, 1938–39, 17, 121; 1947–48, 309. NYCD (O'Callaghan and Fernow), IX. P.-G. Roy, "Ce que Callières pensait de nos officiers," 323. Taillemite, Inventaire analytique, série B, I. Fauteux, Les chevaliers de Saint-Louis. Le Jeune, Dictionnaire. É.-Z. Massicotte, "Les commandants du Fort Chambly," BRH, XXXI (1925), 455. Tanguay, Dictionnaire. [François Daniel], Histoire des grandes familles francaises du Canada (Montréal, 1867). J.-B.-A. Ferland, Cours d'histoire du Canada (1534–1759) (2e éd., 2v., Québec, 1882), II. Frégault, Iberville, 219. O'Neill, Church and state in Louisiana. J.-E. Roy, Histoire de la seigneurie de Lauzon (5v., Lévis, 1897–1904), I. Sulte, Hist. des Can. fr., V, 119; VI, 26–27; Mélanges historiques (Malchelosse), IX, 17. J.-E. Roy, "François Bissot, sieur de la Rivière," RSCT, 1st ser., X (1892), sect.i, 39. P.-G. Roy, "Nicolas Daneau de Muy," BRH, X (1904), 345–50; "Nicolas Daneau de Muy et ses enfants," Cahiers des Dix, XVIII (1953), 160–61. [J. Higginbotham, Old Mobile . . . (Mobile, 1977).]
© 1969–2023 University of Toronto/Université Laval
Image Gallery

Cite This Article
George F. G. Stanley, "DANEAU DE MUY, NICOLAS," in Dictionary of Canadian Biography, vol. 2, University of Toronto/Université Laval, 2003–, accessed October 2, 2023, http://www.biographi.ca/en/bio/daneau_de_muy_nicolas_2E.html.
The citation above shows the format for footnotes and endnotes according to the Chicago manual of style (16th edition). Information to be used in other citation formats:
| | |
| --- | --- |
| Permalink: | http://www.biographi.ca/en/bio/daneau_de_muy_nicolas_2E.html |
| Author of Article: | George F. G. Stanley |
| Title of Article: | DANEAU DE MUY, NICOLAS |
| Publication Name: | Dictionary of Canadian Biography, vol. 2 |
| Publisher: | University of Toronto/Université Laval |
| Year of publication: | 1969 |
| Year of revision: | 1982 |
| Access Date: | October 2, 2023 |