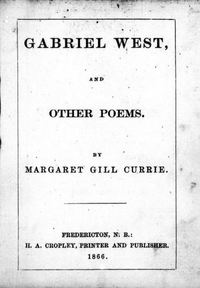 Source: Link
GILL, MARGARET CATHARINE (Currie), poet; b. in Springhill, N.B., 14 June 1843, the daughter of Thomas Gill and Catharine Gaynor; m. 2 Nov. 1864 George William Currie in St Marys Parish, N.B., and they had two sons and two daughters; d. 7 Aug. 1906 in Fredericton.
Margaret Gill was the granddaughter of Ensign Thomas Gill of the Maryland Loyalists, and her literary imagination is said to have been influenced by the stories of the American Revolutionary War that her father passed on to her. In January 1861 she was examined at the Normal School in Saint John, N.B., and received a class I licence to teach in the western district of St Marys Parish. The 1861 census lists her as a schoolteacher and a Baptist living at home in St Marys with her father, a farmer and a Methodist. In February 1864 her licence was transferred to the southern district of the parish, and by February 1868 she and her husband were residing in Kingsclear Parish. On 14 May of the following year, however, Margaret's licence was transferred again to the western district of St Marys. Sometime later the Curries moved to Fredericton where, "though the couple's means were limited," according to one local historian, they raised four children, sending "their sons to the University and their daughters to Normal School."
Later an occasional contributor to periodicals such as the Saint John Globe or Stewart's Literary Quarterly Magazine (Saint John), Currie first drew attention to her poetic endeavours with the publication in Fredericton of Gabriel West, and other poems in 1866. Dedicated "to the descendents of the loyalists throughout the province of New Brunswick," the poems were written "to preserve the memory of the Loyalists from oblivion." The majority had been composed when Currie was a teenager and, apart from the topicality of those written about Fredericton or pirate treasure in the province, are of minor interest. However, in "Gabriel West," which was "founded upon facts," Currie was to develop strong narrative rhythms that enabled her to record the tragedy of a loyalist soldier, a friend of her grandfather's, who had lost his wife and child in a shipwreck en route to New Brunswick. Currie's strong patriotic feelings for the province are found both in this poem ("My heart rejoices in the right to praise / That country as my own, in simple, homely lays") and in her more ambitious, later verse narrative, John Saint John and Anna Grey: a romance of old New Brunswick.
Published in 1897 by William Briggs* of Toronto "for the author" but supposedly written 20 to 24 years before, John Saint John and Anna Grey echoes the style of Henry Wadsworth Longfellow's historical verse narratives while at the same time displaying conventions of 19th-century melodrama in its dark, tortured villains, its remote English country-house settings, and its ambiance of madness. Although ostensibly a tragedy of misguided and lost love, the 128-page poem is also Currie's tribute to New Brunswick loyalists. Here, the Saint Johns and the Greys of the province are made admirable by the contrast of their integrity, courage, and humanity with the perfidy and decadence of British aristocracy. Order is restored to the universe only when Anna has returned to her native New Brunswick at the end and lies buried by the side of her faithful loyalist lover, John Saint John. Weakened by the author's moralistic intrusions and by the insertion of two extra narratives in the madhouse sequences, the poem none the less provides imaginative details of loyalist domestic life in New Brunswick and includes vigorous passages of description:
Dingy dustmen, grimy coalmen, sooty sweeps with ragged hair,
Wiry tinkers, noisy hawkers, plied their trades or cried their ware;
Soiled and tawdry gypsy beauties told long tales from travellers' palms;
Ragged cripples hopped on crutches, barefoot urchins asked for alms;
. . . . . . . . . . . . . . . . . . . . . . . . . . . . . . . . . . . . . . . . . . . . . . . . . . . . . . . . .
Blazing forge and ringing anvil, sound of hammer and of saw;
Students gowned with caps fantastic, learned doctors of the law;
Shabby orphans lean and decent, widows draped in weeds of woe –
Helped to form an English city more than seventy years ago.
That Currie faced the discouragements of many 19th-century Canadian poets in making her work known is illustrated not only in the private publication of John Saint John but also in a letter of 23 July 1897 sent to John Valentine Ellis*, a Saint John editor, with a review copy of her book. Drawing his attention to her emphasis on New Brunswick scenery in the first three chapters of the poem and to her personal satisfaction with the portrait of John Saint John's mother, she adds: "I have no doubt you are aware that there is not the least shadow of danger of a Canadian author / a poet in particular / receiving too much recognition or becoming rich enough to endanger his or her morality. . . . Many of the Canadian papers seem to feel it a sacred duty to find all the fault they possibly can with their own authors and in that respect they show a marked contrast to the papers and periodicals of the United States which so generously foster native talent." Although she protests that "I have for my own part no cause to complain of my own people," Currie's status as a housewife, and her focus on New Brunswick loyalists, may have militated against her having the wide public acceptance enjoyed by Charles George Douglas Roberts*, Archibald Lampman*, or other post-confederation poets who also wrote of Canadian landscape or history. After a long illness, she died of diabetes at her home in George Street, Fredericton, and was buried in Springhill.
Margaret Gill Currie's letter to J. V. Ellis, addressed to "E. V. Ellis" and dated Fredericton, 23 July 1897, is tucked into a copy of her John Saint John and Anna Grey in the Saint John Regional Library (Saint John, N.B.). In addition to the works cited in the text, her output includes "Eventide whispers," published in Stewart's Literary Quarterly Magazine (Saint John), 2 (1868–69): 141.
NA, RG 31, 1861, St Marys. PANB, RS75, 1868, David Curry; RS115, 13/7–8. Daily Gleaner, 7 Aug. 1906. Head Quarters (Fredericton), 16 Nov. 1864. Saint John Globe, 7 Aug. 1906. Sun (Saint John), 8 Aug. 1906. L. M. Beckwith Maxwell, The River St. John and its poets (enlarged [ed.], Sackville, N.B., 1947), 34–37, and photograph on p.36. The census returns of 1851, 1861, 1871, 1881 for St. Mary's Parish, York County, New Brunswick (Fredericton, n.d.). The Fredericton census of 1871, ed. R. F. Fellows (Fredericton, 1974). The New Brunswick census of 1851: York County, comp. Elizabeth Sewell and Elizabeth Saunders (Fredericton, 1979).
© 1994–2023 University of Toronto/Université Laval
Image Gallery

Cite This Article
Gwendolyn Davies, "GILL, MARGARET CATHARINE," in Dictionary of Canadian Biography, vol. 13, University of Toronto/Université Laval, 2003–, accessed October 3, 2023, http://www.biographi.ca/en/bio/gill_margaret_catharine_13E.html.
The citation above shows the format for footnotes and endnotes according to the Chicago manual of style (16th edition). Information to be used in other citation formats:
| | |
| --- | --- |
| Permalink: | http://www.biographi.ca/en/bio/gill_margaret_catharine_13E.html |
| Author of Article: | Gwendolyn Davies |
| Title of Article: | GILL, MARGARET CATHARINE |
| Publication Name: | Dictionary of Canadian Biography, vol. 13 |
| Publisher: | University of Toronto/Université Laval |
| Year of publication: | 1994 |
| Year of revision: | 1994 |
| Access Date: | October 3, 2023 |