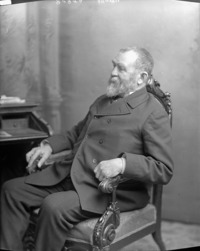 MATHER, JOHN, businessman; b. 29 Oct. 1827 in the parish of Craig, near Montrose, Scotland, son of James Mather and Jean Low; m. before 1851 Jean Low, and they had three sons and two daughters; d. 10 June 1907 in Ottawa.
As a youth, John Mather was apprenticed to his father, a contractor and builder. He later worked as assistant engineer on the Montrose-Aberdeen railway, and subsequently managed a large sawmilling and shipbuilding business in Montrose. In 1857 the Glasgow firm of Gilmour and Company sent him to Chelsea, Lower Canada, to manage its timber operations on the Ottawa and Gatineau rivers [see Allan Gilmour*]. A man of "energy and thoroughness" who came to be regarded as a "skilled woods and mill manager," he would stay with the firm until 1876, around which time its operations were reorganized. He would, however, maintain a continuing relationship with Allan Gilmour of Ottawa, who provided financial backing on a number of occasions and invested personally in some of Mather's later ventures.
In 1871 Mather, Robert Ward Shepherd of Montreal, and Hamilton Hartley Killaly* of Toronto were appointed to a federal commission on the condition of navigable streams in Ontario and Quebec. After extensive on-site examination of numerous mills and waterways, Mather joined in the unanimous recommendation to prohibit the throwing of any sawmill refuse – other than sawdust – into lakes, rivers, and streams.
Although Mather in effect retired in 1876, he was induced to assume responsibilities in connection with the expansion of the lumber industry in northwestern Ontario. At the time of his arrival at Rat Portage (Kenora) in the late 1870s, the political status of the region was clouded by the Ontario-Manitoba boundary dispute [see Simon James Dawson], and the area's resources remained largely undeveloped. In the spring of 1881 Mather reported to Ottawa's deputy minister of the interior, John Stoughton Dennis*, on the future of the Lake of the Woods settlements. His vision involved sawmills, wood-working shops, paper-mills, and mills for western Canadian grain. Mather compared the volume of water available at sites on the shore of Lake of the Woods between Rat Portage and nearby Keewatin Mills (Keewatin) to the potential of the Ottawa River, with which he was thoroughly familiar. He noted several good sites for artificial channels for water-power in addition to the two natural outlets of Lake of the Woods, the east and west branches of the Winnipeg River.
Mather became a central figure in the development of the District of Keewatin and he was involved, as manager, vice-president, or director, in nearly every significant Keewatin industry until the time of his death. His energies were devoted initially to the affairs of the Keewatin Lumbering and Manufacturing Company Limited, which he had established at Rat Portage in 1879 on the eve of extensive western railway construction and the early development of Winnipeg. Mather's $5,000 salary as manager ultimately failed to compensate him for the operational demands he faced. By 1884, with the company running effectively and the prospect of regular dividends in sight, he had transferred much of the management to two sons: David Low, who supervised woods operations, and Robert Addison, who handled sales and accounts. Their father was thus free to pursue other business initiatives.
Mather devoted steady attention to the affairs of the lumber-oriented Bank of Ottawa, founded in 1874 and presided over by James Maclaren* until his death in 1892. A director from 1879, Mather frequently inspected its branches in Keewatin and Winnipeg. His counsel was no doubt influential in 1896 when the Bank of Ottawa and the Imperial Bank of Canada were forced to intervene to protect their loans to Douglas Colin Cameron*'s Rat Portage Lumber Company.
As vice-president of the Lake of the Woods Milling Company Limited, incorporated in 1887 to build and operate a network of grain elevators throughout western Canada and to establish a major flour-mill at Keewatin, Mather supervised their construction. The largest investor in the enterprise was Allan Gilmour. During the 1890s this company, along with the Ogilvie Milling Company [see William Watson Ogilvie*], dominated the grain business in Manitoba. Mather was also heavily involved in complex negotiations and prolonged litigation concerning the company's title to shore-line water-power. When Keewatin Lumbering and Manufacturing transferred water-rights in 1893 to the newly formed Keewatin Power Company Limited, he attempted to secure a market for the firm's output. Such schemes as direct sale to the City of Winnipeg and the acquisition of pulp limits, to consume power at the site, failed to materialize, and Mather wearied of the effort after a decade of frustration. Among his other industrial concerns, Mather was a close follower of the ups and downs of gold-mining around Lake of the Woods; he was personally interested in the Ottawa Gold Milling and Mining Company and the Ontario Mining Company.
In his milling operations Mather had worked closely with officials of the Canadian Pacific Railway. He was evidently involved, from at least 1892, in this company's attempt to take over the Manitoba Free Press (Winnipeg), whose editor, William Fisher Luxton, opposed the provincial Liberal government of Thomas Greenway, including its railway policies. Mather believed that the journal "must quit its personal abuse and be as much as possible on both sides." The following year Luxton was dismissed, and in May 1895 Mather recorded in his diary that he had gained "complete control" of the paper. From at least 1897 he was associated in the management of the Manitoba Free Press Company with Clifford Sifton*, federal minister of the interior, for whom, by 1902, Mather held all but eight shares in the newspaper. According to historian D. J. Hall, Mather, in his relations with Sifton, was "completely discreet and self-effacing," characteristics that were undoubtedly evident in his other business endeavours.
Resident in Ottawa throughout the 1890s, Mather travelled less on business after 1900, but, though well into his seventies, he maintained an active and direct interest in commercial affairs. Following the death of his wife in January 1906, his health deteriorated sharply and he died in June 1907. John Mather was survived by his three sons and a daughter, Jemima Jane, the wife of James Wilson Robertson*, the principal of Macdonald College at Sainte-Anne-de-Bellevue, Que.
Genealogical details from family plot records and a historical data sheet drawn from Mather's burial record were provided by the Beechwood Cemetery, Ottawa.
AO, F 256; F 1027; RG 22, ser.354, no.5168. GRO-E, Craig, reg. of births and baptisms, 4 Nov. 1827. Ogilvie Flour Mills Company Limited (Montreal), Lake of the Woods Milling Company papers (mfm. at AO). Univ. of B.C. Library, Arch. and Special Coll. Div. (Vancouver), M415 (John Mather papers). Kenora Miner and News (Kenora, Ont.), 12 June 1907. Ottawa Evening Journal, 8 Jan. 1906. Can., Commission appointed to enquire into the condition of navigable streams, Report (Ottawa, 1873). Dict. of Scottish emigrants (Whyte). A. E. Epp, "The Lake of the Woods Milling Company: an early western industry," The Canadian west: social change and economic development, ed. H. C. Klassen (Calgary, 1977), 147–62. Hall, Clifford Sifton, vol.1. J. W. Hughson and C. C. J. Bond, Hurling down the pine; the story of the Wright, Gilmour and Hughson families, timber and lumber manufacturers for the Hull and Ottawa region and on the Gatineau River, 1800-1920 (2nd ed., Old Chelsea, Que., 1965). A. R. M. Lower, The North American assault on the Canadian forest: a history of the lumber trade between Canada and the United States (Toronto, 1938; repr. New York, 1968). Newspaper reference book. John Rankin, A history of our firm, being some account of the firm of Pollok, Gilmour and Co., and its offshoots and connections, 1804–1920 (2nd ed., Liverpool, 1921).
© 1994–2023 University of Toronto/Université Laval
Image Gallery

Cite This Article
Jamie Benidickson, "MATHER, JOHN," in Dictionary of Canadian Biography, vol. 13, University of Toronto/Université Laval, 2003–, accessed September 28, 2023, http://www.biographi.ca/en/bio/mather_john_13E.html.
The citation above shows the format for footnotes and endnotes according to the Chicago manual of style (16th edition). Information to be used in other citation formats:
| | |
| --- | --- |
| Permalink: | http://www.biographi.ca/en/bio/mather_john_13E.html |
| Author of Article: | Jamie Benidickson |
| Title of Article: | MATHER, JOHN |
| Publication Name: | Dictionary of Canadian Biography, vol. 13 |
| Publisher: | University of Toronto/Université Laval |
| Year of publication: | 1994 |
| Year of revision: | 1994 |
| Access Date: | September 28, 2023 |