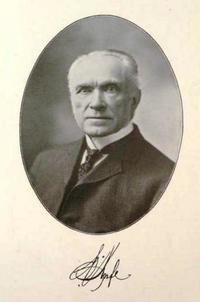 Source: Link
O'KEEFE, EUGENE (baptized Owen Keeffe), businessman and philanthropist; b. 10 Dec. 1827 in Bandon (Republic of Ireland), son of John Keeffe (O'Keefe) and Mary Russell; m. 23 Jan. 1862 Helen Charlotte Bailey (d. 1899) in Toronto, and they had a son and two daughters; d. there 1 Oct. 1913.
Little is known of Eugene O'Keefe's early life. His family came to the Canadas when he was five; two years later they settled in Toronto. It seems the family adopted the O'Keefe spelling when they immigrated. John O'Keefe was possibly the tavern proprietor and, later, the sailor listed in Toronto directories. Eugene was educated at the private school run by Denis Heffernan and at "the regular church schools." In his youth he acquired a reputation as an expert bowler, oarsman, and horseman. Apparently he was an ensign in the local volunteer rifle company. Its captain, Denis K. Feehan, was a close friend, and the two men had much in common. They were Irish Catholics in a distinctly Protestant city and members of the Society of St Vincent de Paul, the principal conduit for Catholic charity in Toronto.
O'Keefe's brother-in-law, John Murphy, operated a hotel and when he died O'Keefe helped his sister run it. He reputedly spent some time too in the grocery business. In 1856 he became a clerk at the Toronto Savings Bank, established two years before by Bishop Armand-François-Marie de Charbonnel* and members of the Society of St Vincent de Paul. Perhaps Feehan, who had promoted the bank, played a role in O'Keefe's appointment. O'Keefe worked for the bank until 1861, acquiring in the process a thorough knowledge of business practices, particularly accounting. His association with it did not end then, however. A director before and after its reorganization in 1872, he stayed on the board after the assets of the bank were taken over in 1879 by the Home Savings and Loan Company Limited. Later the same year Archbishop John Joseph Lynch* sold this company to Frank Smith*, a wealthy Catholic politician who made himself president and O'Keefe vice-president. O' Keefe succeeded Smith in 1901 and oversaw another name change, to the Home Bank of Canada, which enjoyed its most prosperous years under his leadership.
In 1861 O'Keefe had made a business decision that was to have a profound effect not only on his own fortunes, which were far from secure at the time, but also on the welfare of the archdiocese. When the Victoria Brewery, at the corner of Victoria and Gould streets, came up for sale, he formed a partnership with George Macaulay Hawke and a brewer, Patrick Cosgrave, to purchase this small but reputable operation. Its annual production was 1,000 barrels of traditional English ales and stout. Within a year Cosgrave left, but O'Keefe and Hawke continued in association as O'Keefe and Company. When their partnership ended in 1882, O' Keefe joined with Hawke's son, Widmer, and Joseph Hooper Mead; the following year the firm was narrowed down to O'Keefe and Widmer Hawke. In 1891 they had it incorporated as O'Keefe Brewery Company of Toronto Limited.
On entering the business O'Keefe had known nothing about brewing, but, according to one biographer, "his business training had shown him that here was an industry with unlimited capacity for expansion." Before long he had increased productivity to 7,000 barrels a year. Ambitious and forward-looking, O'Keefe supervised additions to the plant in 1872, 1882, and 1889. Shortly after incorporation the entire brewery was replaced by a modern facility equipped with a 60,000-bushel malt-house. This plant lasted until 1911, when a brewery with a capacity of 500,000 barrels was built.
Brewing in 19th-century Ontario was a highly conservative and tradition-bound business. The source of O'Keefe's rapid success was his willingness to be innovative and aggressive at every level of production and distribution. In 1879 he had introduced the large-scale production of lager; in 1898 he was the first brewer in Canada to install a mechanically refrigerated storehouse; and later he began using motorized vehicles. As early as the 1880s he was outselling his competition everywhere in Ontario. Recognized within the industry, he served as a president of the Ontario Brewers' and Maltsters' Association.
The premature death in 1911 of his only son, Eugene Bailey, effectively ended O'Keefe's interest in his brewery's long-term future. He sold his shares to Hawke and Sir Henry Mill Pellatt*. The sizeable proceeds were applied to O'Keefe's favourite charities, such as Peter's pence, St Michael's Hospital, and the repair of the rectory of St Michael's Cathedral, of which he was a member. O'Keefe, who rarely did anything on a small scale, had already set out to erect new Catholic churches. For example, in 1907 he built St Monica's Church on Broadway Avenue as a memorial to his wife. Four years later he purchased West Presbyterian Church on Denison Avenue and turned it over to immigrant Poles, who renamed it St Stanislaus Kostka Church. In each case he spent $30,000. His most impressive and lasting legacy is St Augustine's Seminary on the Scarborough Bluffs, which opened in August 1913. O'Keefe gave the colossal sum of $400,000 towards its construction. Even in death he was generous. His will, which confirmed his status as the Catholic Church's greatest benefactor in Toronto, directed the distribution of additional sums to church and civic charities, out of an estate worth $968,300; eventually $184,776 was given out.
Eugene O'Keefe was a Conservative in politics and a moderate nationalist in Irish affairs. He went to Ottawa in 1887 in an unsuccessful bid to stop William O'Brien, a fiery Home Ruler, from appearing in Toronto at the same time as Governor General Lord Lansdowne [Petty-Fitzmaurice*]. One of Toronto's richest men, O'Keefe carried more weight in the field of philanthropy. He exercised considerable influence over the work of the Society of St Vincent de Paul, the Catholic League, and the local branch of the United Irish League, and he was a trustee from 1906 of the Toronto General Hospital. As well, he was an original director of the Catholic Church Extension Society, and he sat on numerous parish committees at the cathedral. For his munificence and dedication to the church, he was the first Canadian layman to be made a private chamberlain to the pope, on 9 Jan. 1909.
O'Keefe died on 1 Oct. 1913 at his home, which he had built in the 1880s on Bond Street, across from his brewery. He was survived by one daughter, Helena Charlotte French. Three thousand people, including hundreds of brewery workers, attended his Requiem.
[A substantial amount of material on Eugene O'Keefe and his family was graciously supplied to the author by Mrs Mary French Cluff of North York, Ont., a great-granddaughter of the subject. m.p.]
AO, RG 22-305, no.27794; RG 55-17-63, nos.27, 2638–39 CP, 2937–38 CP; RG 80-27-2, 66: 144. Arch. of the Roman Catholic Archdiocese of Toronto, L (Lynch papers), AE06.89, O'Keefe to Lynch, 4 May 1887; LB (letterbooks), 07.28, 10 Feb. 1907; ME (McEvay papers), AF03.19, McEvay to Riordan, [29?] Sept. 1908; AX01.12, Riordan to McEvay, 11 Dec. 1908; SA (St Augustine's Seminary papers), CN01.573, McNeil to O'Keefe, 9 Jan. 1913. Private arch., Mary French Cluff, Copy of letter from Archdeacon J. J. O'Sullivan of Bandon, Republic of Ire., to Deborah Brown, 20 April 1981, containing information on the Keeffe family from the baptismal reg. of the parish church; "O'Keefe – the man and his company" (typescript); "Tributes to the memory of Eugene O'Keefe, p.c." (family album consisting of newspaper clippings from the Catholic Register of Toronto and the Catholic Record of London, Ont., plus photos). Catholic Register, 7 Sept. 1911, 7 Sept. 1913. Evening Telegram (Toronto), 1 Oct. 1913. Leader (Toronto), 24 Jan. 1862. Toronto Star, 3 April 1976: F6. World (Toronto), 2 Oct. 1913. Ian Bowering, The art and mystery of brewing in Ontario (Burnstown, Ont., 1988). Canadian annual rev. (Hopkins), 1902–5, 1913. Canadian men and women of the time (Morgan; 1912). B. P. Clarke, Piety and nationalism: lay voluntary associations and the creation of an Irish Catholic community in Toronto, 1850–1895 (Montreal and Kingston, Ont., 1993). Commemorative biographical record of the county of York . . . (Toronto, 1907). Directory, Toronto, 1837–90. Index to incorporated bodies and to private and local law under dominion, and Manitoba, Ontario and Quebec statutes, proclamations and letters patent . . . , comp. P [-H.] Baudouin (Montreal, [1897]). M. G. McGowan, "'We are all Canadians': a social, religious and cultural portrait of Toronto's English-speaking Roman Catholics, 1890–1920" (phd thesis, Univ. of Toronto, 1988). G. J. Stortz, "Archbishop Lynch and the Toronto Savings Bank," CCHA, Study sessions, 45 (1978): 5–19.
© 1998–2023 University of Toronto/Université Laval
Image Gallery

Cite This Article
Michael Power, "O'KEEFE, EUGENE," in Dictionary of Canadian Biography, vol. 14, University of Toronto/Université Laval, 2003–, accessed September 29, 2023, http://www.biographi.ca/en/bio/o_keefe_eugene_14E.html.
The citation above shows the format for footnotes and endnotes according to the Chicago manual of style (16th edition). Information to be used in other citation formats:
| | |
| --- | --- |
| Permalink: | http://www.biographi.ca/en/bio/o_keefe_eugene_14E.html |
| Author of Article: | Michael Power |
| Title of Article: | O'KEEFE, EUGENE |
| Publication Name: | Dictionary of Canadian Biography, vol. 14 |
| Publisher: | University of Toronto/Université Laval |
| Year of publication: | 1998 |
| Year of revision: | 1998 |
| Access Date: | September 29, 2023 |