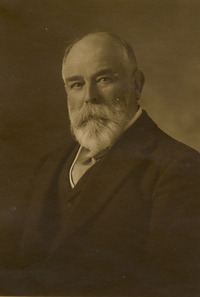 Source: Link
LABATT, JOHN, businessman; b. 11 Dec. 1838 in Westminster Township, Upper Canada, third son of John Kinder Labatt* and Eliza Kell; m. first 1866 Catherine Matilda Biddulph (d. 1874), and they had four daughters; m. secondly 3 May 1879 Sophia Amelia Browne (d. 1906) in Montreal, and they had eight children; d. 27 April 1915 in London, Ont.
Eliza Kell and John K. Labatt married in 1833 in England prior to their departure for Upper Canada. They settled on a farm in Westminster Township, south of London. As a boy, John Labatt attended Caradoc Academy. He completed his secondary education in London, where the family moved in 1847 after his father had sold the farm and purchased an interest in a small brewery. By the time John was 21, his father owned the London Brewery completely; so impressed were his parents with John's aptitude for the business that in 1859 he was apprenticed to George Weatherall Smith, an English brewer of ales in Wheeling, W.Va. There he learned the recipe for India pale ale, modelled probably on the product developed by the Bass Brewing Company at Burton upon Trent in England. It was an experience that would influence him for the rest of his business life.
In 1863 Smith, his business ruined by the Civil War, bought a brewery in Prescott, Upper Canada, and took Labatt with him. The following year Labatt returned to London, where he was designated by his parents to succeed to the management and eventual ownership of the family brewery. On his father's death in 1866 the business was left to Eliza, but she and John soon entered into an arrangement whereby he acquired it with a mortgage that would provide her with a steady income.
Methodical and confident, Labatt set about to make the company distinctive and gradually to expand its size. The name was changed to Labatt and Company, and in the 1870s he developed India pale ale as the product most closely associated with the firm's name. This concentration on a brand went hand in hand with periodic investment in plant and facilities – after a fire in 1874 a much larger brewery was built – and with Labatt's direct supervision of marketing and sales. He assumed that a strong market would continue to exist for ale given the background of central Canada's Anglo-Scottish-Irish population.
For the brewing of an English type of ale, Labatt exploited the hard water of his abundant well, the high quality and yield of barley in southwestern Ontario, and the hops that could be purchased from British Columbia and central Europe. His equipment was all manufactured locally. Such resources made it possible to sustain production in London, but Labatt had to expand his market if he was to remain competitive with larger companies, including those built up by John Carling in London, Eugene O'Keefe in Toronto, and William Dow* and James Pawley Dawes* in Montreal.
During the last third of the 19th century, the brewing industry took full advantage of the railways being built throughout Canada. Labatt, for instance, sold carloads of malt to Alexander Keith*'s brewery in Halifax. In barrels, hogsheads, and puncheons his ale could be transported by boxcar to markets in distant towns and cities. By 1900 he owned and operated bottling agencies in Hamilton, Toronto, Ottawa, Montreal, Quebec City, and Saint John. The capacity of his London plant was then double what it had been in the 1870s, and his malting and brewing business ranked as probably the seventh largest in Canada. In the process Labatt had become a dominant figure in southwestern Ontario business. He maintained a low profile in other aspects of his life; a member of St Paul's Anglican Cathedral, he was a Conservative in politics.
To market and advertise his ale, Labatt, like other brewer-entrepreneurs, was dependent on the medium of print – newspapers, magazines, calendars, and labels. Where temperance forces did not successfully object, displays could be mounted and contests held at fairs that drew thousands of visitors, from the Philadelphia Centennial International Exhibition in 1876 to the Columbian exposition in Chicago in 1893. Pictures of awards were then incorporated into Labatt's labels together with his arrowhead logotype, which deliberately resembled the red triangle of Bass's ale in England. These symbols signified a quality ale suited to the taste of an English colonial gentleman, a characteristic that Labatt sought to project at a time when quality control was difficult to achieve in brewing.
On the strength of his brewing profits, he invested, particularly in the 1880s, in other businesses, notably the North American Agricultural Implement and General Manufacturing Company of London, Canada, Limited, which he helped found in 1883. The intent was to establish, in London and Winnipeg, a rival to the Massey Manufacturing Company [see Hart Almerrin Massey*] at a time when the Canadian Pacific Railway was beginning to open western Canada to settlement. The requisite capital could not be raised, however, and Labatt, together with Frederick Ardell Fitzgerald, the president of Imperial Oil, was persuaded to guarantee bank loans for the renamed Stevens Manufacturing Company. It defaulted, leaving Labatt responsible for a substantial debt. Too trusting perhaps of business associates, he was involved with Henry Taylor* in two other ill-fated ventures, the Ontario Investment Association and the Bank of London in Canada. Labatt subsequently concentrated on brewing. In 1889 he refused a bid from an English syndicate to merge the Labatt and Carling breweries. Nine years later he entertained offers to sell that had originated with British companies but which involved a merger with O'Keefe's. Unable to agree with assessments that appeared to devalue his assets, he decided finally to remain independent and, in 1911, to incorporate the company as John Labatt Limited, keeping more than 99 per cent of the shares in his own hands.
In 1911 Labatt also drew up the will that would ensure the continuity of the company as a family business. He left it to his nine surviving children, each having an equal number of shares. His sons, John Sackville* and Hugh Francis, who would manage the company in succession to their father, could make no decisions without the consent of their seven sisters. In effect, Labatt not only had built a substantial brewing company, but had also determined that it would be tightly owned and controlled as a family enterprise as it headed into the prohibition era.
Details for the biography of John Labatt were gleaned from the few surviving records of John Labatt Limited, located at the company's head office in London, Ont.
ANQ-M, CE1-63, 3 mai 1879. London Advertiser, 28–29 April 1915. London Free Press, 28 April 1915. Canadian who's who (1910). Newspaper reference book. Albert Tucker, "John Labatt Limited, a history" (typescript, 1987; copy in the possession of John Labatt Limited); "Labatt's: from entrepreneur to family board, 1870–1945" (paper presented to the CHA, Ottawa, 1982).
© 1998–2023 University of Toronto/Université Laval
Cite This Article
Albert Tucker, "LABATT, JOHN," in Dictionary of Canadian Biography, vol. 14, University of Toronto/Université Laval, 2003–, accessed October 4, 2023, http://www.biographi.ca/en/bio/labatt_john_14E.html.
The citation above shows the format for footnotes and endnotes according to the Chicago manual of style (16th edition). Information to be used in other citation formats:
| | |
| --- | --- |
| Permalink: | http://www.biographi.ca/en/bio/labatt_john_14E.html |
| Author of Article: | Albert Tucker |
| Title of Article: | LABATT, JOHN |
| Publication Name: | Dictionary of Canadian Biography, vol. 14 |
| Publisher: | University of Toronto/Université Laval |
| Year of publication: | 1998 |
| Year of revision: | 1998 |
| Access Date: | October 4, 2023 |