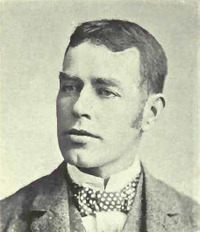 Source: Link
MACLEAN, WILLIAM FINDLAY, newspaperman and politician; b. 10 Aug. 1854 in Ancaster, Upper Canada, eldest son of John Maclean, a journalist, and Isabella Findlay; m. 3 June 1885 Catherine Gwynne Lewis in Toronto, and they had a son and a daughter; d. 7 Dec. 1929 near Toronto.
Of Scottish background, William Findlay Maclean was educated at schools in Hamilton and at the University of Toronto (ba 1880). He followed his father's career path and strong protectionist views. In the early 1870s he was a copyboy and writer for the Hamilton Times; in 1875 he became parliamentary correspondent for the Toronto Liberal [see John Cameron*] and then joined the Globe as John Gordon Brown's secretary and city editor.
Maclean's journalistic and political interests were closely intertwined. In August 1880 he and Globe reporter Albert Horton founded the World to support Liberal candidate Peter Ryan in a local by-election. After Maclean bought out Horton in October 1881, the paper would become a family affair, with his father, his brothers (James Hector, John, and Wallace), and eventually his son (Hugh John) working on it. It emulated the local papers founded by John Ross Robertson*, who had introduced the American-style "penny" press for the mass market. Bright and iconoclastic, the World gave Torontonians a taste of the populist crusades and sensationalism pioneered by the New York Herald. The new one-cent daily had an immediate impact; some found it the "editorially boldest," others viewed it as decidedly downscale.
The World's irreverence, noisy exposés of civic corruption, skilful skirting of libel, and opposition to the religious establishment made it the favourite of Toronto's trolley-travelling working class. Maclean tweaked Sabbatarian sensitivity in 1891 by establishing the weekly Sunday World. In addition, persistent campaigning by the World from 1894 helped lead to the referendum of 1897 that allowed streetcars on Sundays. When Maclean entered the fray in 1907 in support of a municipally owned electrical utility to compete with Toronto Electric Light, he spoke from a strong populist base, reinforced by the brilliant cartoon work of Samuel Hunter. Maclean's espousal of public interest spread through his training of such prominent newsmen as Hector Willoughby Charlesworth*, Joseph E. Atkinson*, and John Bayne Maclean. Charlesworth remembered "W. F." (others called him Billy) taking on any task – sweeping, hefting newsprint, "grinding out little witty paragraphs shrewd as rapier thrusts."
Maclean's populist inclinations had probably hastened his entry into politics. Initially the World had identified itself as an "Independent Liberal" journal, but by the mid 1880s it was criticizing Ontario's Liberal premier, Oliver Mowat*, over liquor licensing and other issues. Maclean ran unsuccessfully for the provincial legislature in 1890 as a Conservative in Wentworth North. Federally the following year he almost upset former prime minister Alexander Mackenzie* in York East. Victorious in the by-election there on 11 May 1892, he was repeatedly re-elected in this Toronto-area riding and, from 1904, in York South.
In the House of Commons, he was as mercurial as he was at his newspaper. Nominally a Conservative, particularly on the protective tariff, he gained a reputation for unpredictable independence. As early as 1894 some Conservatives called him the "man with the knife" because of his role in breaking the news of Prime Minister Sir John Sparrow David Thompson*'s serious state of health. Maclean's attempts to undermine Ontario Conservative leader James Pliny Whitney* and then federal leader Robert Laird Borden*, combined with rumours of his involvement in starting new parties, led the Daily Mail and Empire to read him out of the party in 1905. He subsequently ran as an independent Conservative. In 1907 his connivance to help the Liberal government of Sir Wilfrid Laurier* led to his acclamation the following year; at his nomination he lashed out at big business, appeared to befriend labour, and posted himself as the harbinger of "new ideas and new things for my party's platform. . . . The party system's all right, but I am not a machine." Conservative distrust deepened when he supported Laurier's naval policy in 1910. In 1926 the maverick mp was defeated by a bona fide Conservative, Robert Henry McGregor.
If Maclean's independence cost him respect, his 34 years as a backbencher and unrelenting promotion of radical causes gained him notoriety. His favourite demands included a "Bank of Canada," a national currency, the public ownership of railways, hydroelectricity, and telephones, and a uniform passenger rate on trains. His nationalism, expressed in his opposition to reciprocity and his calls for a Canadian-made constitution and a Canadian head of state, could occasionally take an eccentric turn. He argued, for example, that Hudson Bay should be renamed "Canada's Sea." In 1902, in the midst of his federal career, he had contested the mayoralty of Toronto. Dismissed by incumbent Oliver Aiken Howland as a bid to "revolutionize everything," Maclean's platform embraced public ownership, a doubtful concern for labour, and a vigorous hostility to big corporations and monopoly. He managed to poll 8,816 votes to Howland's 13,424, a result that reflected his perennial popularity.
Maclean's political career was further hobbled because, as the Globe pointed out, he was the "poorest of business men." The World always teetered on the edge of bankruptcy. This precarious state led Maclean to some questionable practices, giving the impression that his editorial views were for sale; in 1887 Prime Minister Sir John A. Macdonald* had been advised that he could be bought for $10,000. Though he remained stubbornly independent, his advocacy of some causes was tainted by self-interest. He accepted money from a grateful Toronto Railway Company after the successful Sunday battle. In 1911 the Globe claimed that the World had solicited deposits for the "rotten" Farmers Bank of Canada in exchange for its financial support. Later, Maclean's campaign for the construction of a viaduct over the Don River in Toronto was compromised by his ownership of Donlands, his farm west of the valley.
The decline of the financially troubled World, which was sold to the Daily Mail and Empire in 1921, was attributed by Hector Charlesworth to "the divided ambition of its chief," his constant shift between the editor's desk and the "turmoils" of politics. At his death the Globe would conclude, "That quality of independence which had made him shine in journalism also made him a personality in Parliament, but it finally spelled his political ruin." Maclean died in 1929 in York Township at Bayview, the home of his daughter and son-in-law, Henry Arthur Sifton, and was buried in the cemetery of St John's Anglican Church, York Mills (Toronto).
Examples of William Findlay Maclean's opinions on issues of the day can be found in two of his published commentaries, "Canada first – empire next," World (Toronto), 22 Feb. 1907, and "Some of Canada's near-by problems," Canadian Forum (Toronto), 6 (1925–26): 173–75.
AO, RG 22-305, no.63800; RG 80-5-0-139, no.13795. LAC, MG 26, G: 128184; MG 27, III, C9. Daily Mail and Empire, 7 Dec. 1929. Globe, 9 Dec. 1929. Manitoba Free Press, 9 Dec. 1929. World, 1880–1921. Christopher Armstrong and H. V. Nelles, The revenge of the Methodist bicycle company: Sunday streetcars and municipal reform in Toronto, 1887–1897 (Toronto, 1977); "The rise of civic populism in Toronto, 1870–1920," in Forging a consensus: historical essays on Toronto, ed. V. L. Russell (Toronto, 1984), 192–237. Can., House of Commons, Debates, 1892–1926. Canadian annual rev., 1902, 1908, 1911. Canadian men and women of the time (Morgan; 1898 and 1912). F. S. Chalmers, A gentleman of the press (Toronto and New York, 1969). H. [W.] Charlesworth, Candid chronicles: leaves from the note book of a Canadian journalist (Toronto, 1925). Ross Harkness, J. E. Atkinson of the "Star" (Toronto, 1963). [J.] S. Roe, "In harness under 'W. F.,'" Saturday Night, 21 Dec. 1929: 5. Paul Rutherford, A Victorian authority: the daily press in late nineteenth-century Canada (Toronto, 1982). Minko Sotiron, From politics to profits: the commercialization of Canadian daily newspapers, 1890–1920 (Montreal and Kingston, Ont., 1997).
© 2005–2023 University of Toronto/Université Laval
Image Gallery

Cite This Article
Minko Sotiron, "MACLEAN, WILLIAM FINDLAY," in Dictionary of Canadian Biography, vol. 15, University of Toronto/Université Laval, 2003–, accessed September 21, 2023, http://www.biographi.ca/en/bio/maclean_william_findlay_15E.html.
The citation above shows the format for footnotes and endnotes according to the Chicago manual of style (16th edition). Information to be used in other citation formats:
| | |
| --- | --- |
| Permalink: | http://www.biographi.ca/en/bio/maclean_william_findlay_15E.html |
| Author of Article: | Minko Sotiron |
| Title of Article: | MACLEAN, WILLIAM FINDLAY |
| Publication Name: | Dictionary of Canadian Biography, vol. 15 |
| Publisher: | University of Toronto/Université Laval |
| Year of publication: | 2005 |
| Year of revision: | 2005 |
| Access Date: | September 21, 2023 |