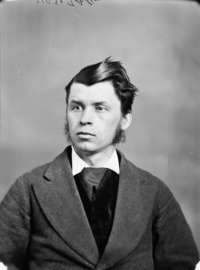 TOPLEY, WILLIAM JAMES, photographer and businessman; b. 13 or 27 Feb. 1845 in Montreal, son of John Topley, a saddler and harness maker, and Anna Delia Harrison; m. 15 Aug. 1872 Helena (Nellie) DeCourcy McDonogh in Yorkville (Toronto), and they had two sons and a daughter; d. 16 Nov. 1930 in Vancouver and was buried in Ottawa.
Brought up in Aylmer, Lower Canada, William James Topley was probably introduced to photography by his mother, who in the late 1850s had purchased equipment in Montreal and used it in Aylmer. He began his career as a tintypist and was listed in a directory as an itinerant photographer in Upper Canada in 1863, but he was employed at apprentice wages when he was engaged by William Notman* in Montreal in 1864. He had moved there with his mother and family after his father's death in 1863. His abilities may have later induced Notman to engage his younger brothers Horatio Needham and John George as apprentice photographers.
Notman saw William to be extraordinarily competent not only as a photographer but also, potentially, as a manager. In January 1868, when Topley was 22, Notman put him in charge of his new photographic rooms in Ottawa, the first Notman studio outside Montreal. Located in a purpose-built structure on Wellington Street across from the Parliament Buildings, the studio quickly attracted local patrons and visiting notables such as members of the new dominion parliament. Indeed, the Topley studio took photographs of all the prime ministers from Sir John A. Macdonald* to William Lyon Mackenzie King* and of the governors general from Baron Lisgar [Young*] to Lord Grey*. By 1872, when Topley became "proprietor" of the studio, it was attracting over 2,300 sitters each year, a level not exceeded until the beginning of the 20th century.
In 1875 Topley apparently severed his relations with Notman and decided to open a studio under his own name, two blocks away in an opulent Italianate-style building he had constructed at Metcalfe and Queen. Although it included an apartment for Topley and his family, the deepening economic crisis in Canada made the location financially untenable and by 1878 he had moved to the former residence of a dentist at 104 Sparks Street, where he remained until 1888, when he went to 132 Sparks, his final location. The business was probably well established by this time, but he did not purchase a separate residence until the late 1890s.
Notman had opened his Ottawa branch because he saw the city as a growing market. Topley capitalized on this. By the late 1870s he was the official photographer to Governor General Lord Lorne [Campbell*], an association that added lustre to his studio and attracted clientele. Portraits were a major part of Topley's output but his scenic views for the tourist trade, work for businesses and other commissions in Ottawa and across Canada, and a considerable volume for the government constitute tens of thousands of images. His photographs of immigrants arriving at Quebec, done for the Department of the Interior, have become iconic through repeated publication. Outside his studio he used a horse-drawn portable darkroom during the 1870s. His presentation of images changed over time: in the 1860s the vogue had been for cartes de visite and cabinet-sized photographs but by the turn of the century larger prints, mounted on dark-olive-coloured card embossed with the Topley name, were a major product. Like Notman, Topley also produced composite images – large prints created by carefully preconceiving a scene and then photographing the participants at the correct angle and with the right attitude to fit it. Unlike Notman, Topley turned out few of the stereographs that were a mainstay for many 19th-century photographers. With the coming of popular amateur photography, the Topley Studio stocked cameras, film, and other supplies and promoted its photofinishing and enlargement operations. Sometime about the turn of the century, the Topley Scientific Instruments Company was organized to sell optical devices, surveying equipment, and photostatting machines and to provide support services.
The studio had started in 1868 with a staff of 3, but by 1874 it had expanded to 14 and included photographers, photo-printers, retouchers, and artists (often to prepare composites and scenic backdrops). The subsequent depression led Topley to reduce this number and adoption of the dry-plate process in the 1880s would have improved production efficiency without increasing the staff. During the 1870s he employed his brothers Horatio and John; the former joined the interior department as a photographer in 1887 but the latter remained at the studio until about 1908, when he set up his own operation.
Topley's life appears to have been imbued with an evangelical Christian sensibility. From his earliest days in the capital he was active in the sabbath school movement, in Hull, Ottawa, and elsewhere in the Ottawa valley. By the mid 1870s he was the Sunday school superintendent at Dominion Methodist Church, where he sang in the choir. Active in the Ottawa Bible Society, he was a major force in the Young Men's Christian Association, serving as president in 1871 and 1881 and assuming other directorial duties over the years. He did not, however, limit his community participation to evangelism. He was involved in the Metropolitan Society for the Prevention of Cruelty to Animals, and with his wife contributed to local charities. His sense of compassion is evident in some of his photographs; a portrait of Polly, a female inmate at the Carleton County jail, is particularly affecting. He also sat on the executive of the Fine Arts Association, was a founding member of the Camera Club of Ottawa, had a boat on the Rideau River, and joined in autumn hunting parties.
In 1907 his son, William DeCourcy, took over his studio, but Topley appears to have remained involved, possibly until 1918. By this time it was considerably less significant than it once had been. The importance of portraiture as a photographic art had diminished after 1900 and the number of sittings had declined steeply. The order book ends in 1923, and the business was "discontinued" in July 1926. Topley and his wife, who died in 1927, spent much of their last years in Edmonton with their daughter, Helena Sarah, and son-in-law, Robert C. W. Lett, an employee of the Grand Trunk Pacific Railway who had probably been influential in the naming of Topley, a community on the GTP line in northern British Columbia. W. J. Topley died at Helena's temporary residence in Vancouver in 1930.
[The Topley studio collection was purchased in 1936 by the Public Archives of Canada (LAC, R639-0-5 (formerly accession 1936-270)) for $3,000 after it had been offered by William DeCourcy Topley in 1926 for $25,000. The collection consists of some 150,000 mainly glass-plate negatives as well as counter-books containing the majority of the images taken by the firm. Second only to the Notman archives, the Topley collection has become one of the most widely used sources of 19th- and early-20th-century photographs in Canada, partly because of the number of portraits of notable figures and in part because of the geographic range, from Quebec to British Columbia. There is a small amount of manuscript material in this collection, but it relates to the studio; there is nothing on Topley himself. Information about his businesses and private life is scattered throughout the records of his clients, including (at the LAC) such government offices as Agriculture, Interior, and the Geological Survey.
Topley's major published work is The Ottawa album, containing photographs and advertisements of the principal business houses, hotels and steamboats and local views (Ottawa, 1875), which includes 61 tipped-in prints. Topley photographs also appeared, mainly in the 1890s, in Dominion Illustrated (Montreal), Lounger (Ottawa), and Owl (Ottawa), among other magazines, as well as in newspapers and sheet music. Selected portraits are reproduced in Public Arch. of Canada, National Photography Coll., William James Topley: portraits, 1868–1881 . . . ([Ottawa, 1978]). a.r.]
LAC, RG 37, C, 328, 1911; 4 Oct. 1926. Globe, 17 Aug. 1872. Ottawa Citizen, 8 Nov. 1867, 7 July 1874, 17 Nov. 1930. Ottawa Free Press, 2 Feb. 1873. A. A. Gard, Pioneers of the upper Ottawa and the humors of the valley . . . (4pts. in 1v., Ottawa, [1906]). Mitchell's Canada gazetteer and business directory for 1864–65 (Toronto, 1864). S. G. Triggs, William Notman: the stamp of a studio (Toronto, 1985).
© 2005–2023 University of Toronto/Université Laval
Cite This Article
Andrew Rodger, "TOPLEY, WILLIAM JAMES," in Dictionary of Canadian Biography, vol. 15, University of Toronto/Université Laval, 2003–, accessed December 5, 2023, http://www.biographi.ca/en/bio/topley_william_james_15E.html.
The citation above shows the format for footnotes and endnotes according to the Chicago manual of style (16th edition). Information to be used in other citation formats:
| | |
| --- | --- |
| Permalink: | http://www.biographi.ca/en/bio/topley_william_james_15E.html |
| Author of Article: | Andrew Rodger |
| Title of Article: | TOPLEY, WILLIAM JAMES |
| Publication Name: | Dictionary of Canadian Biography, vol. 15 |
| Publisher: | University of Toronto/Université Laval |
| Year of publication: | 2005 |
| Year of revision: | 2005 |
| Access Date: | December 5, 2023 |