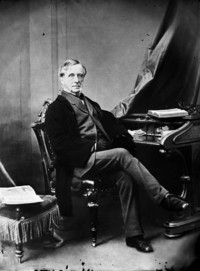 YOUNG, Sir JOHN, Baron LISGAR, second governor general of Canada; b. 31 Aug. 1807 in Bombay, India, eldest son of Sir William Young, a director and large shareholder in the East India Company, and Lucy Frederick; d. 6 Oct. 1876 in Bailieborough, Ireland.
John Young was educated at Eton and Corpus Christi College, Oxford (ba 1829). In 1834 he was called to the bar of Lincoln's Inn but never practised law. Elected to the House of Commons first in 1831 from County Cavan (his ancestral home), he served as a Conservative mp until 1855 and held two senior Treasury offices between 1841 and 1846, during Sir Robert Peel's administration. He succeeded to the baronetcy in 1848 and was chief secretary for Ireland, 1852–55. Created gcmg in 1855, he became in that year lord high commissioner of the Ionian Islands. The theft and publication of a dispatch in which he recommended an unpopular policy about their government led to his recall, though his administration was commended. As governor general of New South Wales, 1861–67, Young, urged by the premier, nominated 15 new members to the upper house to secure passage of a regulation and was rebuked by the colonial secretary; he nevertheless completed his term. He became a kcb in 1859 and gcb in 1868.
Young was appointed governor general of Canada and governor of Prince Edward Island on 29 Dec. 1868 and assumed office on 2 Feb. 1869. Shortly after arriving in Canada, he commented publicly on Canada's independence within the empire and her freedom "to continue the present connection or in due time . . . to exchange it for some other form of alliance." There was nevertheless, he felt, greater loyalty to and respect for Britain in Canada than in Australia. He himself, however, found he now had less influence since his Canadian ministers decided measures in cabinet before they came to him whereas in New South Wales he had been consulted by ministers before council meetings.
In Young's first year in Canada the disturbance led by Louis Riel* broke out. As an appeasement he proclaimed an amnesty on 6 Dec. 1869. During the unrest the United States government barred the Canadian ship Chicora from the Sault Ste Marie Canal on its way west; Young made a formal protest that it carried no military supplies and that American vessels, some armed, were freely using the Welland Canal. The ban on passage was lifted.
During his term of office the Hudson's Bay Company territory of Rupert's Land was transferred to Canada, and Manitoba became a province in confederation. Originally scheduled for early 1869, the transfer was delayed by the rebellion until August 1870, and from April 1869 to that date Young had a key role as nominal lieutenant governor of Rupert's Land. During the Fenian raid into Canada in 1870, Young, according to Lord Dufferin [Blackwood*] later, by a peremptory but judicious telegram to the adjutant-general, Colonel P. Robertson-Ross*, prevented the summary hanging of captured American invaders.
When a delegation from British Columbia came to discuss confederation in June 1870, it was informed by Young personally of the desire of Canadians to have the colony join them. In 1871, the agreements for construction of the Canadian Pacific Railway to British Columbia were concluded. In that year also the Treaty of Washington was drawn up and signed. Prime Minister John A. Macdonald* represented Canada on the commission in Washington and fought diligently to protect Canadian interests. His independence annoyed the British commissioners and Lisgar (he had become Baron Lisgar on 2 Nov. 1870) added to their annoyance by communicating to them indiscreet remarks from Macdonald's correspondence with cabinet colleagues in Ottawa. Lisgar also complained to the colonial secretary of Macdonald's independence. Macdonald eventually agreed to secure Canadian approval of the unpopular Treaty of Washington if the British government would grant Canada a guaranteed loan of £4,000,000. Lisgar advised the British cabinet that a much smaller sum would suffice. Nevertheless, Macdonald considered Lisgar the ablest of all the governors general under whom he had served.
Shortly before his retirement Lisgar inadvertently failed to reserve a bill imposing discriminatory duties in Canada against tea and coffee from the United States. The Australian colonies then asked for similar rights, which the colonial secretary granted rather than risk displeasing Canada by disallowing its act. These protective tariffs meant an end to the British ideal of a free-trade empire.
Lisgar did not enjoy good health in Canada and resigned prematurely in June 1872. A man of ability, experience, and generally sound judgement, he died at his family home, leaving his wife, Adelaide Annabella Dalton, daughter of an Irish landowner, whom he had married 8 April 1835. There were no children.
Manitoba; birth of a province (Morton), 85. The annual register; a review of public events at home and abroad for the year 1876 (London, 1877), 157. Appleton's cyclopædia of American biography, ed. J. G. Wilson et al. (10v., New York, 1887–1924), VI, 648. Boase, Modern English biography, II, 444. Burke's peerage (1953), 641. The complete peerage or a history of the House of Lords and all its members from the earliest times, ed. G. E. C. Kayne et al. (13v., London, 1932), VIII, 38–39. DNB. Edward Watford, The county families of the United Kingdom or royal manual of the titled and untitled aristocracy of England, Wales, Scotland and Ireland (London, 1875), 604. British Columbia & confederation, ed. W. G. Shelton (Victoria, 1967), 202. Creighton, Macdonald, old chieftain. Dent, Canadian portrait gallery, IV, 40; Last forty years, II, 487–88. Morton, Critical years, 266; Manitoba: a history, 131–32, 139, 142. Joseph Pope, Memoirs of the Right Honourable John Alexander Macdonald G.C.B., first prime minister of the Dominion of Canada (2v., Ottawa, [18941). R. A. Preston, Canada and "imperial defense"; a study of the origins of the British Commonwealth's defense organization, 1867–1919 (Durham, N.C., and Toronto, 1967), 74. Stanley, Birth of western Canada, 134, 146.
© 1972–2023 University of Toronto/Université Laval
Cite This Article
Charles A. Thompson, "YOUNG, Sir JOHN, Baron LISGAR," in Dictionary of Canadian Biography, vol. 10, University of Toronto/Université Laval, 2003–, accessed September 26, 2023, http://www.biographi.ca/en/bio/young_john_1807_76_10E.html.
The citation above shows the format for footnotes and endnotes according to the Chicago manual of style (16th edition). Information to be used in other citation formats:
| | |
| --- | --- |
| Permalink: | http://www.biographi.ca/en/bio/young_john_1807_76_10E.html |
| Author of Article: | Charles A. Thompson |
| Title of Article: | YOUNG, Sir JOHN, Baron LISGAR |
| Publication Name: | Dictionary of Canadian Biography, vol. 10 |
| Publisher: | University of Toronto/Université Laval |
| Year of publication: | 1972 |
| Year of revision: | 1972 |
| Access Date: | September 26, 2023 |