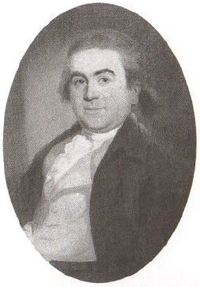 Source: Link
BEATSON, PATRICK, ship's captain, shipbuilder, and ship owner; b. 21 March 1758 in Leith (Edinburgh), son of John Beatson, ship's captain, and Elizabeth Bruce; d. unmarried on 4 Dec. 1800 at Quebec, Lower Canada.
Patrick Beatson issued from a Scottish middle-class background and, after receiving an adequate education, served as a seaman and mate in the Baltic and Quebec trades from 1772 to 1779. That year he received his first command and continued as a captain in the American trade until 1786, when he joined the East India Company as a seaman upon returning from a voyage to India as fourth mate. His hopes of rising quickly in the service because of his former experience were dashed in 1788 when he was denied a request that regulations be dispensed with in favour of his becoming chief mate of one of the company's ships that season. Instead, he was sworn in as fourth mate of another ship.
By 1791 Beatson had left the service and was back on the Quebec run, but he left the sea in the fall of 1793 to settle at Anse des Mères (at the foot of Cap Diamant) in the city of Quebec. There he leased from Louis Dunière* a shipyard from which three or four large ships had been launched between 1787 and 1791; the yard comprised a dwelling house, stable, forge, "steam-house," sheds, quays, and building slips. Beatson threw himself wholeheartedly into the role of shipbuilder, and his soon became the first important commercial shipyard in Quebec.
The enterprise had not been hastily conceived. His visits to Quebec had acquainted him with the town and its waterfront facilities. Moreover, he and his brothers, William and John, had experience and connections in the shipping business, and their contacts with Montreal and Quebec merchants who had taken passage with them, such as Simon McTavish* and John McGill, were also undoubtedly valuable to Patrick. Between 1794 and 1800 he built at least 15 vessels totalling over 4,000 tons. The largest, the 645-ton Monarch, launched in 1800, was almost twice the size of any locally constructed vessel to that time and was not to be equalled in size until 1811. Besides employing local labour, Beatson had 10 or 12 trained shipwrights and blacksmiths sent from Scotland each year, and he used annually an average of 60,000 feet of oak timber in the yard. The ships he built were registered in his own name, but he also served as the Quebec agent for his brothers, now in partnership as shipbuilders in London.
In 1794 Beatson's growing prosperity permitted him to buy a small beach-front property east of his yard from the bankrupt estate of shipbuilder William King. Two years later he bought Powell Place (Bois de Coulonge) from Henry Watson Powell, a British officer, for £500 cash and the promise of £1,500 more. The 124-acre estate, a mile and a half west of his yard, had a large house and dependencies on a plain above nearly 2,000 feet of shoreline, where Beatson's hopes of building his own ships were frustrated by the shallow water. Beatson claimed to suffer from inadequate launching facilities, especially for large vessels, at the yard that he leased from Dunière. Dunière's refusal to improve the facilities, and the stranding of the Caledonia at her launching in 1798, prompted Beatson's unsuccessful attempt to buy from the government a beach lot 360 feet to the west of his yard. He nonetheless continued to launch large vessels and in February 1800, ten months before his death, tentatively agreed to buy from Dunière not only the leased shipyard but also the lease on an adjoining property to the west.
By the late 1790s Beatson was comfortably established in his long, low, galleried house at the shipyard. He was able to entertain graciously, having fine china, cut glass, and silverware. His study served as a drawing office, for Beatson was one of the rare Quebec shipbuilders able to draw up the plans for a ship. His walls were lined with paintings and engravings of sea scenes, ships, and naval heroes such as Horatio Nelson, whom he may have met at Quebec in 1782, since that year Nelson escorted the convoy from London with Beatson's ship in it. He grew flowers in a heated greenhouse through the winter and filled flowerpots in his home with them in summer. He was a man of many interests, who kept a collection of 39 small brass cannon in his drawing-room and amused himself with such devices as a camera obscura and a magic lantern. He had several conveyances, two of which were decorated by François Baillairgé*, who also carved the figure-heads for Beatson's ships.
Patrick Beatson died at age 42 in December 1800, but work continued at the yard, which was inherited by John and William Beatson. In 1801 the brothers sold Powell Place and in March 1802 bought from Dunière the shipyard and lease on the adjoining property which Patrick had intended to buy. In October, however, they leased the property back to Dunière, and in 1806 it was sold from the Beatsons' bankrupt estate to shipbuilder Alexander Munn*.
Patrick Beatson's obituary in the Quebec Gazette noted that those who dealt with him "experienced extreme punctuality in [his] commercial concerns," and this business sense, as well as his single-minded commitment to his Quebec enterprise, contributed in large measure to his success.
ANQ-Q, AP-G-208; AP-G-398; État civil, Presbytériens, St Andrews (Québec), 6 Dec. 1800; Greffe d'Archibald Campbell, 22 déc. 1825; Greffe de P.-L. Descheneaux, 24 mars 1794; Greffe d'Alexandre Dumas, 7 nov. 1801; Greffe de Charles Stewart, 16 nov. 1795, 31 oct. 1796, 30 juin, 4 oct. 1798, 17 juin 1799; Greffe de Félix Têtu, 15 mars 1802; Greffe de Charles Voyer, 21 oct. 1791, 15 déc. 1800; Greffe de Jacques Voyer, 11 mai 1799. AUM, P 58, Corr. générale Joseph Frobisher à Patrick Beatson, 9 juin 1794. PAC, MG 24, F3, correspondence, 12 juill., 21 déc. 1800; RG 1, L3L, 39, pp.19505–7; RG 4, B32; RG 68, General index, 1651–1841. "Les dénombrements de Québec faits en 1792, 1795, 1798 et 1805 par le curé Joseph-Octave Plessis," ANQ Rapport, 1948–49, 140. Quebec Gazette, 30 Aug. 1781, 31 May, 2 Aug., 27 Sept. 1792, 11 July 1793, 11 Dec. 1800, 13 Aug. 1801, 9 Sept. 1802. A. J. Beatson, Genealogical account of the Beatson families (Edinburgh, 1860). Geoffrey Bennett, Nelson the commander (London, 1972), 15.
Revisions based on:
BL, India Office Records and Private Papers, IOR/B/108: 638; L/MAR/C/655: 15. National Records of Scotland (Edinburgh), OPR Births & Baptisms, Leith North (Midlothian), 31 March 1758. Eileen Reid Marcil, The Charley-Man: a history of wooden shipbuilding at Quebec, 1763–1893 (Kingston, Ont., 1995); "Patrick Beatson: shipmaster and shipbuilder, 1758–1800," in From sail to steam: ships and shipbuilding in the regions of Quebec and Montreal, ed. V. A. Baker and Diana Dutton (Saint-Lambert, Que., 1982). John Richardson, "The John Richardson letters," ed. E. A. Cruikshank, OH, 6 (1905): 34–36.
© 1979–2023 University of Toronto/Université Laval
Image Gallery

Cite This Article
Eileen Marcil, "BEATSON, PATRICK," in Dictionary of Canadian Biography, vol. 4, University of Toronto/Université Laval, 2003–, accessed September 24, 2023, http://www.biographi.ca/en/bio/beatson_patrick_4E.html.
The citation above shows the format for footnotes and endnotes according to the Chicago manual of style (16th edition). Information to be used in other citation formats:
| | |
| --- | --- |
| Permalink: | http://www.biographi.ca/en/bio/beatson_patrick_4E.html |
| Author of Article: | Eileen Marcil |
| Title of Article: | BEATSON, PATRICK |
| Publication Name: | Dictionary of Canadian Biography, vol. 4 |
| Publisher: | University of Toronto/Université Laval |
| Year of publication: | 1979 |
| Year of revision: | 2020 |
| Access Date: | September 24, 2023 |