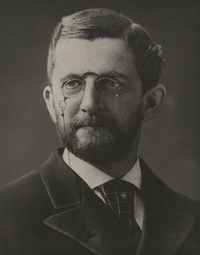 ABBOTT, JOB, civil engineer and entrepreneur; b. 23 Aug. 1845 in Andover, Mass., son of Nathan B. Abbott, farmer, and Elizabeth L. Noyes; d. there 18 Aug. 1896.
Job Abbott attended local schools and Phillips Academy before studying engineering at Lawrence Scientific School, Harvard University, from which he graduated in 1864. He worked briefly for the Manchester Locomotive Works in New Hampshire and then became an assistant engineer on the Long Island Rail Road; he subsequently joined the Pittsburgh, Fort Wayne and Chicago Railroad. After working for a time in Canton, Ohio, in 1866 Abbott was hired to lay out part of the town, and he practised there as a civil and mining engineer. He also studied patent law, was admitted to the Ohio bar, and became a patent expert.
Abbott's patent practice brought him into contact with a Canton firm, the Wrought Iron Bridge Company, which he joined as vice-president and chief engineer in 1872. The company was an important builder of prefabricated bridges. The development of standardized trusses removed much conjecture from bridge building; once the size and capacity desired for a bridge were known it was relatively easy to design and fabricate the necessary structure. From 1874 the company produced catalogues that were used by local governments and railways to choose the type of bridge they required. The firm's standardized bridges provided an important stimulus to development of road and railway transportation.
Wrought Iron Bridge sold structures in Ontario until 1879 when Sir John A. Macdonald's National Policy placed a 25 per cent tariff on imported fabricated ironwork and steelwork. As a result, that year Toronto engineer James Bartlett, other Toronto investors, and James Cooper, of a Montreal hardware and metal-importing firm, organized the Toronto Bridge Company, with unspecified support from Wrought Iron Bridge; Abbott was a minor shareholder and consultant. The first year sales were low, and inexperienced staff caused problems with the erection of bridges. In 1880 Abbott was named president and chief engineer. His engineering experience and contacts with railway builders had the desired effect; sales, which had been $60,000 in 1879–80, rose to $206,000 between May 1880 and April 1881. However, the limited aims of the original management and charter, inadequate facilities in the Toronto factory, difficulties importing iron during winter, and remoteness from railway head offices, which were in Montreal, combined to limit prospects despite the probability of an enormous increase in demand for bridges with the imminent construction of the Canadian Pacific Railway.
In early 1882 Abbott and his Montreal colleagues, who had gained control of Toronto Bridge, decided to form a new company with headquarters in Montreal. On 23 Sept. 1882 a federal charter was issued to Dominion Bridge Company Limited to manufacture iron and steel as well as to fabricate and erect bridges and structural work throughout Canada. Abbott became president and chief engineer at a salary of $5,000 and a commission of 10 per cent on all company business. The stock issue was set at $500,000, consisting of 5,000 shares. By April 1883 capitalists from Glasgow and from Sheffield, England, had purchased $185,000 worth of stock, probably in exchange for commitments for steel supplies. This investment gave them control, but their influence was lessened by their distance from Montreal. The purchase of the assets of Toronto Bridge for $356,292 produced windfall profits for Abbott and his colleagues. A bonus bidding war for Dominion Bridge's shops was won by Lachine, near Montreal, which offered a grant of $10,000 and tax exemption for 20 years.
Dominion Bridge soon obtained several important contracts. In 1883–84 it constructed an unequal arm cantilever bridge over the Reversing Falls at Saint John, N.B. Besides being an early example of cantilever construction in Canada, the bridge was built of steel, which had only recently been developed as a building material. In 1885 the company bid successfully to construct the Lachine Bridge of more than 3,400 feet; linking Montreal and the south shore, it was the CPR's answer to the Grand Trunk Railway's Victoria Bridge [see James Hodges*]. Other structures of note built by the firm include the Coteau Bridge, also across the St Lawrence River, constructed for the Canada Atlantic Railway, and the Grand Narrows Bridge on Cape Breton. The company's mainstay was railway bridges, especially for the CPR, which was replacing its wooden trestle bridges Dominion Bridge also constructed bridges in many towns and counties, thus improving local transportation, and it erected steel framework for tall buildings in urban centres.
Abbott was largely responsible for the success of Dominion Bridge. Besides being president and chief engineer, he was the main salesman, and he personally negotiated many contracts with major clients. His functions as engineer and administrator made him an effective salesman, but he was also favoured, when bidding for contracts, by a capable engineering and erection staff, large modern shops, and easy access to British iron and steel supplies. Abbott's several roles placed a heavy load on him, however, and in October 1887 he had to take leave for reasons of health. He was back by March 1888, but in June he was replaced as chief engineer.
Abbott had never cut his American connections. He had remained a director of the Wrought Iron Bridge Company, and from early 1889 he devoted much time to the New York Rapid Transit Railway. Unable to reconcile his many interests, he grudgingly resigned the presidency of Dominion Bridge on 26 June 1890; however, he remained a consultant to the company until his death. He was replaced as president by James Ross*, an engineer and railway contractor. Viewed in the light of Abbott's earlier changes of career, his departure from Dominion Bridge probably reflected a desire after eight years of building a successful enterprise to seek new challenges in engineering. He became chief engineer of the New York Rapid Transit Railway and consulting engineer to the Wheeling Bridge and Terminal Railway Company of West Virginia and to the Bangor and Aroostock Railroad in Maine. His health again declined, however, and he died in August 1896, just before his 51st birthday, leaving a widow.
As the central figure in the development of Dominion Bridge, Abbott united American technology in bridge construction with British capital and steel supply, and yet maintained his firm's autonomy. Dominion Bridge (now AMCA International) went on to dominate the Canadian markets for bridges and the erection of steel frameworks for buildings and to become a leader in the production of heavy equipment. Abbott was an early example of a versatile professional, trained as he was in civil engineering, law, and administration. This combination of skills made him and his company highly effective in winning and carrying out contracts. Like a number of his contemporaries in engineering, Abbott paid for success with his health, but without his drive it is unlikely that either he or Dominion Bridge would have been as successful as they were.
City of Andover Arch. (Andover, Mass.), Reg. of births, marriages, and deaths, 23 Aug. 1845, 18 Aug. 1896. NA, MG 28, III 100; MG 30, B86, 11, catalogue 18. "Job Abbott, M.Am.Soc.C.E.," American Soc. of Civil Engineers, Trans. (New York), 36 (1896): 538–39. "Obituary: Jn, aob Abbott," Canadian Soc. of Civil Engineers, Trans. (Montreal), 10 (1896), pt.ii: 209–10. Railroad Gazette (Chicago), 28 (1896): 610. Andover Townsman, 21 Aug. 1896. Engineering Record (New York and London), 5 Sept. 1896. Christine Roysdon and L. A. Khatri, American engineers of the 19th century: a biographical index (New York and London, 1978). D. J. Cuming, Discovering heritage bridges on Ontario's roads (Erin, Ont., 1983). Steve Dunwell and Doug Fetherling, Vision in steel, 1882–1982: one hundred years of growth, Dominion Bridge to AMCA International (Montreal and Toronto, 1982). George Richardson, "19th century bridge design in Canada: a technology in transition," HSTC Bull. (Thornhill, Ont.), 5 (1981): 177–86.
© 1990–2023 University of Toronto/Université Laval
Image Gallery

Cite This Article
Larry McNally, "ABBOTT, JOB," in Dictionary of Canadian Biography, vol. 12, University of Toronto/Université Laval, 2003–, accessed December 2, 2023, http://www.biographi.ca/en/bio/abbott_job_12E.html.
The citation above shows the format for footnotes and endnotes according to the Chicago manual of style (16th edition). Information to be used in other citation formats:
| | |
| --- | --- |
| Permalink: | http://www.biographi.ca/en/bio/abbott_job_12E.html |
| Author of Article: | Larry McNally |
| Title of Article: | ABBOTT, JOB |
| Publication Name: | Dictionary of Canadian Biography, vol. 12 |
| Publisher: | University of Toronto/Université Laval |
| Year of publication: | 1990 |
| Year of revision: | 1990 |
| Access Date: | December 2, 2023 |