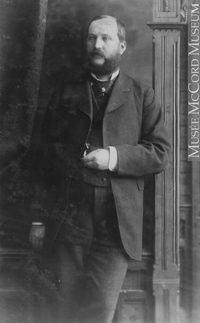 Source: Link
DAWES, JAMES PAWLEY, businessman, jp, and sportsman; b. 17 July 1843 in Lachine, Lower Canada, son of James Pawley Dawes, a brewer and farmer, and Mary Leishman; m. there first 19 Nov. 1867 Sarah Jane Ferres, and they had at least one son and four daughters; m. there secondly 11 May 1886 Gertrude J. Brock, and they had three sons; d. there 11 June 1907.
James Pawley Dawes's grandfather Thomas Dawes immigrated from England to Lower Canada in 1808 and three years later established a brewery in Lachine. After receiving his early education in Montreal, James Pawley journeyed to England, where he became an apprentice in the brewing trade at Evershed, near Burton upon Trent. He returned to Lachine to work in the family brewery and on the death of his father in 1878 inherited, with his brother Andrew Joseph, his father's share in the business. Together with their uncle Thomas Amos Dawes, the two brothers directed the enterprise. The Daweses' establishment was one of the major breweries in the Montreal area. In 1863 its output was the second highest, ahead of that of Molson's Brewery [see William Molson*] but behind that of the leading producer, William Dow and Company [see William Dow*]. Its offices were on Rue Saint-Jacques, Montreal, but production remained concentrated in nearby Lachine, where by the early 1880s the firm had a complex of buildings on Rue Notre-Dame and at least 370 acres of land to grow barley and hops. In 1909 the Dawes brewery would join with several others, including the Dow brewery, to become National Breweries Limited. Dawes ceased brewing operations in Lachine and relocated in Montreal. While the other breweries involved in the merger were closed, both the Dawes and Dow breweries continued to function. In 1952 Canadian Breweries Limited was to purchase National Breweries and change its name to Dow Breweries Limited.
The prominence of the Dawes family in the relatively small community of Lachine extended beyond their brewery and landholdings. James Pawley was a jp in nearby Caughnawaga (Kahnawake), Thomas Amos was a jp in Lachine, and Andrew Joseph was for many years a municipal councillor and mayor of Lachine. James Pawley was the family member at the forefront of entrepreneurial activities to promote the development of Lachine. He initiated the building of the first telegraph line from Montreal to Lachine and in 1882 helped the Dominion Bridge Company Limited, founded that year by Job Abbott*, locate a 24-acre site for its works. The town council, which included Andrew Joseph, was undoubtedly acutely aware of the economic impact of such a large industrial enterprise and offered subsidies and tax incentives to help attract it, in exchange for guarantees of investment and employment for local residents. Although the company's earliest successes rested on the construction of railway bridges in the Montreal area, the business soon expanded to include the construction of bridges and structural-steel buildings across Canada.
Dawes was a major shareholder of the Dominion Bridge Company. He served on its board of directors from 1890 to 1892 and as vice-president from 1893 to his death, during the period when it became a national enterprise. In the frequent absences of its president, James Ross*, Dawes chaired the monthly meetings. Although Ross was the driving force behind the company, Dawes brought special skills to bear as a negotiator in the political arena. He scored his greatest coup as a lobbyist on the company's behalf in 1890, meeting with Quebec premier Honoré Mercier* and members of his cabinet to persuade the government to stop giving preferential treatment to Belgian bridge contractors. Thereafter the Quebec government shifted most of its bridge-building business to the Dominion Bridge Company.
From 1886 to 1907 Dawes was on the board of directors of another national institution, the Merchants' Bank of Canada, owned largely by the Allan family [see Andrew Allan]. The bank held large investments in railways and government debentures, including those issued by the town of Lachine. Dawes was less active in the bank than in the Dominion Bridge Company, but he regularly attended directors' meetings. His diverse business interests also included a directorship in the Alliance Assurance Association of Canada and the presidency of the board of directors of Montreal's prestigious Windsor Hotel.
Dawes's wealth provided him with time to pursue other activities. Sports, especially horse-racing, seem to have occupied at least as much of his time as his business interests. Moreover, he was as prominent a sportsman as he was a businessman. He was a member of the Montreal Hunt Club and in his youth had participated in many hunting meets. Around 1900 he joined business associate Hugh Montagu Allan* in an effort to revive steeple-chasing within the club. He established his own racing stable, Maplewood, in Lachine. Entries from his stable were quite successful in flat-racing and over steeplechase courses, in both Canada and the United States. His horses won the Quebec version of the Queen's Plate on 11 occasions, and were often raced at Saratoga Springs, N.Y. Active in horse-racing organizations, he was an important participant in Lachine's Bel-Air Jockey Club, serving during the 1890s as vice-president and president. In 1899 he helped organize Quebec's Queen's Plate at the Bel-Air club and invited Governor General Lord Minto [Elliot*] and Prime Minister Sir Wilfrid Laurier* to attend.
Dawes's other major sporting activity was sailing. A member of the Royal St Lawrence Yacht Club, he often entered his yacht the Surprise in regattas held on Lac Saint-Louis. He was also a member of the Forest and Stream Club in Dorval and the Royal Montreal Golf Club.
James Pawley Dawes's career centred on Lachine, where his family had made extensive investments and the town's economic development was his main concern. Through his involvement in such sectors as banking, insurance, and, in particular, manufacturing, he was able to move beyond a purely local economy to become involved in ventures of national importance. His entrepreneurial success was probably the result of equal measures of readily available capital, personal initiative, and his standing as a member of a notable local family. As a successful manufacturer, on an equal footing with the élite of the Montreal business community, Dawes also had the opportunity to build another successful career as a sportsman.
ANQ-M, CE1-80, 19 nov. 1867, 11 mai 1886; CE1-124, 20 août 1843. Bank of Montreal Arch., Merchants Bank of Canada, minute-books, 1864–1917 (mfm. at NA). McCord Museum (Montreal), Montreal Hunt Club records. NA, MG 26, G; MG 28, III 100. Gazette (Montreal), 13 June 1907. Star (Montreal), 12 June 1907. Atherton, Montreal, 3: 192–94. J. I. Cooper, The history of the Montreal Hunt ([Montreal, 1953]). Merrill Denison, The barley and the stream: the Molson story; a footnote to Canadian history (Toronto, 1955). Directory, Montreal, 1879–1905. Steve Dunwell and Doug Fetherling, Vision in steel, 1882–1982: one hundred years of growth, Dominion Bridge to AMCA International (Montreal and Toronto, 1982). Standard dict. of Canadian biog. (Roberts and Tunnell).
© 1994–2023 University of Toronto/Université Laval
Cite This Article
Gordon Burr, "DAWES, JAMES PAWLEY," in Dictionary of Canadian Biography, vol. 13, University of Toronto/Université Laval, 2003–, accessed June 7, 2023, http://www.biographi.ca/en/bio/dawes_james_pawley_13E.html.
The citation above shows the format for footnotes and endnotes according to the Chicago manual of style (16th edition). Information to be used in other citation formats:
| | |
| --- | --- |
| Permalink: | http://www.biographi.ca/en/bio/dawes_james_pawley_13E.html |
| Author of Article: | Gordon Burr |
| Title of Article: | DAWES, JAMES PAWLEY |
| Publication Name: | Dictionary of Canadian Biography, vol. 13 |
| Publisher: | University of Toronto/Université Laval |
| Year of publication: | 1994 |
| Year of revision: | 1994 |
| Access Date: | June 7, 2023 |