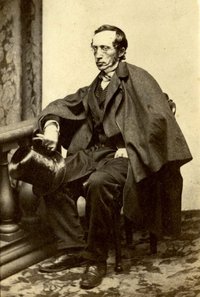 Source: Courtesy of Wikimedia Commons
ALLEYN, CHARLES JOSEPH, lawyer, politician, and public servant; b. 19 Sept. 1817 in County Cork (Republic of Ireland), son of Richard Israël Alleyn and Margaret O'Donovan; d. 4 April 1890 at Quebec City.
A descendant of a well-known Anglo-Irish family, Charles Joseph Alleyn attended school at Fermoy, Cork, and Clongowes Wood College in County Kildare, before his family immigrated to Quebec around 1837. He was called to the bar on 29 Sept. 1840 and became an outstanding lawyer who was respected especially by French Canadians as well as by the Irish. On 15 May 1849 at Quebec he married Zoé, daughter of Philippe-Joseph Aubert* de Gaspé, author of Les anciens Canadiens, and they had eight children.
By the end of October 1849 Alleyn had joined the annexationists of Quebec. In January 1850 he supported Joseph Légaré*, an annexationist candidate, at a by-election in Quebec City. Le Canadien indépendant (Quebec) spoke highly of Alleyn but other newspapers called him an empty prattler who lacked conviction and was only out to "acquire popularity." According to Le Journal de Québec, Alleyn stated in one of his speeches that he had been an officer in the volunteer troops during the 1837–38 disturbances, and that at that time he would have "joyfully [seen Légaré] mount the scaffold."
Although he had been defeated in the municipal elections of 1848 Alleyn was returned by acclamation as councillor for Champlain Ward on 4 Feb. 1851 and retained this office until February 1857. He was especially interested in public health; he worked on the health committee at regular intervals, and on 18 July 1854, during a serious cholera epidemic, he became a member of the local board of health. Through his work on the roads and elections committees he probably acquired experience useful for his future political career. On 13 Feb. 1854 the councillors chose him as mayor, but he was defeated the following year. This executive position had, however, enabled Alleyn, who was impartial as well as skilful in handling municipal affairs, to establish contact with provincial administrators.
Campaigning as a "progressive Reformer," Alleyn was elected to the Legislative Assembly for the constituency of Quebec City on 22 July 1854. In a letter to his constituents he declared himself in favour of the abolition of seigneurial tenure and the immediate settlement of the clergy reserves issue while at the same time safeguarding "vested interests." He considered an elective legislative council was necessary in the constitution of the country. He was further persuaded that in the matter of education the province needed separate schools, religion being, in his view, "the corner-stone of education." His opponents unsuccessfully contested the election, which according to them had been marred by irregularities. From 28 Nov. 1857 to 1 Aug. 1858 Alleyn served as commissioner in chief of public works in the government of John A. Macdonald* and George-Étienne Cartier*, and from 7 Aug. 1858 to 23 May 1862 as provincial secretary for Canada East in the new Cartier-Macdonald government. Although in April 1860 a committee of inquiry declared his 1857 election invalid, he was nonetheless re-elected by acclamation on 7 May 1860 at the by-election in the new constituency of Quebec West; he represented this constituency until just before confederation. In 1866, as a reward for service to his country and party, Alleyn obtained the lucrative post of sheriff of the district of Quebec, a post he retained until his death. He also took an interest in railways and was a director of the North Shore Railway and a signatory to the incorporation of the St Maurice Railway and Navigation Company (1857).
Ambitious, a realist and an opportunist, Charles Alleyn possessed all the qualities necessary for scaling the socio-political ladder, in both his city and country. By origin Irish and Catholic, an anglophone who spoke French, and a lawyer, he married a descendant of an illustrious French Canadian family. His desire to preserve his image in the eyes of society undoubtedly led him to join public associations and organizations. His involvement in the annexationist movement and the period he spent in municipal politics opened the door to a political career on the provincial level. Defining himself as a Canadian, he represented primarily the English-speaking element of Quebec. Both as an mla and as a minister he knew how to promote the interests of his adopted city.
A genealogy of the Alleyn family is in the possession of R. R. Alleyn (Quebec). AVQ, Procès-verbaux du conseil, juin 1850–mars 1858, novembre 1885. Québec, ville de, Bureau du trésorier, Rapport annuel (Québec), 1854, 1857. L'Ami de la religion et de la patrie (Québec), 21 janv., 31 oct. 1850. Le Canadien, 31 oct. 1849; 2, 21 janv. 1850; 3 févr. 1851; 6 févr., 7, 12, 21, 24 juill. 1854; 11, 16, 23, 30 déc. 1857; 18 avril, 7, 9 mai 1860; 1er juill. 1861; 8, 15 juin 1863; 5 avril 1890. Le Canadien indépendant (Québec), 19, 26 oct. 1849. Le Courrier du Canada, 7 avril 1890. Le Journal de Québec, 30 oct. 1849; 2, 19, 22 janv. 1850; 22 juill. 1854; 17 avril 1890. Morning Chronicle (Quebec), 21 Jan. 1850; 14 July, 4, 10, 14, 22, 28, 29 Dec. 1857. Quebec Gazette, 27 Oct. 1849; 15, 18, 20, 27 July, 2 Dec. 1857; 20 Aug. 1866. Quebec Mercury, 30 Oct. 1849; 25, 27 July 1854; 12, 15, 22 Dec. 1857. Quebec directory, 1844–45, 1847–56, 1860–61. P.-G. Roy, Les avocats de la région de Québec. F.-X. Chouinard et Antoine Drolet, La ville de Québec: histoire municipale (3v., Québec, 1963–67), III. P.-A. Dubé, "La crise annexionniste à Québec (1848–1850)" (thèse de ma, univ. Laval, Québec, 1974). Marcel Plouffe, "Quelques particularités sociales et politiques de la charte, du système administratif et du personnel politique de la cité de Québec, 1833–1867" (thèse de ma, univ. Laval, 1971). "Fifty years ago to-day", Quebec Daily Telegraph, 19 June 1911: 3.
© 1982–2023 University of Toronto/Université Laval
Image Gallery

Cite This Article
Marcel Plouffe, "ALLEYN, CHARLES JOSEPH," in Dictionary of Canadian Biography, vol. 11, University of Toronto/Université Laval, 2003–, accessed September 27, 2023, http://www.biographi.ca/en/bio/alleyn_charles_joseph_11E.html.
The citation above shows the format for footnotes and endnotes according to the Chicago manual of style (16th edition). Information to be used in other citation formats:
| | |
| --- | --- |
| Permalink: | http://www.biographi.ca/en/bio/alleyn_charles_joseph_11E.html |
| Author of Article: | Marcel Plouffe |
| Title of Article: | ALLEYN, CHARLES JOSEPH |
| Publication Name: | Dictionary of Canadian Biography, vol. 11 |
| Publisher: | University of Toronto/Université Laval |
| Year of publication: | 1982 |
| Year of revision: | 1982 |
| Access Date: | September 27, 2023 |