ANGO DES MAIZERETS, LOUIS, priest, vicar general and canon of Quebec, superior of the seminary; b. January 1636 in Normandy; d. 23 April 1721 at Quebec.
His parents' names are not known; we do know, however, that he was the eldest of a noble Norman family which owned a château at Argentan and was well-to-do, since it put aside for him an annual income of 1,200 livres when he renounced his patrimony. This income was paid to him until his death by his nephews, one of whom was Ango de La Mothe, a lawyer in the parlement of Rouen and seigneur of Montgomery.
Louis Ango Des Maizerets studied at the Jesuit colleges in La Flèche and Paris. In Paris he met François de Laval, the future bishop of Quebec, and became his colleague in the community founded by Father Bagot, as well as in the secret society called Les Bons Amis In 1653 he also became associated with the Hermitage at Caen, a school for spiritual instruction under the direction of the lay apostle Jean de Bernières de Louvigny. Bishop Laval's departure for New France in 1659 decided the direction that Ango's life would take. He entered holy orders and was ordained a priest on 29 Sept. 1662 in Paris. That same autumn Bishop Laval returned to France, and there, with the aim of strengthening the church in Canada, founded by an ordinance published 26 March 1663 the seminary of Quebec, which was destined to recruit and give cohesion to the clergy of the colony.
Abbé Louis Ango Des Maizerets belonged to the first contingent destined for the seminary of Quebec. In May 1663 Abbé Hugues Pommier*, Father Pierre Raffeix, a Jesuit, and he sailed for Canada with their bishop. The crossing took nearly four months, during which Ango Des Maizerets almost died of scurvy. They landed at Quebec on 15 September and moved into a new building which served both as presbytery and as bishop's palace and which became at the same time the birthplace of the seminary. The other founding priests were Henri de Bernières*, the first superior, Jean Dudouyt*, and Thomas Morel*. Five seminarists, 3 from France and 2 from Canada, and some domestics, including Denis Roberge, Bishop Laval's servant, constituted a rather imposing personnel for this seminary. The priests concerned themselves as much with the ministry of the parish as with the training of clerics. To make clear this double vocation, Bishop Laval, when he established the first parish of Quebec in 1664, created one chapter for both it and the seminary.
According to his contemporaries, Abbé Louis Ango Des Maizerets does not seem to have had a very prepossessing appearance; his voice was weak and his health was poor. Outstanding qualities made up for these weaknesses, however, and he held several positions, sometimes concurrently. He was the second superior of the seminary and then held this office, alternately with M. de Bernières, for 31 years, for the periods 1672–73, 1683–85, 1688–93, and 1698–1721. When he was not the superior, he held the office of first assistant and, at irregular intervals, that of procurator; he also occasionally ministered as parish priest at Ange-Gardien and at the cathedral.
From its beginning, in 1668, Bishop Laval entrusted to him the direction of the Petit Séminaire. Candidates for the priesthood were boarded there, and attended classes at the Jesuit college, on the site of the present city hall. But their moral upbringing was the responsibility of the seminary, which in addition was given the task of associating with them a group of young Hurons in an effort to Frenchify them. It was Abbé Ango Des Maizerets who, inspired by Bishop Laval, had drawn up the first set of regulations for the institution and who directed it for a good part of his life.
When the chapter of Quebec was instituted in 1684, he was one of the first canons, with the dignity of archdeacon and later of precentor. On several occasions he was responsible for the spiritual guidance of the Sisters of the Hôtel-Dieu or those of the Hôpital Général, and Bishop Laval even made him his vicar general. He retained this title under the succeeding bishop, although, through the arbitrary action of Bishop Saint-Vallier [La Croix], this worthy priest was one day victim of an interdict which debarred him from all functions in the diocese. He and his colleagues in the seminary and the chapter, Henri de Bernières and Charles de Glandelet, had been imprudent enough to appeal to the Conseil Souverain against a decision by the bishop in a disciplinary matter, as the ecclesiastical law of the time allowed them to do. Their common punishment lasted several months, to the great vexation of the whole population Bishop Saint-Vallier had a change of heart, and two of his former victims, Ango Des Maizerets and Glandelet, were the first to request his return in 1711 when the court wanted to keep him in France.
As superior of the seminary Ango Des Maizerets also had to overcome severe material losses caused by Phips*' siege in 1690 and the two great fires of 1701 and 1705. Each time, with Bishop Laval's encouragement, he raised the seminary again from its ruins.
Ango Des Maizerets celebrated his golden jubilee in the priesthood on 29 Sept. 1712 His health was beginning to arouse serious concern. In 1721 he was struck down by an attack of paralysis, and it was from his bed that he dictated his will on 10 April, although he was unable to sign it. All that remained for him to do was to sign over to the seminary the instalments of his life annuity, which, it must be added, he had always deposited faithfully in the general treasury. His final illness lasted only two weeks. After his death the procurator of the seminary, Jean-Baptiste Gaultier de Varennes, eulogized him in the ledger: "On 23 April 1721, Louis Ango Des Maizerets . . . the Superior and one of the founders of the seminary of Quebec, which he directed in this capacity for nearly 40 years in an edifying manner and to everyone's great satisfaction, died after receiving the last rites of the Church. . . . All Canada is indebted to him for educating our youth, to which task he applied himself for nearly 50 years. . . ."
Some of Abbé Louis Ango Des Maizerets' writings have been preserved: the account of the consecration of the new classical college in 1677, the earliest regulations and decisions of the council of the community, and the "reasons for and against the union of the Seminary of Saint-Sulpice with the Séminaire des Missions étrangères," a union which Bishop Laval had envisaged for a time before his resignation to give the church in Canada greater accord and solidity.
For further background see also the biographies of Henri de Bernières* (DCB, I, 91–92) and François de Laval. ASQ, Chapitre, 6, 10, 19, 21, 31; Lettres, M, 7, 8; N, 87; mss, 239; Séminaire, I, 15; II, 40; V, 15; VI, 52c; LXXXV, 5; XCV, 4, 13, 24, 39, 42 Louis Bertrand de Latour, Mémoires sur la vie de M. de Laval, premier évêque de Québec (Cologne, 1761), 3, 6, 32, 34, 107, 153. Auguste Gosselin, Vie de Mgr de Laval, I, 379, 557; II, 233f. Rochernonteix, Les Jésuites et la N.-F. au XVIIIe siècle, I, 95f. L'Abeille (Québec), I, 15 (4 janv 1849); II, 16 (7 mars 1850). P.-E. Gosselin, "Mémoire sur l'abbé Louis Ango de Maizerets," SCHEC Rapport, 1942–43, 39–45.
© 1969–2023 University of Toronto/Université Laval
Image Gallery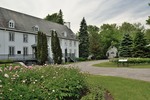 Cite This Article
Honorius Provost, "ANGO DES MAIZERETS, LOUIS," in Dictionary of Canadian Biography, vol. 2, University of Toronto/Université Laval, 2003–, accessed April 1, 2023, http://www.biographi.ca/en/bio/ango_des_maizerets_louis_2E.html.
The citation above shows the format for footnotes and endnotes according to the Chicago manual of style (16th edition). Information to be used in other citation formats:
| | |
| --- | --- |
| Permalink: | http://www.biographi.ca/en/bio/ango_des_maizerets_louis_2E.html |
| Author of Article: | Honorius Provost |
| Title of Article: | ANGO DES MAIZERETS, LOUIS |
| Publication Name: | Dictionary of Canadian Biography, vol. 2 |
| Publisher: | University of Toronto/Université Laval |
| Year of publication: | 1969 |
| Year of revision: | 1982 |
| Access Date: | April 1, 2023 |