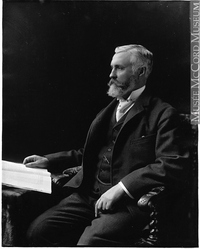 Source: Courtesy of Wikimedia Commons
ANGUS, RICHARD BLADWORTH, banker, railway executive, and businessman; b. 28 May 1831 in Bathgate, Scotland, son of Alexander Angus, a merchant, and Margaret Forrest; m. 13 June 1857 Mary Anne Daniels (d. 1913) in Manchester, England, and they had six daughters and three sons; d. 17 Sept. 1922 in Senneville, Que.
The eighth of 12 children, Richard Bladworth Angus was educated at Bathgate Academy and then worked in Manchester as a clerk in the Manchester and Liverpool District Bank. He and his wife, the daughter of a wine merchant there, immigrated to Montreal in 1857. On his arrival, he secured employment with the Bank of Montreal as a bookkeeper-clerk at an annual salary of $600. Combining good looks with hard work and a mastery of figures and finance, he advanced rapidly. He was placed in charge of the bank's Chicago agency in 1861. Two years later he was promoted to second agent in New York at $2,400 a year. After returning to Montreal in 1864, he was appointed assistant manager and the following year he became interim manager of the Montreal office. On 2 Nov. 1869 he succeeded Edwin Henry King* as general manager with an annual salary of $8,000. He proved popular in the position, improving relations with the federal government, for which the Bank of Montreal was fiscal agent. In spite of the economic depression of the 1870s, the bank posted respectable profits during his tenure.
Angus's position provided him with opportunities for private investment at a time when conflict of interest regulations were virtually non-existent. In 1868 he had joined Montreal businessman George Stephen and Stephen's cousin Donald Alexander Smith* as investors in a textile mill, the Paton Manufacturing Company of Sherbrooke [see Andrew Paton*]. By the 1870s Stephen and Smith became interested in the development of railways in the Canadian northwest. Smith and Minnesota businessman James Jerome Hill* had decided to purchase the bankrupt St Paul and Pacific Railroad, but lacked financing for the scheme. In August 1877 Angus accompanied Stephen to see the line. Their meeting with Hill laid the foundation for the formation of the lucrative partnership George Stephen and Associates. Although Angus was not among the associates, he was closely involved in many of their ventures. In 1878 they purchased the St Paul line for $5,500,000. Unable to finance the deal with London investment banks, they provided cash and collateral and Stephen, now president of the Bank of Montreal, organized short-term financing from the bank.
The deal caused ripples in the financial community in Montreal, because of its audacity and because of rumours that Stephen had used his position to secure loans with preferred rates and limited collateral. Angus remained immune from the controversy until his resignation as general manager was announced on 15 Aug. 1879. The press hinted that he had left because of the excessive loans made to Stephen and his associates. The reports caused embarrassment for both Angus and the bank. His departure was also seen as a vote of no-confidence in the Canadian banking industry. Within two months the reason for his resignation became clear. Stephen confirmed that Angus had become vice-president of the railway, which had been renamed the St Paul, Minneapolis and Manitoba Railroad.
Late in 1879 Angus moved to St Paul, Minn., where he worked closely with Hill, constructing and improving the line. By 1880, however, he was spending as much time accompanying Stephen on numerous trips to Ottawa, New York, and London to negotiate the building of a Canadian transcontinental line. When the Canadian Pacific Railway contract was signed in October, Angus was listed as one of the members of the syndicate. He held the position of general manager until William Cornelius Van Horne* took office in 1882 and he sat as a member of the railway's executive committee. Angus would serve as a director and committee member for over 40 years. During the negotiations to secure additional land grants and cash subsidies for the CPR, he was often at Stephen's side. They proved to be a formidable team, with Stephen providing the acumen and Angus the analysis. As vice-president, Angus was entrusted with the creation of the eastern network, notably the extension of the Ontario and Quebec Railway and the purchase of the western section of the Quebec, Montreal, Ottawa and Occidental Railway in 1882.
By 1883 the CPR syndicate was showing increasing signs of strain. Hill resigned from the railway's board of directors in May, believing the advancement of the CPR and the St Paul line to be incompatible. Founding director Duncan McIntyre* resigned in May 1884. Author Pierre Berton* suggests that Angus was also tempted to abandon the syndicate and lost Stephen's confidence as a result. Although there is no evidence pointing to a rift of this magnitude, Angus's sang-froid was sorely tested by the fragility of the CPR's finances. The involvement of Stephen, Smith, and Angus with the St Paul railroad had made it increasingly difficult to lobby successfully for additional financial assistance to the CPR. Angus had finally resigned from the St Paul line in February 1884. Although the extent of his personal holdings in the company is unknown, they were at least in part responsible for his growing fortune. He remained vice-president of the CPR after Stephen resigned from an active role in 1888. Apparently never aspiring to the position, he supported Stephen's selection of Van Horne as president and, 11 years later, Van Horne's choice of Thomas George Shaughnessy as his successor.
Angus's growing wealth had allowed him to invest in the empire of companies associated with the CPR or its directors, such as the Canada North-West Land Company, the Royal Trust Company, and the Dominion Bridge Company Limited. He joined Van Horne and former CPR contractors James Ross* and William Mackenzie as an investor in street railways, in Winnipeg, Montreal, and Toronto. Prior to his death he would be the principal shareholder in Mackenzie's Toronto Power Company Limited. He also invested with Van Horne in the Laurentide Paper Company Limited, was among the founding financiers of Benjamin Tingley Rogers*'s British Columbia Sugar Refinery Limited, and was a principal backer of the Federal Telephone Company.
Angus also played a role in maintaining the close relationship between the CPR and the Bank of Montreal, whose growth in western Canada closely mirrored that of the railway. On 12 May 1891 he had returned to the bank as a director. After the death of Sir George Alexander Drummond*, he was elected president in July 1910. Two years later he was one of the bank's largest shareholders. He seemed content to work in the shadows, never aspiring to the perquisites which normally accompanied the presidency. It was widely reported that he had refused a knighthood in 1910. He continued as president until 1913 and would remain a director until his death.
By 1885 Angus and his large family were living in a sumptuous residence on Drummond Street. It would provide a suitable home for his art collection. He began actively buying from Montreal and London dealers in the late 1870s. His collection showed discernment, with fine examples of work by European masters. Angus served as president of the Art Association of Montreal in 1888–89. In 1889 he donated six paintings to the association, the most important gift since its foundation and its first major one in contemporary art. In 1886 he had built a home in the enclave of country estates at Senneville. Known as Pine Bluff, it was designed by John William Hopkins and his son Edward C. In 1898 he hired architect Edward Maxwell to transform it into a Tudor Revival house. After it burned in 1899, Angus had it rebuilt to the designs of Maxwell and his brother William Sutherland.
A governor of McGill University, Angus was also president of the board of governors of the Royal Victoria Hospital. He was one of the founders of the Alexandra Hospital, opened in 1906, and he served on the board of the Montreal General Hospital and as vice-president of the Victorian Order of Nurses. He was involved in his community as well as a governor of the Numismatic and Antiquarian Society of Montreal, as president of the Fraser Institute's free library and the St Andrew's Society, and as a mason. A founder, in 1889, of the Mount Royal Club, he had more than a dozen club memberships in cities throughout Canada. He remained active until the end of his life, embarking on a European tour in 1921, at age 90.
An important figure in both banking and railways, Richard Bladworth Angus occupied one of the most prominent positions in Canadian banking at age 38. By abandoning this plum post for a highly speculative railway venture, he clearly illustrated the allure of railways and the riches they offered. When he died in 1922, he left an impressive estate, worthy of the railway magnate he had become. Although Stephen has generally been credited with the genius that created the railway empire, Angus was an indispensable lieutenant. His banking experience brought administrative expertise to the syndicate. He had been memorialized in 1904 by the CPR, which named its new repair complex the Angus Shops in his honour. On the day of his funeral, 19 Sept. 1922, the CPR stopped all trains for two minutes – a symbolic gesture to one of its founding partners.
James Jerome Hill Reference Library (St Paul, Minn.), J. J. Hill papers (mfm. at LAC). LAC, MG 29, A28. Gazette (Montreal), 16, 19–20 Aug. 1879; 18 Sept. 1922. Globe, 3 May 1922. Montreal Daily Star, 18 Sept. 1922. Christopher Armstrong and H. V. Nelles, Monopoly's moment: the organization and regulation of Canadian utilities, 1830–1930 (Philadelphia, 1986). Bank of Montreal, Annual general meeting (Montreal), 1869–70, 1872, 1875, 1891–1900; List of stockholders of the Bank of Montreal . . . (Montreal), 1912. Pierre Berton, The last spike: the great railway, 1881–1885 (Toronto and Montreal, 1971). Michael Bliss, Northern enterprise: five centuries of Canadian business (Toronto, 1987). J. M. Brooke, Discerning tastes: Montreal collectors, 1880–1920 (exhibition catalogue, Montreal Museum of Fine Arts, 1989). Canada collects: European painting, 1860–1960 (exhibition catalogue, Montreal Museum of Fine Arts, 1960). Canadian Railway and Marine World (Toronto), October 1922. Merrill Denison, Canada's first bank: a history of the Bank of Montreal, (2v., Toronto and Montreal, 1966–67), 2. European paintings in Canadian collections, essay and ed. R. H. Hubbard (2v., Toronto, 1956–62), 1 (Earlier schools). R. B. Fleming, The railway king of Canada: Sir William Mackenzie, 1849–1923 (Vancouver, 1991). France Gagnon-Pratte, Country houses for Montrealers, 1892–1924: the architecture of E. and W. S. Maxwell (Montreal, 1987). Heather Gilbert, The life of Lord Mount Stephen . . . (2v., Aberdeen, Scot., 1965–77). Land to energy, 1882–1982, ed. C. S. Lee ([Calgary, 1982]). Gloria Lesser, "The homes, furnishings and collections of R. B. Angus (1831–1922)," in Living in style: fine furniture in Victorian Quebec, general ed. J. R. Porter (exhibition catalogue, Montreal Museum of Fine Arts, 1993). Albro Martin, James J. Hill and the opening of the northwest (New York, 1976; repr., intro. W. T. White, St Paul, 1991). Standard dict. of Canadian biog. (Roberts and Tunnell). B. J. Young, Promoters and politicians: the north-shore railways in the history of Quebec, 1854–85 (Toronto, 1978).
© 2005–2023 University of Toronto/Université Laval
Cite This Article
Alexander Reford, "ANGUS, RICHARD BLADWORTH," in Dictionary of Canadian Biography, vol. 15, University of Toronto/Université Laval, 2003–, accessed December 5, 2023, http://www.biographi.ca/en/bio/angus_richard_bladworth_15E.html.
The citation above shows the format for footnotes and endnotes according to the Chicago manual of style (16th edition). Information to be used in other citation formats:
| | |
| --- | --- |
| Permalink: | http://www.biographi.ca/en/bio/angus_richard_bladworth_15E.html |
| Author of Article: | Alexander Reford |
| Title of Article: | ANGUS, RICHARD BLADWORTH |
| Publication Name: | Dictionary of Canadian Biography, vol. 15 |
| Publisher: | University of Toronto/Université Laval |
| Year of publication: | 2005 |
| Year of revision: | 2005 |
| Access Date: | December 5, 2023 |