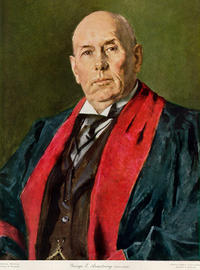 Source: Link
ARMSTRONG, GEORGE ELI, physician, surgeon, professor, and army officer; b. 5 June 1854, probably in Leeds (Kinnear's Mills), Lower Canada, son of John Armstrong, a Methodist minister, and Harriet Melissa Ives; m. first 25 June 1878 Mary Hadley (d. 23 June 1909) in Montreal, and they had one son and four daughters; m. secondly 5 Sept. 1917 Jessie Reid, a nurse, in Paddington (London); d. 25 May 1933 in Montreal.
In 1873 George Eli Armstrong was admitted to the faculty of medicine at McGill College, where he obtained his degree in 1877. After working as an attending physician to women in childbirth in 1878, he practised medicine at the Western Hospital of Montreal until 1890. During this period he took further training in England, France, and Germany. From 1890 he was a surgeon at the Montreal General Hospital until he was recruited by the Royal Victoria Hospital in 1911 to head its surgery department. He held this post until 1923, while also acting as surgical consultant for the Montreal General and the Protestant Hospital for the Insane in Verdun (Montreal) [see Thomas Joseph Workman Burgess*]. According to his colleagues, Armstrong distinguished himself in his surgical procedures by his close attention to the fine points of technique. He even excelled in the radical treatment of inguinal hernia and in gastroenterostomy – in his opinion, the two most difficult operations to learn – with the result that some people compared his surgical technique to a work of art. In many respects a pioneer, he was, for example, one of the first surgeons to intervene successfully in cases involving acute appendicitis, splenectomy owing to Banti's disease, intestinal perforation as a complication of typhoid, and massive haemorrhaging associated with gastric ulcers. In 1909 he did an internship in Paris at the Laboratoire Biologique du Radium. Moreover, he was among the first Canadian doctors to take an interest in the therapeutic use of this element [see William Henry Beaufort Aikins*].
In 1879 Armstrong entered the world of university education, a field in which he would work for more than 40 years. First he became a professor of anatomy in the faculty of medicine at Bishop's College in Montreal, teaching physiology from 1883 to 1891. Subsequently, he began a brilliant career at McGill University, initially as senior lecturer, then as assistant professor (1896), and finally as full professor of surgery (1907). After serving as dean of the faculty of medicine in 1922–23, he retired and received the title of professor emeritus. He was recognized by his students and colleagues for the quality of his clinical teaching, the rigour of his thinking, and his dedication to his patients.
Armstrong was actively involved in producing the Montreal Medical Journal, McGill University's medical and surgical review, which in 1911 became known as the Journal of the Canadian Medical Association. Between 1889 and 1922 he published numerous scientific articles in the periodical, and from 1895 to 1906 he was a member of the editorial committee. He also contributed to works on surgery issued in the United States for which he wrote chapters on surgery for infectious diseases, the pancreas, the tongue, and the salivary glands.
In November 1916, at the age of 62, Armstrong enrolled in the Canadian Army Medical Corps, which he left two years later. He obtained the rank of lieutenant-colonel and was posted to London. In 1917, in recognition of his wartime contribution, he was promoted colonel and made a cmg. That year he remarried, wedding Newfoundlander Jessie Reid. Born in 1881 in St John's, a city she left in 1907 to train as a nurse in Montreal, she had been with the same army corps as Armstrong since December 1916. Writing about his army experience in a 1917 letter addressed to the membership of the Canadian Medical Association, Armstrong noted: "On the whole, it is depressing to go through our hospitals [Canadian hospitals in England] day after day and week after week, observing the thousands of wounded many of them sadly mutilated. It brings home to one the cruelties of war, and when at leisure one thinks of the homes of these men – of their dependents, their father, mother, brothers, wives and children, sisters and lovers, and a feeling of horror comes over one, at least the writer."
Armstrong was elected president of the Montreal Medico-Chirurgical Society in 1889, the Canadian Medical Association in 1910, the American Surgical Association in 1914 (of which he had been an honorary member since 1901), and the American College of Surgeons in 1920. He was vice-president of the American Society for the Control of Cancer in 1923; he also belonged to the Société Internationale de Chirurgie and became an honorary member of the Royal College of Surgeons in Ireland in 1931. He received an honorary doctorate from Queen's University in Kingston, Ont. (1911), and from the University of Liverpool (1912). In 1922 the University of Dublin (also known as Trinity College) awarded him the title of magister in chirurgia.
​Recognized as one of the best surgeons of his time, George Eli Armstrong distinguished himself not only by his outstanding surgical skills, but also by the quality of his teaching and his participation in the Canadian Army Medical Corps during World War I.
George Eli Armstrong's most important works include: "Pancreas, surgical," in A reference handbook of the medical sciences, embracing the entire range of scientific and practical medicine and allied science, ed. A. H. Buck (2nd ed., 9v., New York, 1900–8), 6: 471–78; "Surgery of infectious diseases," in Surgery: its principles and practice, ed. W. W. Keen (8v., Philadelphia and London, 1906–21), 6: 993–1003; "Surgical diseases and wounds of the mouth, tongue, and salivary glands," in American practice of surgery: a complete system of the science of art of surgery …, ed. J. D. Bryant and A. H. Buck (8v., New York, 1906–11), 6: 221–312; "On the use of radium in Paris," Montreal Medical Journal, 38 (1909): 375–80; "Surgery and war," Annals of Surgery (Philadelphia), 62 (1915): 129–37; "The war," Canadian Medical Assoc., Journal (Toronto), 7 (1917): 747–50; and "The influence of the war on surgery, civil and military," Canadian Medical Assoc., Journal, 9 (1919): 396–405.
BANQ-CAM, CE601-S63, 27 May 1933; CE601-S101, 25 June 1909; CE601-S111, 25 June 1878. BANQ-E, CE501-S84, 4 Jan. 1855. LAC, "Soldiers of the First World War: 1914—1918": www.bac-lac.gc.ca/eng/discover/military-heritage/first-world-war/first-world-war-1914-1918-cef/Pages/canadian-expeditionary-force.aspx (consulted 29 March 2016). Le Devoir, 26 mai 1933. T. M. Butcher, A preliminary guide to the papers of George Eli Armstrong, m.d., accession no.2268 (Montreal, 1977). CanadaGenWeb, "NL GenWeb newspaper transcriptions": www.rootsweb.ancestry.com/~cannf/dailynews_marriages1917.htm ; www.rootsweb.ancestry.com/~cannf/dailynews_may1907.htm (consulted 16 Jan. 2017). Canadian Medical Assoc., Journal, 12 (1922): 682. Directory, Montreal, 1878–91. "FreeBMD": freebmd.org.uk (consulted 2 Feb. 2012). Joseph Hanaway and Richard Cruess, McGill medicine (2v., Montreal, 1996), 2. Prominent people of the province of Quebec, 1923–24 (Montreal, n.d.). C. G. Roland and Paul Potter, An annotated bibliography of Canadian medical periodicals, 1826–1975 ([Hamilton, Ont.], 1979). Neville Terry, The Royal Vic: the story of Montreal's Royal Victoria Hospital, 1894–1994 (Montreal, 1994).
© 2017–2023 University of Toronto/Université Laval
Cite This Article
Georges Desrosiers, "ARMSTRONG, GEORGE ELI," in Dictionary of Canadian Biography, vol. 16, University of Toronto/Université Laval, 2003–, accessed September 29, 2023, http://www.biographi.ca/en/bio/armstrong_george_eli_16E.html.
The citation above shows the format for footnotes and endnotes according to the Chicago manual of style (16th edition). Information to be used in other citation formats:
| | |
| --- | --- |
| Permalink: | http://www.biographi.ca/en/bio/armstrong_george_eli_16E.html |
| Author of Article: | Georges Desrosiers |
| Title of Article: | ARMSTRONG, GEORGE ELI |
| Publication Name: | Dictionary of Canadian Biography, vol. 16 |
| Publisher: | University of Toronto/Université Laval |
| Year of publication: | 2017 |
| Year of revision: | 2017 |
| Access Date: | September 29, 2023 |