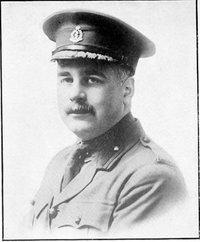 Source: Link
BELL, FREDERICK McKELVEY, physician, surgeon, author, militia and army officer, and civil servant; b. 10 April 1878 in Kingston, Ont., son of William Perry Bell and his second wife, Christina (Christiana) McKelvey; m. 31 Oct. 1900 Henrietta E. Casgrain in Williamstown, Ont., and they had two sons and one daughter; d. 6 Jan. 1931 in New York City and was buried in Kingston's Cataraqui Cemetery.
F. McKelvey Bell's paternal ancestors emigrated from Scotland to northern New York in the early 1770s and sided with the British during the American Revolutionary War. After the conflict ended, they settled in Fredericksburgh Township, Upper Canada, as United Empire Loyalists. They became prominent in local business, medicine, and politics. McKelvey's father, William, was a photographer, as was Robert Charles, one of the four sons from his first marriage, to Elizabeth Scott, who died in 1875. Another of McKelvey's half-brothers, John Henry, was a physician who would serve as mayor of Kingston from 1903 to 1904.
McKelvey Bell attended the Royal Military College of Canada in Kingston and began his medical training at nearby Queen's College in the fall of 1900. After obtaining his md three years later, he made the unusual choice to devote himself to prisoners and the poor, joining the public hospital that served them on Blackwell's (Roosevelt) Island, New York City, where he became a house surgeon and gynaecologist. Raised in the reformist spirit of the Methodist Church, Bell was drawn to the field of public health and social medicine. He returned to Kingston to write his licensing exams in the spring of 1904 and then completed his postgraduate education by following the conventional route of going abroad, studying in England, France, Germany, and Austria.
Back in Canada in the late fall of 1904, Bell established a practice in Ottawa and accepted a post as a surgeon at St Luke's Hospital. His early medical writings reveal him to be an attentive, careful, and reflective physician who was attracted to community service. He also took opportunities to promote himself and profit financially from his work. Like many young Canadian professionals, he joined the militia, becoming a lieutenant in the 5th (Princess Louise) Dragoon Guards in May 1907. An energetic young officer, he was made captain the following year and served in 1911 as treasurer of the Association of Medical Officers of the Canadian Militia. His connection with this national organization brought him to the attention of Guy Carleton Jones*, the director general of medical services in the Permanent Force. That year Bell was also elected president of the Ottawa Medical Society.
When the First World War broke out in August 1914, Bell, who was now 36 years old and had a wife and three children, promptly volunteered for the Canadian Expeditionary Force. He was given the rank of major, placed in the Canadian Army Medical Corps (CAMC), and appointed a surgeon with No.2 Canadian Stationary Hospital, under the command of Lieutenant-Colonel Adam Tozeland Shillington, a colleague from St Luke's. No.2 Stationary Hospital reached France in November, and Bell was thus one of the first Canadians to arrive at the Western Front. The hospital, a 300-bed surgical unit, was stationed in Le Touquet (Le Touquet-Paris-Plage) and later in Boulogne. Like Lieutenant-Colonel George Eli Armstrong, also serving in the CAMC, Bell was moved to record what he saw in army hospitals. In a 1915 article about the treatment of soldiers afflicted with gangrene, published in the British Medical Journal, his concern for the men is obvious and his descriptions are vivid. The injured soldiers, and those who cared for them, inspired Bell to write The first Canadians in France, a fictionalized narrative account of his time overseas, after he returned home.
Bell's efficiency and organizational expertise singled him out, and in January 1916 Jones selected him as acting deputy at the CAMC headquarters in Ottawa. Promoted temporary lieutenant-colonel that spring, Bell had an exclusively administrative role in the capital. He proved an effective staff officer, and in May 1917 he was made full lieutenant-colonel and sent to Halifax to serve as the assistant director of medical services for Military District No.6, which was under the command of François-Louis Lessard*. From there Bell supervised several dozen medical units and hospitals in the Maritime provinces. When the munitions ship Mont Blanc exploded in Halifax Harbour on 6 December, he organized and oversaw the medical response. He quickly formed a committee to coordinate relief efforts, mandated the daily reporting and tracking of cases at both formal and improvised treatment centres, and arranged for the triaging and transportation of the injured to a network of hospitals. The editors of the Canadian Medical Association's Journal noted in 1918 that "on all hands it is admitted that confusion in matters medical was reduced to a minimum by the clear-headed manner in which the situation was handled by Lieutenant Colonel McKelvey Bell." The following year Bell would publish a novella titled A romance of the Halifax disaster.
In February 1918 the Union government of Prime Minister Sir Robert Laird Borden created the Department of Soldiers' Civil Re-establishment (DSCR) to manage the demobilization, retraining, and medical care of veterans. Bell was a natural choice to become the department's director of medical services. The post was appealing because it gave him an opportunity to go back to public medicine and entailed a promotion and more responsibility. Bell looked on returned men with compassion, telling the Alberta Medical Association that the federal government could not expect them to simply "settle down to the humdrum existence of civil life" without significant state assistance. Much to his disappointment, the DSCR, headed by Sir James Alexander Lougheed*, became known for the cold way in which it approached the medical treatment and pensioning of veterans. Bell came into conflict with Lougheed over his salary, the way that the department was carrying out its mission, and his inability to make appointments and develop policies free from ministerial interference. Lougheed, writing to Borden, accused Bell of careerism and filing improper expense claims. Bell submitted his resignation on 6 June 1919, stating, "I deeply regret being obliged to dissociate myself from the medical work in connection with the returned soldiers, but the utter lack of sympathy under which the medical branch of this Department has been obliged to proceed, has militated against absolute efficiency."
McKelvey Bell settled his affairs in Ottawa and in August 1919 moved his family to New York City. There he returned to gynaecology and social medicine, taking up a position at the New York Polyclinic Medical School and Hospital, which provided free medical care to impoverished immigrants. He died there of cancer in January 1931, at the age of 52.
Frederick McKelvey Bell is the author of two books, The first Canadians in France: the chronicle of a military hospital in the war zone (Toronto, 1917) and A romance of the Halifax disaster (Halifax, 1918). He also published medical articles, including "College idols shattered," Queen's Medical Quarterly (Kingston, Ont.), new ser., 2 (1905): 209–13; "Gonorrhoea and some of its complications," Queen's Medical Quarterly, new ser., 4 (1907): 262–68; "The cure of syphilis," Montreal Medical Journal, 39 (1910): 800–5; "Experiments with bismuth pastes," American Medical Assoc., Journal (Chicago), 58 (January–June 1912): 1339–41; "Bismuth paste in acute suppurations," American Medical Assoc., Journal, 58: 1873–74; "Malignant oedema," British Medical Journal (London), 15 May 1915: 843; "Bloodless operation for haemorrhoids and prolapsus ani," British Medical Journal, 18 March 1916: 415; "Effects of wet and cold: trench feet," Canadian Medical Assoc., Journal (Toronto), 6 (1916): 289–94; "Medical services of the Department of Soldiers' Civil Re-establishment," Canadian Medical Assoc., Journal, 9 (1919): 34–40; "Rupture of large multilocular ovarian cyst," American Medical Assoc., Journal, 81 (July–December 1923): 92–93; and "Some aspects of post-operative treatment in gynecological and abdominal surgery," Canadian Medical Assoc., Journal, 14 (1924): 803–7.
The Central registry files of Veteran Affairs, held at LAC (RG38, 2001-01152-2), contain boxes of records pertaining to the 1918–19 operations of the Department of Soldiers' Civil Re-establishment; they are organized by subject and comprise internal letters, memos, and telegrams written by Bell. Also at LAC, the Military district records (RG24-C-8, vols.4547–50) include files of the assistant director of medical services for Military District no.6, which document Bell's career in Halifax, especially during and immediately after the explosion; some of his reports can be found at LAC, RG24-C-1-a, vol.6359, file, pt.1 (Medical services, Halifax explosion).
AO, RG 80-5-0-284, no.015314. LAC, Census returns for the 1911 Canadian census, Ont., dist. Ottawa (105), subdist. Wellington Ward (51): 37; R233-30-3, vols.49–157, Can. West, dist. Addington (1), subdist. Camden East (2): 155; R233-34-0, Ont., dist. Frontenac (65), subdist. Kingston (A), div. 4: 7; R233-35-2, Ont., dist. Kingston (116), subdist. Rideau Ward (B): 85; R233-36-4, Ont., dist. Kingston (80), subdist. Rideau Ward (D): 18; R233-37-6, Ont., dist. Kingston (77), subdist. Ont. Ward (C), div. 2: 10; MG26-H, vol.142, F. McK Bell to Sir Robert L. Borden, 6 June 1919 (heritage.canadiana.ca/view/oocihm.lac_reel_c4359, image 412); RG9-III-D-3 (War diaries – 2nd Canadian Stationary Hospital), vol.5033, file pt.1; RG150, acc. 1992–93/166, box 611-48. U.S., National Arch. and Records Administration (Washington), Petitions for naturalization from the U.S. Dist. Court for the Southern Dist. of New York, 1897–1944, no.82767. J. G. Adami, War story of the Canadian Army Medical Corps (London, [1918]). J. G. Armstrong, The Halifax explosion and the Royal Canadian Navy: inquiry and intrigue (Vancouver, 2002). Can., Dept. of Militia and Defence, Militia list (Ottawa), 1907–19; Invalided Soldiers' Commission, Report (Ottawa, 1918). Directory, Kingston, 1897/98. "Frederick McKelvey Bell," New York Academy of Medicine, Bull., 7 (1931): 69. J. F. Kitz, Shattered city: the Halifax explosion and the road to recovery (3rd ed., Halifax, 2008). "Lieut. Col. F. McKelvey Bell," Canadian Medical Assoc., Journal, 24 (January–June 1931): 324–25. Sir Andrew Macphail, Official history of the Canadian forces in the Great War, 1914–19: the medical services (Ottawa, 1925). Sir W. G. MacPherson and T. J. Mitchell, Medical services: general history (4v., London, 1921–24), 2. Desmond Morton and Glenn Wright, Winning the second battle: Canadian veterans and the return to civilian life, 1915–1930 (Toronto, 1987).
© 2023– University of Toronto/Université Laval
Image Gallery

Cite This Article
Mark Osborne Humphries, "BELL, FREDERICK McKELVEY," in Dictionary of Canadian Biography, vol. 16, University of Toronto/Université Laval, 2003–, accessed September 30, 2023, http://www.biographi.ca/en/bio/bell_frederick_mckelvey_16E.html.
The citation above shows the format for footnotes and endnotes according to the Chicago manual of style (16th edition). Information to be used in other citation formats:
| | |
| --- | --- |
| Permalink: | http://www.biographi.ca/en/bio/bell_frederick_mckelvey_16E.html |
| Author of Article: | Mark Osborne Humphries |
| Title of Article: | BELL, FREDERICK McKELVEY |
| Publication Name: | Dictionary of Canadian Biography, vol. 16 |
| Publisher: | University of Toronto/Université Laval |
| Year of publication: | 2023 |
| Year of revision: | 2023 |
| Access Date: | September 30, 2023 |