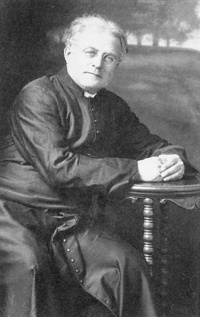 Source: Courtesy of Wikimedia Commons
ARSENAULT, PIERRE-PAUL (baptized Peter Arseneaux), Roman Catholic priest, educator, farmer, and folklorist; b. 18 May 1867 in Tignish, P.E.I., son of Sylvain Arsenault and Tharsile Bernard, d. 22 Nov. 1927 in Mont-Carmel, P.E.I.
Pierre-Paul Arsenault was one of the prime movers of the Acadian community in Prince Edward Island early in the 20th century. One of ten children in a family of modest means, he grew up on a small farm and attended the local school. In 1884, through a bursary established in 1877 by Father Sylvain-Éphrem Perrey*, he was able to enrol at the Collège Saint-Joseph in Memramcook, N.B. While there, he distinguished himself not only by academic brilliance, but also by participation in sports and cultural activities. He was in turn treasurer, president, and secretary of the Société Saint-Jean-Baptiste, which promoted French language and culture within the bilingual institution. Having completed the classical program in 1889, he stayed on at the college, teaching and studying theology. He finished his theological course at the Grand Séminaire de Québec, where he was ordained on 5 Nov. 1893.
Immediately after his ordination, Arsenault returned to his native parish, where he remained for nearly a year as assistant priest. He then moved to St Dunstan's parish in Charlottetown; his service as assistant priest there lasted until October 1896, when he was appointed curé of the small Acadian parish of Notre-Dame-du-Mont-Carmel. He held this charge for the rest of his life. Because of his appealing and dynamic personality, he soon succeeded in bringing the parishioners together and carrying out major projects, including the erection of one of the most remarkable churches in the province, a neo-gothic structure designed by Quebec architect René-Pamphile Lemay.
Like many parish priests of the day, Arsenault worked a farm where he put into practice the best techniques of the day, and it served as a model for the farmers of his parish. To promote the agricultural movement, Arsenault also took part in local organizations. He played a key role, for example, in setting up the Prince Edward Island Co-operative Egg and Poultry Association in 1914, and was its first president. This cooperative, which brought together the many Egg Circles throughout the Island, sought to maintain the quality of the produce and to obtain a good price for its members, for whom the sale of eggs represented an important supplementary income.
The causes dearest to Father Arsenault's heart were education for Acadians and promotion of the French language. At the local level, he ensured that the schools were well run and he personally helped the most promising students prepare for the provincial Board of Education examinations and continue their studies at college. In 1900 he set up a library of French books and, in order to emphasize the importance of speaking the language well, he produced plays.
Arsenault also was active as an educator within the Association des Instituteurs Acadiens de l'Île-du-Prince-Édouard [see Joseph-Octave Arsenault*]. From 1897 to 1927 he took part in its annual conventions, in particular by giving lectures on teaching methods, the benefits of reading, the art of public speaking, and the importance of having a thorough grasp of Acadian and Canadian history. Several times he served on its committee for choosing school textbooks in French, which then had to be submitted to the Board of Education for approval.
Father Arsenault is said to have been the chief founder of the Société Saint-Thomas d'Aquin, which was established in 1919 on the occasion of the annual convention of the Association des Instituteurs Acadiens. The new organization's primary aim was to raise money for promising candidates to study at college or university. Arsenault served as vice-president (1919–20) and president (1920–25) of this society, which played a preponderant role for the Island's Acadian and francophone community, becoming its chief institutional voice.
As a student at the Collège Saint-Joseph, Arsenault had associated with a few professors who were trying to make the history of the Acadians better known and who advocated the preservation of their oral and material heritage. One of these was Father Philéas-Frédéric Bourgeois*. It was probably through his influence that Father Arsenault, with the help of Father Théodore Gallant, a musician, collected traditional songs from older people in the Acadian community, including versions from the French repertoire as well as local compositions. These 130 pieces constitute the earliest collection of Acadian folksongs. In 1924 Senator Pascal Poirier*, to whom Arsenault had given his collection, turned it over to Marius Barbeau* of the Victoria Memorial Museum in Ottawa.
Arsenault also drew up the genealogies of the founding families of the parish of Notre-Dame-du-Mont-Carmel and published them in 1912. He preserved a number of farm implements and domestic appliances which are now part of the collection of the Acadian Museum of Prince Edward Island at Miscouche.
Pierre-Paul Arsenault's health had been deteriorating for several years and he died at the age of 60. An enlightened leader and pragmatist with widely varied interests, he was one of the outstanding leaders of the Acadian community in Prince Edward Island. With his engaging personality, he was able to win the respect and admiration not only of his compatriots, but of all Islanders. The Summerside Pioneer, announcing his death on its front page, commented, "The whole province has sustained a heavy loss." In the Mount Carmel cemetery, where he was buried, parishioners erected a magnificent monument in the form of a chapel, a fitting memorial for this man "of far-ranging and lofty ideas."
The manuscript of Pierre-Paul Arsenault's collection of Acadian folk songs is held by the Canadian Museum of Civilization, Canadian Centre for Folk Culture Studies, Hull, Que. Arsenault is the author of Premier centenaire de la paroisse de Mont Carmel, Île du Prince Édouard, le 20 août, 1912 ([Moncton, N.-B., 1912?]).
Arch. paroissiales, Saint-Simon et Saint-Jude (Tignish, Î.-P.-É.), RBMS, 26 mai 1867. L'Évangéline (Moncton), 7 août 1912, 16 janv. 1919, 3 oct. 1921, 1 déc. 1927, 25 mars 1963. Examiner (Charlottetown), 24 June 1886; 30 March, 25 July 1899; 20 Jan. 1904. L'Impartial (Tignish), 2, 23 nov. 1893; 8 févr., 1 mars, 29 nov. 1900; 9 juill. 1903; 31 mai 1906, 7 févr. 1907; 23 mai 1911. Le Moniteur acadien (Shédiac, N.-B.), 23 août 1889, 10 août 1897. Pioneer (Summerside, P.E.I.), 26 Nov. 1927. Georges Arsenault, "Le père Pierre-Paul Arsenault: un pionnier en folklore acadien," Canadian Folklore (Nepean, Ont.), 18 (1996): 95–107; the same article also appeared in Soc. Hist. Acadienne, Cahiers (Moncton), 27 (1996): 19–32. J.-H. Blanchard, Les Acadiens de l'Île-du-Prince-Édouard (Charlottetown, 1956). Cécile Gallant, Pierre-Paul Arsenault (1866–1927) (Moncton, 1992). Ronald Labelle, "Philias-Frédéric Bourgeois: précurseur de l'ethnologie acadienne," Francophonies d'Amérique (Ottawa), no.2 (1992): 5–11. Ronnie LeBlanc, "Philias Bourgeois, historien acadien," Soc. Hist. Acadienne, Cahiers, 5 (1973–74): 55–67. David Le Gallant, Histoire des Acadiens de Mont-Carmel ([Summerside], 1998). Livre-souvenir: soixante-quinze années de courage et de persévérance, 1919–1994; la Société Saint-Thomas-d'Aquin, société acadienne de l'Île-du-Prince-Édouard, Georges Arsenault et Jacinthe Laforest, édit. ([Summerside], 1994). La Petite Souvenance (Wellington, Î.-P.-É.), no.6 (décembre 1981), numéro spécial consacré au père Arsenault. G. F. Robichaud, "The career of Father Pierre-Paul Arsenault, 1896–1927" (ba thesis, Univ. of P.E.I., Charlottetown, 1984).
© 2005–2023 University of Toronto/Université Laval
Image Gallery

Cite This Article
Georges Arsenault, "ARSENAULT, PIERRE-PAUL," in Dictionary of Canadian Biography, vol. 15, University of Toronto/Université Laval, 2003–, accessed December 3, 2023, http://www.biographi.ca/en/bio/arsenault_pierre_paul_15E.html.
The citation above shows the format for footnotes and endnotes according to the Chicago manual of style (16th edition). Information to be used in other citation formats:
| | |
| --- | --- |
| Permalink: | http://www.biographi.ca/en/bio/arsenault_pierre_paul_15E.html |
| Author of Article: | Georges Arsenault |
| Title of Article: | ARSENAULT, PIERRE-PAUL |
| Publication Name: | Dictionary of Canadian Biography, vol. 15 |
| Publisher: | University of Toronto/Université Laval |
| Year of publication: | 2005 |
| Year of revision: | 2005 |
| Access Date: | December 3, 2023 |