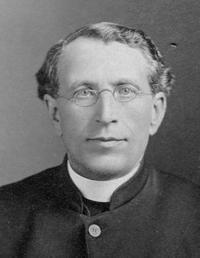 Source: Courtesy of Wikimedia Commons
BOURGEOIS, PHILÉAS (Philias)-FRÉDÉRIC, Roman Catholic priest, professor, and author; b. 17 Nov. 1855 in the parish of Pré-d'en-Haut, N.B., only son of Frédéric-S. Bourgeois and Osithe Boudreau; d. 3 April 1913 in Memramcook, N.B.
Philéas-Frédéric Bourgeois was born a century after the deportation of the Acadians. A proud descendant of those Acadians, he was to become one of their most zealous defenders. He finished his elementary schooling in his native parish, and in 1865, like his classmate André-T. Bourque, he enrolled in the College of St Joseph at Memramcook, which had opened just the year before under the direction of the Holy Cross Fathers [see Camille Lefebvre*]. In 1873, his studies completed, he entered the noviciate of the Congregation of Holy Cross in Saint-Laurent, near Montreal. He taught for two years at the Collège Notre-Dame in Côte-des-Neiges (Montreal), while doing his twelve months as a novice and taking courses in theology. In 1875 he returned to St Joseph's, where until 1880 he taught Belles-Lettres and Rhetoric, the fifth and sixth forms in the classical program.
Meanwhile, Bourgeois had been ordained to the priesthood in Moncton, N.B., in 1879. The following year, he was chosen to represent the Acadians at the Convention Nationale des Canadiens Français in Quebec City. In 1881 he presented the report on education in the Maritime provinces to the first Convention Nationale des Acadiens, in Memramcook [see François-Xavier Cormier*]. He completed his ma at the Université Laval the following year. Since 1880 Bourgeois had been eager to affiliate the College of St Joseph to the university. Having encountered strong opposition from some of his faculty colleagues, that year he had moved to the Collège de Saint-Césaire in the province of Quebec. In the spring of 1881 he resumed teaching at St Joseph's.
The future seemed bright for young Father Bourgeois, but in 1882 he had to leave the Congregation of Holy Cross to help his parents, who were struggling with serious financial difficulties. In his quest for employment, he went through a period of wandering and instability. He served first as curate in Manchester, N.H., became curé of Main-à-Dieu and Louisbourg in Cape Breton in 1883, and from 1886 to 1889 had pastoral charge of Havre Boucher on the Nova Scotian mainland. Then, after teaching for a few months at St Joseph's, he decided to take a year off, during which he was involved in publishing L'Évangéline illustrée, a special edition of the Acadian newspaper L'Évangéline. In 1891, while travelling for six months in the United States and Europe, he sent his travel diary, written under the pseudonym Viator, to Le Moniteur acadien and L'Évangéline.
On his return to Canada, Bourgeois withdrew to the residence of the Trappist monastery in Tracadie, N.S. In the summer of 1891 he joined the Eudists and began teaching at the Collège Sainte-Anne, founded the previous year at Church Point, N.S. [see Gustave Blanche], where he helped develop the curriculum. His efforts to get the college incorporated led to its securing the authority to grant university diplomas. In December 1893, however, he returned to the College of St Joseph, where he again taught Belles-Lettres and Rhetoric, as an auxiliary priest. From the autumn of 1896 until the spring of 1898, in addition to teaching, he served as an editor at L'Évangéline.
At the end of 1898, after five years at St Joseph's, Bourgeois went to the Trappist monastery in Oka, Que. He stayed there until 1900, when he was readmitted to the Congregation of Holy Cross and became a professor at the Collège Notre-Dame. In 1902 he went back to the College of St Joseph, where he spent most of his time, except for a stay at the Asile Saint-Benoît-Joseph Labre in Longue-Pointe (Montreal) in 1907–8. He returned to St Joseph's in 1908, but left in 1911 for reasons of health and went to Montreal, where he helped organize the Annales de Saint-Joseph [see Georges-Auguste Dion]. A few months later, in February 1912, he suffered a severe attack of jaundice. Feeling the end was near, he returned to Memramcook, where he died on 3 April 1913.
In the course of his career as a professor and curé, Father Bourgeois wrote a great deal. He became famous first as a lecturer and later as a journalist and historian. He was the author of some 150 newspaper and magazine articles and a dozen books and pamphlets, mostly dealing with Acadian history: the deportation of the Acadians, the fall of Louisbourg, Abbé Jean-Mandé Sigogne*, Henry Wadsworth Longfellow and his poem Evangeline, and the early missionaries in Acadia. Bourgeois also wrote school textbooks, including a history of Canada adapted to the needs of Acadian schools. In addition he is credited with writing the first Acadian ethnological study, on a series of apparitions that occurred at Scoudouc, N.B., in 1896. At the time he became ill with jaundice, he was working on a biography of Abbé François-Xavier-Stanislas Lafrance*, which with the assistance of his good friend Placide Gaudet* would be published after his death. This posthumous work is the crowning achievement of Bourgeois's literary career. He paints a striking picture not only of Lafrance's life and of his work in Acadia, but also of the history and customs of the Acadians in 19th-century New Brunswick.
Despite his frequent moves and his unsettled life, marked by an instability that some attribute to excessive drinking, Philéas-Frédéric Bourgeois left the Acadians a legacy of writing that has helped to make them better understood both at home and abroad.
A detailed bibliography of Bourgeois's writings is provided in Mère Saint-Marc Bédard, "Bibliographie analytique de l'œuvre du r. père Philias F. Bourgeois de la Congrégation de Sainte-Croix; précédée d'une biographie" (thèse de diplôme, univ. Laval, Québec, 1964); a typescript copy, produced at Saint-Léonard, N.-B., in the same year, is available at the Bibliothèque de l'Univ. de Moncton, N.-B. Entries for his monographs appear in Centre d'Études Acadiennes, Univ. de Moncton, Inventaire général des sources documentaires sur les Acadiens (3v., Moncton, 1975–77), 2, and there is a partial listing of his newspaper articles in the author's article, "Philias Bourgeois, historien acadien," Soc. Hist. Acadienne, Cahiers (Moncton), 5 (1973–74): 55–67.
Centre d'Études Acadiennes, Fonds P.[-F.] Bourgeois, esp. 13.2–11. Le Moniteur acadien, 10 avril 1913. Mère Saint-Marc Bédard, "Le rév. père Philias F. Bourgeois, c.s.c.," Soc. Hist. Acadienne, Cahiers, [1], no.10 (1966): 5–22. Sylvie Houle-Rhéaume, "Idéologie du père Philias-Frédéric Bourgeois, c.s.c.," Soc. Hist. Acadienne, Cahiers, 11 (1980): 340–66. Ronald Labelle, "Philias-Frédéric Bourgeois: précurseur de l'ethnologie acadienne," Francophonie d'Amérique (Ottawa), no.2 (1992): 5–11. Marguerite Maillet, "Acadian literature in New Brunswick," New Brunswick (Fredericton), 10 (1985), no.2: 8–11. Soc. Hist. du Madawaska, Rev. (Edmundston, N.-B.), 12 (1984), no.4: 53.
© 1998–2023 University of Toronto/Université Laval
Image Gallery

Cite This Article
Ronnie-Gilles LeBlanc, "BOURGEOIS, PHILÉAS-FRÉDÉRIC," in Dictionary of Canadian Biography, vol. 14, University of Toronto/Université Laval, 2003–, accessed December 8, 2023, http://www.biographi.ca/en/bio/bourgeois_phileas_frederic_14E.html.
The citation above shows the format for footnotes and endnotes according to the Chicago manual of style (16th edition). Information to be used in other citation formats:
| | |
| --- | --- |
| Permalink: | http://www.biographi.ca/en/bio/bourgeois_phileas_frederic_14E.html |
| Author of Article: | Ronnie-Gilles LeBlanc |
| Title of Article: | BOURGEOIS, PHILÉAS-FRÉDÉRIC |
| Publication Name: | Dictionary of Canadian Biography, vol. 14 |
| Publisher: | University of Toronto/Université Laval |
| Year of publication: | 1998 |
| Year of revision: | 1998 |
| Access Date: | December 8, 2023 |