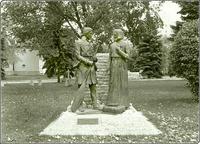 Source: Link
AULNEAU (de La Touche), JEAN-PIERRE, priest, Jesuit; baptized 21 April 1705 at Moutiers-sur-le-Lay (department of Vendée), son of Pierre Aulneau de La Touche, a merchant, and Anne de Grange; d. 6 June 1736.
Father Aulneau was the eldest of a family of 11 children. One of his brothers was a Jesuit; another, Michel, was a Sulpician; a sister was a nun at Fontenay. He studied at the seminary of Luçon; on 12 Dec. 1720 he entered the noviciate at Bordeaux. He studied philosophy at Pau (1722–25), where he taught for a year, and he was a teacher in La Rochelle (1726–28) and in Poitiers (1728–30). He studied theology in Poitiers (1730–34). On 12 Aug 1734, already a priest, he landed at Quebec after a difficult crossing on the Ruby. On 15 August he was laid low by the illness that had wrought havoc on the ship, and on two occasions he was near death. When he had recovered his health, he prepared for his theological examinations at the Jesuit college in Quebec and passed them during Lent the following year.
Father Aulneau was assigned to accompany those who were searching for the western sea, towards which La Vérendrye [Gaultier*] had begun to make his way. He was instructed to search out "new natives never seen before." He was averse to leaving without the help of another priest, but he set out at the beginning of June 1735 to join La Vérendrye at Montreal. After spending two weeks at Sault-Saint-Louis with his friend, Father François Nau, he left Montreal on 21 June with the explorer. On 27 July he left Michilimackinac after an eight-day halt. Three hundred leagues of the journey were to a great extent covered in the midst of smoke and flames from a forest fire that had been lit by indigenous people. On 23 October they finally landed at Fort Saint-Charles, which had been built in 1732. The post stood on the west shore of Lake of the Woods, in Cree country. The Assiniboin occupied another part of the same lake.
Father Aulneau was supposed to go on with the Assiniboin until they reached the Kaotiouaks or Ouantchipouanes, later called the Mandan, an indigenous people who were still unknown to the French. Said to be sedentary, they lived 250 leagues farther west, grew corn, owned horses, and hunted the buffalo. The Jesuit was supposed to learn their language and supply information concerning them.
In the spring of 1736 La Vérendrye sent his eldest son, Jean-Baptiste [Gaultier], to Michilimackinac with 19 men to get supplies. Father Aulneau went with them, to visit Father Saint-Pé*. On the first evening of their trip, 5 June 1736, the party stopped for the night on an island in Lake of the Woods. A party of Lakota, Dakota, and Ojibwe surprised them early the next day. They were all slain and decapitated, presumably in retaliation for the breaking of the French alliance with the Dakota. The bodies were found on 20 June, and on 17 September La Vérendrye had those of his son and the missionary, along with the heads of the others, sent to the chapel of Fort Saint-Charles, where they were buried the next day. This disaster put an end to the project of a mission to the Mandan.
This gruesome episode inspired many stories that contributed to the mythologizing of Father Aulneau. At the end of the 19th century there was a search for his burial site, and remains thought to belong to the expedition's members were discovered in 1908. The Aulneau–La Vérendrye memorial, containing what remained of the bones, was erected in 1976 in the St Boniface cathedral cemetery in Winnipeg.
"Lettres du père Aulneau," APQ Rapport, 1926–27, 259–330. Le Jeune, Dictionnaire, I, 98f.; II, 112–16. Rochemonteix, Les Jésuites et la N.-F. au XVIIIe siècle, I, 212–25. Paul Desjardins, "Le projet de mission du Père Aulneau chez les Mandanes," SCHEC Rapport, 1948–49, 55–69.
Bibliography for the revised version:
Arch. départementales, Vendée (La Roche-sur-Yon, France), "État civil," Moutiers-sur-le-Lay, 30 août 1703, 21 avril 1705, 3 juill. 1706, 27 oct. 1708, 15 déc. 1709, 14 févr. 1711, 15 févr. 1712, 16 août 1713, 24 oct. 1714, 20 févr. 1716, 30 juin 1717, 27 sept. 1718: etatcivil-archives.vendee.fr/f/etatcivil/tableau/? (consulted 8 Sept. 2021). La Liberté (Saint-Boniface), 3 juin 1976. Journals and letters of La Vérendrye (Burpee). Bill Moreau, "The death of Père Aulneau, 1736: the development of myth in the northwest," CCHA, Hist. studies, 69 (2003): 52–63.
© 1969–2023 University of Toronto/Université Laval
Cite This Article
Lucien Campeau, "AULNEAU (de La Touche), JEAN-PIERRE," in Dictionary of Canadian Biography, vol. 2, University of Toronto/Université Laval, 2003–, accessed June 4, 2023, http://www.biographi.ca/en/bio/aulneau_jean_pierre_2E.html.
The citation above shows the format for footnotes and endnotes according to the Chicago manual of style (16th edition). Information to be used in other citation formats:
| | |
| --- | --- |
| Permalink: | http://www.biographi.ca/en/bio/aulneau_jean_pierre_2E.html |
| Author of Article: | Lucien Campeau |
| Title of Article: | AULNEAU (de La Touche), JEAN-PIERRE |
| Publication Name: | Dictionary of Canadian Biography, vol. 2 |
| Publisher: | University of Toronto/Université Laval |
| Year of publication: | 1969 |
| Year of revision: | 2022 |
| Access Date: | June 4, 2023 |