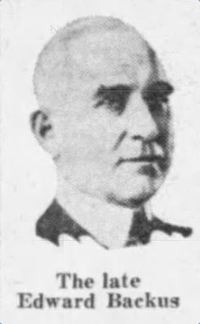 Source: Link
Backus, Edward Wellington, bookkeeper, lumberman, manufacturer, and industrialist; b. probably on 1 Dec. 1861 in Jamestown, N.Y., son of Abel Backus, a stonemason, and Anna Anderson; m. c. 1888 Elizabeth Horr in Minneapolis, Minn., and they had two sons, one of whom predeceased him; d. 29 Oct. 1934 in New York City.
When Edward Wellington Backus was two years old his family moved to Minnesota. Having settled initially in Red Wing, they soon went to Featherstone Prairie, where his father took up farming. Educated in local schools, he entered the University of Minnesota in Minneapolis in 1878. He chose a scientific course of study and attended off and on for the next four years as his finances permitted; in 1882 he left without graduating, which was said to be one of his greatest disappointments. With just $5 to his name, as he told the story, Backus looked for work in flour or lumber milling, then practically the only two industries in the region. It was in the latter that he would find an opportunity. That summer he started as a bookkeeper for Lee and McCulloch. The following year he was a partner in the firm, and by early 1884 he would be the sole owner of what was now known as E. W. Backus and Company.
After a fire in 1893 wiped out two of his sawmills and much of his equipment, Backus set out not only to rebuild but to establish an empire. In 1894 he acquired significant timber holdings in the northern part of the state. By the end of the decade his mills were producing nearly 100 million board feet of lumber annually and he had purchased a railway in Minnesota. Backus, who wanted to expand further, claimed that he had walked 200 miles through deep snow one winter to explore timber possibilities. Arriving at a Hudson's Bay Company trading post near what is now Fort Frances, Ont., on the Rainy River that forms the boundary with Minnesota, he "viewed the wonderful waterfalls … and decided to do some constructive pioneering." Driven by an extraordinary entrepreneurial spirit, he began assembling a fully integrated forest-products firm, exploiting the natural bounty of northern Minnesota and northwestern Ontario. Using the hydroelectric power of the region's waterways, his sawmills processed large-dimension softwoods into lumber, his pulp and paper mills converted small-diameter spruce into newsprint, and later his plants would turn waste-wood fibre into Insulite, a type of insulation board. To transport the raw materials and the finished goods, Backus and a few of his associates set up a railway, which by 1907 stretched from Brainerd, Minn., to International Falls, across the border from Fort Frances. By this time, with Senator William Frederick Brooks of Minneapolis, he had formed Backus-Brooks, a holding company for his many current and future subsidiaries, which included the Minnesota and Ontario Paper Company.
Backus quickly learned that access to Ontario's natural resources depended upon having good relations with the provincial government, and occasionally he achieved this goal. By early 1905 George William Ross*'s Liberals granted him the right to develop water power on the Ontario side of the Rainy River and promised to provide him with timber limits. The latter pledge was not fulfilled before the election in January that year, which brought the Conservatives, under James Pliny Whitney*, into office. The Tories, who would control the Legislative Assembly until 1919, generally refused to assist Backus in his industrial designs. When Backus's newsprint mill in Fort Frances became operational, on the eve of World War I, it was without the benefit of a crown pulpwood concession to support the venture. As a result, he was forced to import his timber from Minnesota or purchase it from local settlers. George Howard Ferguson*, minister of lands, forests, and mines under William Howard Hearst*, proved especially unwilling to facilitate the ambitions of Backus and a few other pulp and paper makers. Ferguson's loyalties lay instead with local lumbermen and settlers, whose ability to market the pulpwood they harvested would have been hindered if he had provided a company with exclusive access to a perpetual supply of spruce. The electoral victory of the upstart United Farmers of Ontario in 1919 gave Backus a new opportunity. Aided by Peter Heenan, the Labour mla for Kenora whose backing Ernest Charles Drury*'s minority government required to remain in office, Backus acquired several pulpwood limits to feed the two newsprint mills he would build in Kenora and Fort William (Thunder Bay) in the 1920s.
The return to power of the Conservatives under Ferguson in 1923 signalled the beginning of a marked downturn in Backus's fortunes. The premier and his party owed much of their phoenix-like recovery in the early 1920s to their discrediting of the Drury administration, which was condemned explicitly for its dealings with Backus. After the election the Conservatives continued to cast him as the personification of the sinister industrialist and Ferguson as the only leader who could stand up to and rein in such malevolent forces. The smear campaign included accusations by a Conservative mla, Alexander Cameron Lewis, that Backus was involved in the death of a young timber contractor in 1921. This charge and others were shown to be groundless, but the industrialist's reputation had already been dragged through the mud. Backus fell into further disfavour because of his insistence upon competing against the International Paper Company, a newsprint colossus to which the premier proved deeply loyal. Ferguson rejected nearly all of Backus's requests for water power and timber leases during the mid to late 1920s while doling out lucrative hydroelectric contracts and prime tracts of spruce pulpwood to International Paper; the pulpwood acquisitions were particularly troubling since the firm did not even own a newsprint mill in the province. The government also blocked Backus's efforts to develop the hydroelectric potential of the Rainy Lake watershed. In doing so, the premier tacitly aligned himself – perhaps for the only time in his political career – with groups concerned about the environmental impact of industrial development, such as the Quetico-Superior Council led by Ernest Carl Oberholtzer. Backus's proposal to raise the level of Lake of the Woods was referred to the International Joint Commission [see Sir George Christie Gibbons*], and although it would rule in his favour in 1934, by then it would be too late for him to realize his designs.
Undeniably, Backus's single-minded determination to carve out an industrial empire in the intensely political world of Canadian natural-resource development spawned criticism from his rivals during his lifetime and historians thereafter. When in 1920 he applied to obtain timber limits and power-development rights to support his Kenora operations, a group of Ontario newspaper publishers denounced the bid. The Toronto Globe reprinted their petition to the government, in which they demanded that no further timber concessions be given to Backus, who, they alleged, had not satisfied the terms of earlier deals. In August of that year Backus was sued for damages after one of his dams was said to have flooded the Indian reserve at Pithers Point; similar actions had been brought against him south of the border. Yet a careful review shows that many charges were self-serving or based on limited evidence. While the Liberal and United Farmers governments were sympathetic to Backus, the Conservatives, who held office during a significant part of his career, thwarted his plans at practically every turn. Yet former local mla James Arthur Mathieu, an iconic lumberman in the Rainy River area and a grudging admirer of Backus's, was able to acquire a string of timber licences while they were in power under terms so generous that they later drew scathing criticism from the timber commission of 1921–22, chaired by William Renwick Riddell* and Francis Robert Latchford. For their part, historians have generally depicted Backus as a business tyrant known for greasing the palms of politicians of all stripes. The accusations, however, are based upon allegations from Backus's rivals – for example, Mathieu would later say that his competitor was "able to use politicians irrespective of their party labels" – but there is no credible evidence that he used bribes to get what he wanted. Moreover, his critics ignore the fact that Backus received hostile treatment at the hands of the ruling Conservatives during the years when he was most aggressively pursuing his projects in northern Ontario.
Exceptional circumstances worked against Backus during the early 1930s, and they ultimately led to the demise of his business empire and the decline of his personal health. The newsprint industry was in disarray at the time. Among the causes was the highly successful war waged by Archibald Robertson Graustein, president of International Paper, to win tonnage away from the other companies; Graustein's influence was undoubtedly also at work in the decision of Ferguson and Premier Louis-Alexandre Taschereau* of Quebec to institute a prorationing scheme that forced nearly all Canadian newsprint makers to reduce production and adhere to a price-fixing agreement. Backus and others vociferously protested that these measures would spell their ruin while benefiting International Paper, which was allowed to operate free of any such restrictions. It thus became one of only two major newsprint enterprises in Canada to escape receivership during this period of significant unemployment in many mill towns. In some, such as Sturgeon Falls and Espanola, the main employer was closed for more than a decade.
Amidst this chaos Backus endeavoured to deal effectively with the challenges he faced. A few months after the stock-market crash in October 1929, his commercial bankers advised him to consider the worst over and proceed with his planned upgrade to his newsprint operations. After following their directive, in 1930 he began making preparations to cover his funded obligations that would mature the next year. That fall he was told that the unsatisfactory state of the bond market left him no alternative but to arrange for his commercial bankers to cover the interest charges on $9 million of the bonds he had intended to issue. In late February 1931 the bankers, led by Albert Henry Wiggin, chairman of the Chase National Bank of the City of New York, reneged on the agreement and declared that receivership was the only option for the Minnesota and Ontario Paper Company. Feeling that he had little choice, Backus acquiesced and was assured that he could continue to manage the firm's affairs. In the following months Graustein and officials at Chase attempted to pressure Backus into selling his newsprint mills to Graustein for a fraction of their market value, yet under terms that would allow Backus to reap a luxurious profit. When he proved obstinate, the bankers engineered his removal as receiver in November 1931. He responded by launching a legal battle to regain control of his enterprise. In the spring of 1934 he presented his case to the Senate's Committee on Banking and Currency, whose investigation would result in legislation that fundamentally reformed Wall Street's heretofore shadowy activities. But for Backus these measures would be too late. He was exhausted by the numerous battles he had waged and suffered a fatal heart attack in the fall at the Hotel Vanderbilt in New York City.
E. W. Backus personified the raw, unbridled spirit of optimism and industry that stamped the character of most entrepreneurs who have been drawn to develop Canada's hinterland. Neither saint nor sinner, though admittedly a controversial character in Ontario's economic landscape, he was aware of how the levers that controlled access to crown resources worked, and he did all he could to see them operated in a manner that redounded to his benefit. His obituary in the New York Times noted that the former bookkeeper, who in 1882 earned $9 a week, had gone on to control an empire that was at one time estimated to be worth $100 million.
AO, F 8, MU 1020, files 1–3; F 9, MU 1353, Backus to bondholders, 1934; F 30, MU 1319, MU 1321, years 1919–23; F 208, MU 1590, Newsprint statistics, Memorandum to the Hon. William Finlayson, 1931; RG 1-122, box 3, A-10, A-16; RG 1-415-1, Agreement between crown and Backus, 1914; RG 3-4, English River pulp and timber limits, 1922; RG 3-6, Fort Frances Pulp and Paper Co., 1925, Foley Mine, 1925, Seine River, 1926; RG 4-32, 1921/3807; RG 18-78; RG 22-5800, 1933/1012; RG 55-5, file TC 23132; RG 75-57, Orders-in-council 49/170, 50/132, 50/454, 59/311, 135/353, 143/409, 158/03. Ont., Ministry of Govt. and Consumer Services, Companies and personal property security branch (Toronto), Dormant corporation files, TC 24155 (Great Lakes Paper Company and Interlake Securities Limited); Ministry of Natural Resources, Lands and waters branch, Crown land registry (Peterborough, Ont.), Crown land files, files 200, 200A, 797, 1173, 1956, 9457, 9457A, 14797, 16799, 18648, 33582, 34928, 37584, 39983, 61486, 68396. History of Minneapolis, gateway to the northwest, ed. M. D. Shutter (3v., Chicago and Minneapolis, Minn., 1932), 3: 298–306. Mark Kuhlberg, "'Eyes wide open': E. W. Backus and the pitfalls of investing in Ontario's pulp and paper industry, 1902–1932," CHA, Journal, new ser., 16 (2005): 201–33; "In the power of the government: the rise and fall of newsprint in Ontario, 1894–1932" (phd thesis, York Univ., Toronto, 2002). Ont., Dept. of Lands and Forests, Annual report (Toronto), 1922, 1928. U.S., Federal Trade Commission, Newsprint paper industry (Washington, 1930); Senate, Committee on banking and currency, Stock exchange practices: hearings before … seventy-third congress, second session … (Washington, 1933), pt.16: 7645–53 (also available online at https://fraser.stlouisfed.org/publication/?pid=87). Who was who in America (Chicago), 1897/1942.
© 2016–2023 University of Toronto/Université Laval
Image Gallery

Cite This Article
Mark Kuhlberg, "BACKUS, EDWARD WELLINGTON," in Dictionary of Canadian Biography, vol. 16, University of Toronto/Université Laval, 2003–, accessed November 29, 2023, http://www.biographi.ca/en/bio/backus_edward_wellington_16E.html.
The citation above shows the format for footnotes and endnotes according to the Chicago manual of style (16th edition). Information to be used in other citation formats:
| | |
| --- | --- |
| Permalink: | http://www.biographi.ca/en/bio/backus_edward_wellington_16E.html |
| Author of Article: | Mark Kuhlberg |
| Title of Article: | BACKUS, EDWARD WELLINGTON |
| Publication Name: | Dictionary of Canadian Biography, vol. 16 |
| Publisher: | University of Toronto/Université Laval |
| Year of publication: | 2016 |
| Year of revision: | 2016 |
| Access Date: | November 29, 2023 |