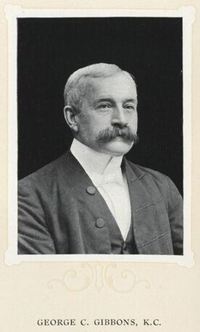 Source: Link
GIBBONS, Sir GEORGE CHRISTIE, lawyer, businessman, and representative of Canada; b. 2 July 1848 in St Catharines, Upper Canada, son of William Gibbons and Ann Sutton; m. 9 Feb. 1876 Elizabeth (Lizzie) Campbell Craig (d. 25 Sept. 1914) in Montreal, and they had three daughters and two sons; d. there 8 Aug. 1918 and was buried in Woodland Cemetery in London, Ont.
George Gibbons attended the St Catharines Grammar School and then Upper Canada College in Toronto. He was articled to lawyer Warren Rock in London and was called to the bar in 1869. Thereafter he quickly established himself as one of London's leading legal figures, specializing in financial and commercial work. On the faculty of the short-lived London Law School in 1885–87, he was made a provincial qc in 1891 and was elected president of the Middlesex Law Association in 1897.
His business interests were extensive. In 1896 he established the London and Western Trusts Company Limited and became its president. He also served as president of the City Gas Company of London and as a director of the London Life Insurance Company. He helped found the London Club and the London Hunt Club, and he served the latter as both master of the hunt and honorary president. At various times he was president of the London Philharmonic Society and honorary president of the Canadian Club of London, and he sat on the original 1908 board of governors of the Western University of London, Ontario. In sum, he was a key figure in a prosperous and tightly knit but provincially and nationally well-connected oligarchy. He built Lornehurst, a stately mansion overlooking Victoria Park in the centre of the city. It epitomized the taste and aspiration of the local gentry, of which the Gibbons family were acknowledged leaders. Gibbons was clubby, comfortable, and highly competent.
Though a prominent Liberal, Gibbons never ran for elected office. It was his Liberal connection, however, that moved him onto the international stage. On 21 Nov. 1905, on the recommendation of Charles Smith Hyman, the minister of public works and mp for London, the government of Sir Wilfrid Laurier appointed him to succeed James Pitt Mabee as chairman of the Canadian section of the International Waterways Commission. The origins of the IWC lay in a 1903 Anglo-American agreement to appoint a commission consisting of three Canadians and three Americans "to investigate in general the waters adjacent to the boundary line between the United States and Canada, the effect upon the shores produced by changes in the water levels, and the erection and location of a dam at the outlet of Lake Erie." The IWC did not meet until May 1905 and its work had not advanced very far by the time Gibbons joined it. He quickly produced a report which recommended that "riparian rights in relation to navigable streams or international waters . . . be adjusted by some treaty arrangement" between Canada and the United States.
For the moment nothing came of this sweeping proposal, but on 27 March 1906 President Theodore Roosevelt sent to Congress a report by the American commissioners that detailed the threat to the scenic beauty of the Niagara Falls posed by plans to divert water from the Niagara River for the production of electrical power. Bills were introduced into both the Senate and the House of Representatives to limit such diversion provided Canada would reciprocate. The measures opened the way to the larger agreement that Gibbons had in mind and later in 1906 the full IWC called for a treaty. "Legislative action," Gibbons later mused, "might be reversed at the very next session of Congress while a treaty must run its course."
The negotiation of the agreement became part of a broader process of resolving Canadian-American differences. In May 1906 Secretary of State Elihu Root had identified 16 items of unsettled business, 12 of which had been on the agenda of the abortive Anglo-American joint high commission of 1898–99 and four others, including the matter of boundary waters, that had arisen since. A busy round of negotiations, in which Governor General Lord Grey played an active behind-the-scenes role, followed but by the end of 1906 the talks had bogged down. A fresh start was made, again with Grey's participation, after James Bryce arrived in Washington as British ambassador early in 1907. Bryce made Canadian-American relations his highest priority, and his approach was to bypass cumbersome diplomatic machinery and become a broker between Laurier and Root.
When Bryce visited Ottawa in 1907, Laurier publicly confronted him with the charge that British diplomacy had in the past placed American friendship before Canadian interests. Privately, however, Laurier was more amenable and in May he agreed that the IWC should formulate a scheme for regulating boundary waters. In practice, this task was assigned not to the commission as a whole but to Gibbons and his American counterpart, lawyer George Clinton.
They made quick headway and Gibbons was able to forward a draft agreement to Laurier in September. The prime minister's first impression was that the document embodied "a very happy solution to a very dangerous subject," but he was not satisfied in every detail. Asked to bargain for a revision, Gibbons believed he was on course when in December 1907 Root questioned the whole idea of a permanent commission, the central recommendation of the Gibbons-Clinton plan, proposing instead to settle questions on an ad hoc basis. In Bryce's view, Root's objection stemmed from a well-founded belief that he would have trouble getting the Gibbons-Clinton draft through the Senate. Gibbons, however, was adamant. "I think your attitude now," he told Laurier, "should be one of firm insistence upon a permanent Board." Laurier agreed, and Bryce was told to "insist upon the treaty as drafted."
In February 1908 Gibbons returned to Washington for further talks. Root had produced a new draft that called for a permanent commission but one that would investigate rather than decide cases. Gibbons worked with Bryce to improve this document and drew up for inclusion in it an article whereby the two governments could refer for binding arbitration to the proposed commission any difference that arose whether relating to boundary waters or not. Root insisted that this article would have to be amended to make American participation contingent on the "advice and consent" of the Senate.
Laurier, however, was in no mood to compromise. In June 1908, after Bryce and Root had failed to make further headway, Gibbons went to Washington with a lengthy memorandum summarizing the Canadian case. In Bryce's absence he met Root face to face on 17 June, and at this meeting the log-jam was broken. Root now agreed that fixed principles should be established to govern the waters of the Great Lakes at least and that a permanent commission should be created to enforce those principles. A new draft agreement was ready by December 1908, but Laurier got cold feet. Gibbons interpreted the prime minister's caution as a lack of confidence in his handling of the negotiations and asked to be replaced if the draft was indeed unacceptable. He won his point, and on 11 Jan. 1909 Bryce was authorized to initial the document, which he did the same day. Article 7 of the International Boundary Waters Treaty provided for the International Joint Commission; article 8 stipulated that Canada and the United States were to have "equal and similar rights" in the use of all boundary waters. A bruising ratification round followed, as doubts reappeared in both capitals, but eventually ratification documents were exchanged in Washington in May 1910.
Gibbons subsequently basked in the reflected glory of a treaty that remains fundamental to Canadian-American relations. In 1911, in recognition of what he had accomplished, he was knighted by King George V. Through his perspicacity and persistence, he had not only played a key role in obtaining a major agreement but had helped pave the way for separate Canadian diplomatic representation in Washington and elsewhere. He and his associates in Ottawa had firmly set their country on an enduring course which recognized that the way forward for Canada in its dealings with its giant neighbour was to remove major issues from the world of diplomacy and power politics and make them amenable to permanent bilateral bodies acting according to agreed-upon principles.
The coming of the war in 1914 reversed the trend in international relations – the advancement of the rule of law in settling disputes – which Gibbons, Bryce, and a host of others had sought to promote. During the conflict Gibbons was active in London with the Red Cross Society and he remained close to the affairs of the Liberal party. In the corrosive election of 1917 his son George Sutton was the Laurier Liberal candidate, but he lost to the Unionist Hume Blake Cronyn*.
Gibbons left an estate valued at $897,118. His benefactions were mainly to family members and retainers but he bequeathed $1,000 each to four London charities: the Children's Aid Society, the Protestant Orphans' Home, the Mount Hope Orphanage and Refuge conducted by the Sisters of St Joseph, and the Women's Christian Association. He is remembered in London in Gibbons Park, an agreeable open space that his surviving children gave to the city in his memory. Appropriately, it abuts the north branch of the Thames, a river that eventually finds its way into a boundary water. The family is also remembered through Gibbons Lodge, the home of a daughter, Helen Beresford Gibbons. This charming house was bought by the University of Western Ontario in 1961 and serves as the residence of the president.
ANQ-M, CE1-68, 9 févr. 1876. NA, MG 26, G; MG 30, E71. Private arch., F. H. Armstrong (London, Ont.), London research coll. F. H. Armstrong, The Forest City: an illustrated history of London, Canada ([Northridge, Calif.], 1986). Canadian men and women of the time (Morgan; 1898 and 1912). Directory, London, 1897/98, 1913. [D. J.] Hughes and T. H. Purdom, History of the bar of the county of Middlesex . . . (London, 1912). The London Hunt and Country Club: a distinguished tradition, ed. Brandon Conron (London, 1985). J. E. Middleton and Fred Landon, The province of Ontario: a history, 1615–1927 (5v., Toronto, 1927–[28]), 3: 57–59. Orlo Miller and Brandon Conron, The London Club (London, 1980). Peter Neary, "The embassy of James Bryce in the United States, 1907–13" (phd thesis, Univ. of London (Eng.), 1965); "Grey, Bryce, and the settlement of Canadian–American differences, 1905–1911," CHR, 49 (1968): 357–80. J. J. Talman and Ruth Davis Talman, "Western" – 1878–1953: being the history of the origins and development of the University of Western Ontario during its first seventy-five years (London, 1953). H. E. Whitney, "Sir George Gibbons, Canadian diplomat, and the Boundary Waters Treaty," Inland Seas (Cleveland, Ohio), 29 (1973): 99–109. Who's who and why, 1917/18.
© 1998–2023 University of Toronto/Université Laval
Image Gallery

Cite This Article
Peter Neary, "GIBBONS, Sir GEORGE CHRISTIE," in Dictionary of Canadian Biography, vol. 14, University of Toronto/Université Laval, 2003–, accessed December 9, 2023, http://www.biographi.ca/en/bio/gibbons_george_christie_14E.html.
The citation above shows the format for footnotes and endnotes according to the Chicago manual of style (16th edition). Information to be used in other citation formats:
| | |
| --- | --- |
| Permalink: | http://www.biographi.ca/en/bio/gibbons_george_christie_14E.html |
| Author of Article: | Peter Neary |
| Title of Article: | GIBBONS, Sir GEORGE CHRISTIE |
| Publication Name: | Dictionary of Canadian Biography, vol. 14 |
| Publisher: | University of Toronto/Université Laval |
| Year of publication: | 1998 |
| Year of revision: | 1998 |
| Access Date: | December 9, 2023 |