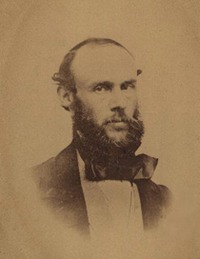 Source: Link
BAKER, HUGH COSSART, businessman and politician; b. 1818 in England, eldest son of George William Baker and Ann Cole; m. 18 Nov. 1845 Emma Wyatt at Wellington Square (Burlington), Upper Canada, and they had two sons and four daughters; d. 2 March 1859 in Savannah, Ga, and was buried in Hamilton, Upper Canada.
Hugh Cossart Baker's father, a Royal Artillery captain on half pay, immigrated with his family to Upper Canada in 1832 and settled at Bytown (Ottawa), where two years later he became postmaster. Hugh first worked with his father in the post office but about 1838 found employment as a clerk with the Bank of the People in Toronto. While there, he became secretary of the Home District Mutual Fire Insurance Company. When the Bank of Montreal, which had absorbed the Bank of the People in 1840, opened a branch in Hamilton three years later, Baker was appointed its first manager.
In 1845, the year he married, Baker decided to insure his life. The nearest agency in Canada offering such insurance was at Quebec, so he chose to deal with the New York office of a British firm which, because of his asthmatic condition, forced him to take a medical examination there. Although he was issued a policy, the agency required him to pay an extra one per cent premium because of the "hazard" of the Canadian climate. In addition to the costs of exchange, he was probably subjected to the British practice of charging "40 per cent more than was necessary" to arrange coverage in the absence of actuarial data for Canada.
These difficulties convinced Baker that an opportunity existed to form a Canadian-based life insurance company. Declaring the "purest motives of humanity" and possessed of "great mathematical ability," he maintained that such a company, by assembling detailed actuarial tables and by directing its funds into profitable Canadian investments, could operate more efficiently than British or American companies and could pass on savings to policy-holders in the form of lower premiums. From his experience in banking and fire insurance, he also realized that an insurance company was a good vehicle for mobilizing investment capital. In 1846 he took steps to organize a mutual insurance company in which little initial capital was required from the promoters, no shares were to be issued, and assets would be owned by the policy-holders. The plan won support from a number of leading businessmen in Hamilton, including Sir Allan Napier MacNab* and John Young*, and the following spring they petitioned the provincial legislature for incorporation. Members of the legislature, however, feared that too much of the risk of this new type of business would be placed on the policy-holders and consequently the petition was rejected.
In August 1847, undaunted and without a charter, Baker organized the Canada Life Assurance Company as a joint-stock company with a capital of £50,000 in shares of £100. The firm's petition for incorporation met with greater support in the assembly the following year, although some questions were raised. The inspector general of public accounts, Francis Hincks*, cautioned that, unlike the charters of English life insurance companies, which made each shareholder liable for the full value of a company's capital, Canada Life's charter limited the shareholder's liability to the value of his shares. This, Hincks feared, might tempt the directors to take chances with the assets of the company. To protect policy-holders, he wanted to limit its investments to what he considered safe and tangible assets (real estate and mortgages), and he moved an amendment to the bill of incorporation which would prevent Canada Life from investing capital in the stock of chartered banks and established companies. The original bill, however, was successfully defended by MacNab and Henry Sherwood, and incorporation was granted in 1849.
As president, general manager, and actuary, Baker ran Canada Life almost single-handed and devoted enormous energy to its promotion. One of his first tasks was to overcome public resistance to life insurance, a reaction based partly upon common ignorance of the economic principles involved and partly upon traditional dependence on private wealth and bequests. In spite of opposition from some directors, Baker initiated an aggressive marketing campaign. Advertisements were placed in newspapers across the province, literature was distributed, and lectures extolling the "great moral and social benefits of Life Assurance" were delivered by Baker and his brother George William, who had been hired as a general agent to promote the company. By 1848 Canada Life had issued 117 policies and had established a network of agents from Saint John, N.B., to Port Sarnia (Sarnia), Upper Canada. Most of these agents represented various insurance companies as sidelines to mercantile businesses, legal practices, or administrative positions.
Baker, whose "business abilities were of no ordinary order" according to the Hamilton Times, spent much time in the gradual revision of British actuarial tables for use in Canada. In a speech given to the Hamilton Mechanics' Institute in 1848 (and published that year as A lecture on life assurance), he reported that no mortality rates or valuations on life "had been made in Canada, other than the calculations of the comparative health of British troops quartered in the wide-spread colonies of the Empire." Baker was the first British North American to be recognized for his work by the Institute of Actuaries of Great Britain and Ireland, which elected him corresponding member in 1851 and fellow a year later. He undoubtedly found this professional contact useful and by the late 1850s had gained a reputation for his "voluminous calculations in connection with premiums, reserves and bond values."
The early and mid 1850s in Canada were years of optimistic speculation and booming real estate values. With its policy premiums invested by Baker in municipal debentures and, increasingly, in mortgages, Canada Life grew steadily, a situation facilitated by the lack of serious competition. Some observers, however, after witnessing the collapse of the land market and the fall in real estate values in 1857, during which Canada Life's assets depreciated accordingly, felt that Baker could have exercised greater caution. To protect the company during the ensuing recession, Baker took steps to reduce the rate of default on payments by policy-holders.
Canada Life's problems in the late 1850s were largely occasioned by the economic conditions of the time, but in 1862 Allen Good, a Brantford-area farmer with experience in banking and insurance, voiced the opinion that Baker had simply undertaken too much. Besides Canada Life, he was a founder of the Ontario Marine and Fire Insurance Company in 1849 and continued to manage the Bank of Montreal in Hamilton until 1850. He was involved in the formation and operation of the Hamilton Building Society, the Gore District Building Society, and the Western Building Society. As well, he was a director of the Hamilton Gas Light Company and of the Gore Bank, vice-president of the Hamilton and Port Dover Railway, and a prominent shareholder of the Great Western Railway. A member of various business organizations, he served as secretary-treasurer of the Hamilton Board of Trade and as a member of the Board of Arts and Manufactures of Upper Canada.
Baker's reputation as president of Canada Life was impugned by an incident which came to light only after his death. When the company took over the Hamilton and Gore District Savings Bank in 1856, Edward Cartwright Thomas, John Young, and William Paterson McLaren* (who were directors of both institutions) sought Baker's complicity in concealing the embezzlement of $30,000 by the bank's treasurer, Richard Porter Street. Thomas, Young, and McLaren intended to make good the loss from property assigned to them by Street but, in the depressed market after 1857, this was not possible. Although Baker did not actively participate in the cover-up, a shadow of suspicion fell upon his presidential record in 1863 when worried shareholders sued the three directors to make them responsible for the balance of the defalcation.
Although the Hamilton Times believed that his "reserved habits and close application to business caused him to be less generally known than many of his less eminent fellow townsmen," Baker took his social and public responsibilities seriously. He was a member of the Hamilton Mercantile Library Association, president of the mechanics' institute, vice-president of the St George's Society, treasurer of the City Tract and Missionary Society, and a warden of the Church of the Ascension, Hamilton. "Few, with the exception of his most intimate friends," the Hamilton Times revealed following his death, "were aware of the large sums constantly expended by him in benevolent and Christian objects." In 1857, following service as a city alderman, he was selected by the local tory machine to contest the provincial seat recently vacated by MacNab; reputedly dubbed "an insurance agent with a d—d amount of assurance," he was defeated by a commercial rival, Isaac Buchanan*.
Despite his energy and capacity for hard work, Baker wore himself out. Like his brother George, who had died of bronchitis in 1853, he had a history of respiratory problems and succumbed to tuberculosis in 1859 while returning from a period of convalescence in Florida. He was succeeded as president of Canada Life by John Young and as manager by Alexander Gillespie Ramsay, former secretary of the Scottish Amicable Assurance Society of Glasgow.
Hugh Cossart Baker is the author of A lecture on life assurance, delivered before the Mechanics' Institute of Hamilton, on the 5th April, 1848 . . . (Hamilton, [Ont.], 1848).
AO, RG 22, ser.204, H. C. Baker. HPL, Clipping file, Hamilton biog. PAC, MG 24, D16, 107: 70785–88; I9, 3: 944–45; MG 27, III, C1, 25, file 3, letter-book, 1861–71, Allen Good to A. D. Parker, 11 Oct. 1862; RG 5, A1: 114272–73. Assurance Magazine, and Journal of the Institute of Actuaries (London), 2 (1851–52): 302; 3 (1852–53): 89–90. Can., Prov. of, Legislative Assembly, App. to the journals, 1850, app.H; 1851, app.I; 1852–53, app.R; 1854–55, app.EE; 1856, app.5; 1858, app.8; 1859, app.13; Statutes, 1849, c.109, c.166, c.168. Debates of the Legislative Assembly of United Canada (Abbott Gibbs et al.), 6: 910, 1198; 7: 295, 311, 484, 492; 8, pt.i: 41; pt. ii: 1400–2. Great Western Railway, Proceedings at the annual general meeting of shareholders . . . and report of the directors (Hamilton), 1852: 3; 1853: 26. Hamilton & Port Dover Railway, Report of the president and directors to the shareholders (Hamilton), 1856: 16. Dundas Warder (Dundas, [Ont.]), 16 April, 8 Oct. 1847; 21 April 1848. Globe, 25 Nov. 1845. Ottawa Citizen, 28 May 1853. Sarnia Observer, and Lambton Advertiser, 10 March 1859. Semi-Weekly Spectator, 5 March 1859. Times (Hamilton), 3 March 1859. Canada directory, 1851: 95, 99. Canadian biog. dict., 1: 721. Hamilton directory, 1858: 24, 30. M. F. Campbell, A mountain and a city: the story of Hamilton (Toronto and Montreal, 1966), 97–98. Denison, Canada's first bank, 2: 24, 59. C. M. Johnston, The Head of the Lake; a history of Wentworth County ([2nd ed.], Hamilton, [1967]), 195, 216–17. Since 1847: the Canada Life story . . . ([Toronto, 1967?]). J. D. Barnett, "An election without politics – 1857 – I. Buchanan," OH, 14 (1916): 153–62. Saturday Muser [Richard Butler], "Reminiscent of Hugh C. Baker," Hamilton Spectator, 5 Feb. 1921: 10. L. M. Shaw, "The Baker family of Hamilton," Wentworth Bygones (Hamilton), 3 (1962): 30–34.
© 1985–2023 University of Toronto/Université Laval
Image Gallery
Cite This Article
David G. Burley, "BAKER, HUGH COSSART," in Dictionary of Canadian Biography, vol. 8, University of Toronto/Université Laval, 2003–, accessed September 26, 2023, http://www.biographi.ca/en/bio/baker_hugh_cossart_8E.html.
The citation above shows the format for footnotes and endnotes according to the Chicago manual of style (16th edition). Information to be used in other citation formats:
| | |
| --- | --- |
| Permalink: | http://www.biographi.ca/en/bio/baker_hugh_cossart_8E.html |
| Author of Article: | David G. Burley |
| Title of Article: | BAKER, HUGH COSSART |
| Publication Name: | Dictionary of Canadian Biography, vol. 8 |
| Publisher: | University of Toronto/Université Laval |
| Year of publication: | 1985 |
| Year of revision: | 1985 |
| Access Date: | September 26, 2023 |