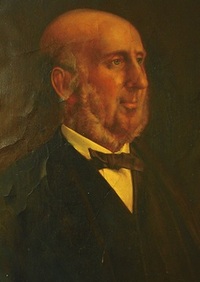 Source: Link
BARBER, GEORGE ANTHONY, educator, auditor, and sportsman; b. in 1802 at Hitchin, Hertfordshire, England; d. on 20 Oct. 1874, at Toronto.
Almost the only certain piece of evidence on George Anthony Barber's early life in England is an entry in the Hitchin baptismal register for 1803: "May 18th George Anthony, son of Anna Barber, illegitimate." If he attended Oxford briefly, as his obituaries state, he did not matriculate. Presumably he acquired some training as a teacher, perhaps at London, and he assisted the Reverend Thomas Phillips for three years at a private school possibly at Whitchurch in Herefordshire, before coming to Canada in 1826 as assistant to Phillips at the Home District grammar school in York (Toronto). Barber married Lucinda Shortiss (b. c. 1811; d. 23 Jan. 1893) before 1829 and they had several children.
When Upper Canada College was formed in 1829, both Phillips and Barber joined the staff. Barber was the writing master and his duties included instruction in English and arithmetic. He was a popular teacher; the college records describe him as "a great character with much charm of manner but also a little pomposity." He also became collector of the college whose finances were interconnected with those of King's College (University of Toronto); he was therefore drawn into the scandal involving Colonel Joseph Wells* in 1839, was forced to put up £1,500 to cover shortages in the college accounts, resigned the collectorship, and was dismissed as writing master. The basic cause seems to have been poor accounting practices at both the college and the university; Barber admitted to "not having kept a set of books during any part of the time I held the office of college collector." The whole affair, however, which involved such prominent people as Bishop John Strachan* and Allan MacNab*, remains somewhat obscure.
Barber began three new careers at about this time. While still at Upper Canada College he had established a public auditing business which he continued for the rest of his life. After 1840 he was also auditor to the city of Toronto; in 1873 the junior auditor tried to oust him when he was ill and an uproar resulted. In addition, a group of anti-Sydenham [Thomson*] interests, who favoured the old Family Compact toryism, hired him by 1841 as editor of the Toronto Commercial Herald (later Toronto Herald and Herald). He became its proprietor and operated the paper until it ceased publication on 30 June 1848.
In 1844 Barber's third concurrent vocation began when he was appointed first superintendent of common (public) schools for Toronto. After a board of education was established for the entire city in 1847 he continued as superintendent and also became the board's secretary. Initially Barber faced an acute lack of funds and in both 1848 and 1849 the schools were closed for six months. With the establishment of an elected board in 1850 conditions improved, and eight schools were built in the mid–1850s. His term of office saw the beginning of the practice of saying regular prayers in schools in 1854 and the establishment of evening schools in 1855 and school libraries in 1857. Except for the calendar years 1852 and 1853, Barber held the superintendentship until 1858, when he resigned because he believed it was illogical to combine compulsory assessment with voluntary attendance. He felt that the cost of providing free schools on this basis was not justified by the low attendance. He continued as secretary of the board of education until his death in 1874 and, in 1859, prepared a 131-page Report of the past history, and present condition, of the common or public schools of the city of Toronto.
Barber had a great interest in sports; he was extremely knowledgeable in sporting history and devoted many of the Commercial Herald editorials to the subject. He was particularly interested in cricket. Soon after coming to Canada he organized the game among his pupils and later acted as coach of the Upper Canada College teams for many years. He helped establish the Toronto Cricket Club in 1832 and became well known as "the Father of Canadian Cricket." He was also a founder and first secretary of the St George's Society in 1835. In politics he was a Conservative, in religion an Anglican. He attended St Stephen-in-the-Fields in his latter years and was buried in St James' Cemetery.
Hertfordshire County Record Office (Hertford, Eng.), Hitchin parish baptismal register, 18 May 1803. PAC, RG 5, A1, 94, pp.52157–62. Final report of the commissioners of inquiry into the affairs of King's College University, and Upper Canada College (Quebec, 1852), 360. Report of the past history, and present condition, of the common or public schools of the city of Toronto (Toronto, 1859). Toronto City Council, Appendix to minutes, 1873, nos.126, 161, 167, 208; Minutes of proceedings, 1874, 215, 224–25. Upper Canada, House of Assembly, Appendix to journal, 1839–40, 349–90. J. of Education for Ont., XXVIII (April 1875), 59. Mail (Toronto), 21, 24 Oct. 1874. Early Toronto newspapers, 1793–1867: a catalogue of newspapers published in the town of York and city of Toronto from the beginning to confederation, ed. E. G. Firth (Toronto, 1961), 13. J. R. Robertson, Landmarks of Canada, a guide to the J. Ross Robertson Historical Collection in the Public Reference Library, Toronto, Canada (Toronto, 1917), 560. The roll of pupils of Upper Canada College, Toronto, January, 1830, to June, 1916, ed. A. H. Young (Kingston, Ont., 1917), 44, 96–97. Centennial story, the board of education for the city of Toronto 1850–1950, ed. H. M. Cochrane (Toronto, 1950), 16–24, 30–31, 38–40, 112. J. G. Hodgins, The establishment of schools and colleges in Ontario, 1792–1910 (3v., Toronto, 1910), I. Scadding, Toronto of old.
© 1972–2023 University of Toronto/Université Laval
Cite This Article
Frederick H. Armstrong, "BARBER, GEORGE ANTHONY," in Dictionary of Canadian Biography, vol. 10, University of Toronto/Université Laval, 2003–, accessed December 5, 2023, http://www.biographi.ca/en/bio/barber_george_anthony_10E.html.
The citation above shows the format for footnotes and endnotes according to the Chicago manual of style (16th edition). Information to be used in other citation formats:
| | |
| --- | --- |
| Permalink: | http://www.biographi.ca/en/bio/barber_george_anthony_10E.html |
| Author of Article: | Frederick H. Armstrong |
| Title of Article: | BARBER, GEORGE ANTHONY |
| Publication Name: | Dictionary of Canadian Biography, vol. 10 |
| Publisher: | University of Toronto/Université Laval |
| Year of publication: | 1972 |
| Year of revision: | 1972 |
| Access Date: | December 5, 2023 |