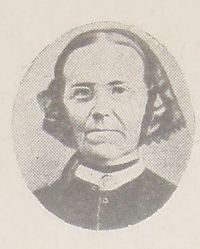 Source: Link
BARBER, POLLY (named Mary at birth) (Scovill), teacher, farmer, and businesswoman; b. 25 Sept. 1803 in Saint-Armand, Lower Canada, daughter of Asahel Barber and Polly Armes; d. 23 Feb. 1898 in Scottsmore, Que.
Polly Barber's father was the son of an American physician from Canton, Conn., and her mother's family included several Baptist clergymen. Coming from quite a distinguished background and blessed with a keen mind, Polly received a sound intellectual and practical education, which she put to good use.
By 1820 young Polly was teaching in Saint-Armand, probably in private homes, for 4 livres a week and was paying for her room and board by weaving. She accompanied her family to Sutton Township and there took the place of a schoolmaster in 1834. Her weekly salary was $1, in addition to room and board, but she later said that she still managed to save money.
About this time Polly married Stephen Scovill (Scofield) Jr, a farmer in Sutton Township five years younger than herself, who owned more than 250 acres of land. The two devoted a great deal of energy to developing their farm. Making use of her skills, Polly was able to produce large quantities of wool and cloth. In 1842 their flock of 40 sheep yielded 200 lbs of wool woven into 55 yards of cloth. In the township assessment rolls for 1846 the Scovills' properties were valued at $1,450.
Polly was, however, sorely tried by the deaths of several of her children; only one of the twin boys born in 1835 and three daughters would reach adulthood. On 7 Nov. 1847 her husband died, leaving her pregnant at the age of 44, with three other children to raise and debts to pay. She was equal to the task. Not only did she manage to keep the farm, but she worked twice as hard as before, increasing her crops and livestock, and even opening a clothing factory which provided work for several employees. In 1861 her farm was worth $5,000 and some of the production figures are astonishingly high: for example, 1,300 lbs of maple sugar, 1,100 lbs of butter, 350 lbs of cheese, and 60 yards of woollen fabric.
The "widow Scovill," as she was called, was so successful that, according to her obituary in the Montreal Daily Star, she was known as "the most prosperous farmer of Sutton." She had had her daughters educated and had established her son, Smith, on two other plots of land in the township. In 1867 she gave her daughter Julia, who had married George L. Scott, a lot with a house and store in Knowlton. About this time, however, she was forced to take a rest, since the hard work was affecting her health. She entrusted the management of the farm, located near Abercorn, to her eldest daughter, Judith Smith, and her husband, Abram N. Smith, who became a justice of the peace and mayor of Sutton Township.
Polly Scovill spent her last years with her daughter Julia and son-in-law at Scottsmore in Dunham Township. On 8 Jan. 1880 she made her will, leaving her property to be divided equally among her four children, but stipulating that her daughters' inheritance was never to be included in any community of property arrangement. She remained perfectly lucid and retained her extraordinary memory; a few days before her death, she could still recite hymns. Although raised a Baptist, she had joined the Universalists, this kind of shift being common in areas where the population was too scattered to support clergymen of several denominations. On 23 Feb. 1898, having been an invalid for some years, she died at the age of 94. Her funeral was held at the Methodist church in Abercorn, where she was buried in the Old Union Cemetery. Remembered as an energetic and gifted woman, who overcame current prejudices and hardships, she was an example to her contemporaries and yet ahead of her own time.
[The Brome County Hist. Soc. Arch. (Knowlton, Que.) has a portrait in oils of Polly Barber. The principal source of information about her is the Reverend Ernest Manly Taylor, her grand-nephew and the author of History of Brome County, Quebec, from the date of grants of land therein to the present time; with some records of early families (2v., Montreal, 1908–37). He is probably also the author of "A pioneer dead: Mrs Scoville passes away at a ripe old age," Montreal Daily Star, 5 March 1898. m.-p.r.lab.]
AJ, Bedford (Cowansville), Minutiers, Samuel Gale. ANQ-E, CN2-21, CN2-26. ANQ-Q, E18/211. Brome County Hist. Soc. Arch., H12 (geneal. files), Hilari Farrington, "Minding her own business," Le Tour (Sutton, Qué.), 2 (1984), no.1; M. L. Phelps, Notes; Alice Smith papers; H14 (cemetery records), Abercorn; P1 (Nathaniel Pettes), deeds; P5 (Alice Smith, photograph album); S1 (school papers), Sutton Township, school rate roll, 1861–86; V1 (municipal records), Sutton Township, valuation roll, 1846 (transcript). NA, RG 31, C1, 1831, 1842, 1852, 1861, 1871, 1881, Sutton Township. Private arch., Hilari Farrington (Abercorn, Que.), Notes and corr. Joseph Bouchette, Carte topographique de la province du Bas-Canada . . . (n.p., 1815; réimpr. Montréal, 1980). Illustrated atlas of the Dominion of Canada . . . Eastern Townships and south western Quebec (Toronto, 1881; repub., ed. Ross Cumming, Port Elgin, Ont., 1972). Langelier, Liste des terrains concédés. Cyrus Thomas, Contributions to the history of the Eastern Townships . . . (Montreal, 1866). Hilari Farrington, "Making a success of life in the country," Gazette (Montreal), 29 March 1985: C-1. "Life work of Polly Scoville," Missisquoi County Hist. Soc., Report (Saint-Jean-sur-Richelieu, Que.), 14 (1976): 193.
© 1990–2023 University of Toronto/Université Laval
Image Gallery

Cite This Article
Marie-Paule R. LaBrèque, "BARBER, POLLY," in Dictionary of Canadian Biography, vol. 12, University of Toronto/Université Laval, 2003–, accessed October 2, 2023, http://www.biographi.ca/en/bio/barber_polly_12E.html.
The citation above shows the format for footnotes and endnotes according to the Chicago manual of style (16th edition). Information to be used in other citation formats:
| | |
| --- | --- |
| Permalink: | http://www.biographi.ca/en/bio/barber_polly_12E.html |
| Author of Article: | Marie-Paule R. LaBrèque |
| Title of Article: | BARBER, POLLY |
| Publication Name: | Dictionary of Canadian Biography, vol. 12 |
| Publisher: | University of Toronto/Université Laval |
| Year of publication: | 1990 |
| Year of revision: | 1990 |
| Access Date: | October 2, 2023 |