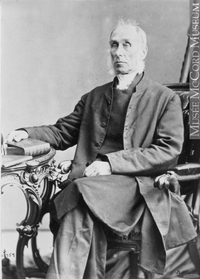 Source: Link
BEAVEN, JAMES, Church of England clergyman, theologian, and author; b. 9 July 1801 at Westbury, Wiltshire, England, second son of Samuel and Mary Beaven; d. 8 Nov. 1875, at Niagara, Ont.
James Beaven entered St Edmund Hall, Oxford, on 4 Nov. 1820. He received a ba in 1824 and an ma in 1827, and a bd and a nn in 1842. He was ordained deacon in 1825 and priest in 1826. His longest ministry in England was spent at Leigh in Staffordshire, and he was vicar of Welford in Northamptonshire when he received the appointment of professor of divinity at King's College in Toronto.
Beaven arrived in Toronto in February 1843. During his years at King's he was resident professor for a time and also had charge of chapel services. With the new professor ripples of the High Church Tractarian movement came to Toronto. It was observed that Beaven preached in the college chapel in the surplice and intoned the service, two usages not widely followed at that time. The frequent references in his writings to the desirability of improving the architecture and furnishing of churches illustrate his attention to another aspect of the revived churchmanship of the mid-19th century. King's College was officially closed in 1849 and Beaven was appointed in 1851 to the chair of metaphysics and ethics, first in the University of Toronto and then in University College. He resigned in 1871, lived for a brief time at Port Whitby where he was incumbent of the local church, and then moved to Niagara where he died.
James Beaven was prominent in church affairs. The scattered records of his life indicate that his interests lay in his church work rather than in the university, particularly after the secularization of King's College. He aided the building of churches at King and Oak Ridges, both north of Toronto, in the 1850s. From 1850 to 1868 he ministered to a congregation at Berkeley, and later, concurrently, to another at Chester (both of which are now part of the city of Toronto), and he built the first St John's, Norway, and the first St Barnabas'. He served the Church Society and the diocesan synod as chairman of the hook and tract committee and of the church music committee. As chairman of the committee on canons he produced an important report in 1858.
From 1862 to 1873 Beaven was precentor of synod, in charge of music at synod services. In 1867 he was made a canon of St James' Cathedral. He was prolocutor or chairman of the lower house of the first four provincial synods of Canada, meeting in Montreal. Beaven, who favoured retaining the close connection between the Church of England in Canada and the mother church in England, chaired in 1865 a committee of the provincial synod which produced a memorial addressed to the convocations of Canterbury and York urging the calling of a general council of the Anglican communion. This event took place in 1867 with the assembling of the first Lambeth Conference.
James Beaven was the author of at least 16 publications. Three were sermons, one of which, remarkable for its ecumenical spirit, was preached to the synod of the diocese in 1859. He was an accomplished classical scholar and produced in 1853 a book of selections from Cicero. His Account of the life and writings of St Irenaeus and Elements of natural theology were both substantial volumes. His best known work is, however, Recreations of a long vacation, describing a diocesan tour in 1845 on which he accompanied Bishop John Strachan* as far as Sault Ste Marie. Beaven travelled with the bishop on other shorter tours in 1847, 1848, and 1854 and wrote a description of the latter which appeared in the Church.
In 1826 James Beaven married Elizabeth Speed, eldest daughter of John Speed Frowd of Croscombe House, Somersetshire. They had four sons and three daughters, and one son, Robert*, became prime minister of British Columbia, 1882–83. Mrs Beaven wrote Private devotions and rules of conduct for young ladies in 1845. She died in Toronto in her 76th year, 14 Sept. 1871.
Differing estimates of James Beaven were made by his contemporaries. Ernest Hawkins*, secretary of the Society for the Propagation of the Gospel, wrote in his journal, 24 Aug. 1849: "The worthy Dr. B[eaven] rather bored me with his slow prosaic manner, but he is, I am sure, a good and amiable and well principled man." Daniel Wilson*, president of the University of Toronto, in a moment of irritation, once described his colleague as "a stupid dry old stick that we would be well rid of." A former student, John Campbell*, remembered him as tall and angular, severe in aspect, but with integrity "written on every line of his unbending form." Among his clerical brothers he was given great respect for his learning, balanced judgement in times of ecclesiastical party strife, and long-continued and generous services to his church in many parts of the diocese.
British Museum catalogue lists a number of James Beaven's publications. Others are: "Ask for the old paths"; a sermon preached at the opening of the new church of St. James, at Dundas, in Upper Canada, on Sunday, December 31st, 1843 (Cobourg, Ont., 1844); A brief catechism on confirmation, with prayers to be used before and after confirmation (Toronto, 1878); Elements of natural theology (London, 1850); Private devotions for schoolboys; together with some rules of conduct given by a father to his son on his going to school (Toronto, 1845); Recreations of a long vacation; or a visit to Indian missions in Upper Canada (London and Toronto, 1846); "That they all may be one": a sermon, preached before the synod of the diocese of Toronto, on the 7th of June, 1859 (Toronto, 1859).
St John the Baptist Church (Norway (Toronto)), notes by D. M. Hayne, 1949–50, for a parish history. University of Toronto Archives, Daniel Wilson, "Journal," typescript; Office of the Chief Accountant financial records (41, university quarterly accounts, Sept.–Dec. 1871); Office of the Chief Accountant financial records (117, King's College Council minute book, 1842–48). Church (Cobourg, later Toronto), especially 23 June 1842, 22 Sept. 1843, 17 Sept. 1847. Globe (Toronto), 14 Sept. 1871, 10 Nov. 1875. Church of England, Church Society of the Diocese of Toronto, Reports (Cobourg, Toronto), 1843–69; Provincial Synod, Journals of proceedings (Montreal, Quebec), 1861–68; Synod of the Diocese of Toronto, Journals (Toronto), 1853–76. Final report of the commissioners of inquiry into the affairs of King's College University, and Upper Canada College (Quebec, 1852). John Campbell, "The Reverend Professor James Beaven, D.D., M.A.," University of Toronto Monthly, III (Dec. 1902), 69–72.
© 1972–2023 University of Toronto/Université Laval
Cite This Article
T. R. Millman, "BEAVEN, JAMES," in Dictionary of Canadian Biography, vol. 10, University of Toronto/Université Laval, 2003–, accessed December 7, 2023, http://www.biographi.ca/en/bio/beaven_james_10E.html.
The citation above shows the format for footnotes and endnotes according to the Chicago manual of style (16th edition). Information to be used in other citation formats:
| | |
| --- | --- |
| Permalink: | http://www.biographi.ca/en/bio/beaven_james_10E.html |
| Author of Article: | T. R. Millman |
| Title of Article: | BEAVEN, JAMES |
| Publication Name: | Dictionary of Canadian Biography, vol. 10 |
| Publisher: | University of Toronto/Université Laval |
| Year of publication: | 1972 |
| Year of revision: | 1972 |
| Access Date: | December 7, 2023 |