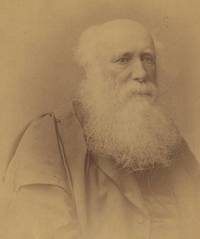 Source: Link
YOUNG, GEORGE PAXTON, clergyman, professor, school inspector, and author; b. 9 Nov. 1818 at Berwick upon Tweed, England; d. unmarried 26 Feb. 1889 in Toronto, Ont.
George Paxton Young was born into the family of a Church of Scotland clergyman and received his early education in Berwick upon Tweed. He then attended the celebrated Royal High School in Edinburgh and the University of Edinburgh, where he graduated with an ma. In 1843, after a brief period teaching mathematics at the Dollar Academy, he entered the newly founded Theological Hall of the Free Church in Edinburgh. On completion of his divinity course he was admitted as a licentiate of the Free Church and took up his first charge at Martyrs' Church, Paisley. In 1847 or 1848 he immigrated to Canada and on 22 Nov. 1850 was inducted as minister of Knox Church, Hamilton, Canada West. He served as moderator of the Hamilton presbytery for the year 1851–52. In 1853 he resigned his pastoral charge and was appointed to the faculty of Knox College, Toronto.
Young taught in both the divinity and the preparatory departments at the college for the next decade. Then in 1864 he resigned his professorship and accepted Egerton Ryerson's invitation to become the first full-time grammar school inspector for Canada West. In 1865 he was also appointed inspector of Roman Catholic separate schools by Ryerson. In 1868 Young returned to Knox College to conduct the preparatory department and in 1870 was appointed professor of mental and moral philosophy. The next year, after declining an invitation to become professor of mathematics at Victoria College in Cobourg, he succeeded James Beaven* in the chair of metaphysics and ethics at University College, Toronto, a post he held for the rest of his life.
Young was sometimes described by contemporaries as a shy, retiring man who lived a quiet bachelor's life and preferred above all the seclusion of his study. This judgement was perhaps based more on his demeanour than on the actual record of his life, for Young was always involved in public affairs and in the currents of contemporary scholarship. Throughout his life he was active in the Canadian (later Royal Canadian) Institute, presenting many papers before that body and holding several offices between 1856 and 1871. He was an active supporter of church union among Presbyterians, urging it upon his congregation as early as 1853, contributing favourable articles to the Globe, and sponsoring motions to this effect at synod. As grammar school inspector between 1864 and 1867, Young repeatedly toured Canada West, visiting each school and examining the ability of the teachers and the progress of the pupils. On the basis of his accumulating knowledge, he wrote a series of perceptive and highly critical reports on the inadequacies of the grammar schools and delineated changes he considered necessary. His analysis of the problems provided Ryerson with both ammunition and ideas for reform, and many of Young's suggestions were incorporated into the school act of 1871 that replaced grammar schools with high schools which would provide general education and with collegiate institutes which would prepare students for entrance to universitoung's resignation as school inspector in 1867 did not break his ties with the provincial school system. He served as president of the Ontario Teachers' Association in 1871, and was a member of the Council of Public Instruction in 1871–72. As a member of the Committee of Examiners after 1871 he continued to play an important role in educational policy-making in Ontario until the last few months before his death.
Young's scholarly activities and interests were wide and varied. His earliest publication was a collection of sermons, Miscellaneous discourses and expositions of Scripture, a volume which reveals wide reading, a talent for exegesis, and a felicitous prose style. Throughout his life he pursued an early interest in mathematics, publishing in Canadian, American, and English journals a number of papers on the theory of equations which drew high praise from eminent mathematicians of the time. In philosophy, the subject he taught most of his life, he published relatively little; yet it was perhaps here that his impact on Canadian thought was greatest. Though initiated as a student at Edinburgh into Scottish "common sense" philosophy, he became critical of it early in his teaching career at Knox and by 1862 had largely rejected it. In its place he turned, like many others of his generation, to Kant and then to the British Idealism of Edward Caird and Thomas Hill Green. Through Young, a generation of students at the University of Toronto were introduced to the political and ethical theories of men attempting to preserve Christian beliefs and at the same time come to terms with modernity.
Young's own theological views were also affected by his philosophical shift. He never became a sceptic, for British Idealism provided him with new philosophical underpinnings for his faith. But it did apparently lead him to dissent from some aspects of Presbyterian doctrine, or at least to question the traditional justifications for those doctrines. His resignation from Knox College in 1864 may have been prompted by his doubts. He was never to teach theology again, and in later life he refused even to act as elder or Sunday School teacher in the church to which he belonged, St Andrew's, Toronto. On the other hand he remained, till the end of his life, not only in his own mind but in the view of both his students and his church, a convinced and practising Christian.
Young was above all a teacher. The memoirs left by his students, many of whom had no special interest in or aptitude for philosophy, conjure up a charismatic figure who could light fires of enthusiasm for difficult ideas, illuminate even the most complex philosophical passages, and bring a warmth and humanity to the classroom that few students could resist. Young left a considerable record of scholarship behind him, especially in mathematics. He left his mark on Ontario's school system. But it was his ability as a teacher that made him a legend in his time and gave him his influence over the intellectual development of a generation of University of Toronto students.
George Paxton Young was the author of The ethics of freedom: notes selected, translated and arranged by his pupil James Gibson Hume (Toronto, 1911); Freedom and necessity: a lecture, delivered in Knox' College on the 6th April, 1870, at the close of the college session (Toronto, 1870); "Lecture on the philosophical principles of natural religion," Home and Foreign Record of the Canada Presbyterian Church (Toronto), 2 (1862–63): 29–38; Miscellaneous discourses and expositions of Scripture (Edinburgh and Hamilton, [Ont.], 1854).
AO, MU 134, G. P. Young; RG 2, C-2, box 16, no. 1316; C-6-C, Young to Egerton Ryerson, 12 April 1864. PAC, MG 24, B40, pp.199–201. UTA, A73-0026, Office of Statistics and Records, Dept. of Graduate Records, G. P. Young file. H. Calderwood, "Professor George Paxton Young, LL. D.," Knox College Monthly and Presbyterian Magazine (Toronto), 10 (May–October 1889): 1–4. William Caven, "Professor Young," Knox College Monthly and Presbyterian Magazine, 9 (November 1888–April 1889): 265–68. Doc. hist. of education in U.C. (Hodgins). Varsity (Toronto), 1 Dec. 1888, 2 March 1889. Weekly Globe, 25 Aug. 1876. Dent, Canadian portrait gallery, III. Canadian education: a history, ed. J. D. Wilson et al. (Scarborough, Ont., 1970). McKillop, Disciplined intelligence. The University of Toronto and its colleges, 1827–1906, [ed. W. J. Alexander] (Toronto, 1906), 353–54. J. A. Irving, "The development of philosophy in central Canada from 1850 to 1900," CHR, 31 (1950): 252–87.
© 1982–2023 University of Toronto/Université Laval
Image Gallery

Cite This Article
R. D. Gidney, "YOUNG, GEORGE PAXTON," in Dictionary of Canadian Biography, vol. 11, University of Toronto/Université Laval, 2003–, accessed June 2, 2023, http://www.biographi.ca/en/bio/young_george_paxton_11E.html.
The citation above shows the format for footnotes and endnotes according to the Chicago manual of style (16th edition). Information to be used in other citation formats:
| | |
| --- | --- |
| Permalink: | http://www.biographi.ca/en/bio/young_george_paxton_11E.html |
| Author of Article: | R. D. Gidney |
| Title of Article: | YOUNG, GEORGE PAXTON |
| Publication Name: | Dictionary of Canadian Biography, vol. 11 |
| Publisher: | University of Toronto/Université Laval |
| Year of publication: | 1982 |
| Year of revision: | 1982 |
| Access Date: | June 2, 2023 |