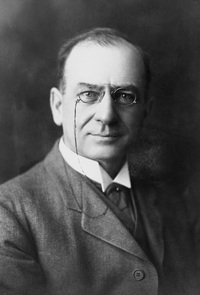 Source: Link
BECK, NICHOLAS DU BOIS DOMINIC, lawyer and judge; b. 4 May 1857 in Cobourg, Upper Canada, son of John Walton Romeyn Beck and Georgiana Boulton; grandson of George Strange Boulton*; m. first November 1886 Mary Ethel Lloyd (d. 30 April 1904), and they had two daughters and two sons; m. secondly 9 Jan. 1906 Louisa Adelaide Teefy in Richmond Hill, Ont.; m. thirdly 10 April 1928 Jeanne Cecilia Tilley in Vancouver; d. 14 May 1928 in Seattle, Wash.
Nicholas D. Beck grew up in Peterborough, where his American-born father was the Anglican rector. He received his primary education there, followed by attendance at the collegiate institute. After reading in a local law office and gaining admission to the bar in 1879, he extended his professional preparation at Osgoode Hall and the University of Toronto (llb 1881). He then practised in Peterborough. In 1883 he joined a contingent of lawyers bound for Winnipeg to take advantage of the opportunities resulting from railway building and real-estate speculation. Beck went into partnership with James-Émile-Pierre Prendergast*, a bilingual Roman Catholic who would enter the Manitoba assembly as a Liberal in 1885 and become a defender of separate schools. Another early associate, the Reverend Hippolyte Leduc, was responsible, it is claimed, for Beck's conversion to Catholicism in 1883. He began editing the Catholic Northwest Review (Winnipeg) and represented the Collège de Saint-Boniface in the senate of the University of Manitoba [see Alexander Morris*].
In 1889 Beck left Winnipeg to join the Calgary firm of James Alexander Lougheed. His relocation to Edmonton two years later followed the region's settlement and the completion of a railway from Calgary. He was appointed crown prosecutor and the town's solicitor when it was incorporated in 1892. Among the by-laws he drafted was one that prohibited cycling on the new wooden sidewalks; amusingly, he was the first person prosecuted. In 1893, the year he was named a dominion qc, he formed a partnership with Edward Corrigan Emery. Beck's strength lay in litigation, but as was common in the profession his firm also handled mortgage moneys and worked with real-estate agents, in addition to such clients as the city. Among its prominent boosters, they carried out the legal tasks involved in establishing the Edmonton Club and the Edmonton Industrial Exhibition Association. Professionally, Beck convened the first meeting, in Calgary in 1899, of the benchers of the Law Society of the North-West Territories, served as its first vice-president and was elected president (1901–7), and provided leadership as the principal editor of the Territories Law Reports (Toronto) from 1900 to 1910.
By 1900 Beck, initially a Conservative, had become a strong supporter of the Liberal party in its move to recognize the special status of Catholic separate schools. In 1892 the territorial assembly had passed, without federal consent, an ordinance that reduced the minority's privileges by regularizing inspections, requiring the certification of teachers, and providing for government control of the selection of textbooks. A test case involving a teaching sister at St Joachim's Mission school in Edmonton led Beck, who was chairman of the separate school board, to prepare in October 1893 a petition asking for federal disallowance of the controversial ordinance. In February, he and other petitioners were disappointed when the government of Sir John Sparrow David Thompson* declined to act. As events surrounding the school question in Manitoba unfolded, the Catholic hierarchy and laity, including Beck, remained concerned about the further erosion of rights in the northwest. At the consecration in 1895 of the Edmonton General Hospital, run by the Grey Nuns, Beck's remarks on behalf of St Joachim's trustees left little doubt that he saw the success of remedial legislation for Manitoba as a means of overcoming the territorial ordinance. After the federal election of 1896, when Edmonton's Catholic laity petitioned the new Liberal government of Wilfrid Laurier* to express their fears, Liberal mps thought that Beck was behind the action.
Agitation for provincial autonomy brought educational matters forward again. In 1904 Archbishop Adélard Langevin* of St Boniface asked Beck to prepare an open letter on the "vested rights" of Catholics to have separate-school districts. Beck was reticent, however – he feared reaction in the press. His approach reflected more the wishes of Bishop Émile-Joseph Legal* of St Albert, who had been invited by Donato Sbarretti y Tazza, the apostolic delegate in Ottawa, to draft a clause defending denominational schools for inclusion in the Autonomy Bills creating Alberta and Saskatchewan. But Beck was still concerned. No rights to such schools had been legally guaranteed when the territories had entered confederation in 1870. As a result, he proposed a clause that would guard de facto rights and call for a clearer definition of the revenues that Catholic schools could expect to receive.
Controversy erupted in 1905 around the resignation of interior minister Clifford Sifton over the Laurier government's proposed clause to protect the existing separate system. Beck was content with this proposal, but he was adamant that defence should not be left to provincial legislatures without the safeguard afforded by section 93 of the British North America Act. By March 1905 he was in Ottawa advising Sbarretti, who he thought might cede too much. In the end the clause negotiated between the delegate and the prime minister seemed to satisfy Beck as the best that could be expected. His pleasure was sustained by the triumph of the Liberals under Alexander Cameron Rutherford* in Alberta's first election, which gave promise of additional protection.
When the provincial courts were organized in 1907, Beck was appointed a puisne judge of the Supreme Court by Laurier, on Rutherford's suggestion. Although his notebooks reveal work on many aspects of jurisprudence, his major judgements involved financial law and liability. His expertise in these areas served him well in the wake of the Alberta and Great Waterways Railway crisis [see Charles Wilson Cross]. Facing allegations of impropriety and party opposition, Rutherford gave notice in March 1910 that three justices, David Lynch Scott, Horace Harvey*, and Beck (as chair), would form a royal commission to examine the fiduciary dealings between members of the government and the railway, especially with respect to bond guarantees. Their reports became public in November. Scott and Harvey's was inconclusive but Beck was of the opinion that any wrongdoing was "disproved," a finding the Calgary Albertan believed was simply a whitewash of an inept government.
Beck was regarded by his peers as a meticulous and serious jurist, confident in dissent yet convincing enough over time, including his years with the appellate division after 1921, to have his judgements cited frequently. His seemingly humourless resolution in legal matters, however, drew merciless criticism from Robert Chambers Edwards of the Calgary Eye Opener. During his career on the bench his interest in education and religious matters had continued. A member of Alberta's Educational Council since 1906, he was named a senator and first vice-chancellor in 1908 of the new University of Alberta, which awarded him a lld that year, and in 1913–14 he was among the original honorary lecturers for its faculty of law. Within his church he became a governor of the Catholic Church Extension Society and in 1926 a vice-president of the Catholic Truth Society. Nicholas Beck died of angina at age 71 while on vacation in Seattle; he was buried in Edmonton.
AO, RG 80-5-0-355, no.21632. City of Edmonton Arch., Newspaper clipping files, biog. file, Nicholas D. Beck. Legal Arch. Soc. of Alta (Calgary), 09-00-00 (Calgary Bar Assoc. fonds), 1973–84, vols.1–16; 12-00-01 (Nicholas DuBois Dominic Beck fonds), judge's notebooks ser., 1907–28; 60-00-00 (Law Soc. of the North-West Territories fonds), roll of advocates and minutes, vol.1, 1886–1907; Reference library files, Nicholas DuBois Dominic Beck file, including "Articles of partnership dated October 1st. 1893, Nicholas D. Beck and Edward C. Emery" (copy) and Univ. of Alta, faculty of law file, W. H. Johns, "History of the faculty of law, the University of Alberta." Calgary Herald, 15 May 1928. Liberal (Richmond Hill, Ont.), 11 Jan. 1906. Vancouver Sun, 10 April 1928. D. R. Babcock, Alexander Cameron Rutherford: a gentleman of Strathcona (Calgary, 1989). Emery Jamieson, The Emery Jamieson story (Edmonton, 1993). F. C. Jamieson, "Edmonton courts and lawyers in territorial times," Alberta Hist. Rev. (Edmonton), 4 (1956), no.1: 3–9. L. [A.] Knafla and Richard Klumpenhouwer, Lords of the western bench: a biographical history of the supreme and district courts of Alberta, 1876–1990 (Calgary, 1997). M. R. Lupul, The Roman Catholic Church and the North-West school question: a study in church-state relations in western Canada, 1875–1905 (Toronto, 1974). L. G. Thomas, The Liberal party in Alberta: a history of politics in the province of Alberta, 1905–1921 (Toronto, 1959).
© 2005–2023 University of Toronto/Université Laval
Image Gallery

Cite This Article
Richard A. Willie, "BECK, NICHOLAS DU BOIS DOMINIC," in Dictionary of Canadian Biography, vol. 15, University of Toronto/Université Laval, 2003–, accessed November 28, 2023, http://www.biographi.ca/en/bio/beck_nicholas_du_bois_dominic_15E.html.
The citation above shows the format for footnotes and endnotes according to the Chicago manual of style (16th edition). Information to be used in other citation formats:
| | |
| --- | --- |
| Permalink: | http://www.biographi.ca/en/bio/beck_nicholas_du_bois_dominic_15E.html |
| Author of Article: | Richard A. Willie |
| Title of Article: | BECK, NICHOLAS DU BOIS DOMINIC |
| Publication Name: | Dictionary of Canadian Biography, vol. 15 |
| Publisher: | University of Toronto/Université Laval |
| Year of publication: | 2005 |
| Year of revision: | 2005 |
| Access Date: | November 28, 2023 |