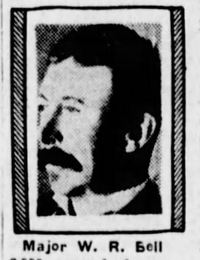 Source: Link
BELL, WILLIAM ROBERT, militia officer, sportsman, farmer, and businessman; b. 28 May 1845 in Brockville, Upper Canada, son of Robert Bell, a lumber merchant, and Maria Sherwood; m. first 17 Dec. 1867 Catharine Ellwood; they had no children; m. secondly March 1896 Katharine Ormiston, and they had two sons and two daughters; d. 17 Feb. 1913 in Winnipeg.
Educated in Brockville, William Robert Bell spent a brief period in the western United States before returning to Canada to help repel the Fenian raids of 1866 and 1870 [see John O'Neill*]. He was employed as a railway clerk in Brockville and a station agent in Pakenham. Bell distinguished himself in cricket, lacrosse, and especially shooting. When in 1872 the Canadian militia sent its first rifle team to compete in the championships at Wimbledon, England, Bell was named to it, and he apparently took part again in subsequent years. Well connected in Brockville, he was made a brevet major in the 41st (Brockville) Battalion of Rifles a week before his 30th birthday. By the time he retired from the militia five years later, he was the unit's adjutant.
Bell was reportedly involved at some point in a large-scale agricultural operation, the Bell-Kelso Farm, in Minnesota. He decided to launch a similar venture in western Canada, and in the summer of 1881 he walked westward from Brandon, Man., along the proposed route of the Canadian Pacific Railway and selected a site in the vicinity of present-day Indian Head, Sask. The following February, Bell applied to the Canadian government for the purchase of all the even-numbered sections in an area of roughly 100 square miles. The government of Sir John A. Macdonald* approved the sale of the land, about 23,658 acres, at $1.25 an acre in April 1882 on the understanding that the farm would serve as a vehicle to advertise the potential of the region and would place prospective settlers on the land at double the rate specified under dominion homestead provisions. The Canadian Pacific Railway agreed to sell Bell the reserved railway sections in the same area, so that the total farm size was an astounding 53,000 acres. With the land secured, the Qu'Appelle Valley Farming Company Limited was formally incorporated on 12 May 1882. The board of directors included Senator Joseph Northwood of Chatham, Ont., and Edgar Dewdney, the newly appointed lieutenant governor of the North-West Territories. Bell was the largest original subscriber, taking 1,100 of 6,000 shares, and was named general manager of operations.
The venture quickly became known as the Bell model farm. And model farm it was. Breaking got under way by contract in June 1882 and by the end of the summer over 2,500 acres had been ploughed; the furrows were reputedly so long that the teams turned only once a day, at lunch, to return to their starting-point. The company embarked on an ambitious construction program as well, and by June 1883 some 70 buildings had been erected, including several impressive stone structures; the company also bought the Indian Head town-site to provide support services, in particular a hotel and elevator. The farm itself was divided into plots of 213 acres which were occupied by individual farmers (housed in cottages) but were worked by teams of men, horses, and machinery, especially during seeding and harvest. Only two-thirds of each 213-acre farm section was cultivated each year; the remainder was allowed to lie fallow.
Bell ran the farm as a kind of field general. He used a telephone system to oversee and coordinate activities, and at night had a team of clerks tallying up the day's statistics and calculating production costs. It was an impressive enterprise which attracted considerable attention, including that of visiting members of the British Association for the Advancement of Science who inspected it during their tour of western Canada in 1884. The first few harvests, however, were anything but encouraging, thanks to poor seed grain and early frosts. Bell also suffered personal defeat when he failed to win a seat on the Council of the North-West Territories in 1883 – even though his candidacy in the Qu'Appelle constituency was actively supported by Dewdney.
In early 1885 the company constructed a massive grist mill, while Bell went to England to promote the potential of the Canadian west and secure students for a proposed agricultural college at Indian Head. The outbreak of the North-West rebellion, however, dealt the farm a blow from which it never recovered. Men and horses were recruited to transport military supplies, and as a consequence only 1,000 acres were cultivated that summer. Bell, for his part, spent several months in the field, serving from 1 April to 31 July 1885 as the quartermaster at Qu'Appelle for the campaign forces of Major-General Frederick Dobson Middleton*. He also secured transport contracts for his own Bell, Lewis and Company, based in Lachine, Que. By 1886 the farm was in serious difficulty and was refinanced as the Bell Farm Company Limited. In order to reduce its debt load, the new company sold the Indian Head town-site, as well as 675 acres to the federal government for a new experimental farm to be headed by local farmer Angus Mackay*. These measures appeased creditors only temporarily, and in April 1889 the Supreme Court of the North-West Territories ordered that the farm be broken up and sold. Bell acquired almost 13,000 acres for his own use and attempted to carry on the original concept but on a smaller scale. This operation also foundered and Bell evidently left the area shortly after the death of his wife in October 1895; the farm was seized by creditors the following year.
In 1896 Bell travelled to England, making what was reportedly his 23rd Atlantic crossing, and married Katharine Ormiston in March. He lived in Dublin for the next four years, during which time he patented a process to make briquettes from pressed peat. He sold this business in 1900 and returned briefly to Brockville before taking up residence in Winnipeg, where he held a seat on the Winnipeg Grain and Produce Exchange and worked on an idea for a galvanized metal granary to be used on farms. At his death in 1913, he was said to have been a major shareholder in the Edmonton Standard Coal Company.
William Robert Bell was a great believer in the agricultural potential of the prairie west, and his "bonanza farm" was an expression of this faith. The severe losses experienced by the scheme served to demonstrate that cultivation of the unfamiliar western plains – no matter how large or carefully orchestrated the operation – was an experiment and that new seed varieties and farming methods were required before the promise of the region could be realized.
AO, RG 80-27-2, 27: 39. NA, RG 15, DII, 1, 1174, file 5617880 (mfm. at Saskatchewan Arch. Board, Regina, R-2.297). Brockville Times (Brockville, Ont.), 18 Feb. 1913. Morning Leader (Regina), 18 Feb. 1913. Qu'Appelle Vidette (Fort Qu'Appelle, [Sask.]), 17 Oct. 1895. Canada Gazette, 1871–72: 1237; 1880: 1422. Vittorio De Vecchi, "From Kensington to Indian Head" (paper presented to the Canadian Soc. for the Hist. and Philosophy of Science, Saskatoon, 1979). Indian Head: history of Indian Head and district (Indian Head, Sask., 1984). W. E. Johnson and A. E. Smith, Indian Head Experimental Farm, 1886–1986 ([Ottawa], 1986). [J. W.] G. MacEwan, Fifty mighty men (special ed., Saskatoon, 1982). E. C. Morgan, "The Bell farm," Sask. Hist., 19 (1966): 41–60; reissued in Pages front the past: essays on Saskatchewan history, ed. D. H. Bocking (Saskatoon, 1979), 45–63.
© 1998–2023 University of Toronto/Université Laval
Image Gallery

Cite This Article
W. A. Waiser, "BELL, WILLIAM ROBERT," in Dictionary of Canadian Biography, vol. 14, University of Toronto/Université Laval, 2003–, accessed November 29, 2023, http://www.biographi.ca/en/bio/bell_william_robert_14E.html.
The citation above shows the format for footnotes and endnotes according to the Chicago manual of style (16th edition). Information to be used in other citation formats:
| | |
| --- | --- |
| Permalink: | http://www.biographi.ca/en/bio/bell_william_robert_14E.html |
| Author of Article: | W. A. Waiser |
| Title of Article: | BELL, WILLIAM ROBERT |
| Publication Name: | Dictionary of Canadian Biography, vol. 14 |
| Publisher: | University of Toronto/Université Laval |
| Year of publication: | 1998 |
| Year of revision: | 1998 |
| Access Date: | November 29, 2023 |