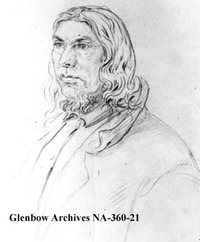 Source: Link
BIRD, JAMES (also known as Jimmy Jock), fur trader, hunter, interpreter, and guide; b. c. 1798 probably at Carlton House (near Fort-à-la-Corne, Sask.), third son of James Bird* and his Cree wife, probably named Mary; he had several wives and at least 11 children; d. 11 Dec. 1892 on the Blackfeet Reservation, Mont.
The mixed-blood son of a Hudson's Bay Company officer, James Bird was raised at HBC posts in the Saskatchewan district, principally Edmonton House (near Fort Saskatchewan, Alta), and was educated by his father. In August 1809 he began a five-year apprenticeship with the company, serving first at York Factory (Man.) and then from 1810 to 1815 at Edmonton House. Posted next to Fort Qu'Appelle (Sask.), he was with the party from that post captured by North West Company men in May 1816 during the hostilities between the rival fur-trading companies [see Cuthbert Grant*]. He was soon released, but the events of these years left him with enduring anti-French and anti-Canadian prejudices.
Bird spent the next five years in the Saskatchewan district. Engaged as an interpreter (he eventually mastered five Indian languages in addition to English and French), he was often sent to live with Indian bands for the purpose of encouraging them to gather furs for trade at the HBC posts. In the summer of 1819 he helped herd HBC horses from Edmonton House to the Red River colony (Man.). For part of the 1819–20 season he had charge of an outpost at Moose Lake (near Bonnyville, Alta) and the next season he was sent to establish one at White Earth Creek (Alta).
Bird left the HBC in April 1821 to hunt and trap as a freeman in the territory on both sides of the Rocky Mountains, north and south of the 49th parallel. Except for a trip in 1823 to take privately owned horses to Red River, he travelled and lived with the Blackfoot tribes during the 1820s. About 1825 he married a Peigan woman, Sarah (Sally), and that year, with a large group of Peigan and Blood Indians, he encountered HBC chief trader Peter Skene Ogden* in the Snake River country. Convinced of Bird's influence over the plains Indians, whose way of life he had adopted, the company began to use him as an unofficial agent from the late 1820s. However, following a dispute over money, he broke with the HBC in 1831 to help consolidate the American Fur Company's newly established operation among the Blackfeet near the confluence of the Missouri and Marias rivers. His reputation for being able to influence Indian actions was deflated in October 1832 when Blackfoot Indians with whom he was travelling killed AFC trader William Henry Vanderburgh. Bird left the American company shortly afterwards and rejoined the HBC as a clerk in June 1833.
During the 1830s Jimmy Jock, as Bird became known, lived among the Blackfeet and attempted to draw their trade back to the Saskatchewan. The AFC position on the Missouri, however, was too strong and even with Bird's help the HBC was unable to regain its lost trade. Bird had largely taken to the way of life of the Blackfeet and, when an Indian relative of his was killed in a battle with American traders at Pierre's Hole (Teton Basin, Idaho) in July 1832, he quite naturally accepted the responsibility of avenging that death. In May 1836 he shot the presumed killer, Antoine Godin, outside Fort Hall (near Fort Hall, Idaho), while smoking the pipe with him. By 1841, when his contract with the HBC was not renewed, the company had come to share the AFC view that Bird was unpredictable and untrustworthy.
In 1841 Bird acted as guide for a group of settlers being taken from Red River to the Columbia River by his brother-in-law James Sinclair*; he accompanied the party from Carlton House into the Rockies where he left them in the hands of another guide, Broken Arm [Maskepetoon*]. Earlier that year, in April, Bird had first acted as interpreter for the Methodist missionary Robert Terrill Rundle, with whom he continued to work periodically as guide and interpreter until 1848. In late 1845 he was hired for the same services by Roman Catholic missionary Pierre-Jean De Smet*. In both these relationships Bird's independent spirit led to difficulties. On several occasions he refused to interpret for Rundle after having taken him to meet with Blackfoot Indians, and he suddenly ended his arrangement with De Smet only a short time after he had led the missionary's party from Rocky Mountain House (Alta) out onto the plains.
Though still closely connected to the Blackfoot tribes, Bird wintered in 1843–44 with an Assiniboin band, in 1844–45 alone with his family in the foothills south of the Bow River, and in 1847–48 at the temporarily abandoned Rocky Mountain House. Severe vision problems afflicted him periodically during these years (by the 1870s he would be totally blind). The early 1850s found Bird farther south, in the vicinity of Fort Benton (Mont.), where, in 1854–55, he was once again working for the AFC. In 1855 he was engaged by the United States government as chief Blackfoot interpreter during the treaty council with the Blackfeet and surrounding tribes [see Peenaquim*].
In the spring of 1856 Bird left this region for Red River where many of his relatives, including his father, had settled. He bought a lot and house on the Red River some twelve miles below Upper Fort Garry (Winnipeg). Some time after the uprising of 1869–70 [see Louis Riel*] he left the settlement and returned to Blackfoot country, where, in 1877, trusted by both Canadian government officials and native leaders, he filled in as interpreter for Treaty No.7 at Blackfoot Crossing (Alta) [see Isapo-muxika*]. He and his Peigan wife Sarah travelled about much of what is present-day Saskatchewan and Alberta by Red River cart before settling down to reservation life. They resided on the Peigan Indian Reserve (Alta) from 1885 to 1887 and by 1890 were living on the Blackfeet Reservation, Mont., where, well into his nineties, Bird died in 1892.
Fiercely independent, Jimmy Jock bridled at authority and chose the life of a freeman over long-term company employment. He provoked the ire of fur-trade administrators, who left for posterity a largely undeserved image of him as an irresponsible character prone to irrational behaviour. During a lifetime that spanned most of the 19th century, however, he played an important role in the communications between white fur traders, missionaries, and government officials and the native people for whom he felt such a strong affinity.
Mo. Hist. Soc. (St Louis), Chouteau coll., boxes 24, 33, 36; William Clark papers, box 5; Andrew Drips papers; Fur trade ledgers, T, V. Mont. Hist. Soc. (Helena), T. J. Bird reminiscence. NA, MG 19, E1; RG 10, B3, 3585, 3779; C11, 1157; 1429: 1665; RG 15, DII, 1, vol.1325, file HB 285; vol.1336, claim 90; vol.1391, no.7066; 3, vol.170, file HB 18, pt.i. National Arch. (Washington), RG 75, M5, roll 22; M234, rolls 30, 884, 907; T494, roll 5. PAM, HBCA, A.6; A.16; A.30; A.32; B.21; B.22; B.27; B.60; B.115; B.184; B.235; B.239; C.1; D.3; D.4; D.5; E.4; E.5; E.6; MG 7, B6. W. H. Cox, "Diary of a mountie, from 1880 to '85," Lethbridge Herald (Lethbridge, Alta.), 11 July 1935: 67–76. P.-J. De Smet, Life, letters and travels of Father Pierre-Jean De Smet, s.j., 1801–1873 . . . , ed. H. M. Chittenden and A. T. Richardson (4v., New York, 1905; repr. 1969). James Doty, "A visit to the Blackfoot camp," ed. H. A. Dempsey, Alta. Hist. Rev., 14 (1966), no.3: 17–26. Early western travels, 1748–1846; a series of annotated reprints of some of the best and rarest contemporary volumes of travel . . . , ed. R. G. Thwaites (32v., Cleveland, Ohio, 1904–7), 21, 23. "The Fort Benton journal, 1854–1856," Mont., Hist. Soc., Contributions (Helena), 10 (1940): 1–100. [James] Hargrave, The Hargrave correspondence, 1821–1843, ed. G. P. de T. Glazebrook (Toronto, 1938). HBRS, 19 (Rich and Johnson). L. H. Morgan, The Indian journals, 1859–62, ed. L. A. White (Ann Arbor, Mich., [1959]). Morris, Treaties of Canada with the Indians. Paul Kane's frontier, including "Wanderings of an artist among the Indians of North America" by Paul Kane, ed. and intro. J. R. Harper (Austin, Tex., [1971]). [R. T.] Rundle, The Rundle journals, 1840–1848, intro. G. M. Hutchinson, ed. H. A. Dempsey (Calgary, 1977). George Simpson, An overland journey round the world, during the years 1841 and 1842 (Philadelphia, 1847). Edmonton Bulletin, 28 March 1885, 16 May 1892. J. S. H. Brown, Strangers in blood: fur trade company families in Indian country (Vancouver and London, 1980). A. L. Haines, "Antoine Godin," The mountain men and the fur trade of the far west . . . , ed. L. R. Hafen (10v., Glendale, Calif., 1965–72), 2: 175–78. Grant MacEwan, Métis makers of history (Saskatoon, 1981). Turner, NWMP. J. E. Wickman, "James Bird, Jr.," The mountain men and the fur trade of the far west, 5: 39–43. W. J. Betts, "From Red River to the Columbia, the story of a migration," Beaver, outfit 301 (spring 1971): 50–55. G. H. Gunn, "'Jimmy Jock,' the story of the Englishman who turned Indian in the palmy days," Manitoba Free Press, 8 Nov. 1930, Saturday story sect.: 7, 11. David Smyth, "The struggle for the Piegan trade: the Saskatchewan vs. the Missouri," Montana (Helena), 34 (spring 1984): 2–15.
© 1990–2023 University of Toronto/Université Laval
Cite This Article
David Smyth, "BIRD, JAMES (d. 1892)," in Dictionary of Canadian Biography, vol. 12, University of Toronto/Université Laval, 2003–, accessed December 2, 2023, http://www.biographi.ca/en/bio/bird_james_1892_12E.html.
The citation above shows the format for footnotes and endnotes according to the Chicago manual of style (16th edition). Information to be used in other citation formats:
| | |
| --- | --- |
| Permalink: | http://www.biographi.ca/en/bio/bird_james_1892_12E.html |
| Author of Article: | David Smyth |
| Title of Article: | BIRD, JAMES (d. 1892) |
| Publication Name: | Dictionary of Canadian Biography, vol. 12 |
| Publisher: | University of Toronto/Université Laval |
| Year of publication: | 1990 |
| Year of revision: | 1990 |
| Access Date: | December 2, 2023 |